Way too easy. Who said good things take time and precision? Well, I'm here to say that's not always true. I've so enjoyed spending time with my extended family from Mexico and have learned a lot about Mexican cooking. This trip to San Diego was especially interesting, and I had the opportunity to learn from the best. My daughter's father-in-law, Enrique, is an amazing cook and always brings the best homemade salsa to every gathering, which happens to be weekly! He made it on the spot this time, and I got to watch the chef at work! Just look at these pictures…plus the best part is NO MEASURING. Just do it!
Enrique made two different salsas at one time while I flashed the camera. So here are some shots of Enrique's Roasted Salsa…
First, he washed and roasted various peppers, tomatoes, and onions in the oven.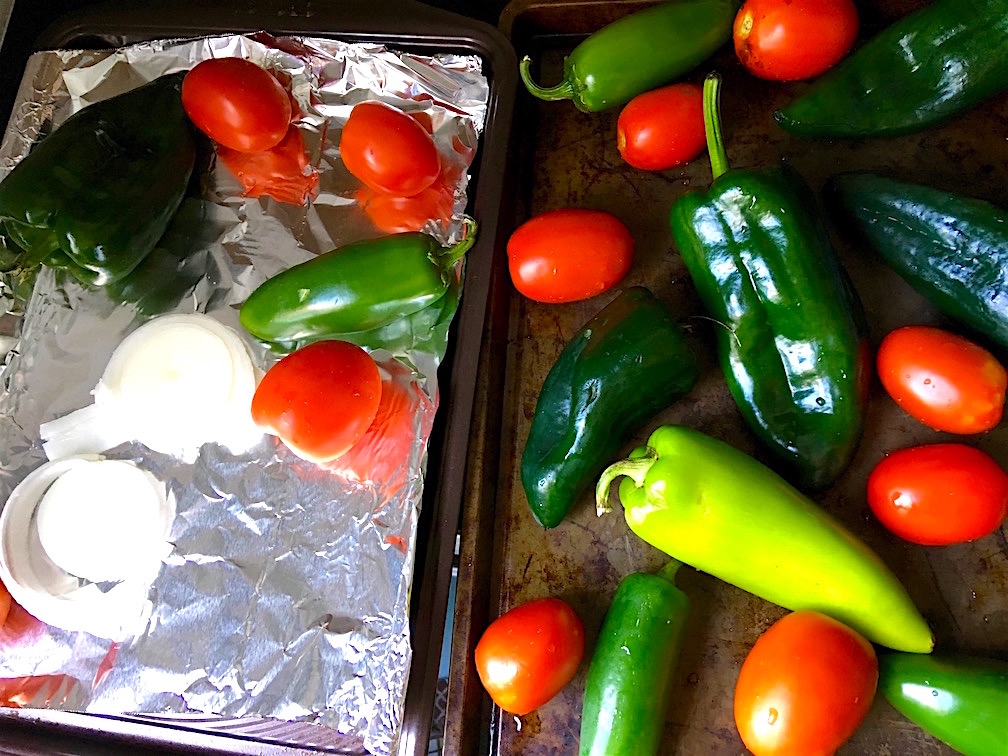 Then he let them cool and cleaned the seeds out.
He then added chopped garlic and mixed it up…yes, with his hands!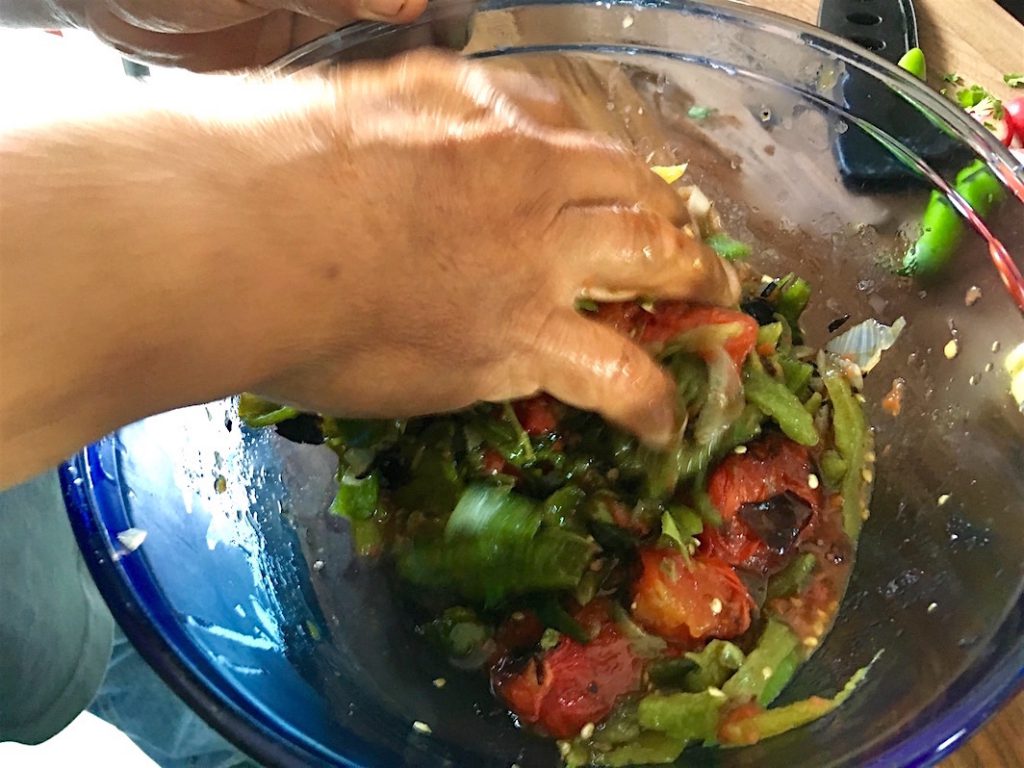 This was amazing!!!! He added a little salt and a dash of fresh lime juice. Simple and no measurements or spoons!!!!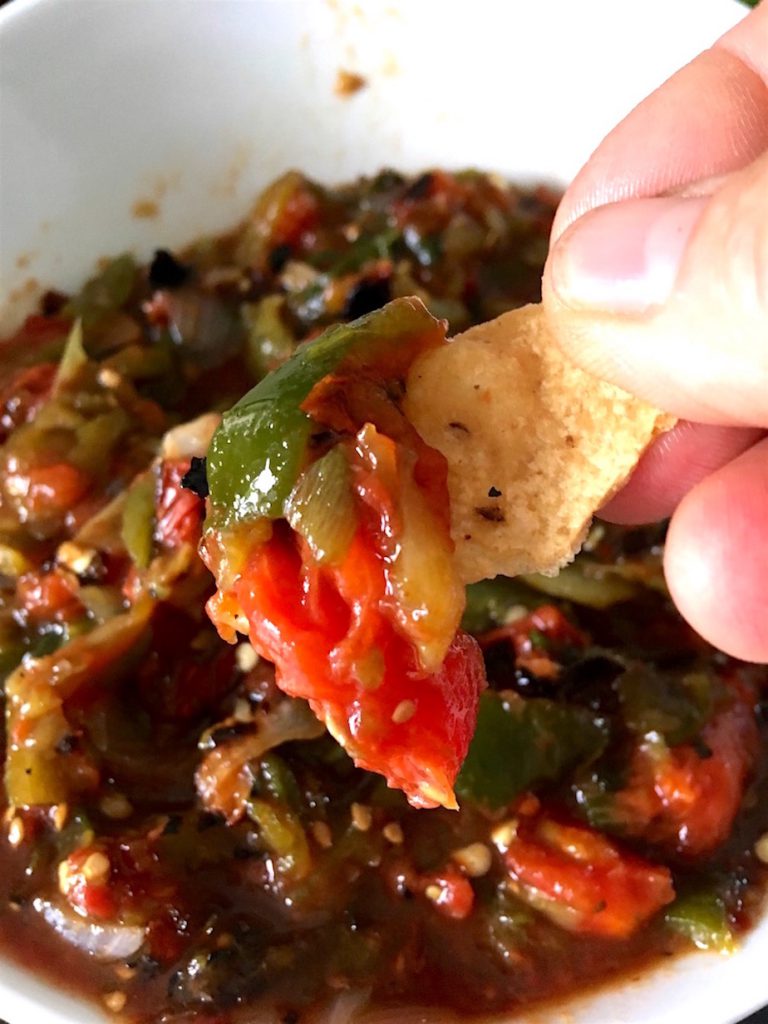 Next, he made a delicious Salsa to die for that went so well on top of the grilled Pollo Asado. He boiled several varieties of dried and fresh peppers in a pan of water, along with some garlic, tomatoes, and onions.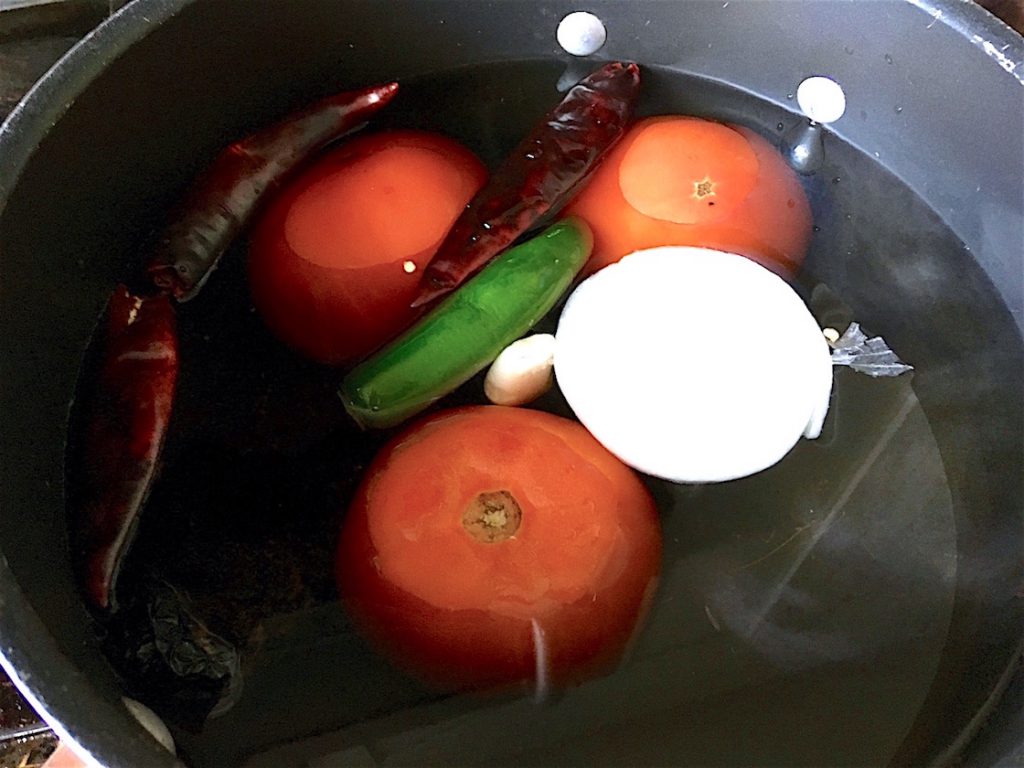 Then he drained it and let it cool for a bit. He cleaned the seeds in the peppers and placed them all in the blender with some salt, diced cilantro, and a squeeze of lime. It was like a "party in my mouth." Nothing but fresh food and a little boiling. How hard is that?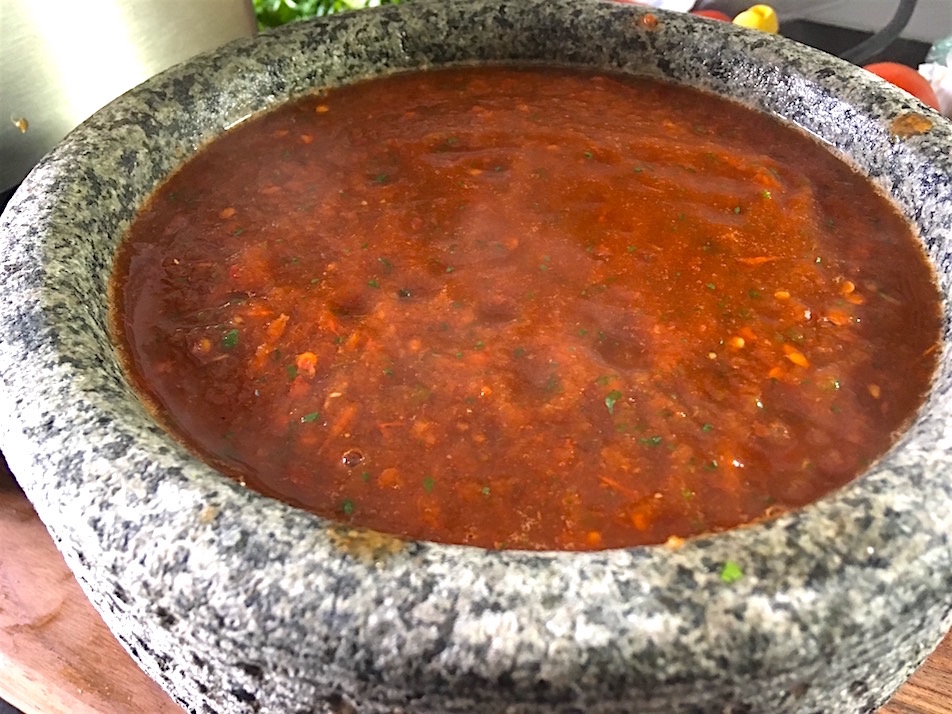 As always, I can't leave well enough alone, but I did try my hand at it and believe it was a success. Since Enrique worked so hard and fast, I think I got a little mixed up, but my mix at the end was super, and I ended up with a very thick creamy salsa that would work as a dip or sauce over baked chicken or fish. It was delicious and yielded two small canning jars worth of yummy! And the best part is you can choose what peppers you use, dry or fresh. I even threw in a red bell pepper!
I started to follow Enrique's protocol but ended up combining the two recipes and adding a bit of olive oil, which created a creamy salsa. My son can testify that it was the perfect salsa and topping for our carnitas. One jar was consumed during my visit with him in Seattle; I assure you, the other vanished just as fast.
Give it a try. There's no real recipe for "Roasted Salsa My Way"; just create!
ROASTED SALSA MY WAY
November 3, 2017
: 2
: 30 min
: 15 min
: 45 min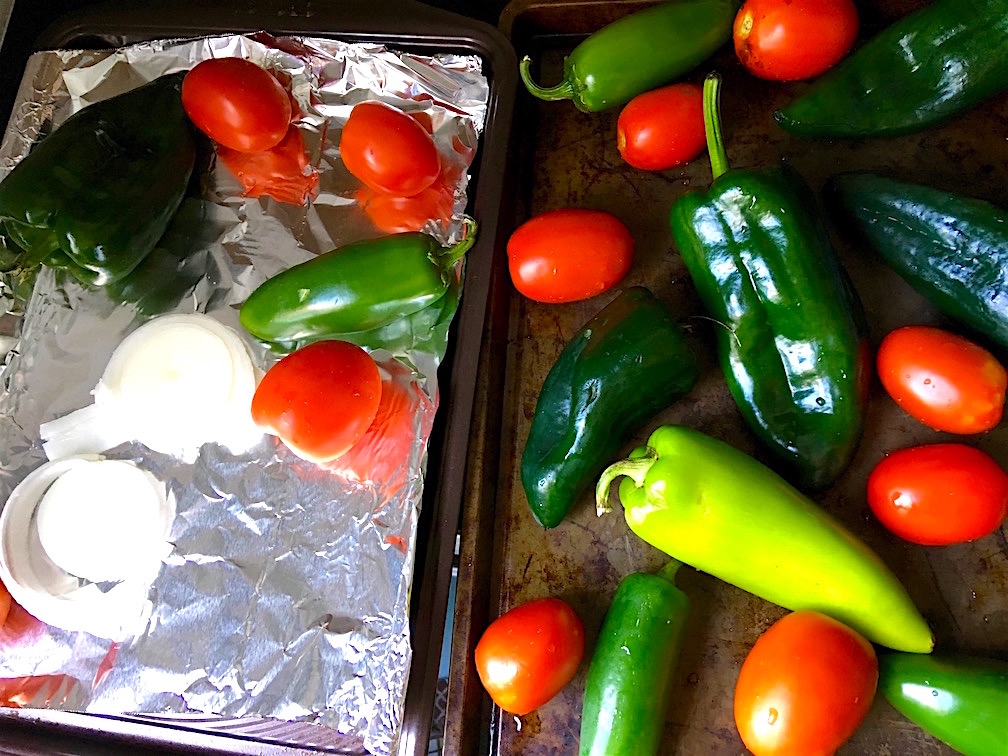 Ingredients
1 fresh jalapeño
2 fresh poblanos
1 Pasilla pepper dried or fresh
1 Serrano pepper dried or fresh
1 Ancho pepper dried or fresh
1 red bell peppers optional
2 fresh tomatoes
1 onion white or red cut in half
2-3 garlic cloves
1 batch fresh cilantro 1/2-3/4 cup chopped
1 fresh lime juiced
salt
pepper
1/4 cups olive oil
Directions
Step 1

Heat your oven to 400 degrees. Wash all your fresh peppers and place them on a cookie sheet with the garlic cloves. Place in the oven and rotate until slightly blackened. If you're using dry peppers, place them in water and simmer until soft. Remove them and let them cool while the fresh peppers are roasting in the oven.

Step 2

Remove the oven-roasted peppers and cool them. After they have cooled to the touch, you can remove the seeds. Be sure to remove the seeds from your boiled peppers as well. I've used gloves before but did not have a pair handy, so I used pinchers to hold them while I scrapped out the seeds.

Step 3

After all, the fresh and boiled peppers have been de-seeded, dice them along with the garlic, onions, and tomatoes.

Step 4

Clean and dice the cilantro leaves. I like a lot of cilantro, so I use about 3/4 cup. Divide your diced cilantro into two piles.

Step 5

Divide the diced peppers, onions, garlic, and tomatoes in half. Place half in the blender or food processor with the olive oil, lime juice, half your cilantro and salt, and pepper. The olive oil makes it thick and creamy!

Step 6

Place the blended mixture into a serving bowl and stir in the remaining half of the peppers, onions, tomatoes, and cilantro. Check to see if you need more lime or salt!

Step 7

Muy Bueno!!! This is so tasty and has all-natural ingredients. My next adventure will be to use this as a sauce over my salmon! I hope you enjoy this taste of "Roasted Salsa My Way"! Or you can do it in Enrique's way. Both will be amazing.