Fall is upon us and time is ticking. Between soccer, ballet, gym, and your personal tasks, cooking something super quick for dinner can be a challenge. But have no fear! This one is a weekly regular at our home and we LOVE IT. I'm presenting you with our favorite and offering options to keep it squeaky clean from grains by using Zucchini Noodles! I use my B & B Pesto recipe but you can use store bought or your own creation.
In this recipe, I used Bio bacon from a local farmer that had been cut very thin. I have also made it using Bio chicken and with Bio sausage.  You can also make this vegetarian or as a side dish by simply leaving out the meat. Use any seasonal veggies you have and turn this easy, fast meal into your own creation. It's sure to become one of the weekly regulars that you can make in a snap.
ONE POT PASTA!
October 24, 2017
: 4
: 15 min
: 15 min
: 30 min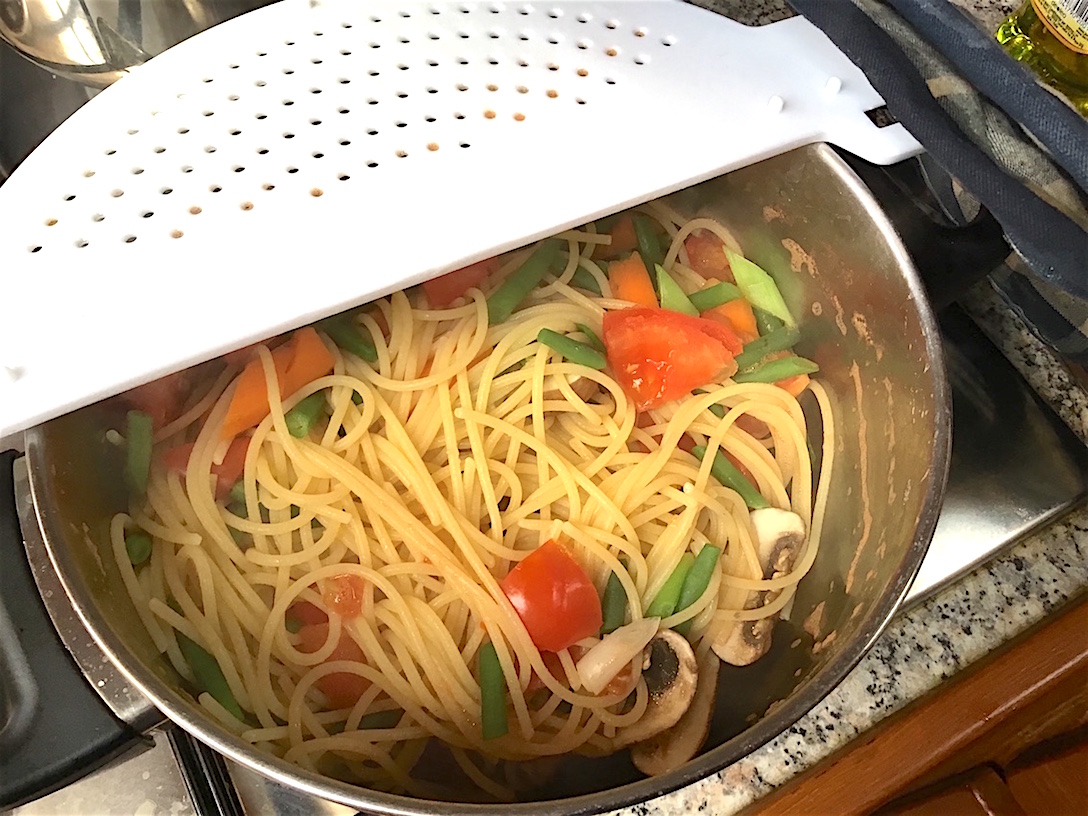 Ingredients
1 Tbsp ghee for sautéing your meat
1 lb diced organic bacon or no GMO chicken, Italian sausage
1 pkg gluten free pasta or zucchini noodles
1/2 cup fresh green beans washed & julienne
2 medium carrots washed & julienne
2 stalks green onions washed & julienne
2 tomatoes diced
1/2 cup mushrooms sliced
1 grated zucchini use a food processor
1/4 cups green or black olives sliced in thin rings
1 Tbsp capers or more!
himalayan salt
ground pepper
1/2 cups pesto store bought or my B & B Pesto
Directions
Step 1

In a large pot add the ghee and stir fry your bacon until done. When I use meats without GMO they tend to need a little fat to get them fried, yes, even bacon! Set the meat aside. Leave the meat leavings and ghee in the pot. Fill the pot with water and heat to a rapid boil.

Step 2

While the water is coming to a boil, prep your veggies (and make the pesto). Wash, dice and set aside. As I said, you can use any veggies laying around for this one. If you're using zucchini noodles instead of gluten-free pasta noodles see the tip below for adding them at the end.

Step 3

Grate your zucchini or place in a food processor until grain size. Set aside!

Step 4

Dice up your olives and if using, scoop out your 1 tablespoons of capers or more. Set aside!

Step 5

Once the water is boiling add your pasta. Once the water is boiling add your pasta. I found it takes 7-8 minutes for my brand. Boil for 3 minutes

Step 6

After the noodles have been boiling for 3 minutes, add green beans, carrots and any other firm veggies you have chosen to the boiling pasta. These take the longest to cook and really just need to be blanched. Cook them for 3 minutes along with the pasta.

Step 7

After 3 minutes, add the mushrooms, tomatoes, green onions and other softer veggies you might be using that only need a few minutes to blanch. Boil for 1 to 2 minutes. This should be 7-8 minutes total. Check your pasta!

Step 8

Once pasta is tender, drain the pasta and veggies!

Step 9

Now add the remaining ingredients, pesto, grated zucchini, olives, capers and bacon or what ever meat you have prepared.

Step 10

Give it a nice mixing!

Step 11

Snap it up with a little salt and pepper. You can always add a dash of Italian seasoning as well but for sure a shake or two of red peppers gives it a power punch!

Step 12

We enjoy this dish with Brazil Nut Parmesan! See the link below.

Step 13

Store the leftovers in a sealed container for lunch tomorrow…that's if there's any left!