I love the rhubarb season in Germany. The market is filled with fresh stalks of vibrant red rhubarb. Stalls are filled with rhubarb jellies, jams, and cakes or Kuchen. I wanted a light cake to accent this sweetened, tart, and distinguishing vegetable. This recipe can be made using egg whites and one whole egg which creates a very white cake or you can use wholes for a yellow cake. Either one will give you a light and fluffy cake.
This recipe is meant to be baked in a sheet-cake pan 9×13 with the rhubarb spread on top before baking. However, if you're looking for a delicious white cake for parties or events it can also be baked in two round cake pans as a layered cake and then iced. 
I happened to use a 10×8 oval cake dish which was too small so I used an additional round 6" cake dish and made an additional small cake.  I shared it with one of the families in our apartment building. Apparently they enjoyed it since I received a message the next day requesting the recipe! So here I am typing away. I think you will enjoy it as well. 
It keeps nicely in the fridge for 3 to 4 days. We like it warm so I slice it and zap it in the steamer or micro for 30 seconds and add my Coconut Whipped Cream while Lutz enjoys a scoop of vanilla ice cream on his. It's light, moist, and not too sweet, plus the berry and rhubarb combo on the top adds a luscious tang.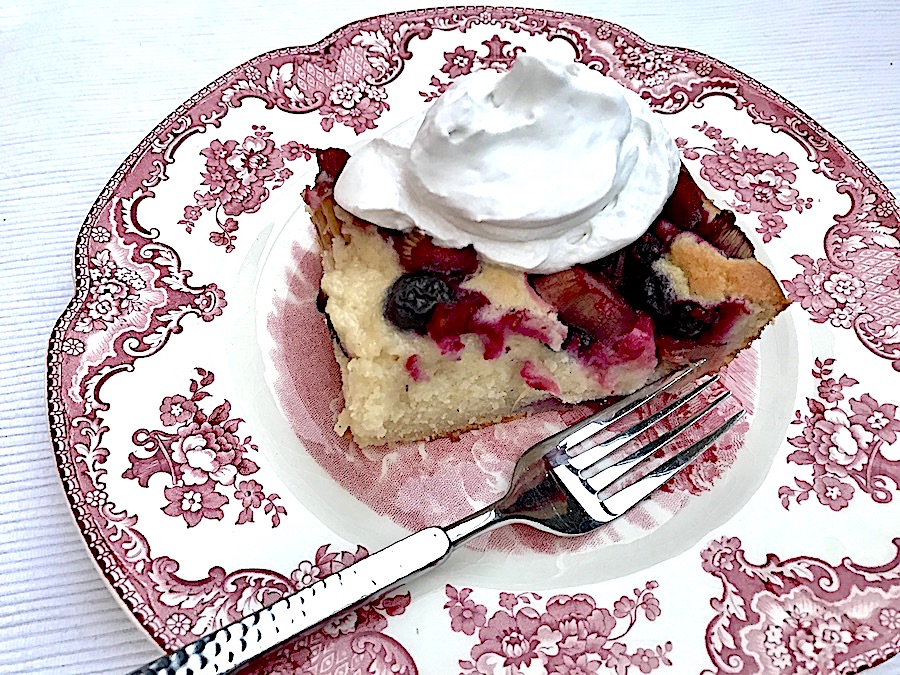 Rhubarb Cake
May 2, 2020
: 12
: 25 min
: 45 min
: 1 hr 10 min
: Medium
Ingredients
1 cup of mixed berries fresh or frozen
4 stalks of Rhubarb sliced
1/2 cup birch tree sugar
1 Tbsp fresh lemon
1/2 tsp cinnamon
1/2 tsp cardamon
1 1/2 cup coconut cream (not milk)
1 tsp of apple cider vinegar
2 cups gluten-free flour
1 tsp xanthan gum (omit if your flour contains it)
2 tsp of baking powder (Backpulver)
1/2 tsp baking soda (Natron)
1/2 tsp salt
3/4 cup soft butter, ghee, or coconut oil
1 cup birch tree sugar
1 tsp vanilla or scrape the inside of a vinyl bean
1 egg
4 egg whites (or 2 whole eggs if you want a yellow cake)
Directions
Step 1

Turn on the over to 350 degrees. Butter or oil a 9X13 sheet cake pan. (or 2 round cake pans for a layered cake)

Step 2

Place the sliced rhubarb, berries,1/2 cup sugar, lemon, cinnamon, and cardamom in a bowl and mix well. Set aside.

Step 3

In a small bowl place the coconut milk and stir in the vinegar. Set aside.

Step 4

In a medium bowl whisk together the flour, xanthan gum, baking powder, baking soda, and salt.

Step 5

In your standing or with your hand mixer beat the butter, ghee or coconut oil with the sugar on medium for 4-5 minutes until fluffy.

Step 6

Add the vanilla or the inside of a vanilla bean.

Step 7

Add the egg whites and egg(s) one at a time.

Step 8

Beat on medium for 5 minutes. Scraping the bowl a couple of times.

Step 9

Slowly add a third of the flour mixture alternating with a third of the coconut milk mixture. Blend well after each addition until all is incorporated.

Step 10

Pour into your grease 9×13 sheet pan.

Step 11

Pour the berries and rhubarb mixture over the top including the liquid. Use a spoon and swirl the berries and rhubarb gently into the top of the cake batter.

Step 12

Bake for 45 minutes. Check the center with a sharp knife and if it comes out clean it is done. this really depends on the size of your pans. I used a 10×8 oval pan and took 60 minutes to bake.

Step 13

Enjoy this cake warm with Coconut Whipped Cream or dairy-free ice cream!