My husband and I have a schedule we've been keeping for a few years and love it. Each morning we wake up and lay in bed and read for an hour. Then it's time for my hour German lesson, also in bed! By 11 am we're up and creating our brunch. We've decided that two meals a day are enough plus we get in a good fast for at least 14-16 hours. So basically from 7 pm to 11 am we fast. This works for us and by 11 am we're ready for a nice healthy meal. Usually eggs and veggies, maybe some sweet potato hash or stir-fried potatoes with eggs and organic meat.
It's not like we're starving but I woke up this morning and had an overwhelming desire for this pre-gluten-free meal. When I lived in Florida, years ago, we would stop at this crazy good bakery that made the most delicious savory breakfast rolls and today I just had to have one. What a switch from the norm. These puppies can travel with you on your way to work (when you go back after Coronavirus). Kids can nab one and won't mess up your car on the way to school (if it starts back up). You can even freeze them and zap them in the morning in the micro or toaster oven to heat them up. They're delicious and easy to make. Use leftover meat, ham, bacon, sausage, veggies, or what have you. Make them vegetarian if you like!  Just plop it on these babies and roll them up, slice them and bake. The most important is the mustard! It's got to be hot and grainy!
One morning I was craving these luscious gems and decided to heck with the rolling and foil forms…I placed a huge tablespoon full of the dough in a muffin tin, plopped in the ham, cheese, and a dollop of sharp crazy German mustard. Then I added another huge tablespoon of the dough to the top and BAM! Cooked those babies right up in 35 minutes. Sliced them open to a warm savory center. Any way you choose to make these they will satisfy that craving. I'm sure.
I sliced my rings 2 1/2 inches thick then when they were done cooking a cooled a bit, I sliced them through the equator line. I had two beautiful breakfast rolls. No matter how thick you slice these they still come out amazing. This dough worked so well I even up-dated my Amy's Orange Cinnamon Buns using it with a couple of tweaks! Plus made  Dinner or Hamburger Rolls recipe. Check them out for another break from your day to day breakfast!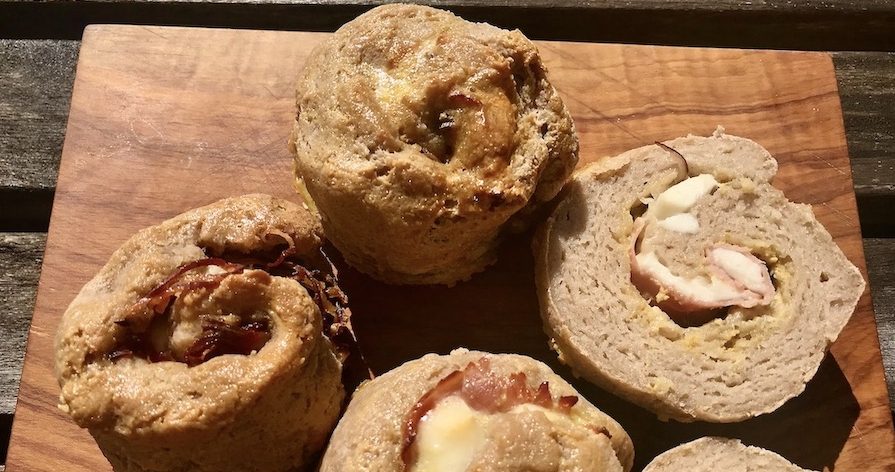 Let's do this!
Savory Breakfast Rolls
May 3, 2020
: 8-10
: 1 hr 30 min
: 30 min
: 2 hr
: Medium
Ingredients
Dry Ingredients:
1 1/2 cups cassava flour
1/2 cup almond flour
1/2 cup potato FLOUR (not starch. If you don't have it use an additional 1/2 cup almond flour)
1/4 cup arrowroot or potato starch.
1/4 cup tapioca starch
2 1/2 tsp of active dry yeast
2 1/2 tsp baking powder
1 tsp Himalayan salt
1 tbsp phylum husk
Wet Ingredients:
1 egg (1 is for brushing the tops of your rolls before cooking. This is optional)
1 Tbsp honey
1/2 cup melted ghee or olive oil
2 cups warm water (100 degrees)
1/4 cup dairy-free milk (almond, cashew, coconut, etc.)
Filling:
Thinly sliced ham (optional)
Diced Bacon (optional)
Almond Cheese, hard cheese, or Goat cheese (if eating dairy)
Spicy hot mustard
Choice of veggies: olives, sliced cherry tomatoes, green onions, mushrooms, etc.
Choice of seasonings
Directions
Step 1

Dry Ingredients:

Step 2

Place all the dry ingredients in a standing mixer on low and make sure you have the removable lid on. This stuff flies!

Step 3

Turn the mixer on low and allow the dry ingredients to mix for 3-5 minutes.

Step 4

Wet Ingredients:

Step 5

Meanwhile heat your water, oil/ghee, honey, and 1/4 cup of dairy-free milk to 100 degrees.

Step 6

Have your egg on hand!

Step 7

Mix and Let Rise:

Step 8

Slowly pour a third of the warm water mixture into the standing mixer with the dry ingredients.

Step 9

Add one egg. Turn the mixer to medium.

Step 10

Add another third of the water mixture and beat well.

Step 11

Then the last of the water mixture slowly…you may not need it all. The dough should be pretty sticky and fluffy yet pull together. Better less than more! I used it all.

Step 12

Turn off your oven and leave the oven light on.

Step 13

Scoop out the dough into a buttered/oiled bowl and cover with plastic wrap.

Step 14

Place this in the warm oven for 1 hour.

Step 15

Assemble & Bake:

Step 16

Once the dough doubles in size, remove the bowl and turn up the oven to 375 degrees.

Step 17

Dump the dough on a large sheet of oiled plastic wrap.

Step 18

Use a little oil on your hands and pat the dough out a bit.

Step 19

Place another sheet of plastic wrap over the top and press the dough out into a rectangle using your hands and fist to about 1/4 inches thick. If it is too sticky add a bit more cassava flour to the dough.

Step 20

Turn the plastic wrap so the longest side of the rectangle is near your belly.

Step 21

Spread mustard over the entire rectangle.

Step 22

Add your filling choices and seasoning.

Step 23

Roll the rectangle away from your until you have a long rolled tube.

Step 24

Slice 1 1/2 to 2 inches thick rings.

Step 25

Place in the oiled baking dish or oiled cupcake holders.

Step 26

Beat the second egg and brush the tops of each roll.

Step 27

Bake for 30-40 minutes.