No matter what you call it,  Fillo, Filo or Phyllo Dough, I have yet to discover a homemade gluten-free recipe that does not take me a century to make and is rice flour free. Seriously…I've wasted more time and materials trying to find the right delicate dough to wrap around my seasonal fruit.
I picked these luscious fresh plums, blueberries, and blackberries and wanted to seal them all in a light crust, baking them with just a tad of birch tree sugar and topping with homemade Coconut Whipped Cream. Considering my unsuccessful attempts with homemade Phyllo Dough, I crossed the line and bought this gluten-free Phyllo Dough from our local German grocery store, Edeka and went at it! The result was wonderful! Just what I was looking for, light, flakey with a hint of sweet and the fruit just popped out, literally, and with so much flavor. Try using any seasonal fruit and create your own amazing Fruit Wheel.
If you really want to make gluten-free Fillo, Filo or Phyllo Dough at home, check out my friend Carla's recipe on her site. Carla's Gluten Free Recipe Box has a zillion recipes with super alternatives.  She is one amazing cook!
BERRY PLUM WHEEL
October 24, 2017
: 6
: 5 min
: 18 min
: 23 min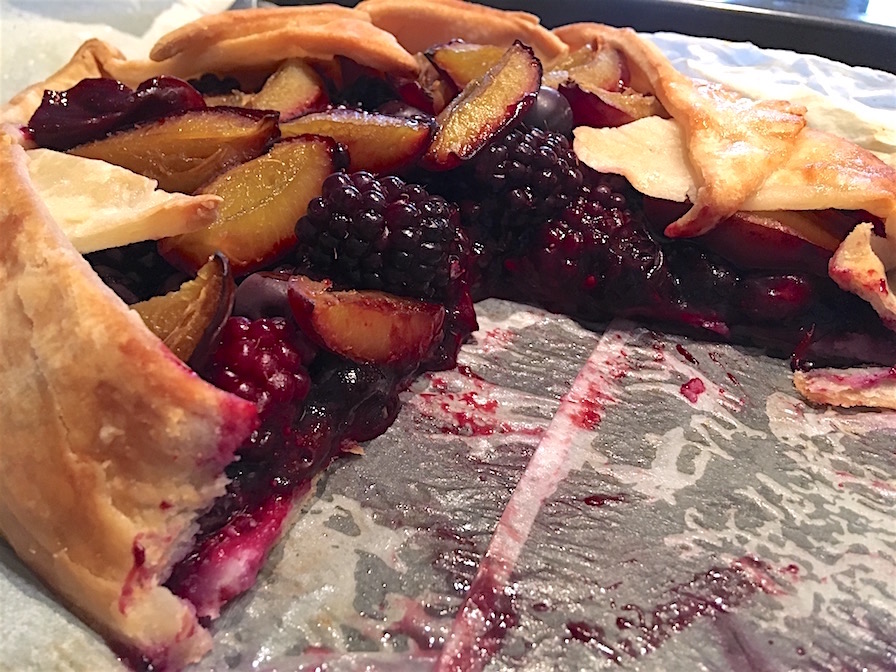 Ingredients
1 cup fresh blueberries
1 cup fresh blackberries
1 cup fresh plums
1 Phyllo dough sheet
1 Tbsp fresh lemon juice
1/2 tsp cinnamon
1/4 tsp nutmeg
2 Tbsp birch tree sugar or honey
1 sheet Phyllo Dough
1 egg white or warm water
1 Tbsp birch tree sugar or count sugar
Directions
Step 1

Turn your oven on to 350 degrees. Rinse and drain your fruit.

Step 2

Cut the plums into quarters and remove the seeds.

Step 3

Toss the fruit with 1 Tbsp of fresh lemon juice, cinnamon, nutmeg, 2 Tbsp of birch tree sugar or honey.

Step 4

Unfold your store bought or homemade Phyllo Dough.

Step 5

Place them in the center of your Phyllo Dough.

Step 6

Cut the dough as you like to encase the fruit.

Step 7

Paint the egg white or warm water over the top of the dough and sprinkle with birch tree sugar or coconut sugar.

Step 8

Cook until the crust browns and juice bubbles out of the dough.

Step 9

Slice and eat warm with homemade Coconut Whipped Cream.