These are so easy and can be whipped up in minutes. They're amazing with a scoop of dairy-free ice cream, coconut whipped cream, or warm out of the pan. Perfect for a quick breakfast, dessert, and a wonderful filling snack. The picture speaks for itself. The blondie is very moist, and the candied maple pecans give a nice crunch—just a great combo of flavor to these delicious bites of goodness.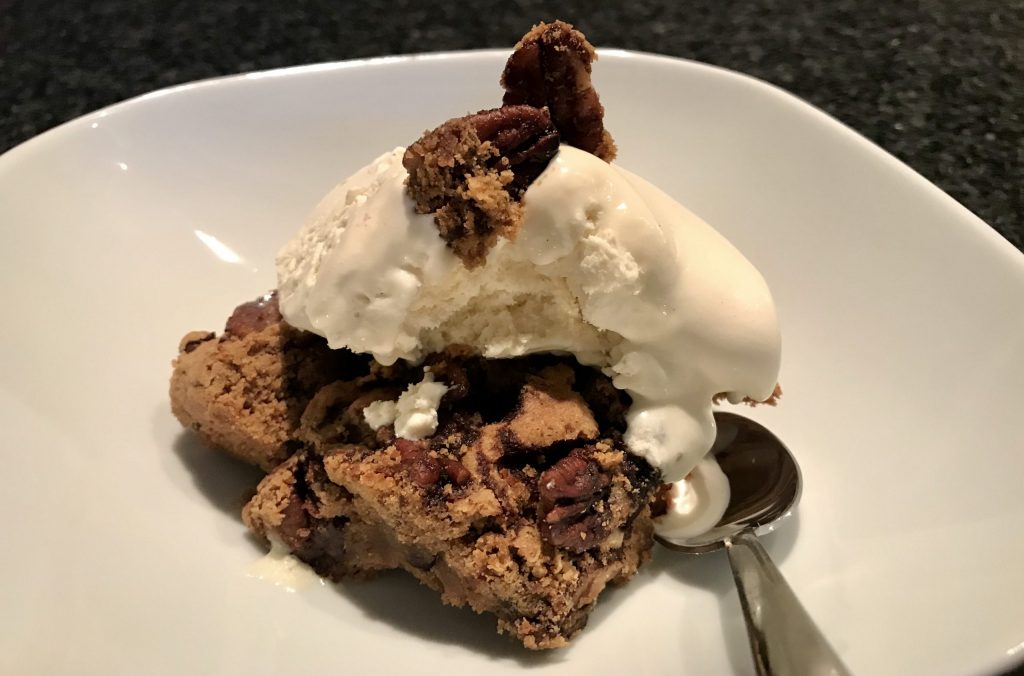 Maple Pecan Blondies
March 8, 2021
: 6 Servings
: 15 min
: 20 min
: 35 min
Ingredients
Maple Pecans:
1 cup pecans
2 Tbsp ghee
1/4 cup organic maple syrup
pinch of salt
1/2 tsp of nutmeg
1/2 tsp cinnamon
1 tsp vanilla or vanilla bean scraped
Blondies:
1 cup cassava flour
1 cup ground almond flour (if using finely milled almond flour, use only 2/3 cup)
1 tsp baking powder
1/2 tsp baking soda
1/4 tsp Himalayan salt
1 cup of soft ghee or soft organic butter melted
2 eggs
1 3/4 cup of coconut sugar (or 1 cup coconut sugar and 3/4 birch tree sugar)
1 tsp of organic vanilla
2/3 cup of dairy-free and gluten-free chocolate chips
Directions
Step 1

Maple Pecans:

Step 2

Melt the butter with the maple syrup in a saucepan on medium. Add a pinch of salt. Place the 1 cup of pecans in the pan and sprinkle with nutmeg and cinnamon. Stir to prevent scorching periodically.  Cook for 6-8 minutes until the maple syrup thickens. Remove from heat and stir in the vanilla or the vanilla bean. Set aside.

Step 3

Blondies:

Step 4

Preheat your oven to 375 degrees.

Step 5

Whisk the cassava flour, almond flour, baking powder, baking soda, and salt in a medium bowl until well blended.

Step 6

In a medium bowl or mixer, combine the ghee or butter, eggs, sugar, and vanilla. Beat on medium in your mixer or using a wooden spoon until creamy.

Step 7

Slowly add the flour mixture to the butter and egg mixture a third at a time, beating after each flour portion. Mix until smooth.

Step 8

Stir in the dairy-free chocolate chips.

Step 9

Pour the batter into a lightly greased 8×9 cake pan or baking dish. Drizzle the pecans and the maple syrup over the top and swirl with a spoon lightly into the top quarter of the batter.

Step 10

Bake at 375 for 20 minutes. Check with a toothpick in the middle and make sure it comes out without batter attached. Do not over-bake. The middle should spring back just a bit.

Step 11

Serve warm with dairy-free ice cream or coconut whipped cream.  These will keep for four days in the fridge. Heat them in your oven on 300 for 15 minutes or micro for 1 minute to warm up. Cold is also good!