I am so excited about this season and our new bike ride on the Rhein River that led us to a field of wild Bärlauch. It's called Ramps in America, but it's known for its powerful aroma and is considered wild garlic. I gathered a boatload of the leaves and decided to make a bright new pesto using macadamia nuts instead of pine nuts. Plus the bonus, I found sheep parmesan cheese which has a buttery flavor and is laced with salt.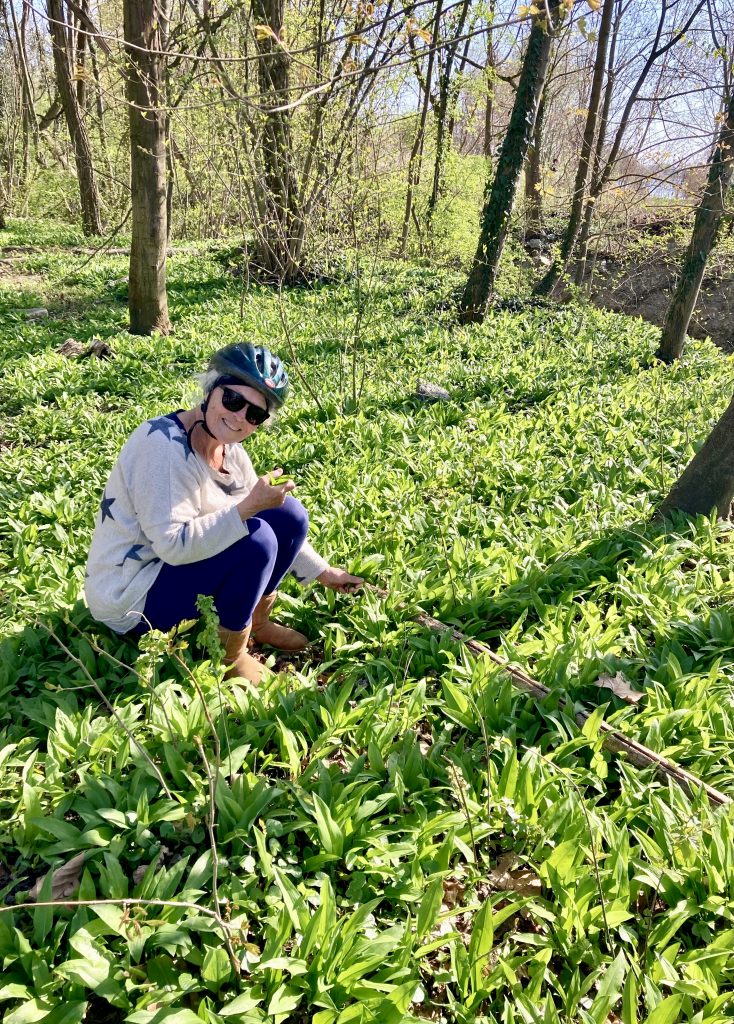 It's so easy and dangerously delicious cause you can't stop eating it—combine this luscious pesto with lamb, chicken, veggies, or hummus.  Check out my Herb Hummus with ideas for seasonings that pair your hummus with your cuisine. We had grilled lamb chops for Easter and laid them over my Herb Hummus infused with Macadamia Bärlow Pesto with a side of field salad smothered in thinly sliced red onions, dressed in lemon olive oil, and sprinkled with sumac. Woo, what a delicious meal.
Macadamia nuts originated in Australia and eventually became one of Hawaii's most significant imports at one time. While pesto is an Italian tradition made with basil and pine nuts, I've combined Bärlauch and macadamia nuts and discovered a unique new taste. I can't wait for you to try this on fish, chicken, hummus, or veggies. Try topping off a steamed sweet potato with a combo of this pesto mixed with your favorite yogurt. Try dropping a tablespoon into my Lemon Lavendar Chicken Soup. Let me know what you think! Your tater has never tasted better.
Macadamia Bärlauch Pesto
April 6, 2021
: 3/4 cup
: 20 min
: Easy
Ingredients
1 bushel of fresh Bärlauch (make a circle using your thumbs and pointer fingers. Fill it with fresh Bärlauch, and you have a Melinda bushel!
1/4 cup toasted chopped macadamia nuts
1/4 cup olive oil
1 tsp red pepper flakes (optional)
3 Tbsp of grated sheep parmesan (or regular)
2 garlic cloves
3 Tbsp fresh lemon juice
Himalayan salt and pepper to taste
Directions
Step 1

Place all the ingredients, in your food processer or immersion blender processor attachment. Turn on the pulse and scrape the sides down frequently to ensure all the ingredients are combined.

Step 2

After a couple of minutes, add a bit more oil if needed and pulse for a minute. Make sure to scrape the sides down often, so all is incorporated.

Step 3

Add salt and pepper to taste.

Step 4

Store in a jar, adding a layer of olive oil over the top to keep it from drying out. Secure the lid. I've kept mine for a month. I double it since I often use it in salad dressings and marinades.