We happened to buy a bag of "end of season" apples on a farm. They needed to be used rather quickly, and so into the kitchen, I went. I had this vision of warm sticky apples topping a yellow cake. Wheels turned, and I turned out this amazing sticky upside-down apple cake.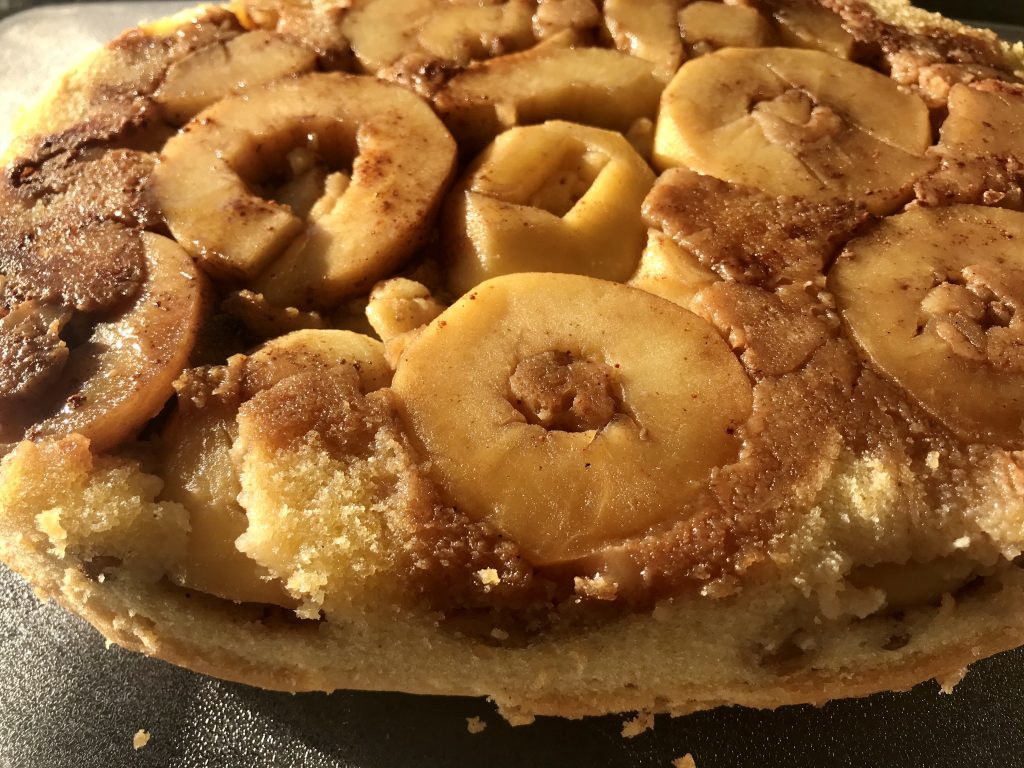 I also had this brilliant idea to make a creamy custard topping to drizzle over this beautiful dessert, and so I set to work. The combo is a match made in heaven and really makes the apples come to life. Easy, delicious, and looks amazing for a celebration or a nice warm dessert by the fire. Oh, by the way. This yellow cake is an amazing single-layer batter that you can make separately and decorate as you wish. It has a warm butter flavor and the right amount of sweetness!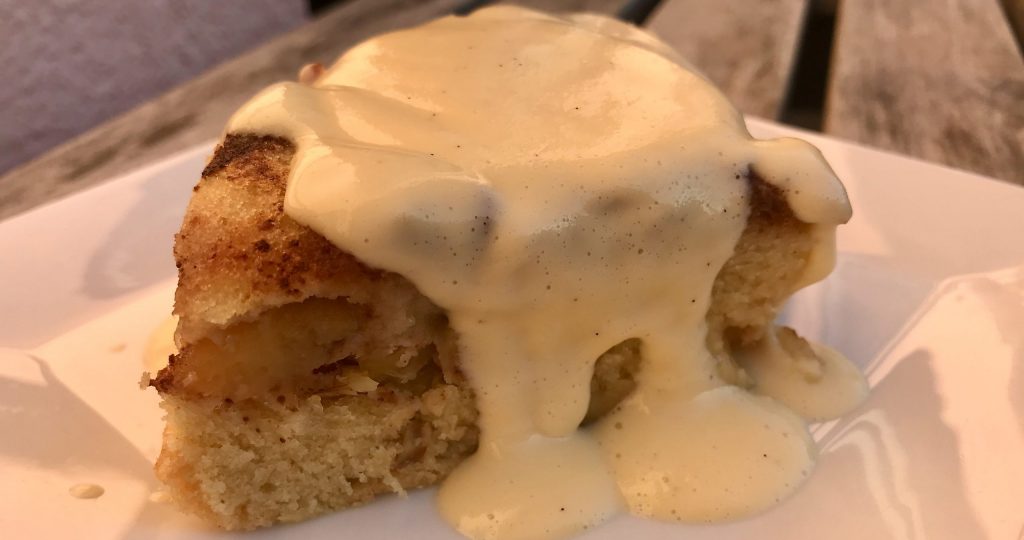 I cooked this delicious cake with cranberries one time to give it a more festive look. I'm sure you can use pears or apricots as well in the super dessert.  The custard on top just makes it so amazing. Be creative and do your thing but keep with the basic ingredients because they are tried and true!
1/2 tsp cinnamon
Up-side Down Apple Cake & Custard Sauce
March 8, 2021
: 6 servings
: 20 min
: 1 hr
: Easy
Ingredients
Apples:
5 peeled and cored apples cut in 1/4 inch rings
1/2 cup roughly chopped walnuts
1/2 tsp cinnamon
1/2 teaspoon nutmeg
1/4 cup coconut sugar
1/4 cup melted ghee
2 tsp vanilla
Yellow Cake (single layer):
3/4 cup of gluten-free flour (if it does not have xanthan gum add 1/2 tsp to the flour mixture)
1 tsp baking powder
1/2 tsp Himalayan salt
3/4 cup birch tree sugar, Xylitol sugar, or normal sugar
3 eggs
1tsp vanilla
1/3 cup cream coconut milk
1/2 cup melted ghee or organic butter
Custard Topping: Optional
4 egg yokes
4 Tbsp of birch tree sugar, Xylitol sugar, or normal sugar
1 cup coconut cream milk
2 tsp vanilla or rum flavoring
1 Vanilla bean
Directions
Step 1

Apples:

Step 2

Place rings of apples in a lightly greased baking dish about 9×9 or 8×13.

Step 3

Sprinkle nuts, cinnamon, nutmeg, sugar over the top.

Step 4

Drizzle with butter and vanilla. Set aside while you make the cake.

Step 5

Yellow Cake:

Step 6

Preheat oven to 350.

Step 7

In a small bowl, whisk together the flour (and xanthan gum if missing from flour mixture), baking soda, and salt. Set aside.

Step 8

In a medium bowl using a mixer or by hand, combine the sugar, eggs, vanilla, cooled melted butter, and coconut cream milk. Beat until smooth.

Step 9

Slowly add the flour mixture to the sugar and egg mixture. Make sure the flour is combined well after each addition.

Step 10

Pour the batter over the top of the sliced apples in the baking dish. Spread evenly with a spatula.

Step 11

Bake for 40 to 45 minutes until the top is golden. Slide a knife in the middle, and if it comes out with batter on it, add 5 more minutes. It will be sticky from the apples.

Step 12

Remove and let cool for 15-20 minutes.

Step 13

Use a knife to go along the edge of the cake to loosen it from the sides.

Step 14

Place a large serving plate over the cake dish. Holding it tightly, turn it upside-down onto the serving plate.

Step 15

Set aside while you make the custard topping if using.

Step 16

Custard Toppling: Optional

Step 17

Using your mixer and the whisk attachment, add the egg yokes and sugar. Beat on high to combine the sugar and eggs. About 3-5 minutes. You can also put the sugar in your coffee grinder and turn the sugar into powdered sugar to speed this part up! You can use regular sugar as well.

Step 18

Heat the coconut cream milk in a saucepan stirring until it just starts to bubble.

Step 19

Keep the mixer on high and SLOWLY (trust me…they do turn to scrambled eggs if poured too fast). Drizzle the hot milk into the egg yokes and sugar to combine.

Step 20

Once combined, pour the mixture back into the saucepan and continue cooking and whisking over low/medium heat (I use setting 3 on my electric stove) until it thickens. About 7-10 minutes-just be patient. You don't want to scramble the eggs.

Step 21

Remove from heat and add vanilla or rum flavoring. Scrape the seeds from the vanilla bean into the mixture and stir.

Step 22

You can store this in a glass jar in the fridge and warm it back up by setting the jar in a bowl of warm water and stir for a few minutes.