Woo…pucker up, folks! If you like tart and just a hint of sweet this is your day. I've made this delicious bread several times just using lemons and it is magnificent really. Last night I had some close friends over for dinner and served this bread as a taster for dessert when one of them said: "I bet this is amazing with lime!" So, sure enough, I had to get up the next morning and do it again. Whether you use lemons, limes or a combo of both you will not regret making this superb light, bright tasty treat. It just brings a bit of sunshine to your taste buds!
LEMON-LIME ZUCCHINI BREAD
September 3, 2017
: 1 loaf
: 15 min
: 50 min
: 1 hr 5 min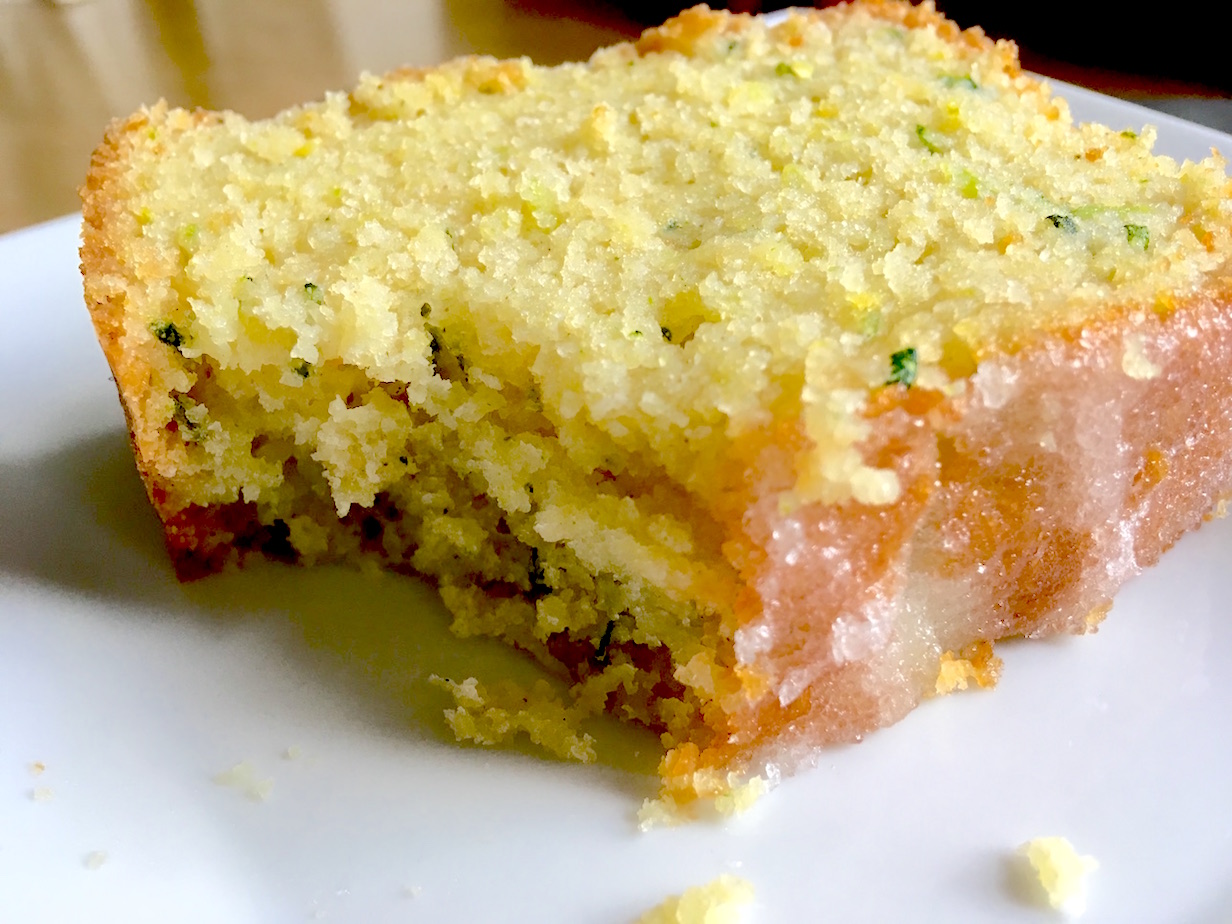 Ingredients
1 3/4 cup gluten free flour I used Bob's Gluten free flour
1/2 tsp xanthan gum phylum powder
1/2 tsp baking soda
1 tsp baking powder
1/2 tsp himalayan salt
1/4 tsp cardamon
1 cup birch tree sugar plus 1/4 cup for topping
2 eggs beaten ROOM temperature
1 lime or lemon zest or a combo!
1/2 cup coconut oil or macadamia oil room temperature
juice from 1 lime/lemon or a combo of each
2 cups grated zucchini squeezed dry
Topping
1/4 cup birch tree sugar powdered
juice from half a lime or lemon
Directions
Step 1

Turn oven on to 350 degrees. While boating we tend to harbor near farms that have their produce in baskets on the driveway with an honor pay system. We've found anything from fresh eggs to veggies and fruit! That's where I got my BEAUTIFUL zucchini.

Step 2

Wash and grate your zucchini on to a double paper towel. On the boat or in my RV, I use my little immersion blender attachment to grate my zucchini. Set the zucchini aside on a paper towel to drain the liquid.

Step 3

In a medium bowl, whisk your gluten-free flour (once I used Bob's Gluten Free Pancake mix. It was amazing), xanthan gum, baking soda, baking powder, salt, cardamom and birch tree sugar. After whisking well, stir in your lemon-lime zest.

Step 4

Squeeze your 2 cups of zucchini in the paper towels to get rid of the excess water. Take 1/2 of it and toss it around in the dry flour mixture.

Step 5

Now, in your food processor or your immersion blender attachment, add the eggs, lemon-lime juice, coconut oil and the remaining 1/2 of your grated zucchini.

Step 6

Make sure the oil is room temperature or the mixture will harden up. I didn't do this once and make scones instead! Blend this on high until well mixed. About 1 minutes.

Step 7

Slowly pour the wet mixture into the dry and combine with a spoon or fork until flour lumps are gone. Pour into a loaf pan lined with baking paper.

Step 8

Bale on 350 degrees for 45-50 minutes. Check with a knife to make sure it is done in the middle. It should come out clean. Let cool while you make the topping.

Step 9

Topping

Step 10

Place 1/4 cup of birch tree sugar in a coffee grinder or your food processor (I make a cup at a time and store what I don't use).

Step 11

Blend it until it is white and fluffy. TADA! You now have powdered sugar! Add the juice from 1/2 a lime or lemon and mix.

Step 12

I poked holes in the top of my bread with a toothpick so the topping seeps down into the bread. Pour the topping over your semi-cooled bread. Enjoy warm or with a little lemon sorbet on top.