Since moving to Wolfach, I've had some interesting moments of childhood favorite food memories. My mother would make the best tapioca pudding, and now I've reintroduced it into my life through a mistake.  I ordered tapioca pearls instead of tapioca starch. I was suddenly struck by the memory of my mother making this pudding when we were kids. I decided to create an adult-only Tapioca Pudding with a twist. I just bought some fresh cherries to give it another dimension.  Check it out here.
While at the small market every Wednesday, I discovered two more childhood food favorites, beet greens, and gooseberries. Not cooked together, of course! My Nana used to cook collard greens all day long in bacon and onions for holiday meals. I loved the smell as we entered her home, and today I'm making the same recipe with beet greens…it smells the same as my Nana's home. Here's how they turn out!
The gooseberry pie my Nana and her mother, Mawmaw, used to make was top secret. We all experimented with the recipe, but nothing came close to their pie. We used to get the gooseberries from a can so, when I saw fresh gooseberries at the market this morning, I had no idea what they were. They were HUGE and bigger than the fresh cherries I had bought. There became a shortage of gooseberries from Canada in the USA when I was younger, which was the end of the pies. They became priceless.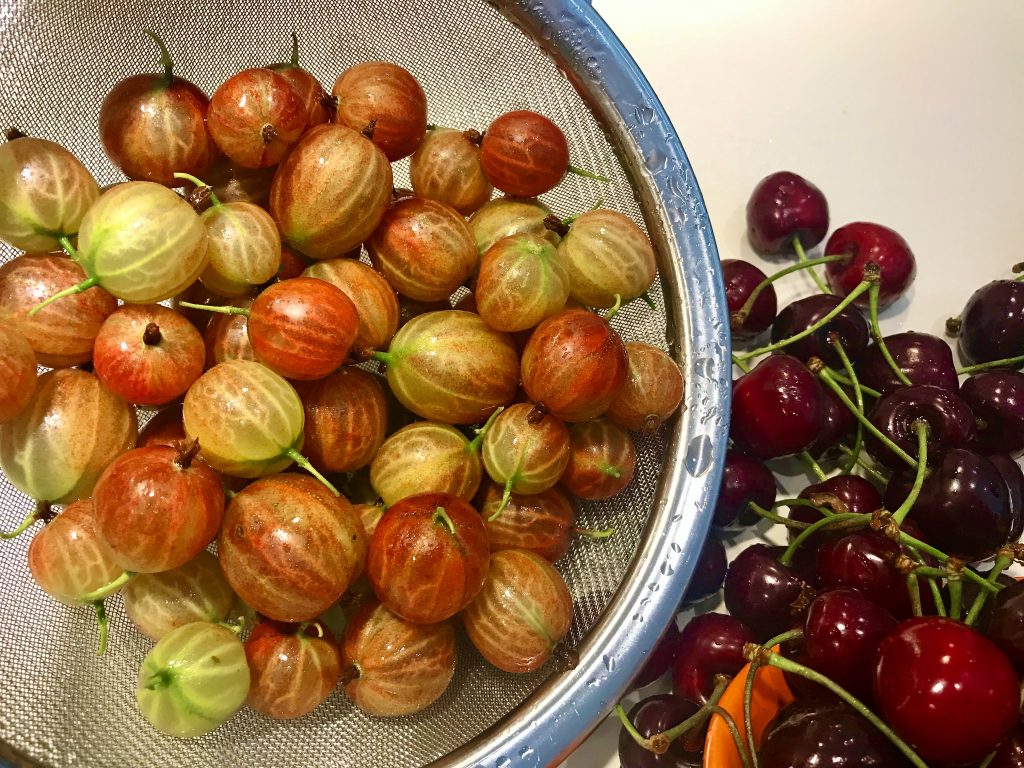 Pies, as we know them in American, are not that common in German. But now, in Germany, they are seasonally abundant. They make a type of torte or what they call kuchen in a fluted pan that is similar. They start with a crust that is mostly nuts, usually hazelnuts, and slightly sweet. Then they add the filling and usually top it off with a crumble with whipped cream or ice cream. Sometimes a meringue is used. Lutz's mom Emmy, always had one ready when we'd visit, and she knew it was my favorite. 
So today, I tried my first attempt at creating a Gooseberry Kucken or Torte with a crumble topping. For the crust, I usually use a cookie bottom like my Cassava Butter Cookies. Today I had a batch of Oma's Raisin Cookies in the freezer, so I let them thaw and pressed them into the pan. I had not planned to post this, but…my German husband and taste tester gave it double thumbs, which means a lot since he was raised on it. So here you go, and I hope you enjoy it.
You will need: 
9" fluted pan
1 recipe of my Cassava Butter Cookies or Oma's Raisin Cookies (or your favorite butter cookie recipe)
Coconut Whipped Cream Recipe (or dairy-free vanilla ice cream)
Let's do this!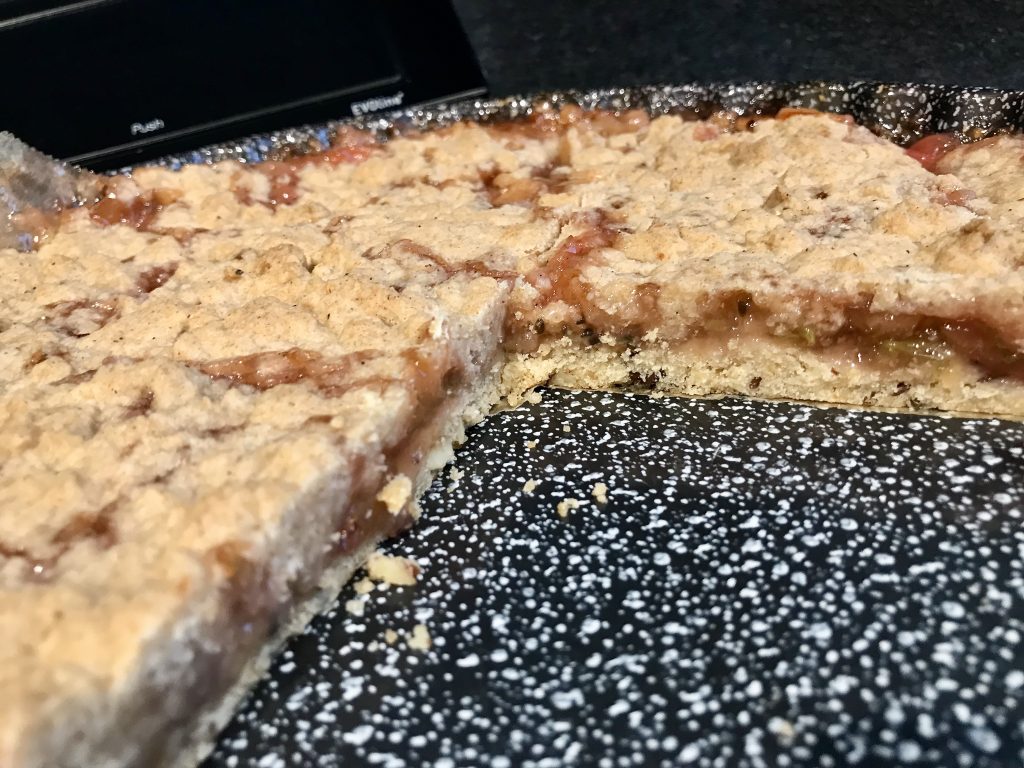 Gooseberry Pie/Stachelberren Kucken
July 4, 2021
: 8
: 20 min
: 40 min
: 1 hr
: easy
Ingredients
Filling:
3 cups fresh gooseberry
1 cup of Monk fruit or Birch tree sugar
3 tbsp of tapioca flour
1 pinch of salt
1 tsp vanilla
2 tbsp of port (optional)
Crust:
1 recipe of my Cassava Butter Cookies or Oma's Raisin Cookies (or your favorite butter cookie recipe). You can also use one of your favorite cookie crusts or store-bought.
Topping:
2/3 cup cassava flour
1/2 cup almond flour
1/2 cup tapioca or arrowroot flour
1/2 cup Monk fruit of Birch sugar
1/4 tsp of nutmeg
1/2 cup cold butter
Directions
Step 1

Filling:

Step 2

Place the gooseberries., sugar, tapioca, salt, vanilla, and port (if using) into a saucepan and bring to a boil. Stirring often until the fresh gooseberries pop open. Cook for 10 minutes and then set aside.

Step 3

Crust:

Step 4

Turn the oven to 375 F or 180 C. 

Step 5

If you plan to remove the finished tart to a serving tray, cut a piece of baking paper in a circle with a bit of edge on opposite sides to lift it out once it has completely cooled. Trust me, it will spill out if you don't let it cool completely. If you plan to use the fluted pan as a serving dish, butter the bottom before pressing in the cookie dough.

Step 6

Press the cookie dough into the fluted pan and up the sides.

Step 7

Pour the cooled gooseberry mixture on top of the crust.

Step 8

Topping:

Step 9

Mix the cassava, almond, and tapioca or arrowroot flour, and nutmeg together.

Step 10

Slice the cold butter into 1/2 inch pieces and use your hands to mix it with the dry ingredients until you have pieces the size of peanuts.

Step 11

Sprinkle over the top of the gooseberry filling.

Step 12

Bake for 40-45 minutes until it is bubbling and the crumble is brown.

Step 13

Let cool for 1 hour before cutting. If removing from the fluted pan, let it cool completely.

Step 14

Serve with coconut whipped cream or dairy-free ice cream.