This dish is a combo of early childhood food memories and the love of coconut. Since moving to Wolfach, I've been struck by the similarity of foods once popular from my childhood. It seems that everything at the market lately has sent my food memories back to my early days with family and relatives. My love of tapioca pudding, gooseberries, and now beet greens have fond memories for me as a child and have resurfaced since my move to the Black Forest.
I read that you can basically cook any greens from spinach to carrot tops and create a wonderful green nutritious, inexpensive side dish. Who'd-have-thunk-it! Well, I'm here to say it's true. My grandma, Nana, used to cook collard greens all day in bacon and onion. AMAZING and so delicious. Yes, even as a child, I loved this stuff. 
So, I bought some beets at the market to make my favorite Better Beets and decided to give my Nana's recipe a try using the large leafy greens attached. Big plus, my non-veggie man has asked me several times when we will be eating this again! My response…as soon as we go to market next Wednesday! Boy, did it bring back memories of all the visits and wonderful meals we ate at my Nana's house.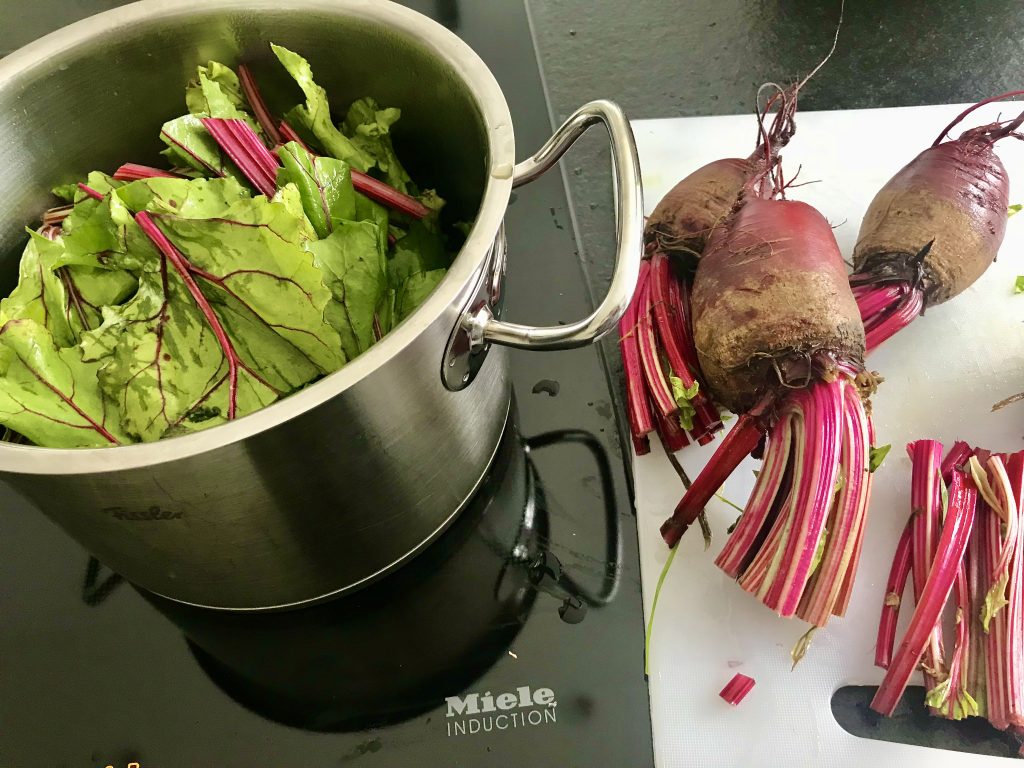 Beet Greens and Coconut Sticky Rice
July 4, 2021
: 4
: 20 min
: 1 hr
: 1 hr 20 min
: Easy
Ingredients
Beet Greens:
1 batch of greens
beet greens or a combo of kale, spinach, etc.
1/2 cup diced pork belly or bacon
1-2 garlic cloves diced
1 small white onion diced
1/4 cup of bacon grease, ghee, or olive oil
Himalayan salt and fresh ground pepper
Coconut Sticky Rice:
Basmati Rice or rice of your choice
1 1/2 cups water
1/2 cup coconut cream milk
2 tbsp fresh cilantro leaves
1 cup diced mushrooms
Juice from 1/2 a lime
1 tsp Himalayan salt
Beet Greens:
Directions
Step 1

Beet Greens:

Step 2

In a large saucepan, stir fry the diced pork belly in the bacon fat, oil, or ghee.

Step 3

Add the diced onions and garlic, salt, and pepper. Let simmer while you clean the beet greens.

Step 4

Wash the beet greens thoroughly in running water.

Step 5

Dice into pieces.

Step 6

Add to the bacon and oil and cover with a lid. Let simmer for 1 hour.

Step 7

Coconut Sticky Rice:

Step 8

Wash the rice until the water comes clean.

Step 9

Place in a medium saucepan.

Step 10

Add the water, coconut cream milk, cilantro, mushrooms, juice from the lime, and salt.

Step 11

Bring to a boil, then lower the heat to the lowest setting.

Step 12

Cover and cook for 20 minutes.

Step 13

Remove the lid. If liquid remains, place a tea towel over the saucepan and cover with the lid. Let sit for 20 minutes with no heat. This will remove extra liquid.

Step 14

If the liquid is absorbed, stir and serve with hot greens over the top!