I love both red and white German sauerkraut. The white sauerkraut is so delicious compared to the American brand. It's much milder and seasoned with various spices. At the market on Saturday, you can pick up a container from different vendors, and it's usually homemade. Nothing can compare. Fry up some sausage or pork chops and add the sauerkraut to the pan at the end. Be sure to scrape up the bits of pork, mixing it into the sauerkraut, and you've got a delicious meal.
Now, the red sauerkraut is another story. So flavorful, and it comes as a side dish with many German meat meals. They even stuff this flavorful sweet and tangy slaw under your side salad at most restaurants. Warm or cold this Rotkohl is delicious and has the flavor of cloves, tang of red wine, and a touch of sweetness. It's always present during the German holiday season and goes alongside Rouladen, Venison, or Christmas Goose.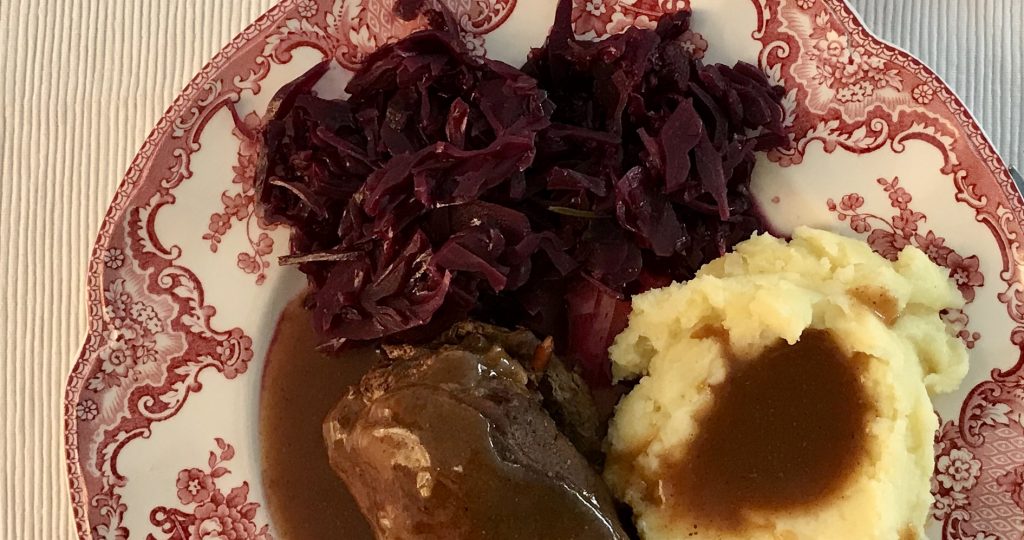 This recipe creates quite a bit! It's nice to have it on hand.  I freeze leftovers in individual servings and take it out when I need it. You can cut the recipe in half if you prefer a smaller portion.
German Rotkohl
October 30, 2020
: 1 gallon
: 20 min
: 2 hr
: 1 hr 20 min
: Easy
Ingredients
1 whole red cabbage sliced thin
2 while onion, diced
1/4 cup ghee
2 medium tart apples, skin left on
6 cloves garlic
1/2 cup red wine
1/2 apple cider vinegar
2-4 tsp coconut sugar
1/2 cup water or veggie broth
2 bay leaves
1/2 tsp kümmel (caraway seeds)
6 juniper berries
salt pepper to taste
Directions
Step 1

You'll need a large cooking pot or dutch oven with a lid.

Step 2

Slice the cabbage thin and set aside.

Step 3

Dice the onion and sauté in ghee until lightly browned 8-10 minutes

Step 4

Add the diced apples and garlic. Cook for 5 minutes

Step 5

Add wine, apple cider vinegar, 2 teaspoons of coconut sugar, and water or vegetable broth. Stir until well combined.

Step 6

Add bay leaf, kümmel, and juniper berries.

Step 7

Taste to make sure you've added enough sugar for you! Add 2 tsp more of coconut sugar if you like it a bit sweeter. 

Step 8

Add salt and pepper to taste. 

Step 9

Add the shredded cabbage and stir.

Step 10

Cook on top of the stove on low with the lid on for 2 hours. Stir occasionally!

Step 11

Enjoy!