Ok, this week's cheese allotment went to a Greek Breakfast Egg, but you can use dairy-free cheese as well. I've made both. It isn't easy to find dairy-free cheese in Germany, so when I find it, I do buy it, but this week, I couldn't find it, so I used goat cheese and hummmm so good. I found the coolest green olives at Aldi. They were my inspiration to create this dish. They're in an air packed ziplock baggie on a shelf near the Italian foods and are dried! So tangy and just yelled at me to be placed in the delicious dish. Easy, quick, and the leftovers were so delicious the next day!
You'll need an iron skillet or a frying pan that can be placed in the oven under the broiler. So check your pans before you get started. Coat the pan with a bit of olive oil and warm it up on top of the stove on medium while preparing the filling. Let's do this!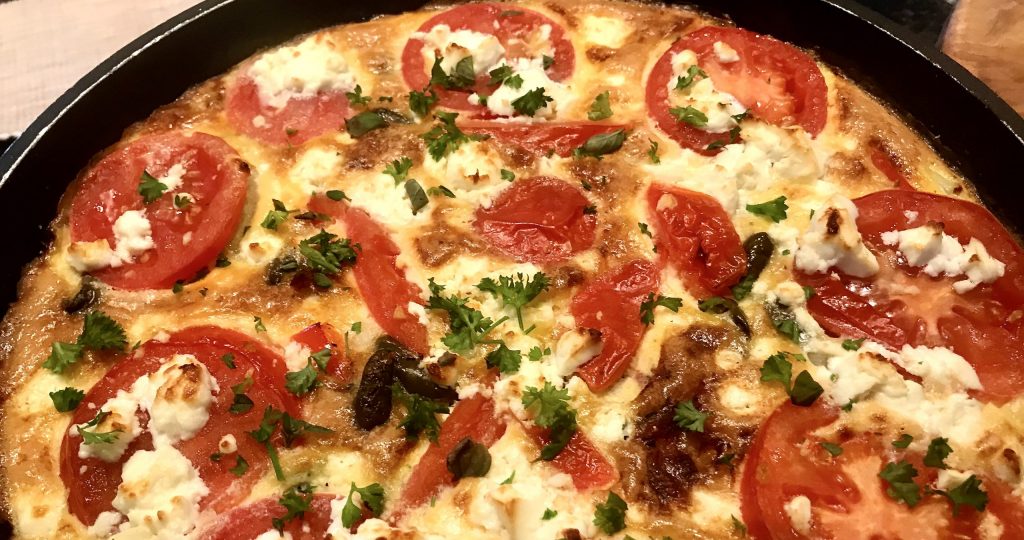 Greek Breakfast Eggs
October 30, 2020
: 4 Servings
: 15 min
: 15 min
: 30 min
: Easy
Ingredients
2 Tbsp ghee or olive oil
1/4 cup each: red, green, yellow, orange bell peppers diced
1 small onion diced
1 sprig of thyme leaves diced
1 sprig of oregano leaves diced
2 garlic cloves diced
1 tsp of harissa dry seasoning or paste
Himalayan Salt to taste
Pepper to taste
6 eggs
1 handful of fresh basil diced
1/2 cup goat cheese, betta cheese, or dairy-free cheese
1/4 cup dried green or black greek olives
2 medium tomatoes sliced thin.
Directions
Step 1

Turn the oven to Broil.

Step 2

In an ovenproof frying pan on top of the stove, heat the ghee or oil in the skillet.

Step 3

Saute the bell peppers and onion.

Step 4

Add the diced fresh thyme, oregano, garlic, harissa seasoning, salt, and pepper.

Step 5

Beat the eggs in a small bowl.

Step 6

Add the basil, 1/4 cup of goat cheese, and dried olives to the egg mixture and mix well.

Step 7

Pour into the heated skillet with the sautéed vegetables.

Step 8

Top with tomato slices and the remaining 1/4 cup of cheese of choice.

Step 9

Place under the broiler for 15 minutes or until the top is bubbling and slightly golden.