Amazingly simple and delicious. Seriously good stuff! When I was introduced to this delightful traditional meat dish, I had to question the ingredients, but my doubts were dismissed after one taste. It is a burst of tender meat filled with smokey bacon, spicy mustard, and a tang of a german pickle smothered in onions, covered in a dark, savory sauce.
Yep, a mouthful to taste and express this amazing meal's uniqueness. Just delightful and goes so well with my German Rotkohl recipe. Whip up a batch of creamy potatoes for the delicious bold gravy and enjoy this authentic German holiday meal.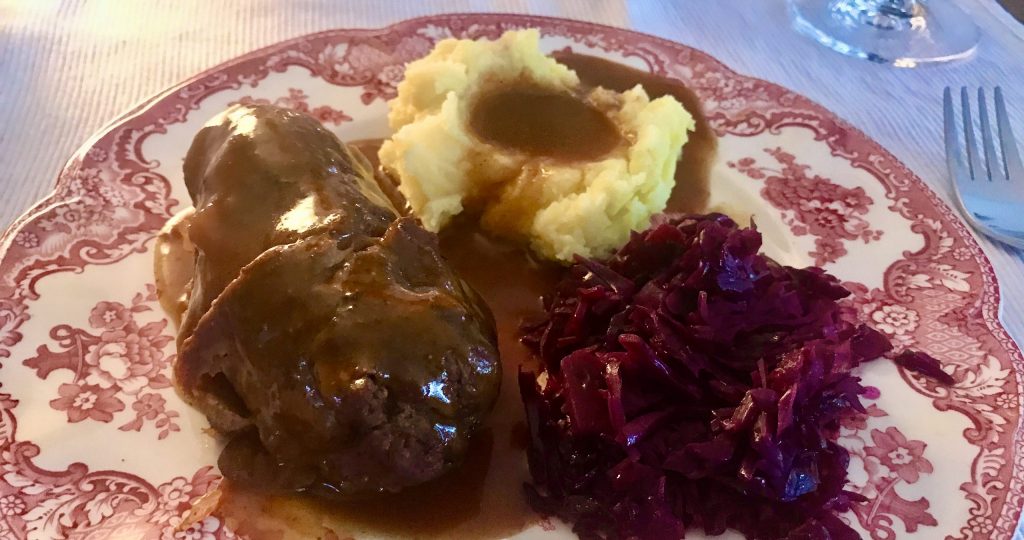 This is a traditional meal during the holidays and one the entire family can participate in creating. Yes, Lutz even put on an apron and helped me make this wonderful meal.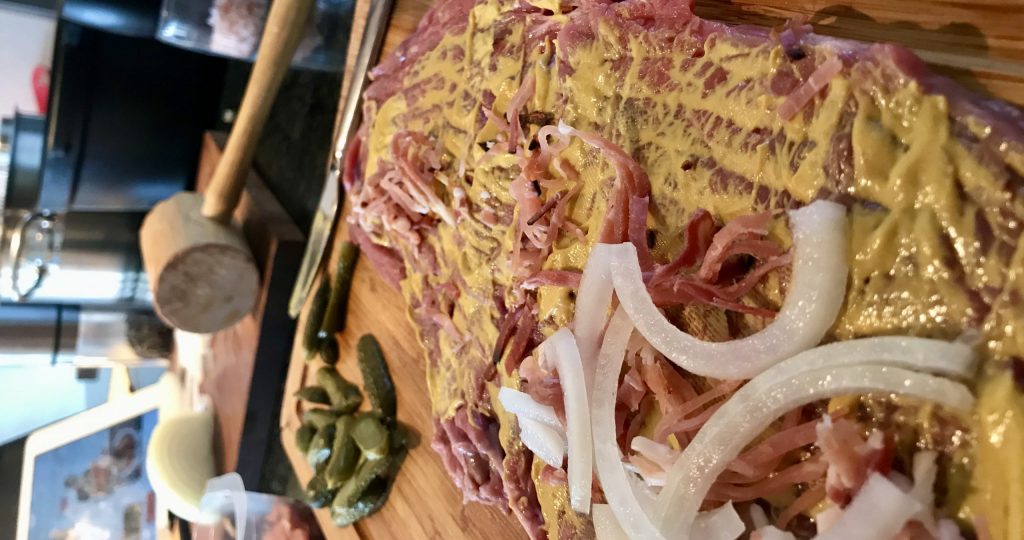 German Rouladen
October 30, 2020
: 2-4 Persons
: Medium
Ingredients
4 thin beef steaks pounded flat (5 inches long each piece)
1/2 cup diced smokey bacon
1 while onion diced (reserve half for the gravy)
2-3 German pickles sliced lengthwise thin
Spicy German grain Mustard
Ghee
Sauce:
Reserved 1/2 diced onions
1 clove garlic
1 diced carrot
1 stalk of celery
A sprig of rosemary diced small
A sprig of thyme diced small
1/4 Tsp of nutmeg
1/2 cup red wine (optional)
1 Tbps tomato paste
3 cups vegetable or beef broth
Himalayan salt & fresh ground pepper
Bay leaf
Thickening: 2 Tbsp arrowroot or tapioca starch (optional)
Directions
Step 1

Rouladen:

Step 2

You will need a dutch oven or baking pan with a lid! Set your oven to 300 F.

Step 3

Dice the onion and reserve half for the gravy, and set aside. 

Step 4

Pound the beef steaks until 1/4 inch thick and about 5 inches long.

Step 5

Spread each beef steak with mustard, diced onions, bacon, and a couple of sliced pickles.

Step 6

Roll them up and use cooking string to secure or long cooking pins.

Step 7

Heat the ghee in a saucepan on medium. 

Step 8

Place the rouladen into the hot pan and sauté on both sides until browned. Remove from the pan and place in your dutch oven or baking pan with a lid.

Step 9

Sauce:

Step 10

Using the same saucepan in which you browned the rouladens, add the reserved half onion, garlic, carrot, celery, rosemary, thyme, and nutmeg. Stir until golden brown. Be sure to scrape the bottom and incorporate the leavings from the browned rouladens. Stir and simmer for about 5 minutes.

Step 11

Add the red wine and stir until combined. Lower heat and continue stirring until the liquid is reduced a bit.

Step 12

Add tomato paste and stir until combined.

Step 13

Add the vegetable or beef broth to the mixture.

Step 14

Pour the sauce over the rouladens and add the bay leaf. Replace the lid.

Step 15

Place the rouladens with sauce in the heated oven for 3 hours.

Step 16

Step 17

Serving:

Step 18

Remove the rouladen from the dutch oven or baking pan. Cover with foil and set aside. Pour the liquid and vegetables through a strainer and reserve the liquid in a saucepan. Discard the vegetables. I save them to use in creamed soups like pumpkin or creamed vegetable soup.

Step 19

There should be 2 cups or more strained liquid for the sauce. If not, add water to equal about 2 cups liquid.

Step 20

Place the strained liquid on the stove on low until it simmers.

Step 21

Add Himalayan salt and ground pepper to taste.

Step 22

Simmer for 6-8 minutes to reduce the liquid. 

Step 23

For a thicker sauce: Place 2 tablespoons of arrowroot or tapioca starch in 2 tablespoons of cold water. Mix until combined. Slowly drizzle into the simmering sauce and whisk until you've reached the thickness you like. You may not need it all.

Step 24

Serve over rouladens with mashed potatoes and a side of rotkohl. Enjoy!