This recipe is so easy! Remember that fresh strawberry pie your mom made with jello? This is my version made with organic Vita Protein Beef Gelatin and Monk Fruit sugar. So no guilt involved, only the robust taste of a refreshing burst of summer! I've elevated the crust recipe by using a super easy coconut crust with a thin layer of bitter-sweet chocolate (also made with Monk Fruit).
Healthy, organic, fresh, and with low carbs and no sugar! I ask why not? The topping is Strawberry Coconut Whipped Cream. Remember, the 15 oz can or carton of full-fat coconut cream milk needs to be in the fridge for at least 4 hours or freezer for 2 (don't shake it). So making the whipped cream can wait until you plan to serve up this delicious batch of freshness!
This pie is best made the day before since the filling needs time to jell. So save yourself some time to enjoy family or company and whip up the crust and filling the day before. Then all you will need to do is make the Strawberry Coconut Whipped Cream and assemble the pie when you are ready to dive in.
It's a hit, and by the way, it's the strawberry season on this side of the pond, and what a great way to celebrate.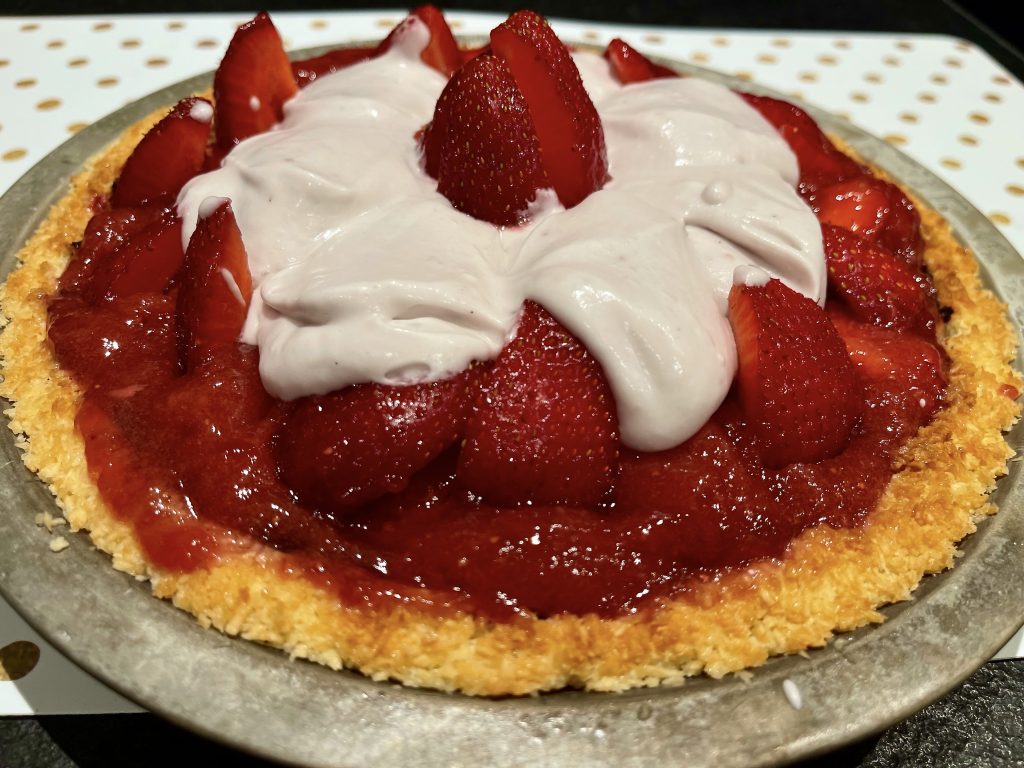 Fresh Strawberry Pie & Chocolate Coconut Crust
July 25, 2022
: 8
: 1 hr
: 45 min
: 1 hr 45 min
Ingredients
Crust:
1 egg white (save the yoke for breakfast)
1/4 cup monk or birch tree sugar
1 3/4 cup raw coconut flakes (no sugar)
1 tsp vanilla
2 Tbsp soft butter
Pinch salt
1/4 cup small dark chocolate chips made with birch or Monk Fruit sugar (xylitol)
Filling:
3 baskets of fresh strawberries
3 Tbsp Monk Fruit Sugar
1 Tbsp of Vital Beef Gelatin
1 cup of water (divided)
1/4 cup of pure pomegranate juice or organic red food coloring (optional)
Pinch off salt
Strawberry Coconut Whipped Cream:
15 oz can/carton of full-fat coconut cream milk (Do not shake it. Place in fridge for at least 4 hours)
1-2 drops of coconut, almond, or rum flavoring
1 Tbsp Monk Fruit
1 Tsp vanilla
1/4 cup of strawberry filling
Directions
Step 1

Crust:

Step 2

Turn the oven to 350 degrees 

Step 3

Place all the ingredients, except the chocolate chips, in a bowl and mix well using a fork or your hands. 

Step 4

Press into a pie pan and place in the oven for about 8 minutes or until the edges and center are lightly toasted. You will need to watch closely since this cooks up quickly and can burn.

Step 5

Remove the crust from the oven and sprinkle the chocolate chips over the bottom. Give them time to melt, and then use a spoon to spread over the bottom and up the sides.

Step 6

Place in the refrigerator while you make the filling.

Step 7

Filling:

Step 8

In a small bowl, place 1/2 cup of water and sprinkle the gelatin over the top. Let it sit and bloom while you make the next step.

Step 9

Clean and steam 2 baskets of strawberries and place in a bowl with 1-2 tablespoons of Monk Fruit sugar (depending on their sweetness) and mix lightly. Set aside.

Step 10

Place 1 basket of cleaned and steamed strawberries in a blender or smoothie machine.

Step 11

Add 1/2 cup of water, 2 Tablespoons of Monk Fruit sugar, the coloring of choice, and a pinch of salt. Blend until smooth. You should have about 2 cups of sauce. If not, add enough water to stretch it or additional pomegranate juice. 

Step 12

Pour the sauce and the bloomed gelatin into a saucepan and cook on medium for 5-8 minutes, stirring constantly. It should thicken a bit and will thicken as it cools.

Step 13

Once the filling has cooled, set it in the fridge while you prepare the fresh strawberries in the crust. Arrange them in the cooled crust to form a small hill with a peek!

Step 14

Remove the completely cooled filling from the fridge. Give it a nice stir. Set aside 1/4 cup of the filling for the Strawberry Coconut Whipped Cream. Keep the 1/4 cup in the refrigerator until you are ready to make the whipped cream. It needs to be completely cold before adding to the whipped cream.

Step 15

Pour the remaining filling over your mountain of fresh strawberries.

Step 16

Place the pie in the fridge for 4 hours or until the filling is firm. It's best to let it sit for a day, so if you plan to eat it the same day, I suggest you make it in the morning.

Step 17

Strawberry Coconut Whipped Cream:

Step 18

Open the chilled can or carton of coconut cream milk. Do not shake the can or carton. Over a bowl, drain the water from the coconut cream. Scoop out the firm portion of the coconut cream into a food processor. The liquid can be used for your morning smoothie or discarded.

Step 19

Add the flavoring, Monk Fruit, and vanilla. Beat on high using a small food processor or a hand mixer until thick. Fold in the 1/4 cup of cold strawberry filling just before serving.