I love my air-frier and learning how to use it to make dinners simpler and quicker. This recipe serves two and is a time saver. We've had this yummy meal several times. Every time, it just gets better. There are three components to the delicious fish bowl: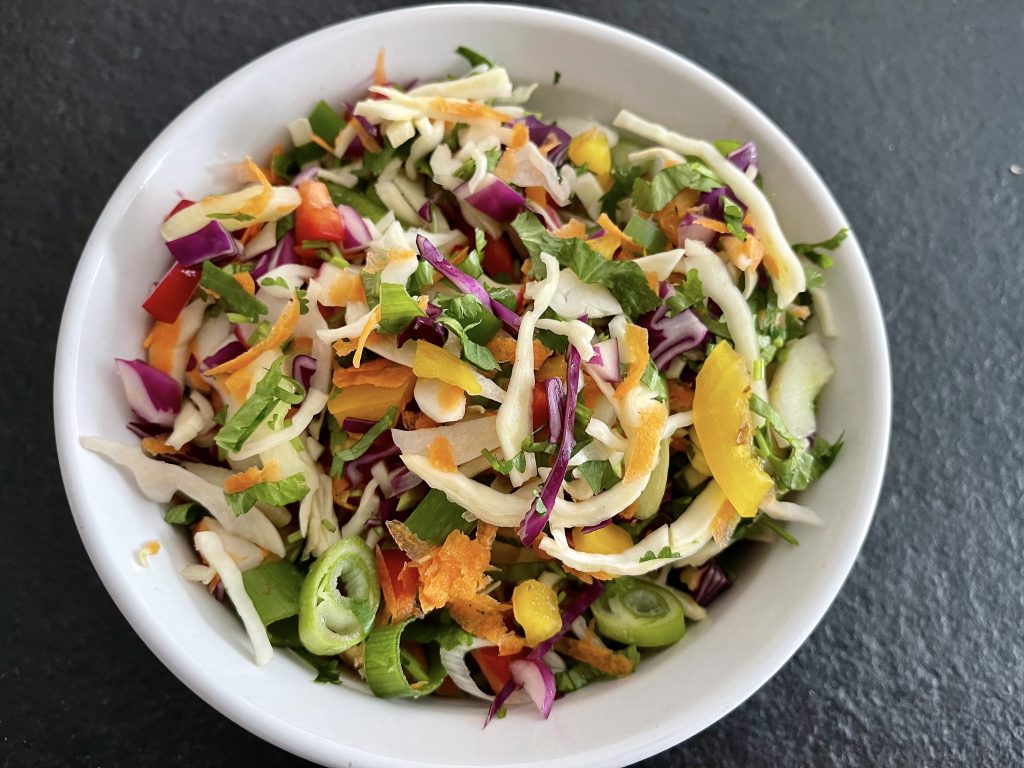 Coconut Cauliflower Rice: You can use normal rice, but this cauliflower rice tastes so much like real rice that it's hard to tell the difference.
Lime Cabbage Slaw: Combo of veggies with red and white cabbage and a lime dressing.
Avocado Sauce: Yummy, creamy sauce to top off this unique dish
Guacamole: This recipe is one of my favorites, and I get many compliments from my guest. No tomatoes in this one!
Air-Fried Fish: Cod seems to hold together well in the air fryer; monkfish and thick salmon also work well. If you don't have an air-frier, fry in a saucepan with a bit of ghee or coconut oil.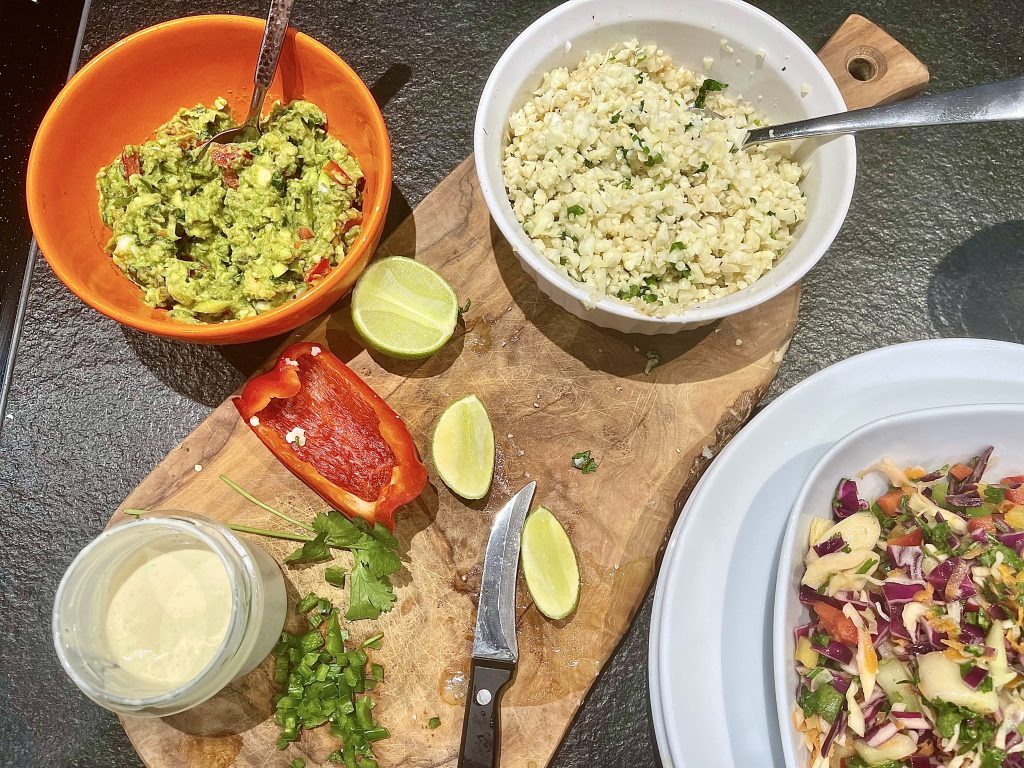 Most people have their own fish seasoning (lemon, Mexican, blackened, etc.) and are welcome to use it when making the coating for your fish. I love Old Bay, but it's not available in Germany. Here is an adaption to Old Bay. Put them in a container, secure the lid and shake it up!
1/2 Tsp paprika
1/4 tsp oregano
1/4 tsp onion powder
1/4 tsp garlic powder
Pinch of nutmeg
1/4 tsp Himalayan salt and fresh ground pepper to taste
Don't freak out at the list of things to do. Truly all the ingredients for each component that goes into this delicious meal are made in their own separate bowls. Prepping like this for the components below allows you to set the prepared bowls on the table, and everyone can create their own individual Air-Fried Fish Bowl. We use cod for this recipe, and it comes out perfect, so pick your fish and let's get started.
Air-Fried Fish Bowl
September 24, 2022
: 2
: 40 min
: 10 min
: 50 min
: Easy
Ingredients
Coconut Cauliflower Rice:
1/2 cauliflower
1/4 cup coconut cream milk
2 Tsp lime juice
1 TBSP diced cilantro
1 garlic diced fine or pressed
Himalayan salt and pepper
Lime Cabbage Slaw:
1/4 cup shredded white cabbage
1/4 cup shredded red cabbage
1 jalapeno diced
1/4 each: red and yellow pepper diced
1 garlic clove diced
1/2 cucumber, peeled, seeds removed & diced
1/4 cup diced cilantro
1/2 fresh lime juiced
1/4 cup olive oil
Himalayan salt and pepper to taste
Avocado Sauce:
1/2 cup mayo
1/4 cup avocado mashed
1/2 fresh lime juiced
2 tsp cilantro
1 TBSP coconut amino soy (or normal soy)
optional: Dash of hot sauce
Guacamole:
1 large avocado (a cup mashed)
1/2 jalapeno diced
1/4 red pepper diced
2 garlic cloves pressed
1/4 cup diced cilantro
1 green onion diced
1/2 fresh lime juiced
Shake of chili powder
1/4 tsp cumin
1/4 tsp oregano
Himalayan salt and pepper
Fish:
2 pieces of Fish
2 tsp of Old Bay, your choice of spice, or the recipe above
1/4 cup almond flour
1 egg
Himalayan salt and pepper to taste
Directions
Step 1

Coconut Cauliflower Rice:

Step 2

Cut cauliflower into 1-inch pieces and pulse in a food processor until the size of rice. You can also chop the cauliflower into rice size pieces with a knife. Place the diced cauliflower on a paper towel. Squeeze as much liquid out and place in a saucepan with the remaining cauliflower rice ingredients.

Step 3

Sautee on medium for 4-5 minutes. Turn off and leave the rice on the stove. You can heat this back up when you are ready to serve.

Step 4

Lime Cabbage Slaw:

Step 5

Place all the ingredients in a medium serving bowl and give it a good toss. Cover and leave on the counter, so it is at room temperature.

Step 6

This salad can be made the day before and stored in the fridge. Just be sure to take it out an hour before serving, so it is room temperature.

Step 7

Avocado Sauce:

Step 8

Place all the ingredients in a 1-cup jar. Tighten the lid and shake until well combined.

Step 9

Guacamole:

Step 10

Place all the ingredients in a serving bowl and mix until well combined. Taste and see if you need a bit more lime juice or salt.

Step 11

Leave it on the counter to be sure it is room temperature.

Step 12

You can make this the day before and store it in the fridge. To prevent browning when storing in the fridge, use plastic wrap and press it down into the guacamole, so no air touches it. Be sure to take it out an hour before serving. It's best at room temperature.

Step 13

Air-fried Fish:

Step 14

Turn the air fryer to 350F or 180C

Step 15

Beat the egg in a shallow dish. set aside

Step 16

Mix the Old Bay or the seasoning of your choice with the almond flour on a shallow plate.

Step 17

Wash and dry your fish.

Step 18

Dip one piece of fish at a time in the egg batter and then press it into the seasoned almond flour. Flip and coat the other side. Repeat with the second piece of fish.

Step 19

Optional: If you have egg batter and the almond mixture left over, drizzle the remaining egg on top of each piece of fish. Sprinkle the remaining seasoned almond flour over it and press it into the fish.

Step 20

Lay the fish gently into the hot air fryer and cook for 3-5 minutes. Flip each piece and cook for 3-5 more minutes. You will have to be the judge. Not all fryers or fish portions are the same. When the crust is golden, then flip.

Step 21

Remove the cooked fish to a paper towel or rack while you plate up!

Step 22

Don't forget the delicious creamy Avacodo Sauce!