Yes, you can have cake for breakfast, why not? This is so delicious and made with almond and cassava flour. Plus Monk Fruit Sugar, so enjoy and get your dose of anti-oxidants simultaneously. I've made it grain-free, gluten-free, dairy-free, and sugar-free!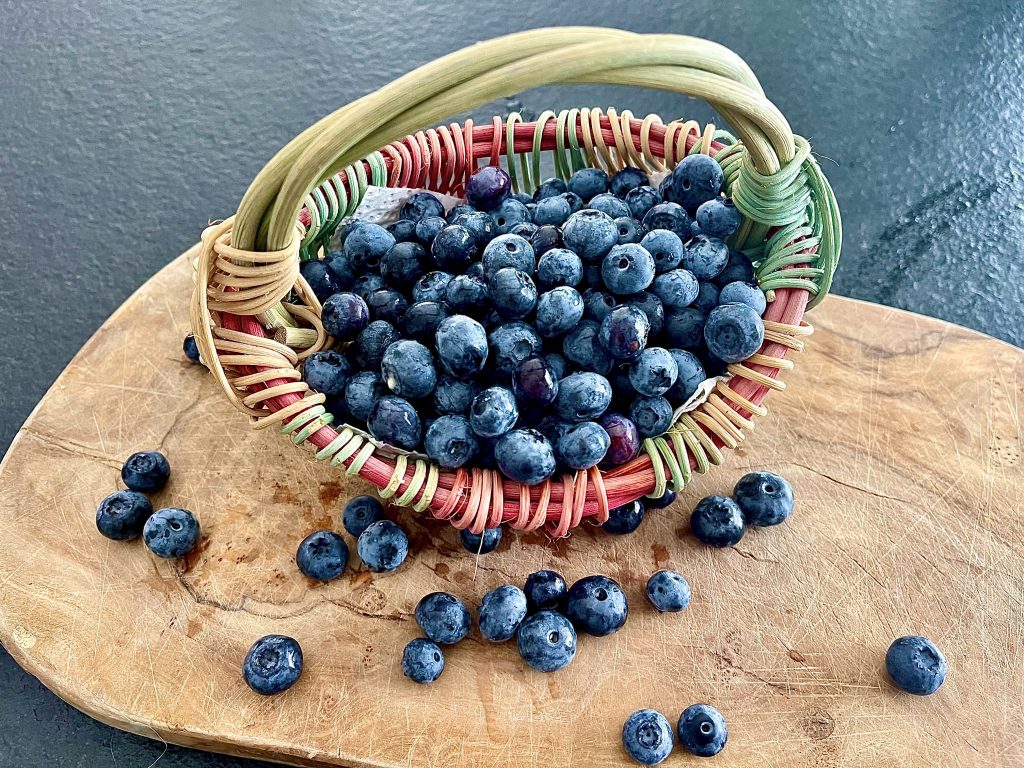 I love driving home from our boat. We always take the back road by the farms to collect some fresh veggies and fruits. This time we scored! BIG. We got four baskets of freshly picked blueberries and ended up with one missing basket by the time we got home. 
I had to create something quick, or they'd all be gone. I gave one basket to our neighbor for watering our plants while we were gone and got to work on this lovely Lemon Blueberry Breakfast Cake.
I used a pie tin which worked well, but you can also use a loaf pan. The cooking time may be 15-20 minutes longer, so be sure to do the toothpick test!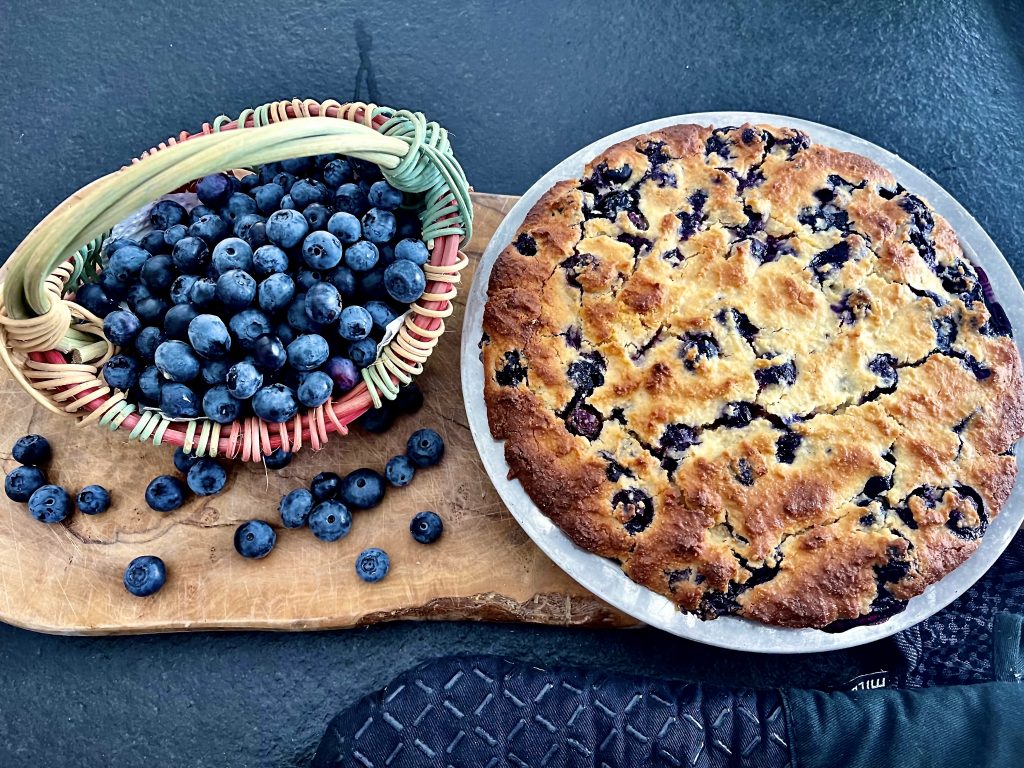 This cake is very easy, and I've made it a few times since. I added a bit more blueberries, and it made it very moist and cake-like. To create a scone-like consistency, use one tablespoon less yogurt and third fewer blueberries. Either way, if you combine the ingredients, cake-like or scone-like, dust the blueberries in gluten-free flour before adding them to the dough. This technique helps prevent the berries from popping during cooking.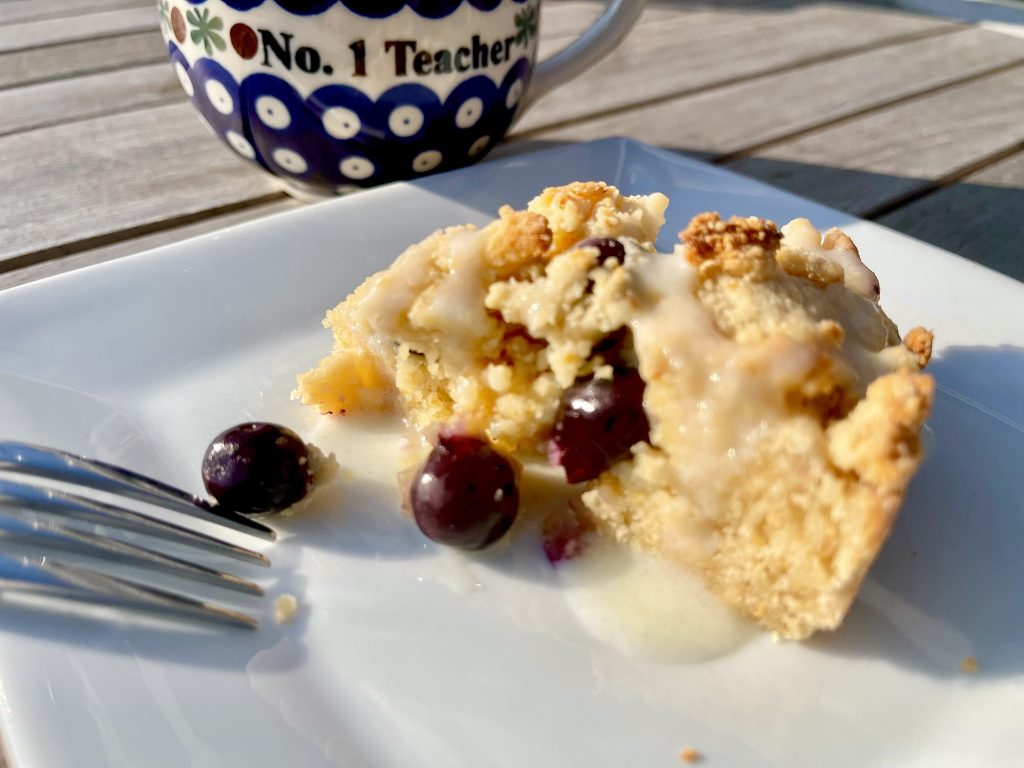 The results are scrumptious, and the blueberry flavor poops! Delicious with a bit of butter or Monk Fruit icing. Let's get cook'n!
Lemon Blueberry Breakfast Cake
July 23, 2022
: 6
: 20 min
: Easy
Ingredients
Cake:
1 cup almond flour(plus 1/4 cup more for scones)
1 cup cassava flour (plus a tablespoon more for dusting the blueberries)
1 1/2 tsp of baking powder
1Tbsp lemon zest (1 lemon)
1/2 tsp Himalayan salt
pinch of cardamon
pinch of nutmeg
2 Tbsp butter or ghee frozen
1/2 cup coconut, sheep, or goat yogurt (minus a tablespoon for scone-like texture)
2 Tbsp Monk Fruit Sugar
1 egg
1 tsp vanilla
2/3 cup fresh blueberries (minus 2 tablespoons of blueberries for scone-like texture)
Lemon Icing:
1/2 cup of powdered Monk Fruit Powder Sugar or place Monk Fruit white sugar in a coffee grinder and blend until fluffy
Juice from 1 lemon
1-2 Tbsp of coconut cream milk (not coconut milk drink)
Directions
Step 1

Cake:

Step 2

Place the two tablespoons of butter in the freezer.

Step 3

Turn oven to 350F

Step 4

You will need a 9" pie tin. Use ghee to cover the tin.

Step 5

In a medium bowl, combine the almond and cassava flours, baking powder, lemon zest, salt, cardamom, and nutmeg.

Step 6

In a small bowl, combine the yogurt, 2 tablespoons of Monk Fruit Sugar, egg, and vanilla. Mix thoroughly.

Step 7

Remove the butter from the freezer, and using a cheese grater, shave it into the flour mixture, stirring to distribute evenly. Use your fingers to press some of the butter pieces into the flour mixture.

Step 8

Dust the blueberries with one tablespoon of cassava flour. This keeps helps prevent them from popping open while cooking.

Step 9

Fold the blueberries into the dough mixture. It will be relatively thick. Pour this into the prepared pie tin.

Step 10

If altering the ingredients for a more scone-like texture, you will need to plop the dough into the pie tin and pat them a bit to fill the pan. Don't worry too much about the shape of either dough. It all will cook together wonderfully.

Step 11

Cook for 45-55 minutes. Check the center after 45 minutes. If a toothpick comes out sticky with dough, continue cooking for another 10 minutes. If the top is browning faster than the inside is cooking, cover it with foil.

Step 12

When the cake is done, let it cool before cutting it into 6 pie pieces. Drizzle the Lemon Icing over individual pieces before serving.

Step 13

Lemon Icing:

Step 14

If you have powdered Monk Fruit Sugar, that's great! If not, place your white Monk Fruit Sugar in a coffee grinder and grind until it turns to powdered sugar. Pour into a small bowl.

Step 15

Add half the juice from a whole lemon to the powdered sugar and reserve the rest for thinning the icing if necessary.

Step 16

Shake the coconut cream milk. Add 1 tablespoon at a time to get the consistency you desire for the icing. It will be a bit runny. If necessary, add a bit of liquid from the lemon juice or coconut cream.

Step 17

Drizzle over warm cake!