Fall is EVERYWHERE, and so are the apples. I am in pursuit of the apple lovers dream. So far I have made Fresh Applesauce and fresh Sticky Apple Cake and now this amazing Fresh Apple Bread. It is so good warmed up with a slice of organic butter or my Chai Cashew Butter lathered over the top! Hope you like it.
FRESH APPLE BREAD
November 2, 2016
: 8
: 15 min
: 25 min
: 40 min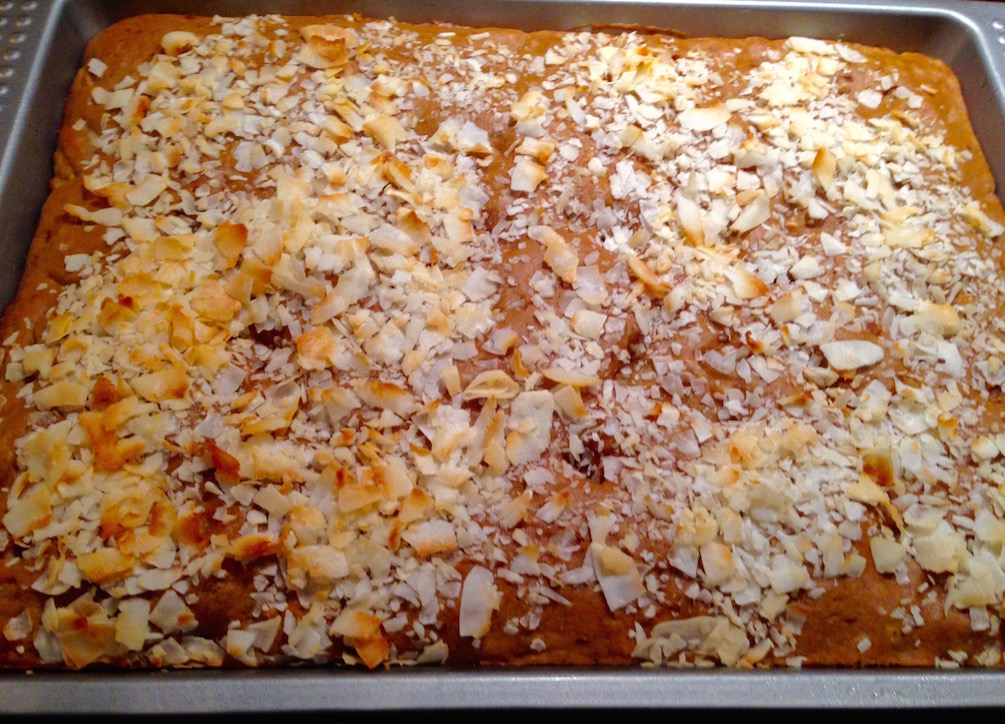 Ingredients
Wet Ingredients
1 cup applesauce my recipe or organic no sugar
1 tsp pure vanilla
1/2 cup browned organic butter or melted
1/2 cup coconut oil
Dry Ingredients
1 cup gluten free flour mix or 1/2 cup of coconut flour & 1/2 cup almond flour
1/2 tsp ground cardamon
2 tsp cinnamon
1/4 tsp himalayan salt
Last Ingredients
1 cup chopped walnuts
1/2 cup peeled & chopped apples
1/2 cup raw coconut flakes These go on top!
Directions
Step 1

Turn your oven to 350 degrees. I use a 8X9 greased sheet cake pan since I am in my RV and the bread cooks in 20-25 minutes. If you are using a greased loaf pan you will need to cook the bread for 45 minutes. Check it after 40 minutes by sliding a knife into the center. When the knife comes out clean it is done.

Step 2

Use your blender or hand mixer and mix all the wet ingredients well. There might remain a few lumps of apples if you're using my Fresh Applesauce recipe.

Step 3

In a medium bowl mix all the Dry Ingredients with a fork or whisk.

Step 4

Slowly add the Dry Ingredient mixture to your wet ingredients. Mix throughly.

Step 5

Stir in the nuts and chopped apples.

Step 6

Pour into your greased baking pan and sprinkle the raw coconut flakes over the top of your bread.

Step 7

Bake at 350 degrees.