This is a wonderful accident that was waiting to happen. I love making my own Chili Pepper Crackers and serving them with my Herb Hummus recipe or other dips. I usually take the crackers out of the oven early and break them into large chunks for dips then, let them dry on at room temperature. With this new cracker creation, I happen to have left them too long in the oven. Nothing is lost in this house. I came up with a brilliant idea! I broke them into pieces and used them on top of most everything. Instead of gluten-free croutons on salads, I now sprinkle these delicious nutty Toasted Seed Chips as a garnish. They are delicious on soups and roasted veggies. I'm sure you will find several creative ways to use these savory nutty chips to enhance your meals. Oh, and by the way, they are amazingly delicious by the handful!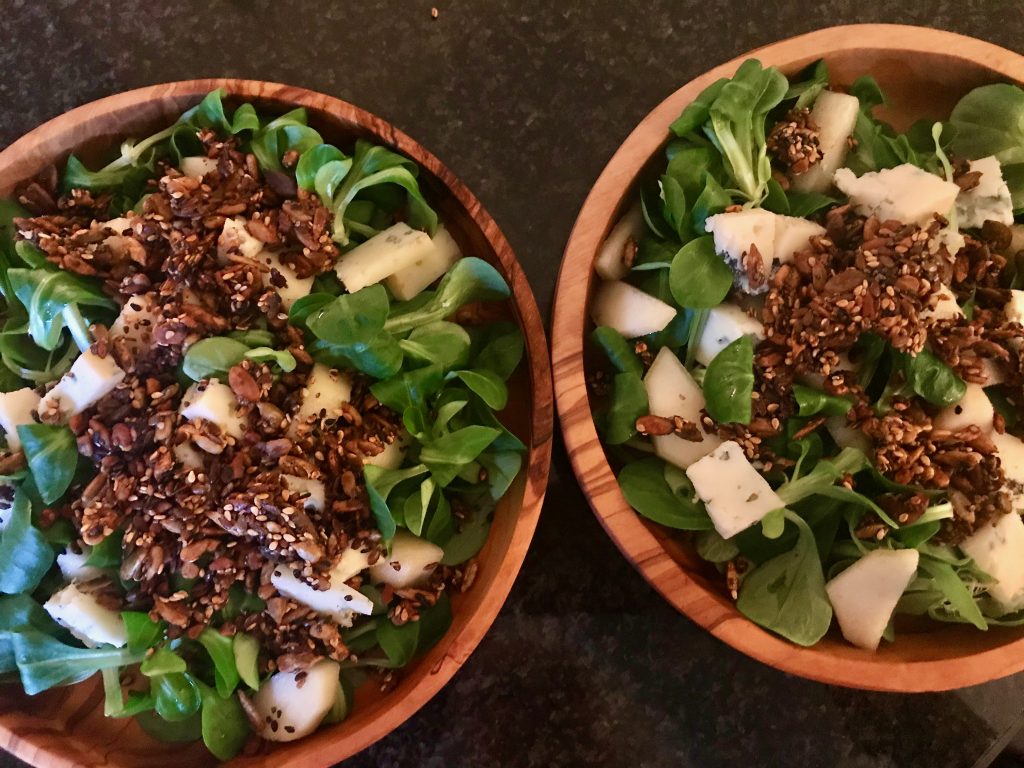 Crunchy Seed Chips
January 4, 2021
: 2 Cups
: 10 min
: 30 min
: 40 min
: Easy
Ingredients
1 egg white
1 tsp salt
1/2 tsp ground pepper
1 tsp smokey paprika
1 tsp red pepper flakes
2 Tbsp of maple syrup or honey
1/2 cup each: sunflower seeds, flax seeds, pumpkin seeds, mixed black & white sesame seeds, chia seeds, and hemp (optional). Just make sure you have about 2 cups total.
Directions
Step 1 In a medium bowl, mix the egg white, salt, pepper, paprika, red pepper, and maple syrup or honey with a whisk until well combined.
Step 2 Add the 2 cups of seeds and mix well. Set aside.
Step 3 Heats the oven to 325 degrees. Prepare a baking sheet with baking paper.
Step 4 Give the seeds one last stair and spread them out on the baking sheet with the back of a large spoon or rubber spatula. Pressing the seeds together as you spread.
Step 5 Back for 30 minutes. Every10 minutes use a pancake flipper and flip large pieces at a time over. After 30 minutes, remove from the oven and let cool.
Step 6 Store pieces in a wide mouth jar with a secure lid.