I cook Asian food every week, and my taster, Lutz, said this one is the best we've ever had…so here goes! I must admit it was amazing and had a robust flavor and a surprise kick. You can use chicken or go vegan and use just veggies. Either way, it's the sauce that makes this one a major delicious meal. You can add any veggies you have to create this recipe. The more colorful, the better! I love my hot curry, so I added a red Asian chili pepper. This is optional. Also, I used my homemade Crazy Curry Seasoning, which is easy to throw together using a coffee grinder. I hope you enjoy this easy and quick recipe!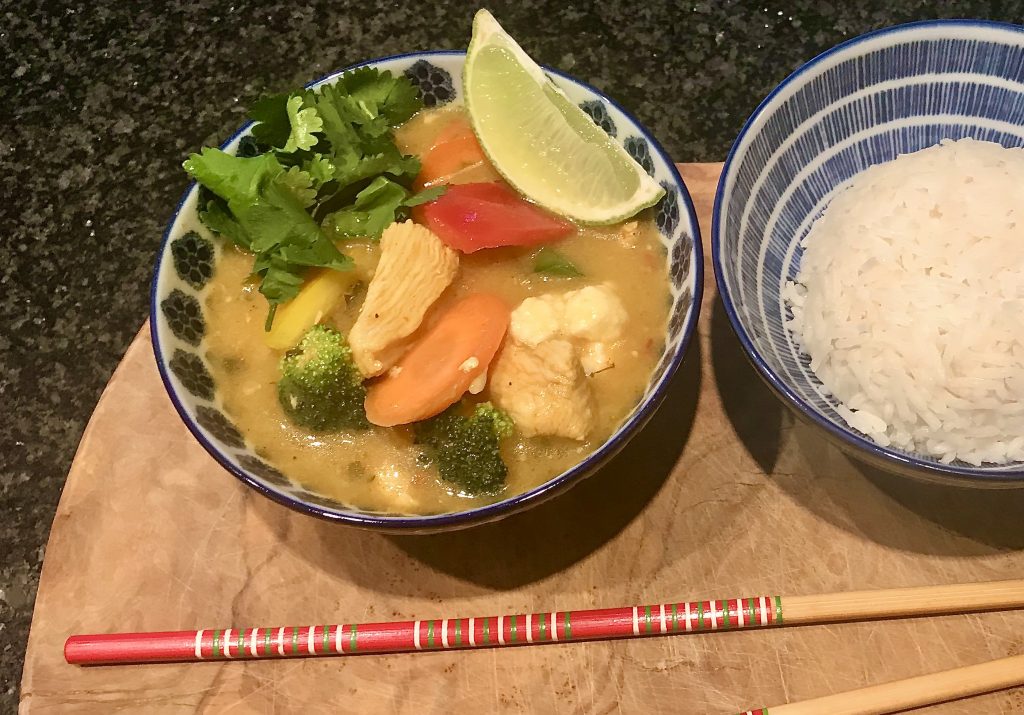 Coconut Curry Lime Chicken
January 4, 2021
: 4
: 20 min
: 20 min
: 40 min
: Easy
Ingredients
Meat & Veggies
1 pound of chicken skin removed and diced into 1 inch pieces (optional)
1 Tbsp of Sambol Oeblek
2 Tbsp of ghee
1 cup cauliflower cleaned and cut into 1 1/2 inch pieces
1 cup broccoli cleaned and cut into 1 1/2 inch pieces
1 large carrot sliced on the angle
1/2 red pepper diced in strips
1/2 green pepper diced in strips
1/2 yellow or both orange pepper diced in strips
1 white onion cut in quarters
1 green onion diced for garnish
Sauce & Garnish
3 cloves of garlic diced
1/2 cup diced cilantro separated (half for garnish)
2 inches of fresh ginger peeled and diced
1 stalk 3 inches long of lemongrass outer skin peeled and center diced
1 jalapeno seeded and diced
1 red pepper seeded and diced (optional)
2 limes (1 juiced, 1 cut in wedges for garnish)
3 Tbsp of yellow curry
2 cups coconut cream (not coconut milk)
2 cups chicken or veggie broth
3 kefir leaves or 1 tablespoon of lime zest
1 tsp Himalayan salt
1/2 tsp ground pepper
2 Tbsp tapioca flour (optional for thickening)
Serve as a soup or over cauliflower rice or your choice of rice
Directions
Step 1

Meat & Veggies

Step 2

If using Chicken, clean and dice the chicken. Toss the chicken in the Sambol Oeblek and set aside. If not using meat, toss the veggies with the Sambol Oeblek and set aside.

Step 3

In a medium soup pot, heat the ghee on medium. Once the oil is hot, stir-fry the chicken for 5 minutes, tossing often. It may not be cooked through but should be seared. If using chicken, wait to add veggies. If ONLY using veggies, toss them in and stir fry for 5 minutes, often stirring, so they don't scorch.

Step 4

Sauce & Garnish

Step 5

After sautéing the meat (or veggies for 5 minutes), add garlic, 1/4 cup cilantro, ginger, lemongrass, jalapeno, and yellow curry. Stir into the chicken (or veggies), cooking for 5 minutes. Stir often to keep from scorching.

Step 6

Add coconut cream milk, chicken or veggie broth, kefir leaves or lime zest, salt and pepper, and the juice from a lime. Stir until well combined. Simmer for 10 minutes. If using chicken, add the vegetables now and simmer for 10 more minutes until tender.

Step 7

You can eat this as a soup, or you can thicken it to make it more of a creamy sauce by dissolving 2 tablespoons of tapioca flour in 1/4 cup cold water. Slowly pour the tapioca mixture into the simmering chicken and veggies (or veggies) until you reach the consistency you like,

Step 8

Serve over your choice of rice or cauliflower rice. Sprinkle with diced green onions, cilantro, and a squeeze of lime.