Before I share the worst of this month's travels, I have to share all the good and happy moments. There were so many great happenings before the tornado hit, and we lost the magic shoe!
While at Fiddlers Cove on Coronado Island in San Diego, we looked into selling our RV, Cash, but decided, "what the heck." Cash had been faithful and dependable for seven years, with minor repairs here and there. Instead, we decided to give her a facelift. This is Cash before…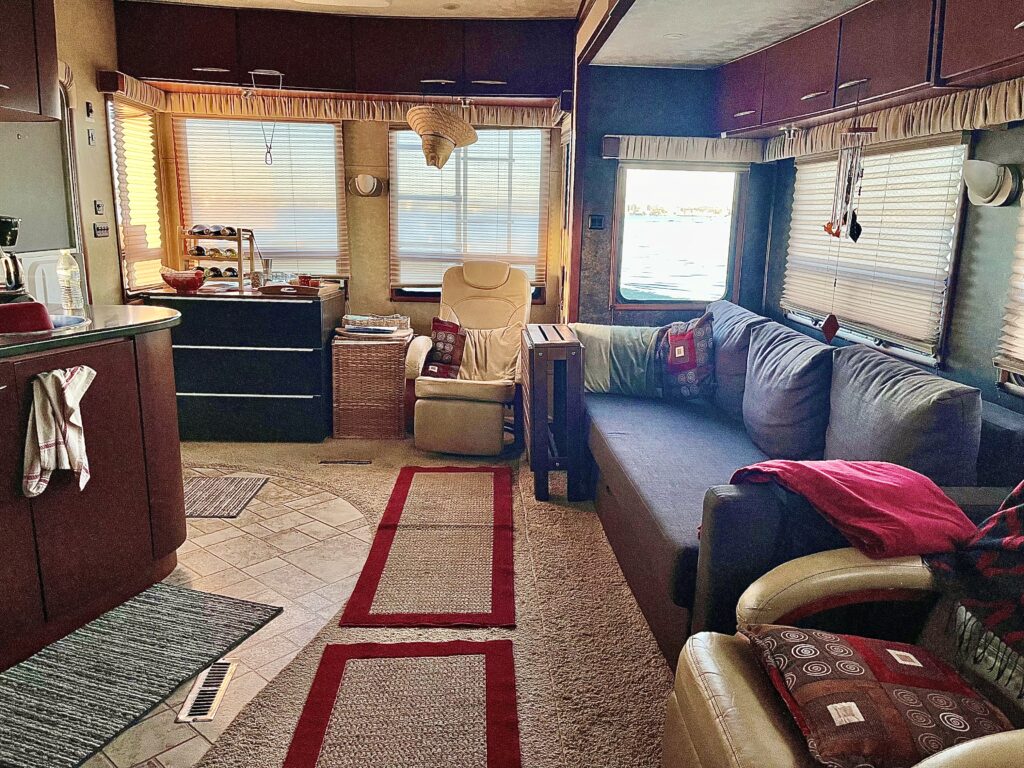 And this is after. New carpet, chairs, pillows, and throw blanket. This just brightened and lightened up the place. I think we will keep her for another seven years.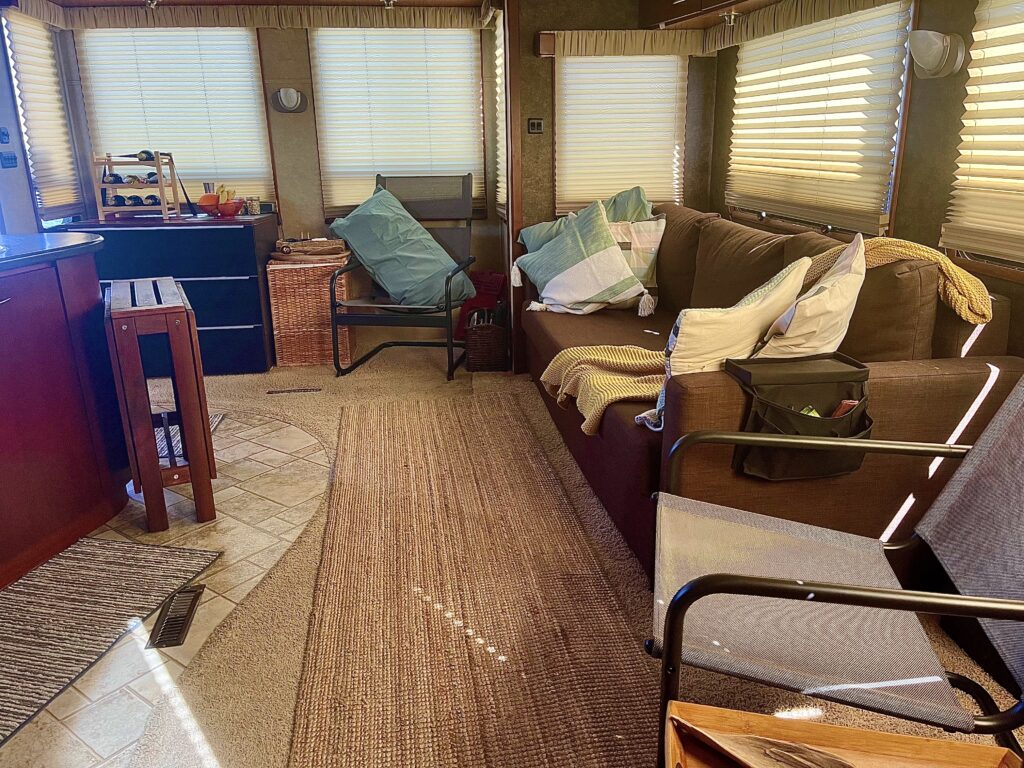 Our time at Fiddlers Cove was too short and too cold. But we were able to fit in a visit with my dear school friend Kathy Wotkyns. In 1965 she rescued me on my first day in a new school. In science class, the drill sergeant teacher decided to test me in front of the class by asking about light years and watts. She whispered the answers to me, and he thought I was brilliant until my first test landed on his desk. Since then, her family and my family have been connected through camping adventures in Mexico. I was so sad I didn't get a picture of us together. But I did of the salad we shared! Tip: pick up one of those roasted chickens and de-bone it, then mix it with Bitchen Sauce. Sorry, Bitchen Sauce is sold in the USA! I also got to visit with my dear friend Sara and Francy!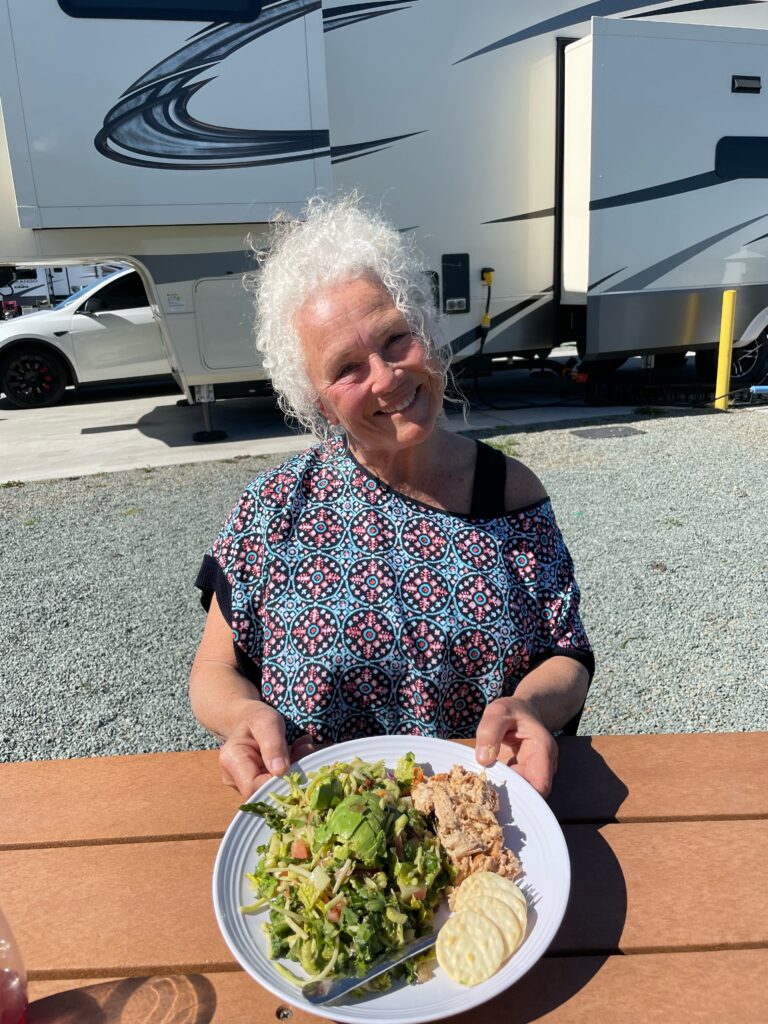 We also hooked up with another dear school friend Marci and her husband, Dave. As a new kid in town in 1965, Marci and her sister Debra were always in attendance with their parents at our weekly Wednesday barbecues in front of my dad's lifeguard tower. Wrapped in coats and blankets, we dined outside to see the sea and sunset. It was great catching up. It was fitting we met to watch the sunset one more time. This will have to be an annual event.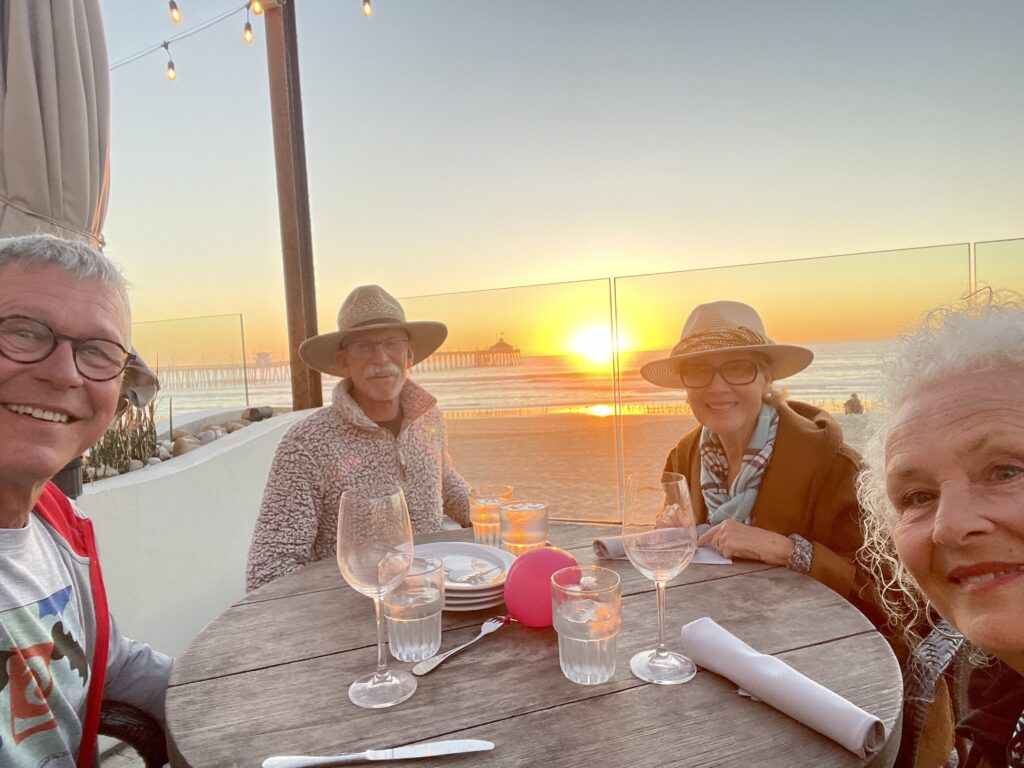 On our last weekend in Fiddlers Cove, we got to have Eva and Ruby (my grandchildren) with us. Of course, making pizza was a must, and Opa grilled them on the Weber pizza stone.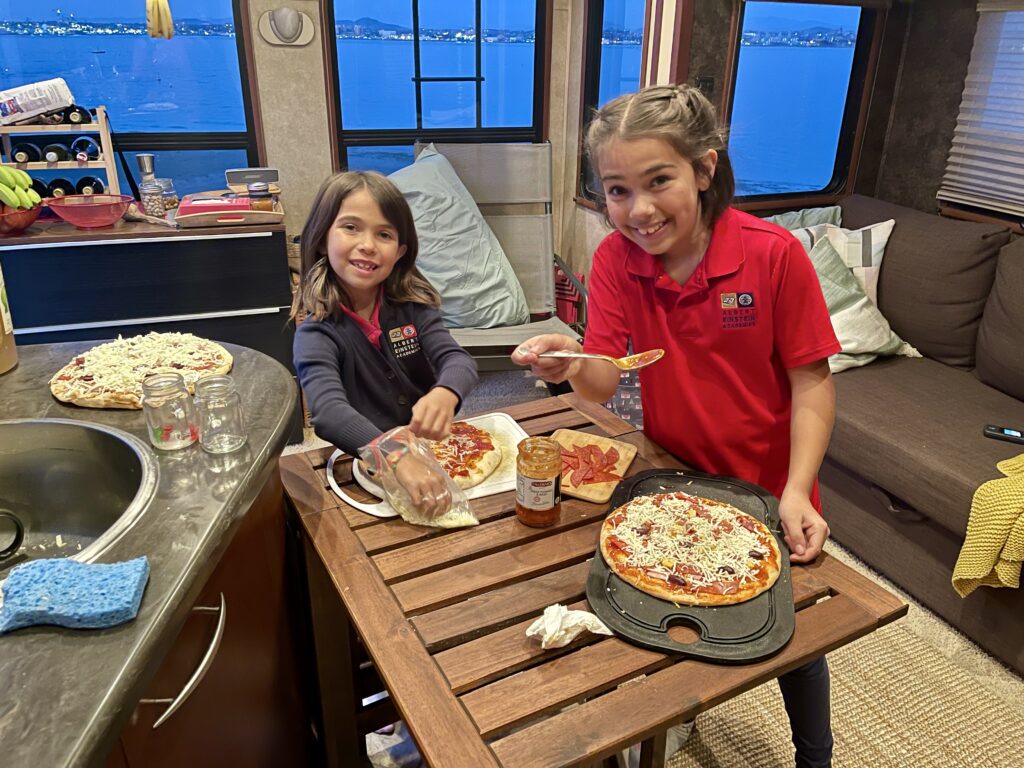 After dinner, we had a fire and made a new invention, "Nutella Some-mores." Coat the gram crackers with this kid spread and plop a hot marshmallow between the two crackers. It was a great hit! The skyline of San Diego is brilliant in the background.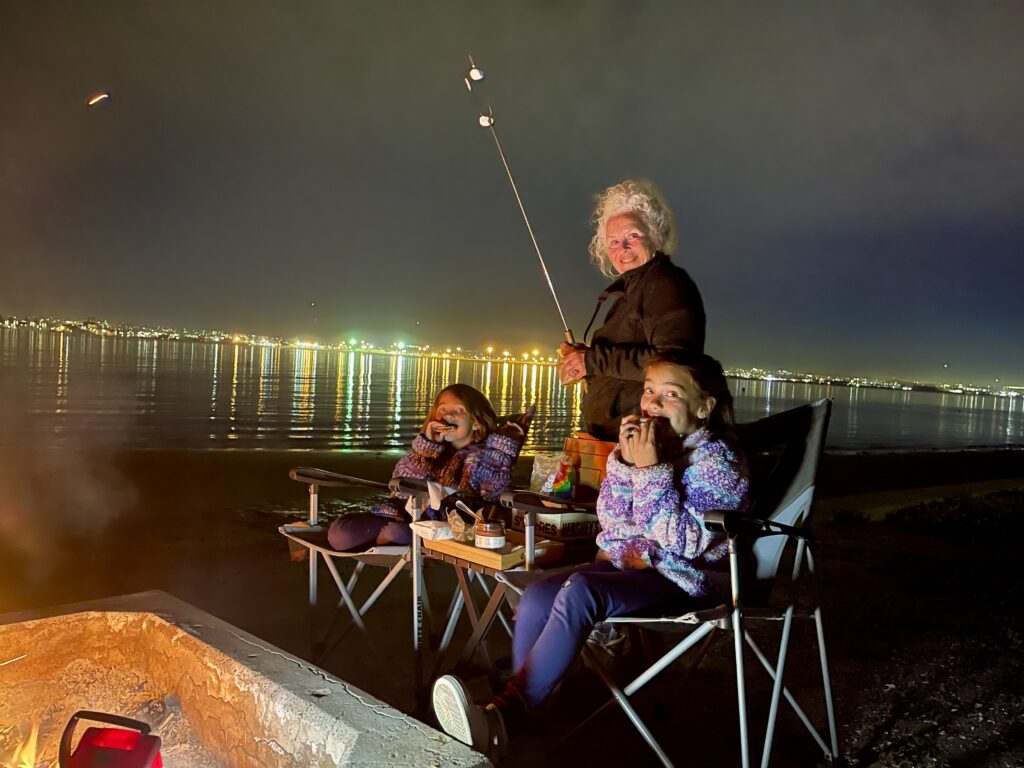 Lutz had brought his mother's Christmas cookie recipe, and we all spent the next cold day inside making delicious Valentine's cookies.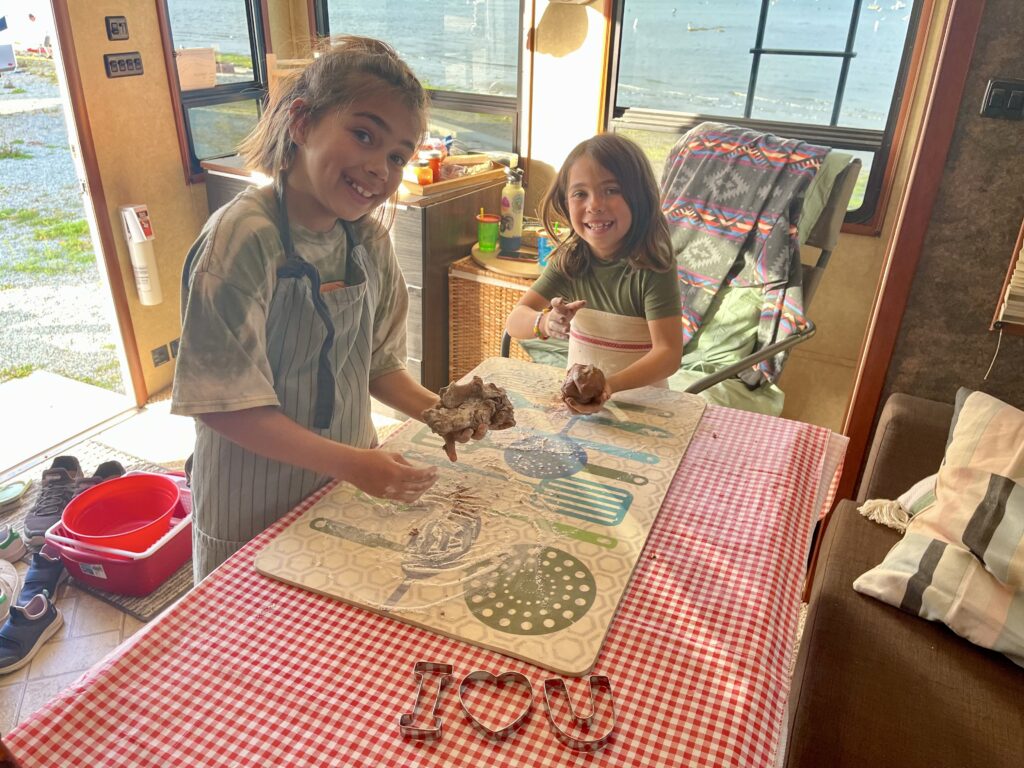 They were delicious and a great way to spend the day before packing up and heading to our happy place the next morning, Borrego Springs in Anza Borrego Dessert.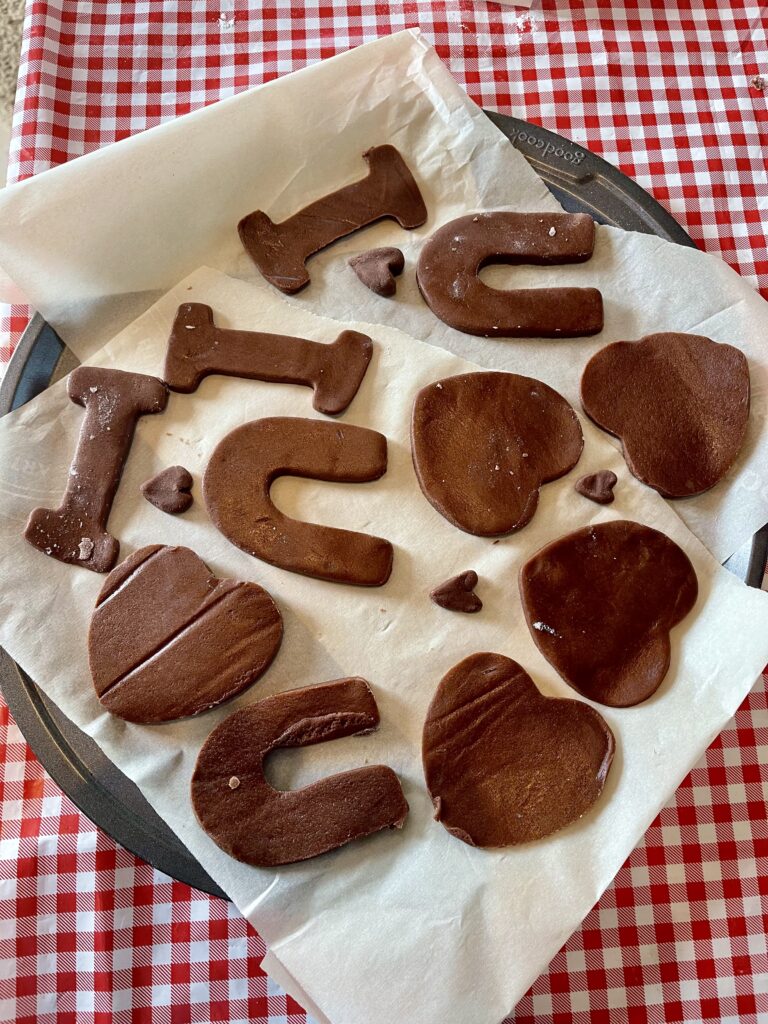 After packing up Cash, our remodeled RV, and hooking up Johnny, we headed to our first camping spot in Borrego in hopes of warmer weather, hiking, biking, swimming, and waiting for the Presidents day weekend for our planned family retreat.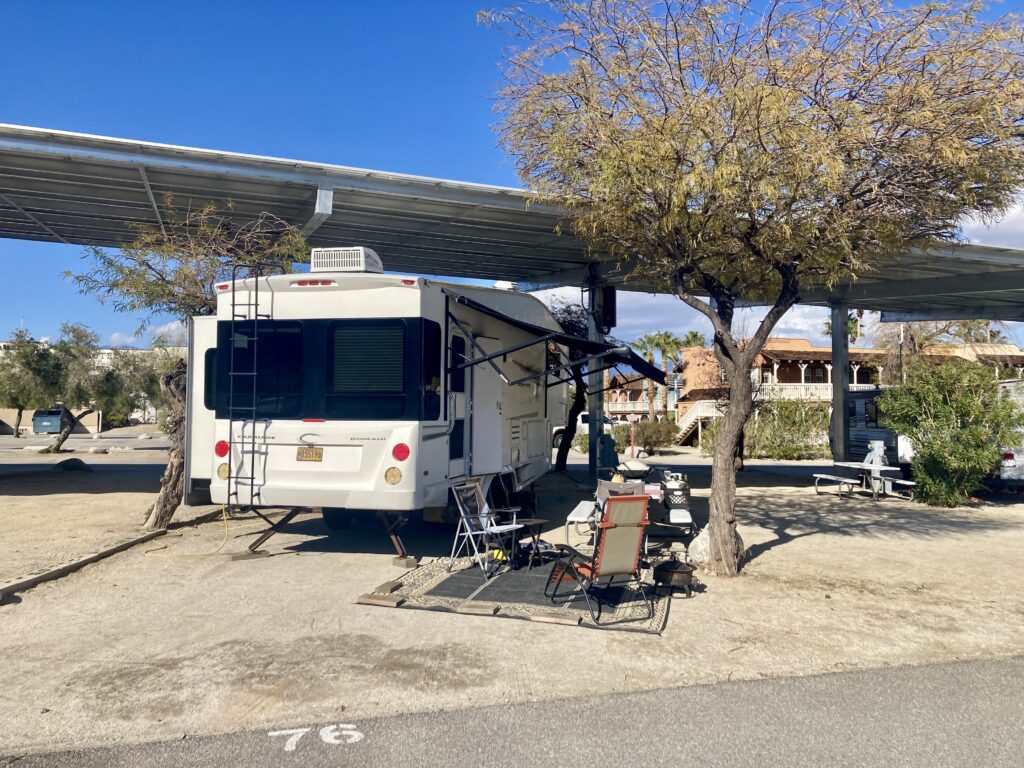 Before the family and friends arrived, I received a dinner date for Valentine's. Lutz took me to one of the coolest restaurants in town. It's older than I am if you can believe that.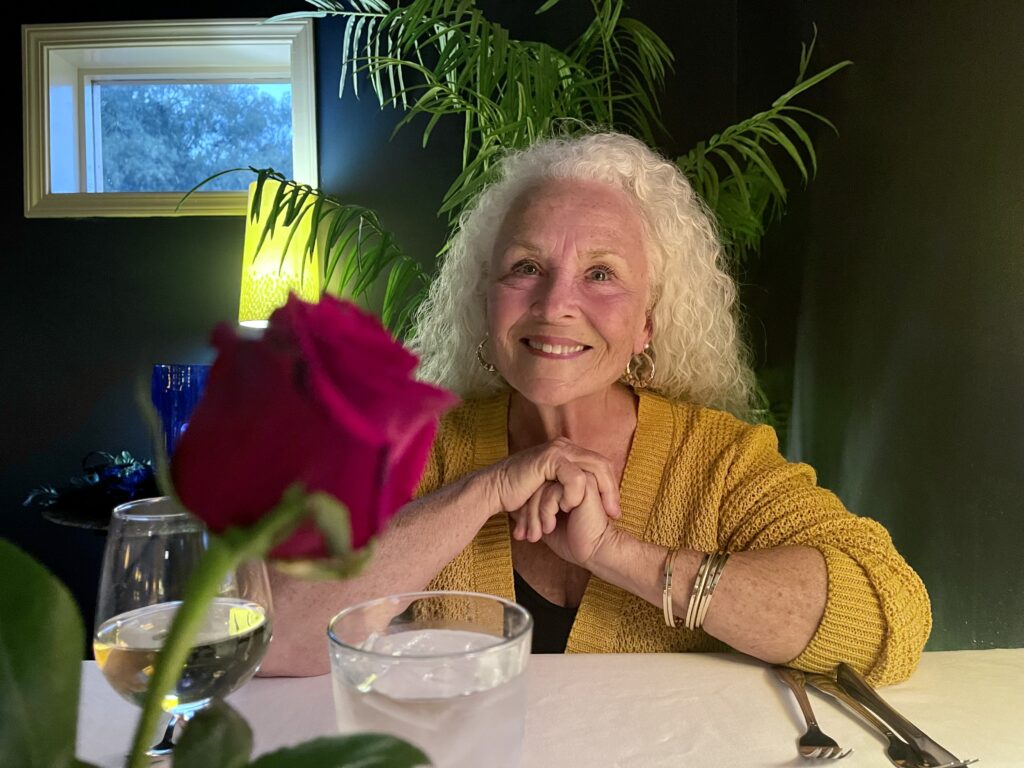 The Coyote Grill and Restaurant is located at The Palms Hotel. It had been a classic mid-century hot spot in the 50s for movie stars such as Maralin Monroe.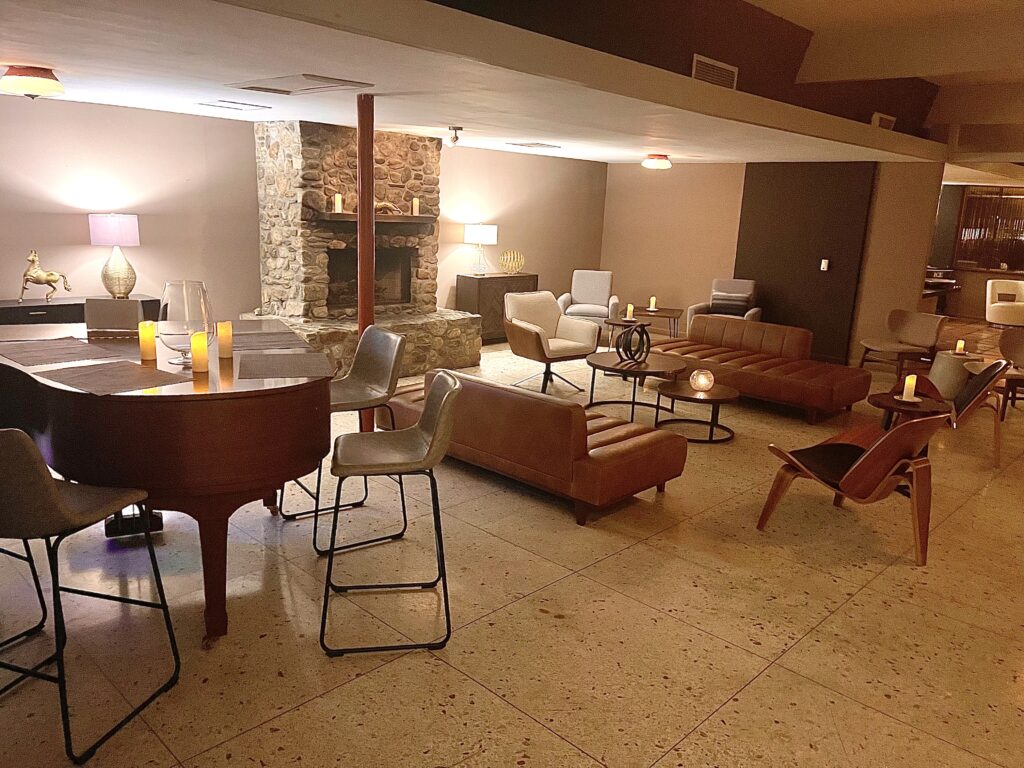 The presidents day weekend was wonderful. The Palm Canyon Hotel and RV Resort is the perfect location for camping with family and friends.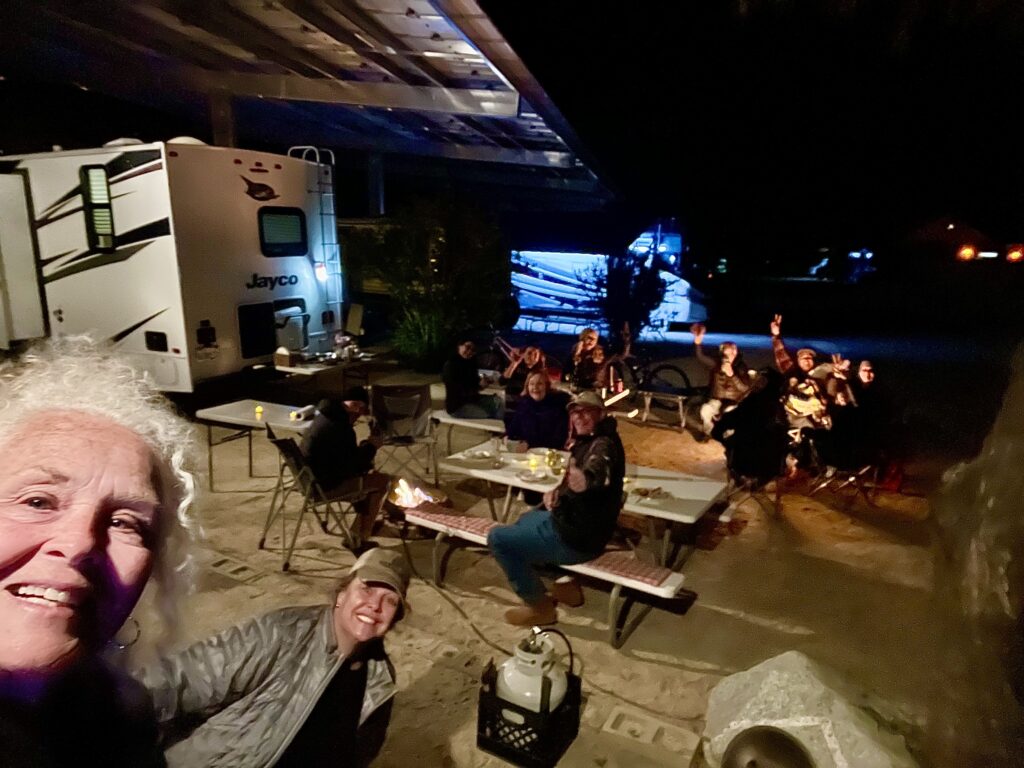 For the long weekend, we took turns cooking, and I helped my cousin, Oceanna, and her husband, Chris, make enchiladas. You can't compete with authentic Mexican meals made with love by Enrique (Albert's dad) and Jericho (my daughter)! It's a tuff competition when the Lopez family arrives.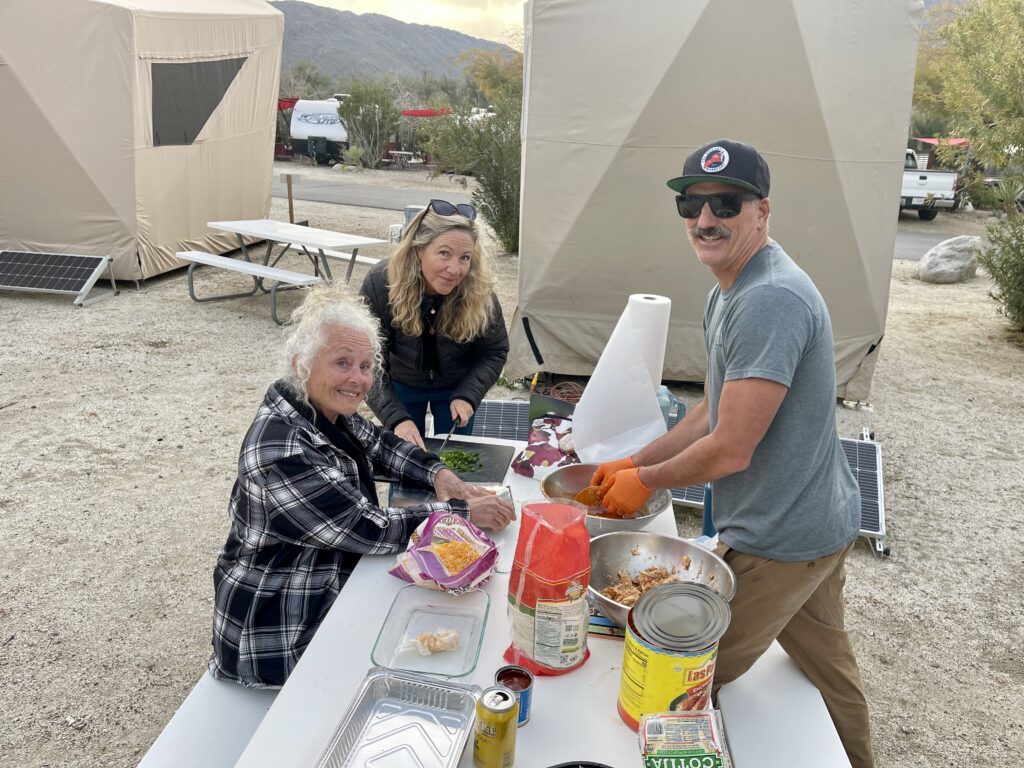 We had a blast in the pool with the girls!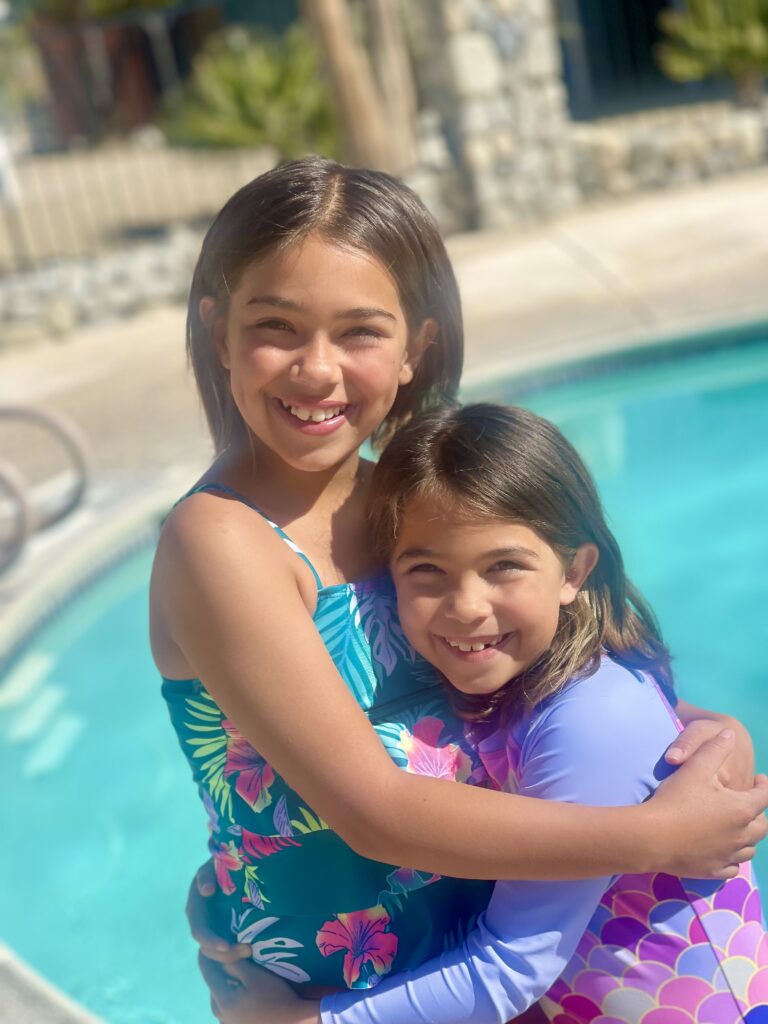 We even got one day by the pool until mother nature decided she was mad!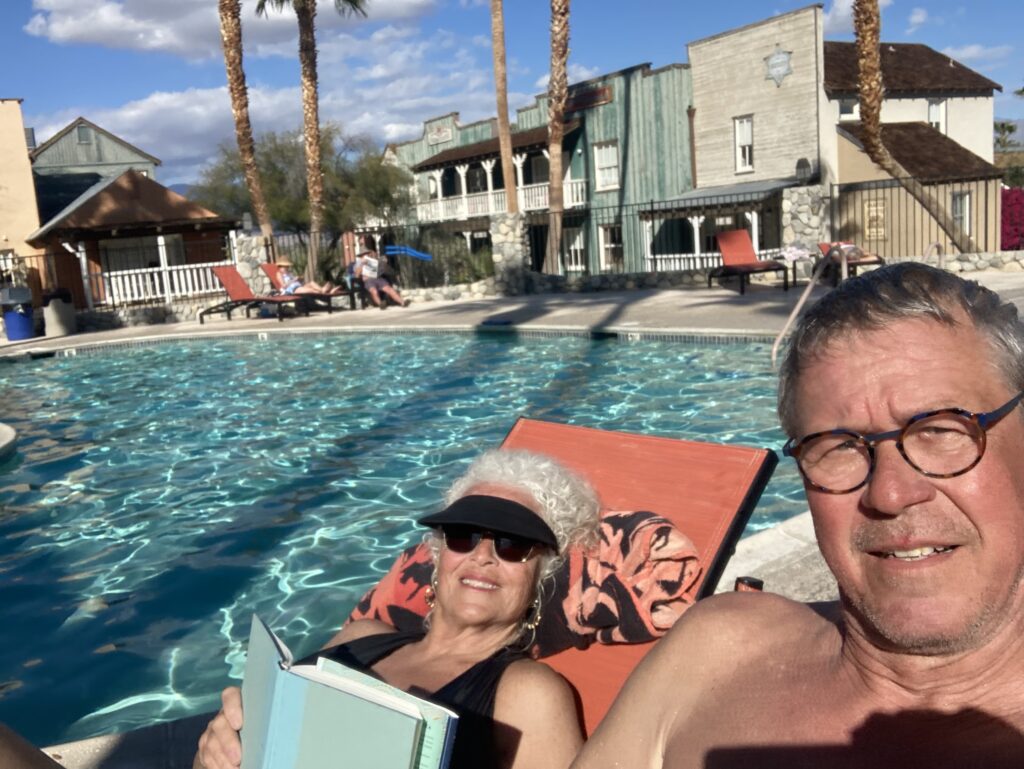 The small restaurant at The Palms Hotel and RV is a great place to eat the night before you pack up and leave.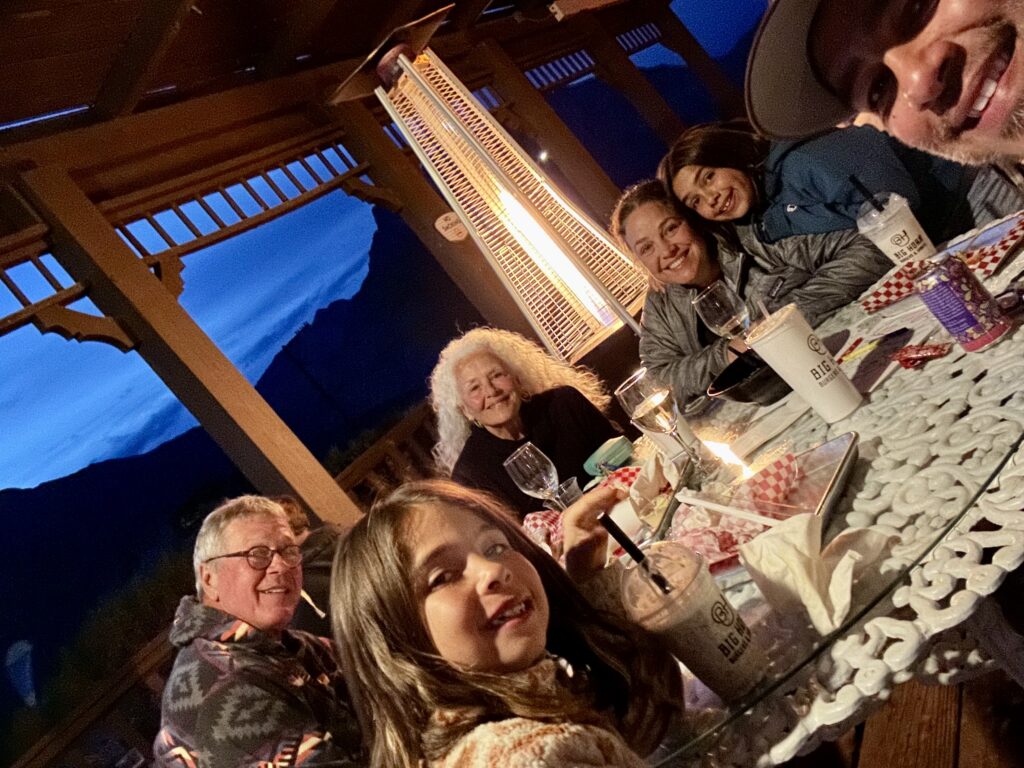 We all left The Palms Hotel and RV campground just in time. The weather was making a turn for the worse. The family headed home, and we headed to our next campground, The Springs at Borrego, just down the street. This place is great. It has saltwater pools and jacuzzis. Free daily exercise classes, Pickle Ball, golf, and Corn Hole competitions. Plus, free hotdogs every Tuesday night and wine Tasting once a month. It truly is our "happy place" to relax in. Our first day we spent setting up our RV. But little did we know what was in store.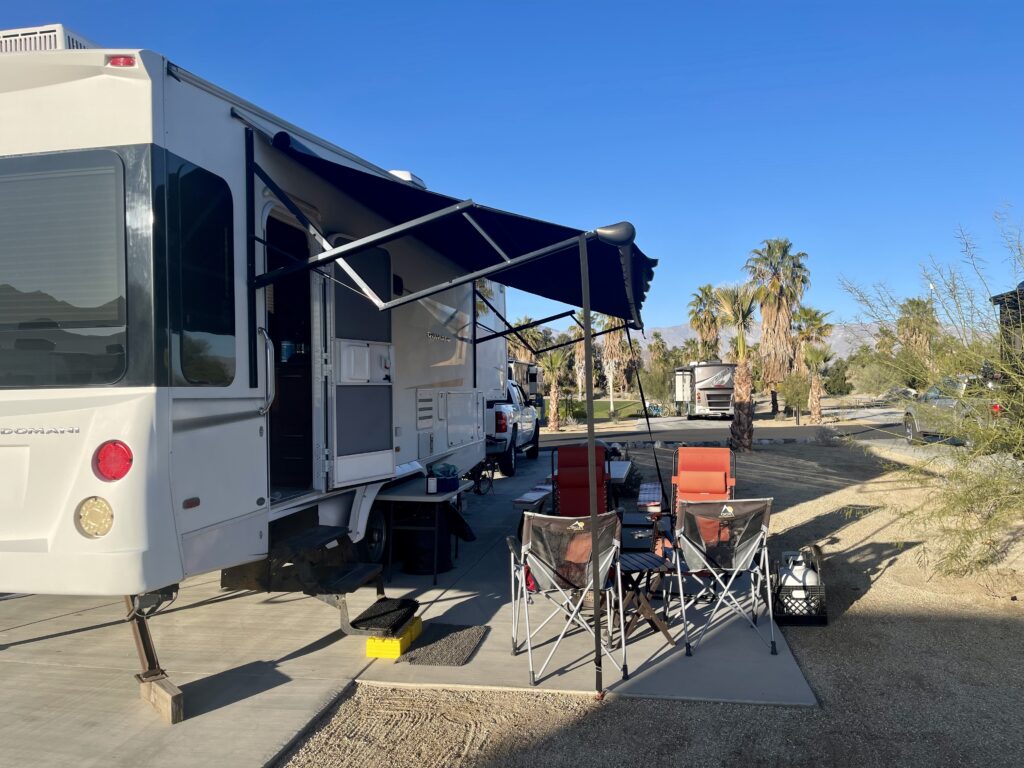 The next day we invited two couples we had stayed in touch with for seven years and always met up with when we were here. The predicted winds started that evening, and we moved our dinner guest inside our trailer. No worries, we were able to squeeze in for Ahi Poke Bowls! Great to see our friends, Cathy & Larry, and Jack & Marlena again.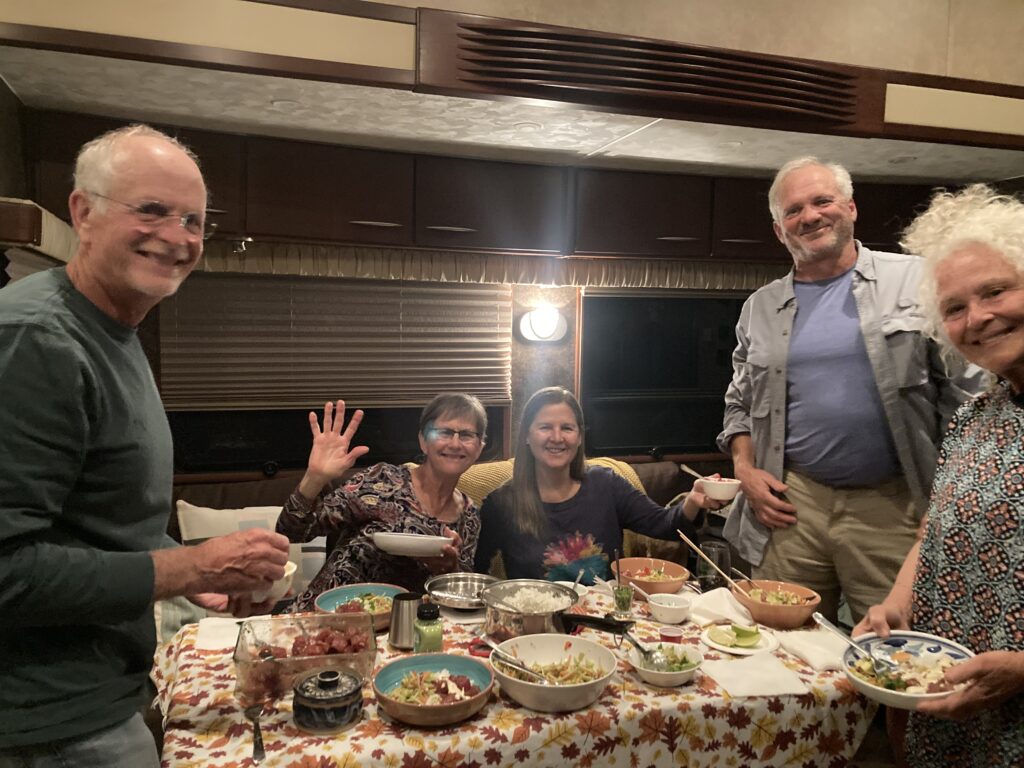 By the time we headed to bed, the winds had picked up, and the sky had darkened. It was turning into an extreme windstorm. Gusts of winds awakened us up to 85mph throughout the night. Trying hard to connect to the internet to hear weather warnings were futile. Even the electricity was out in the entire town of Borrego and the surrounding area. We weren't sure if we should run to the hills or stay put. The sky was black, and the mountains surrounding the valley were covered in snow when you could see them. By morning trees were also down, and sand was EVERYWHERE! Our day of setting up camp came to an end. Everything is stored away as we batten down the hatches for more wind and rain.
We were able to relate to Dorothy and the Wizard of Oz. Ok, maybe it wasn't a tornado, but it felt like we would be swept off our RV spot. Come dawn, Lutz was outside chasing down flying chairs, shoes, and whatever else was not nailed down. Lutz returned with one shoe. The hunt was on! He searched the desert and surrounding area for his missing size 14 tennis shoes (hard to miss, right?). The entire campground was searching for their lost belongings. A lost and found was set up in the main office. He was up at the lost and found for the next two days with no luck, then would head out to search the area again. His only concern was retrieving the medical inlay that was inside. We had alerted our friends to "keep an eye out" for his missing shoe. One evening Cathy (Dorothy) and her dog Bailey (Todo) came by and said, "you're not going to believe this but look what Bailey found while we were walking." She held up the inlay of his lost shoe. Crazy amazing! His shoe, to this date, has never been found! The mystery remains unsolved, but the magic inlay has returned despite the tornado thanks to Cathy, or was it really her dog?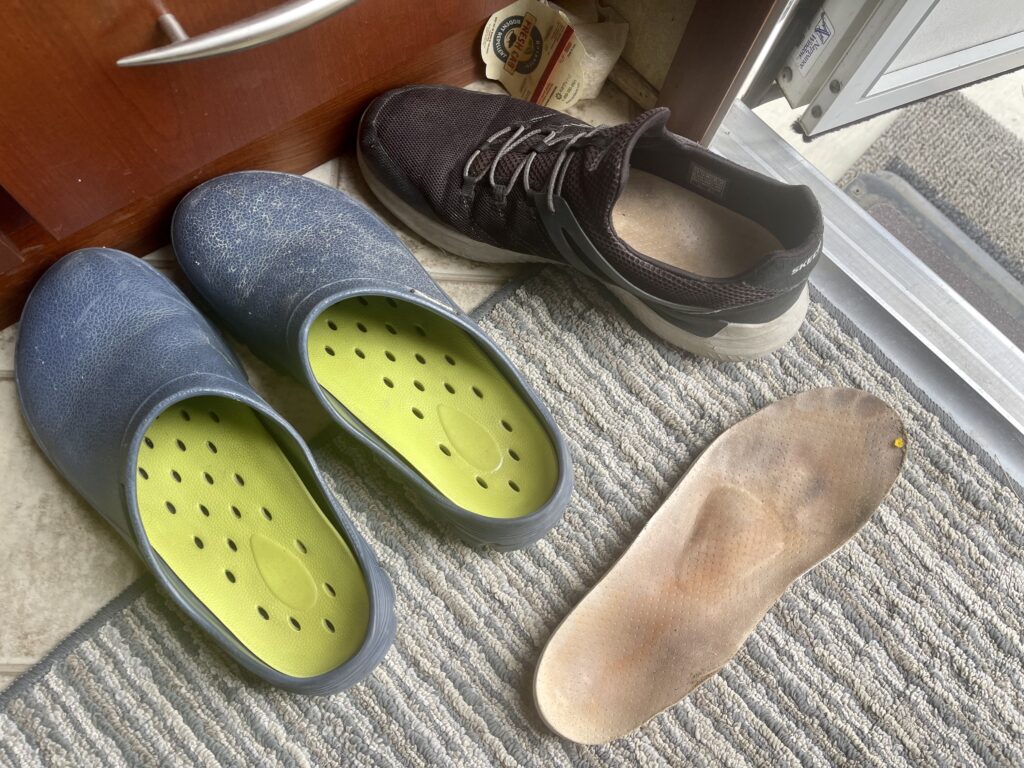 The next day the electricity was back on, but all cable and internet connections were shot to pot! The surrounding towns had lost power, and power poles were down everywhere. The winds continued yet claimed a bit by the afternoon, and the rains began. By the next morning, snow was covering the mountains surrounding us.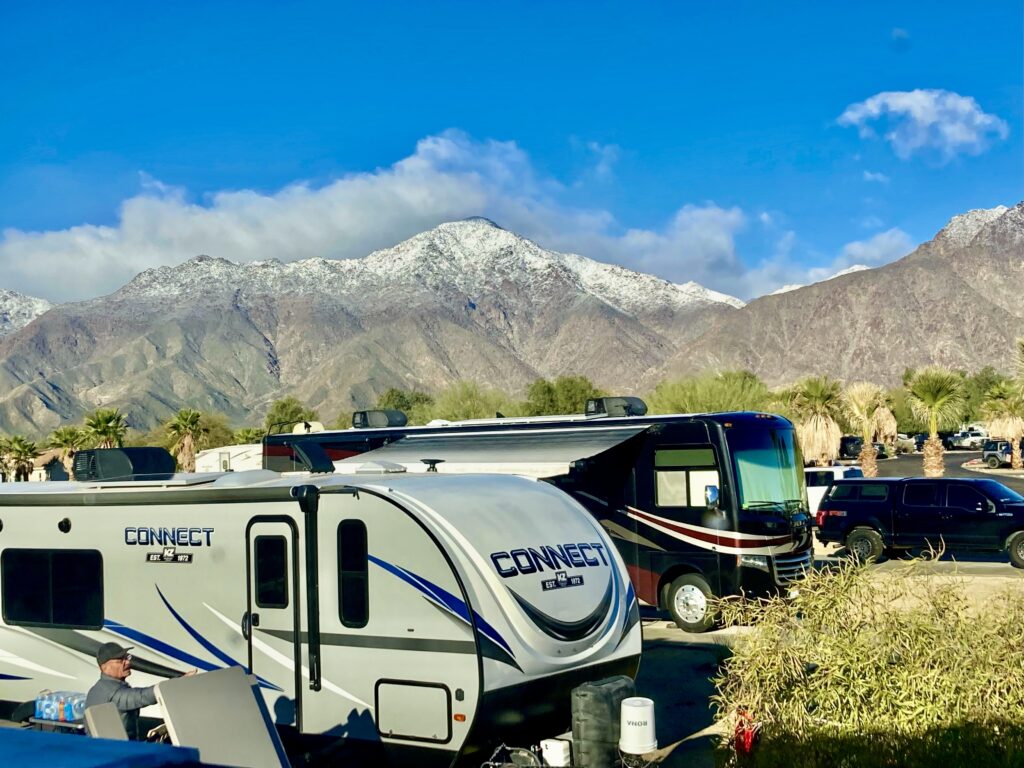 I decided to head to the local library in search of wifi to start my monthly newsletter and see what the weather would be like. So far, cold, raining, and more wind. I think mother nature is not happy. We decided to take a ride since walking in the wind and rain was ridiculous. Cathy and Larry joined us, and we gave them their first tour of Bombay Beach at the Salton Sea.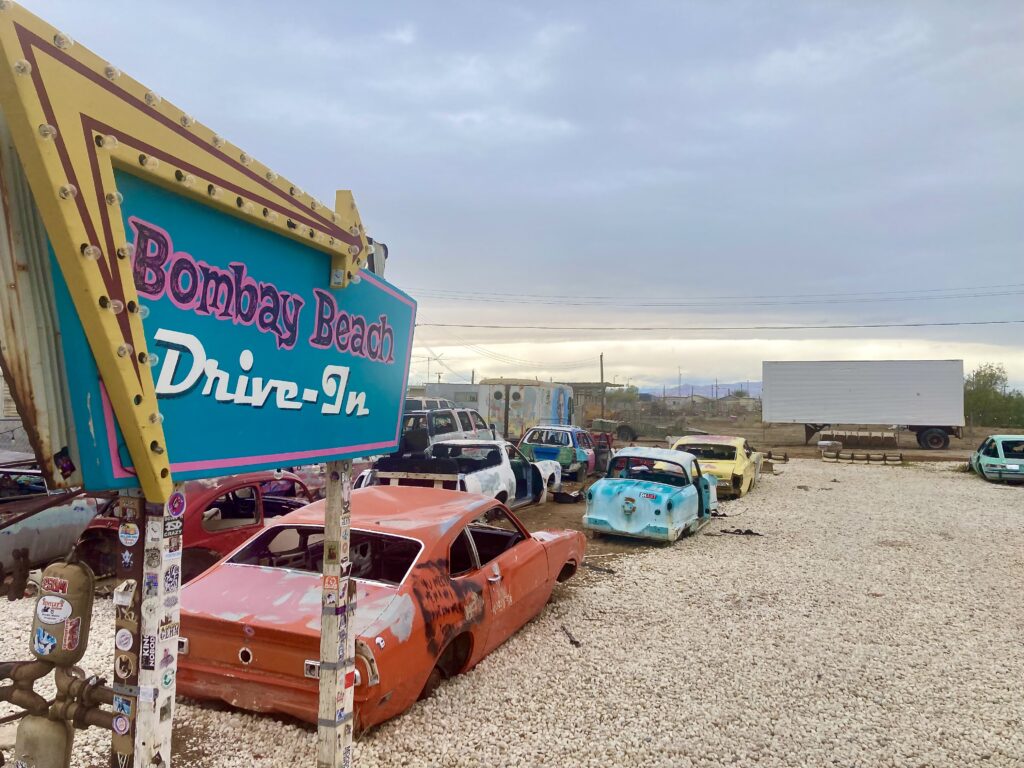 This is one of the most interesting places around the Salton Sea. It has a population of 312.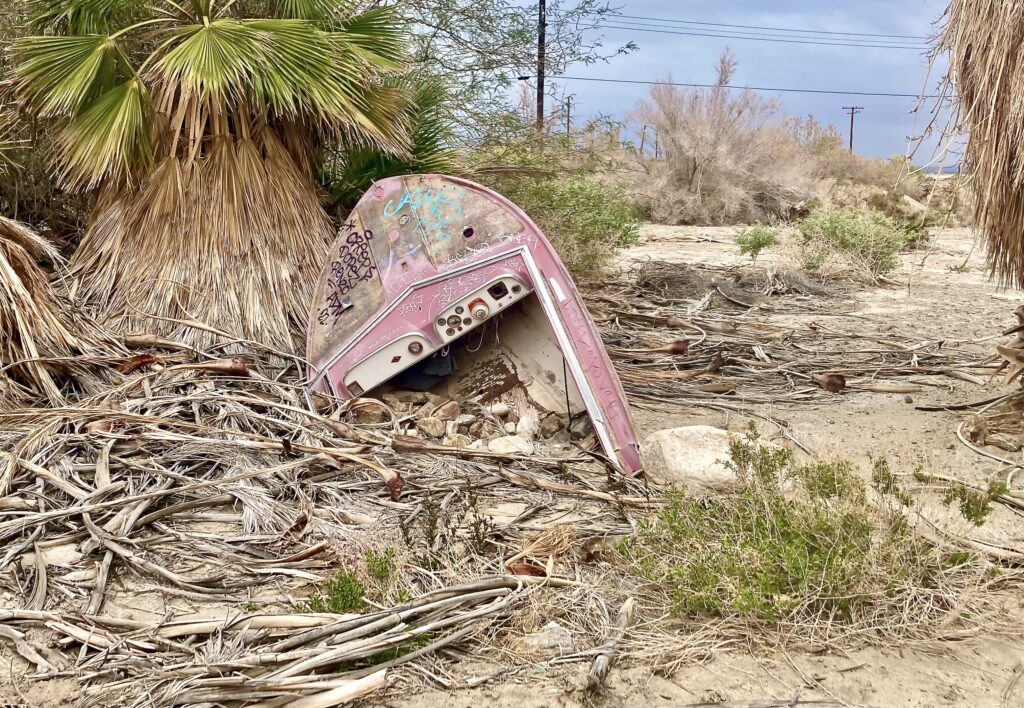 As you can see, the small town population is filled with artists and sculptures.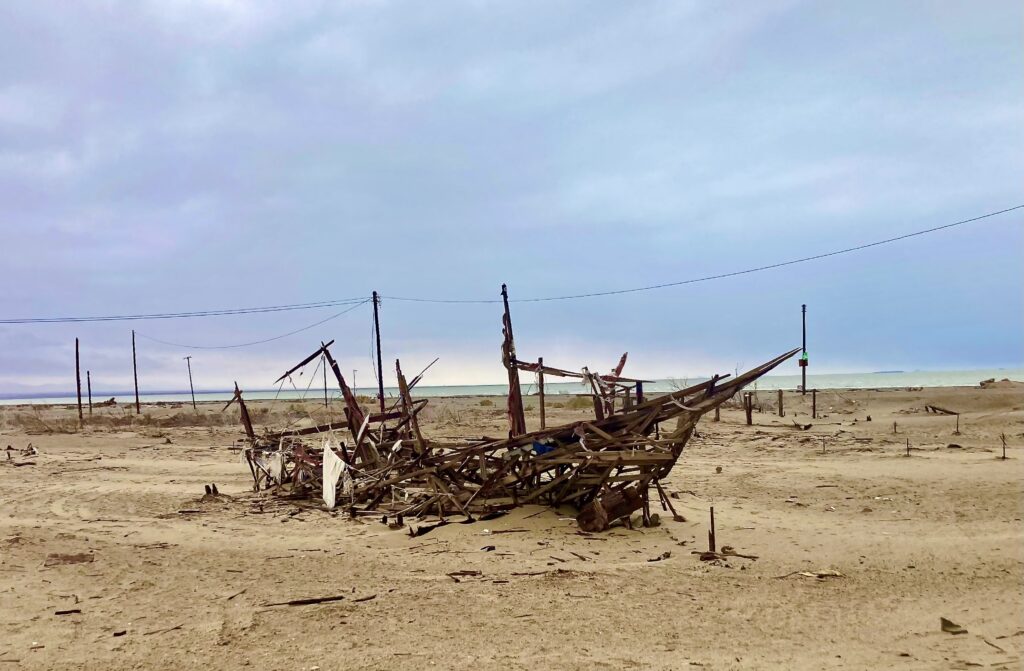 If you want to know more about this hopping town 50s, check out this site! Since the 50s, the water level of this largest lake in California has decreased by ten feet.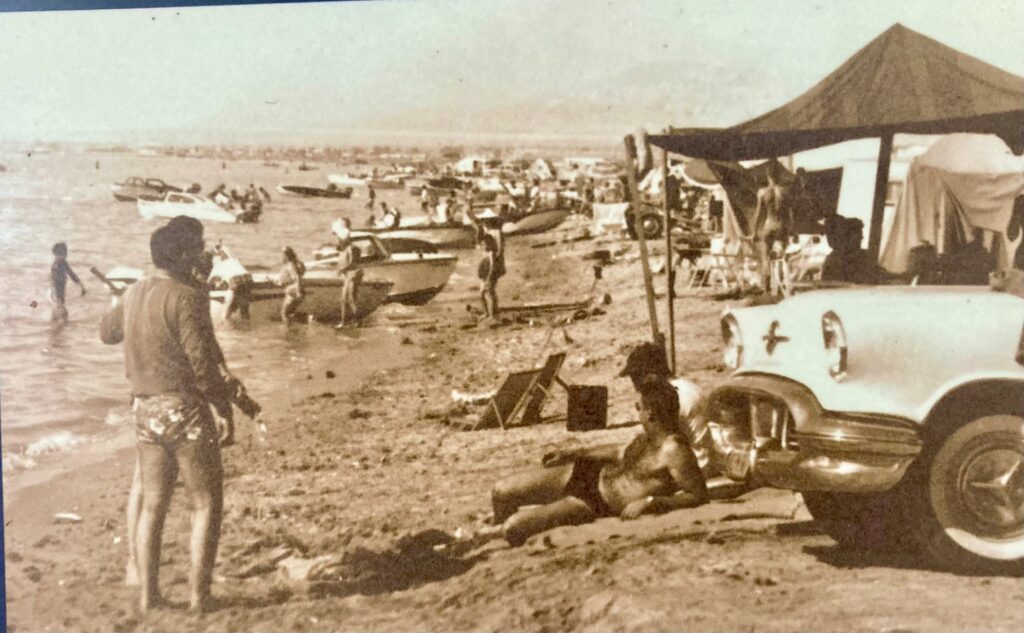 Thanks for checking in this month. The weather is still pretty bad, and the wind and rain will not stop! We will head to Camarillo, hoping for better weather and a three-day visit with my brother, Boe, his family, and friends. Then it is a slow trip to Brooking, Oregon, to celebrate my mother's 93rd birthday and visit my sister, Melissa, and her husband, Steve. It should be a great visit with many surprises in store, so please tune back in next month for the "grand finale" of our RV travels.
Fave Recipe: Ahi Poke Bowl
This is one of our favorite meals. Easy delicious, and healthy! Click here to read more.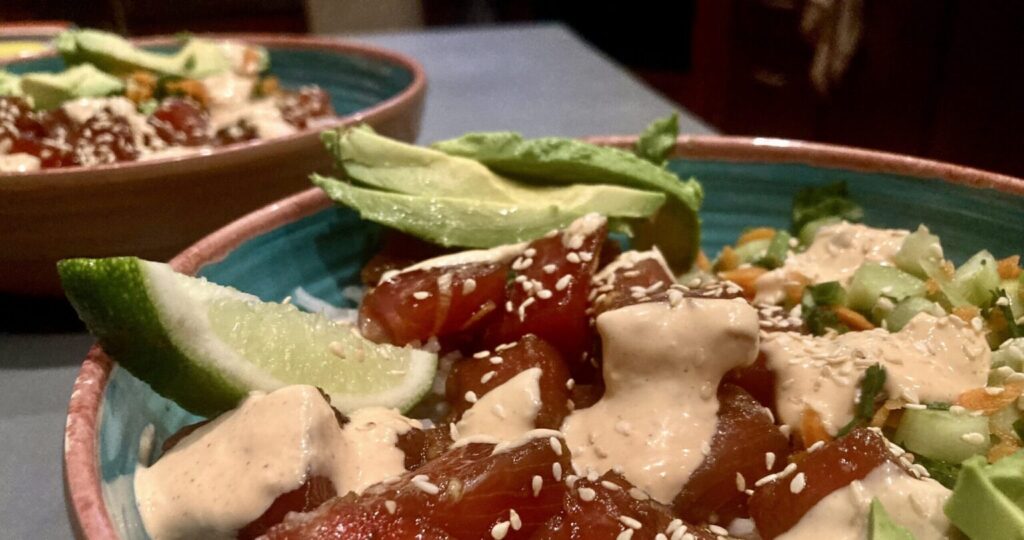 Fave Resource: Hashimoto's and Alopecia: 12 Reasons Low-Carb is a Bad Idea.
This is one interesting article for those of us with autoimmune challenges. Click here to read more.