Before I explain what happened this month, I'd like to share the recipes my friend and I prepared for New Year's Eve. The event was a great success, and the appetizers were out of this world. The dishes seemed to fall together nicely with very little planning between us. We ended up with a nice collection of seafood ideas.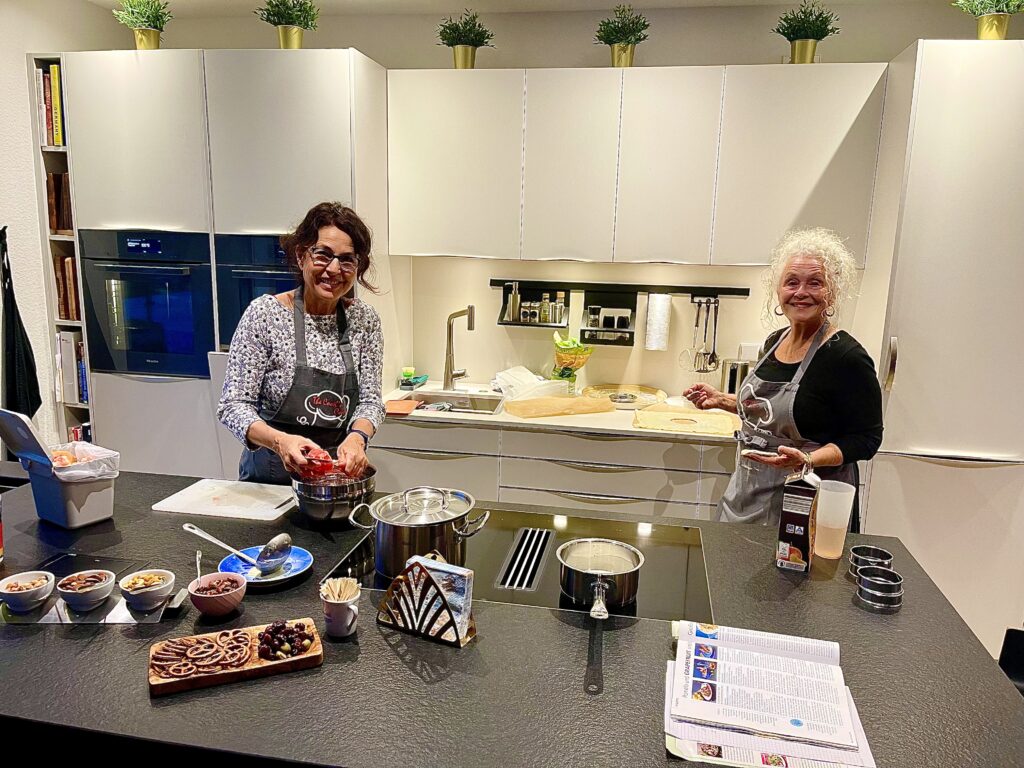 Please email me if you are interested in any of the appetizers below. Some of them are in German, so I will have to translate them for you and send them off. For those I do have, I have linked them to the recipe. Just click on the picture.
#1 Baked Brie Pin Wheel & Fig Jam:
We started with this crazy Gluten-free Brie Wheel with fig Jam. It fed a crowd, and all enjoyed this easy appetizer. I used several sites to guide me and made my homemade fig jam. Next time I whip this up, I will create a fig or apricot chutney to spread over the pastry puff. Here is a link where I got my inspiration.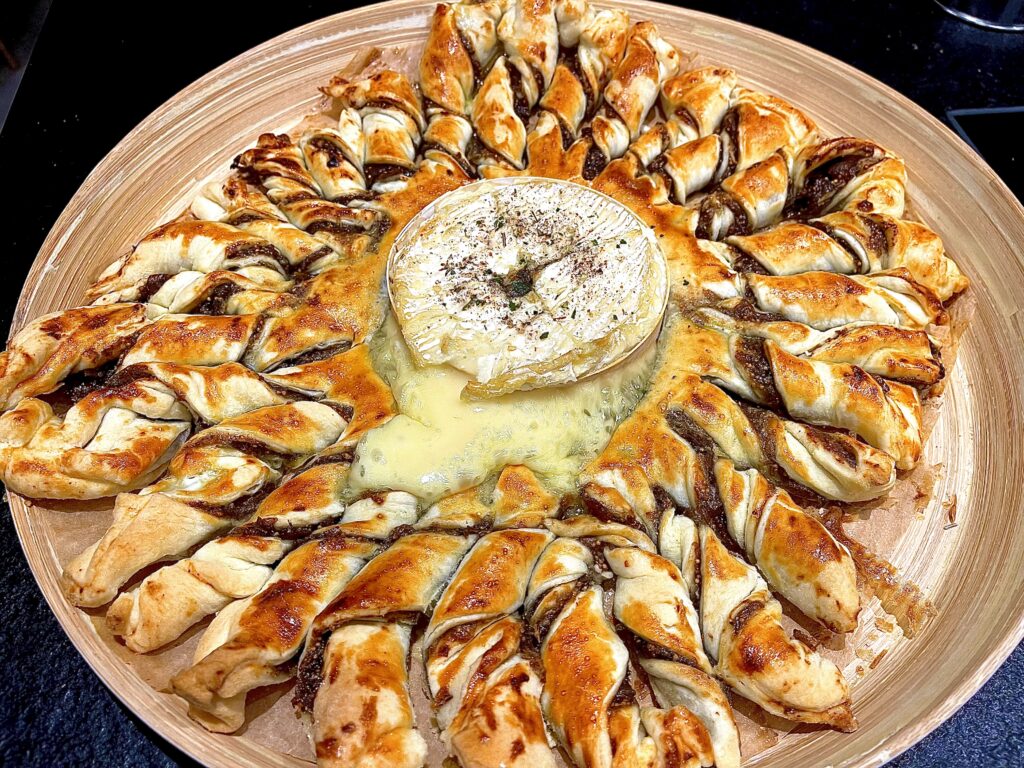 #2 Tangy Apricot Salad & Red Pesto:
Luscious and tangy explosion in your mouth. A tinge of tart salty pesto to top it off. Delicious! This one I have the recipe translated for you. Click here to find the recipe.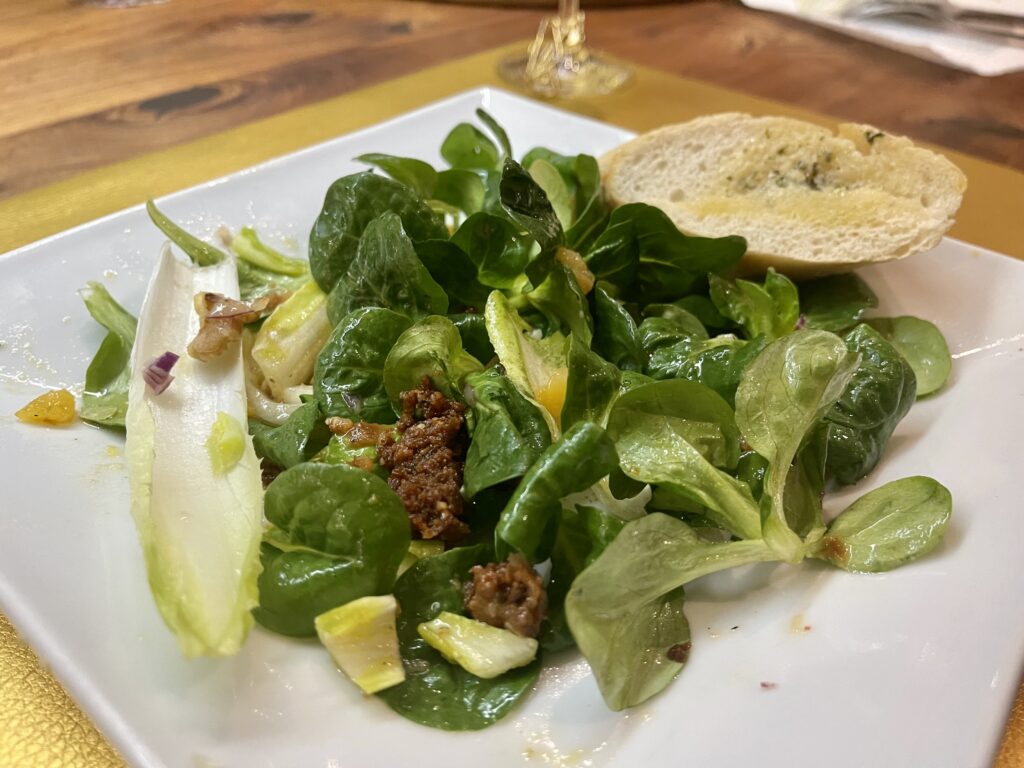 #3 Red Beet & Grapefruit Shrimp Salad:
What a display of color and bursting with flavors. This salad is a must, especially off you love beets. Crisp and tangy with a bit of sweet and sour! Unfortunately, I do not have this recipe. It was one Gaby made using a German cooking magazine. I will have to do some translation for this one. I will post it when I complete the translation. So, for now, you can drool.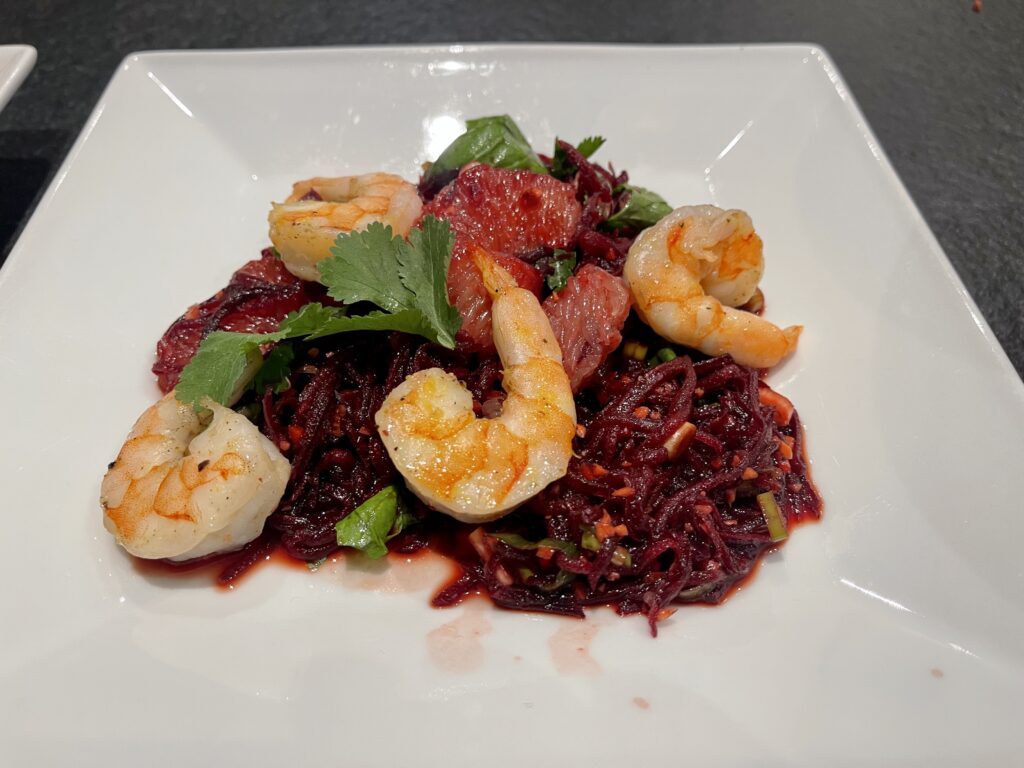 #4 Creamy Dairy-Free Fish Soup:
Here is the link for this amazing soup! After a plunge into the jacuzzi to watch the fireworks, this soup hit the spot. It's on my website and easy to make at any time of the year. The seafood options are basically up to you. I found fresh frozen scallops at Aldi and added them to my soup this time.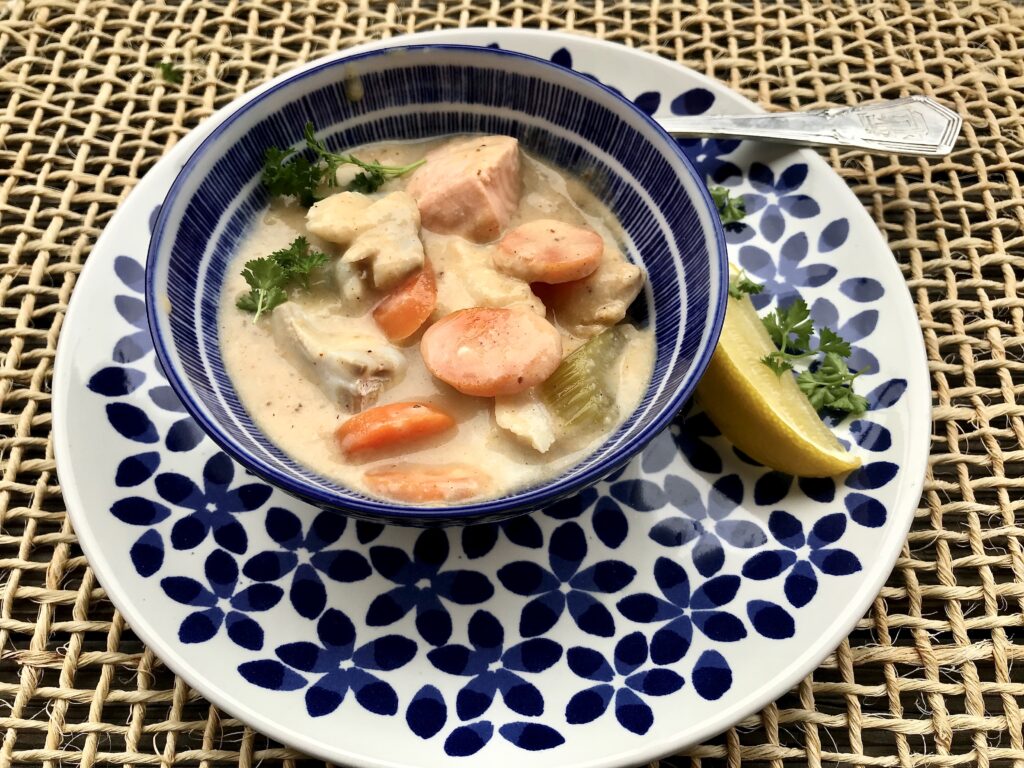 Now let's get on with the cold rain and prison! We are fortunate that the train station is near our home in Wolfach. Since the Frankfurt Airport is a 3-hour drive from our house, we take the train the day before and stay in a hotel near the airport. This makes life much easier and less expensive than keeping our car at the airport.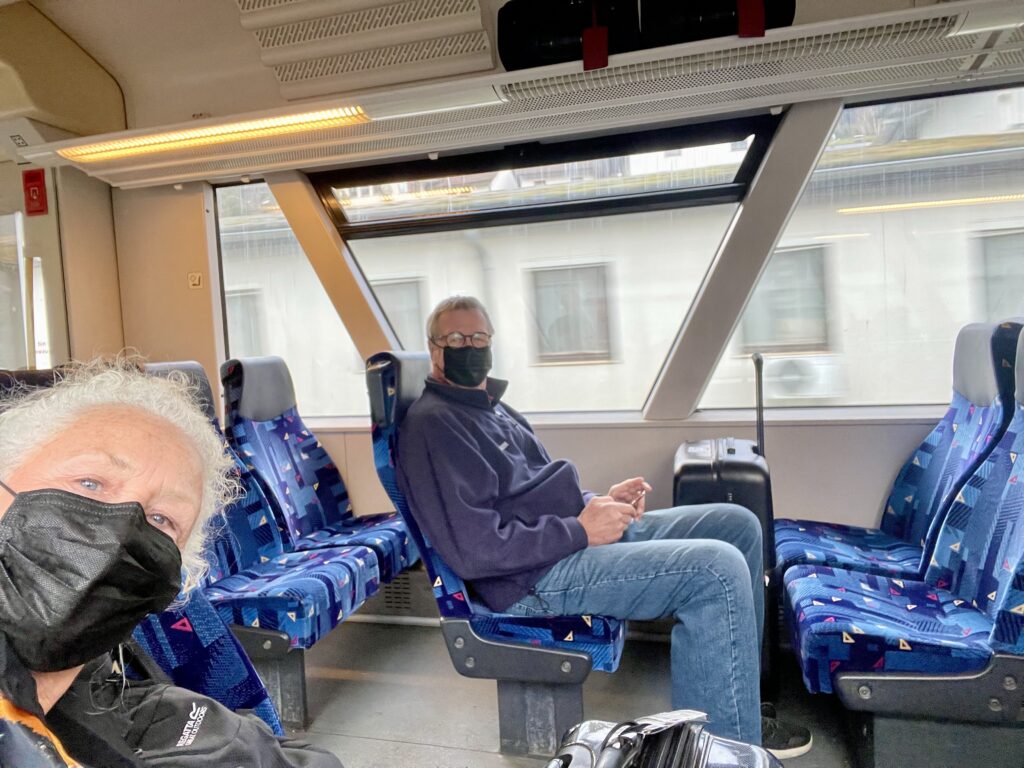 The funny thing is we flew from Frankfurt backward to Munich and then direct to San Diego. Our seats were by the emergency exit, which is ideal since Lutz is two meters tall. Nice and semi-comfy for a 10-hour flight.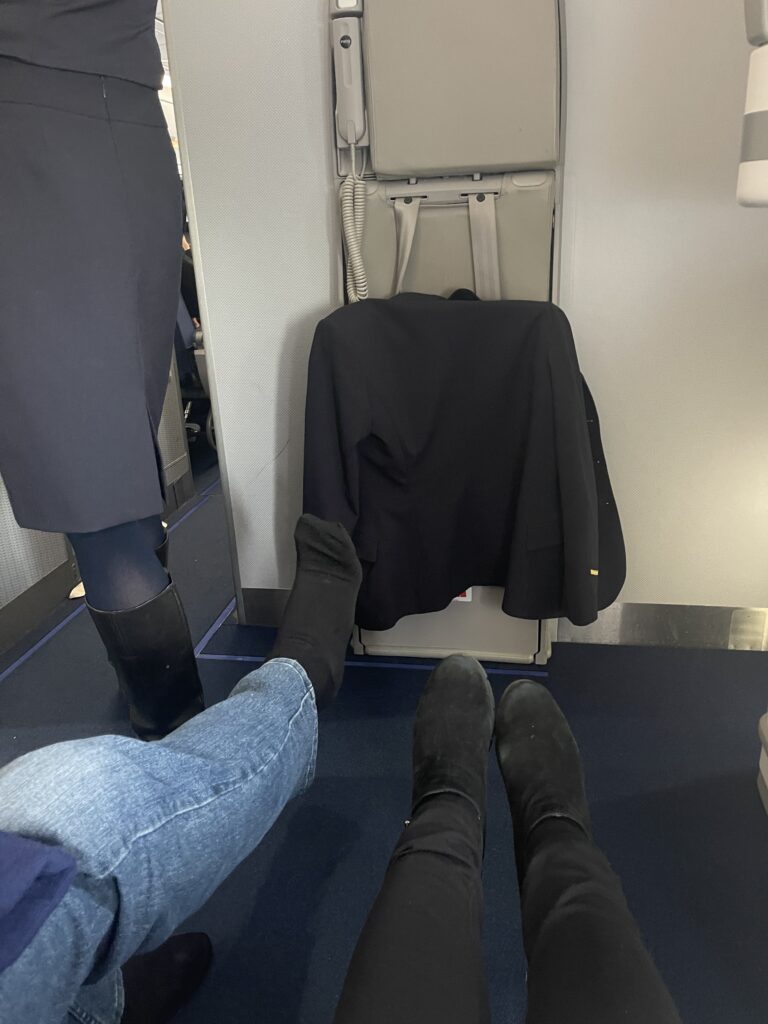 We had a great welcome and spent the first night with my daughter Jericho and her family in their new converted garage studio. It was a perfect spot to ease into our new time zone. We were treated royally. One of my favorite foods is Mexican food, and I always go to the best place in San Diego, my daughter's house! Especially when Alicia and Enrique come to visit. Albert's dad makes the best beans, rice, and salsa. All fresh and major flavors. Plus, it is a time for the whole family to join in and create!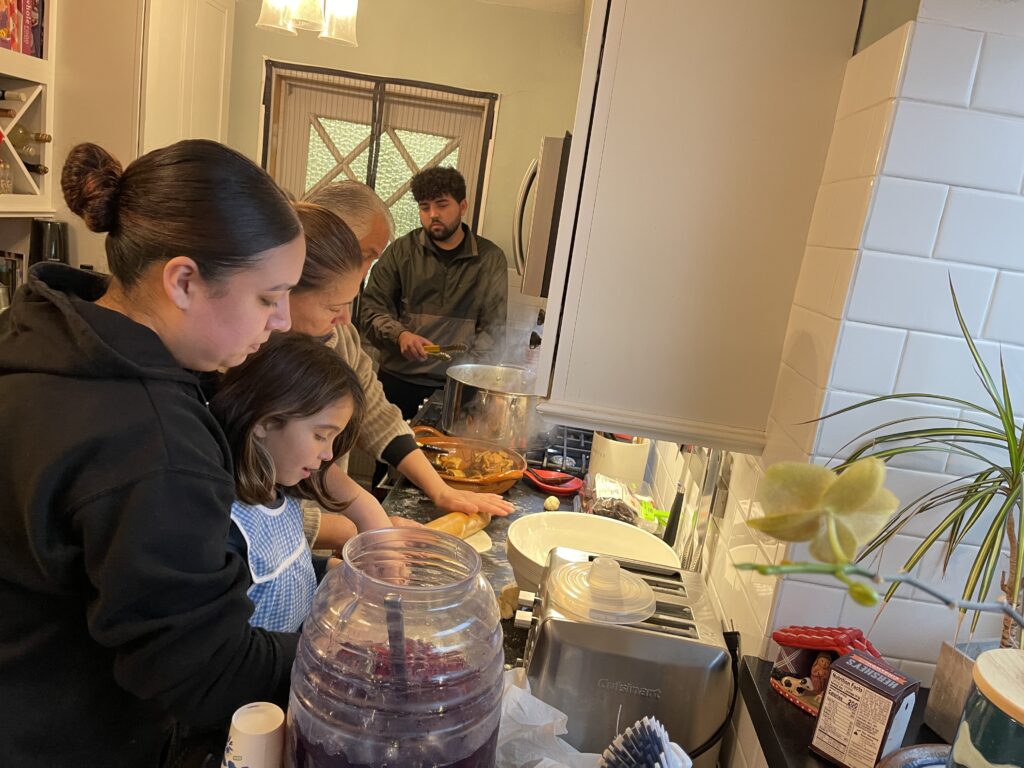 My daughter makes the best Birria. You can have it in a beautiful bowl with all the condiments. It is out of this world.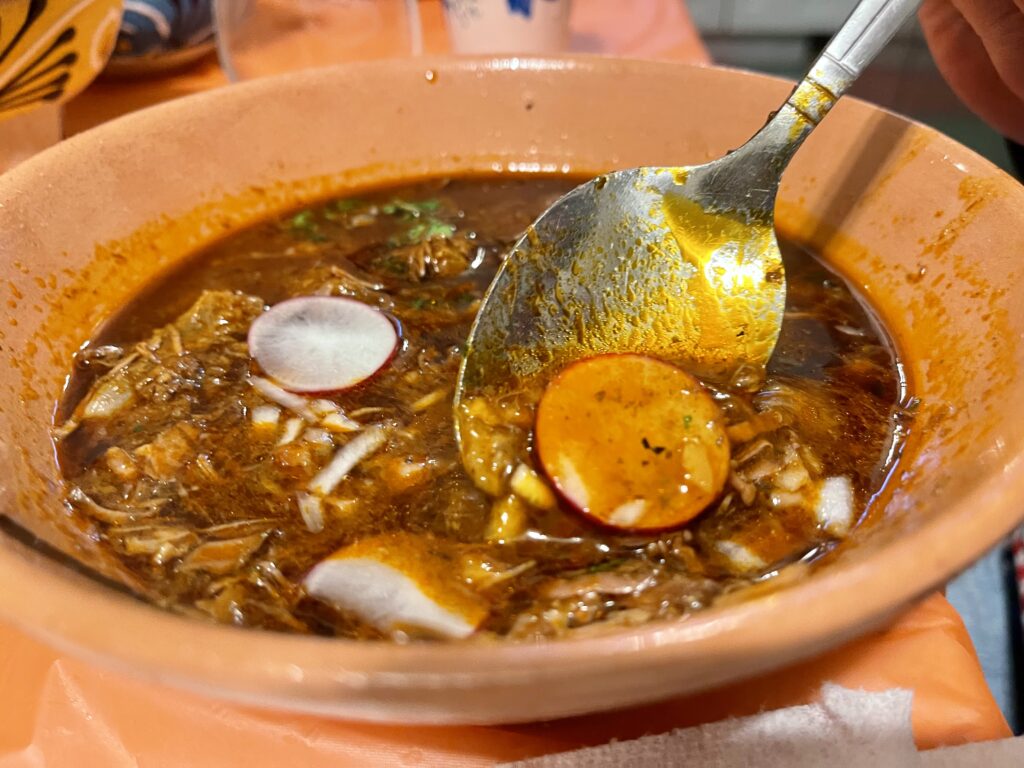 Or, as I like, in a taco dipped in sauce. I could eat this for breakfast, lunch, and dinner.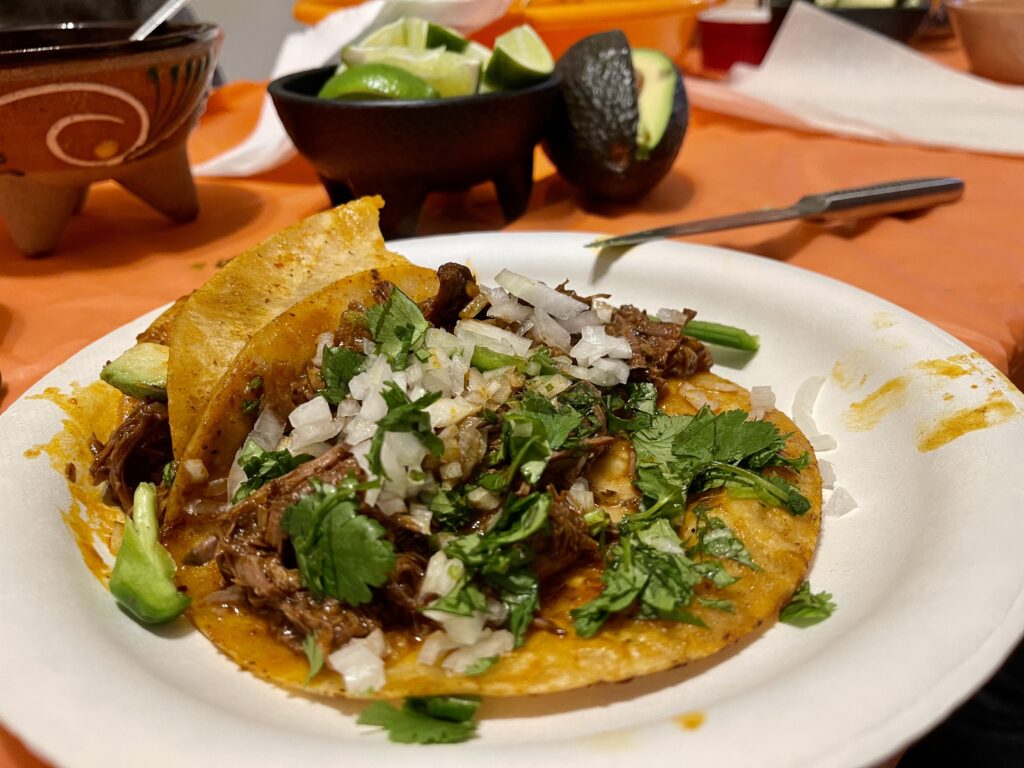 I even got to make my Shrimp Ceviche!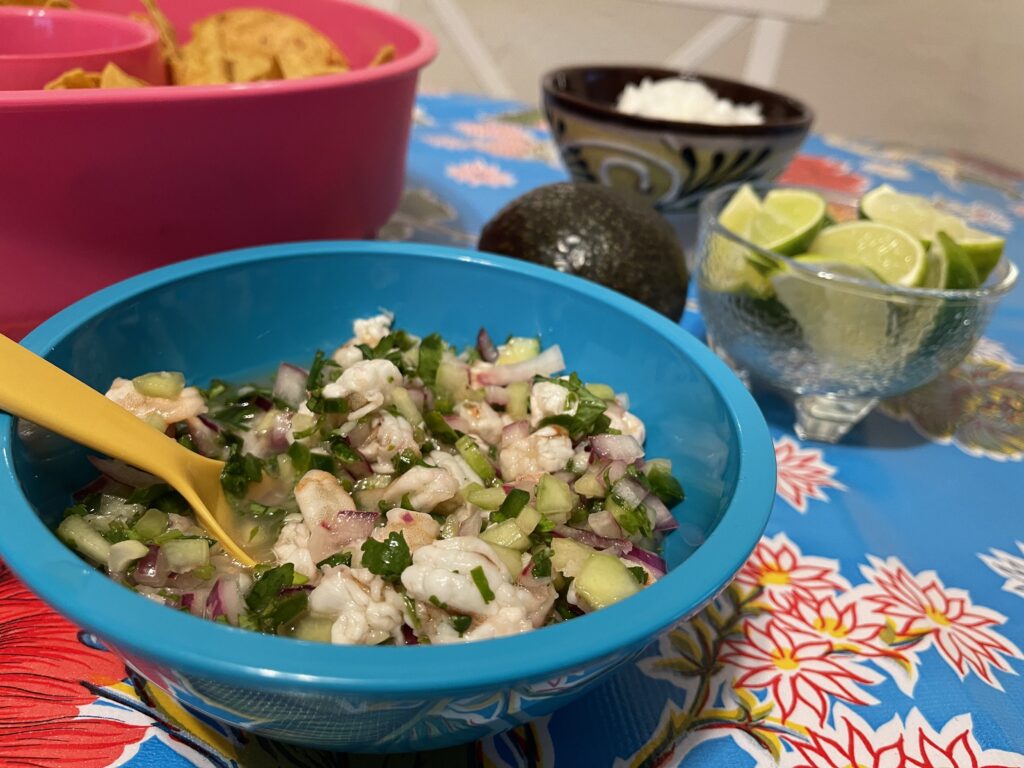 Plus, we had a super visit with my niece, Oceanna, her husband, Chris, and their children, Autumn and Levi.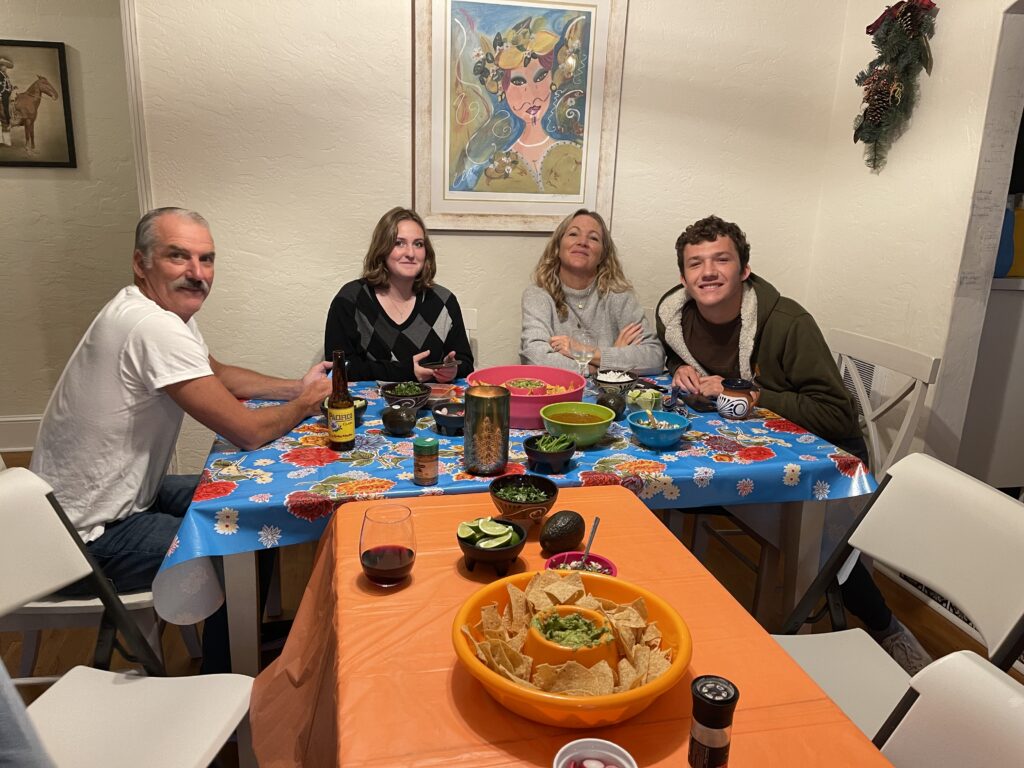 Of course, a family photo was in order. Corralling all of us at one time is a challenge, but a picture is a must whenever we make it!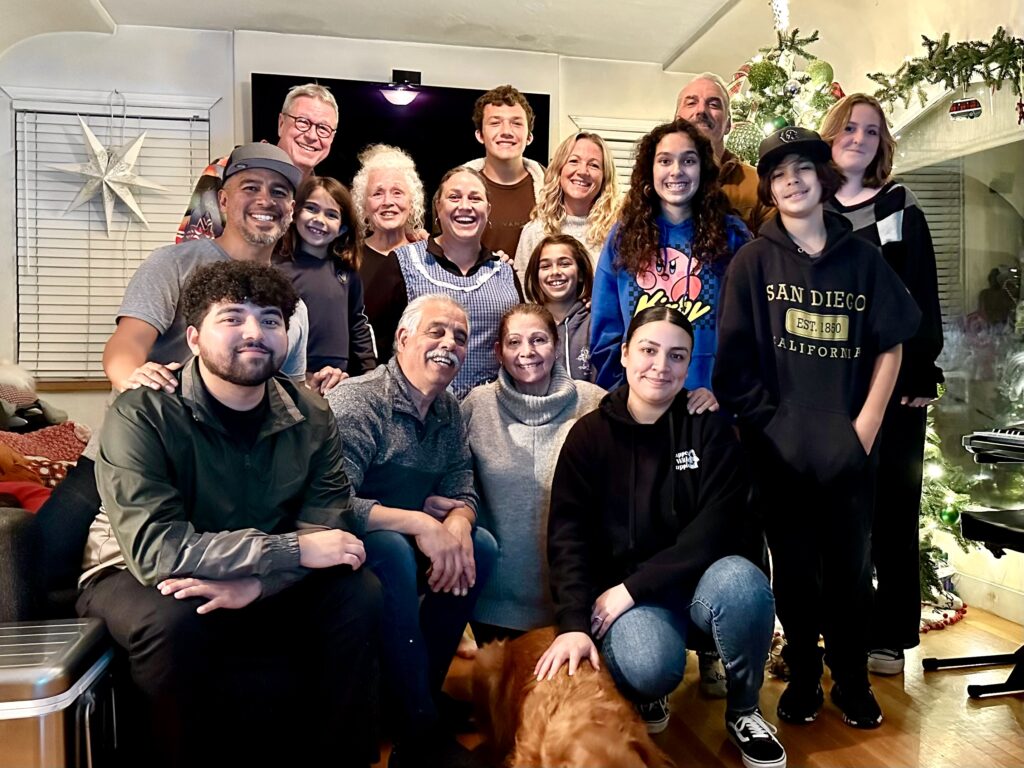 The next day we gathered our belongings and headed for Johnny and Cash, our truck and 5th wheel. As always, Johnny started up right away after one year in storage. He's very dependable, but on inspection, we noticed that our neighbor in the RV bus clipped our truck! So after settling, we had to take him in for a repair! Johnny looks as good as new now.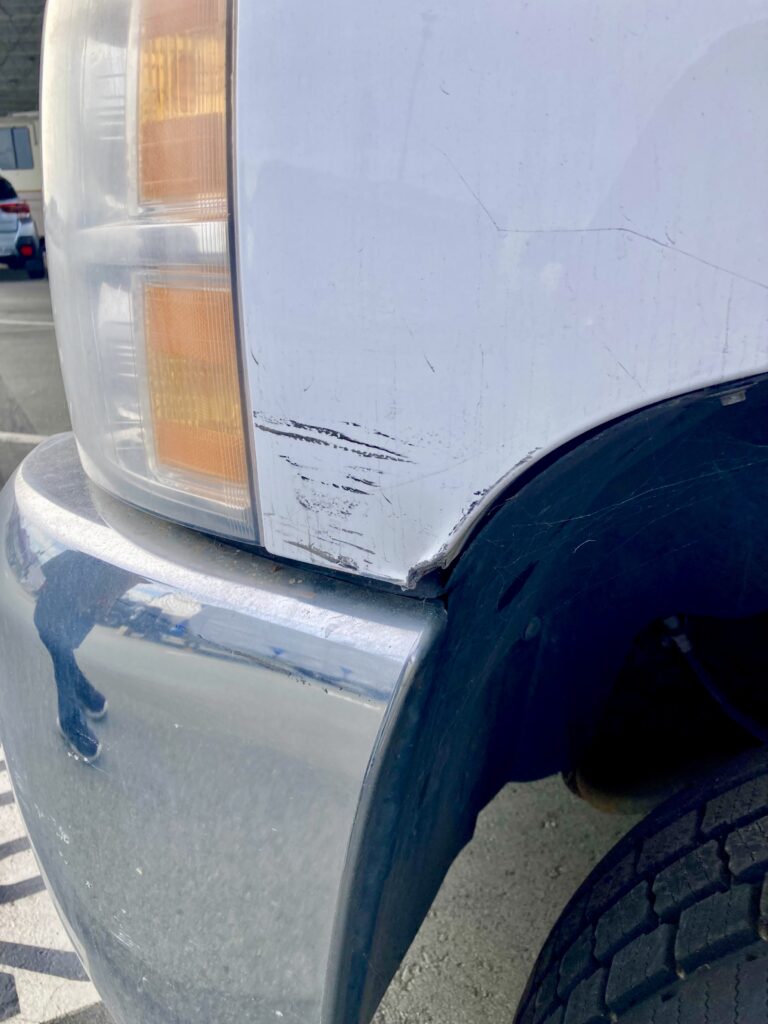 Sunny days were a disappointment. They didn't come as expected. Neither did the warm weather. We woke one morning to find we had lakefront property! Mother Nature is not cooperating here in California.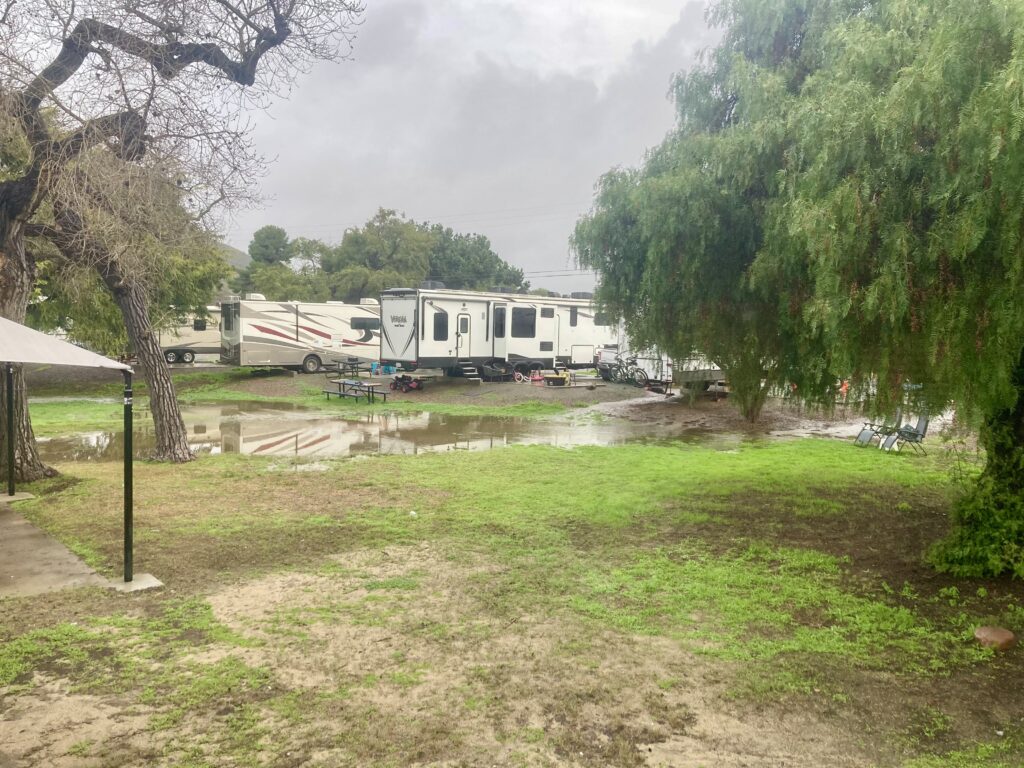 The weekend arrived, but it was very cold out. The sun slowly started peeking out occasionally—no problem for us. We battened down the hatches and took the grandkids, Ruby and Eva, for the weekend. It's so fun to hear Eva, the youngest, read the stories I used to read to them both, and now she reads them to us! Time sure flies.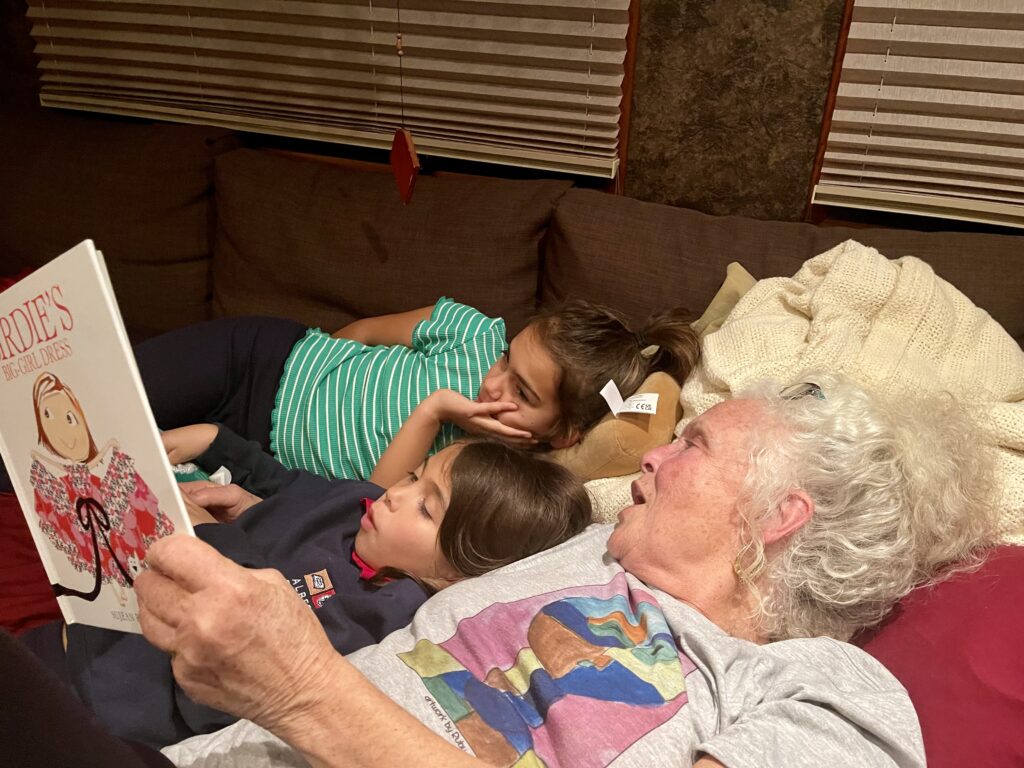 While Ruby and spa practiced German, Eva and I made fresh spring rolls!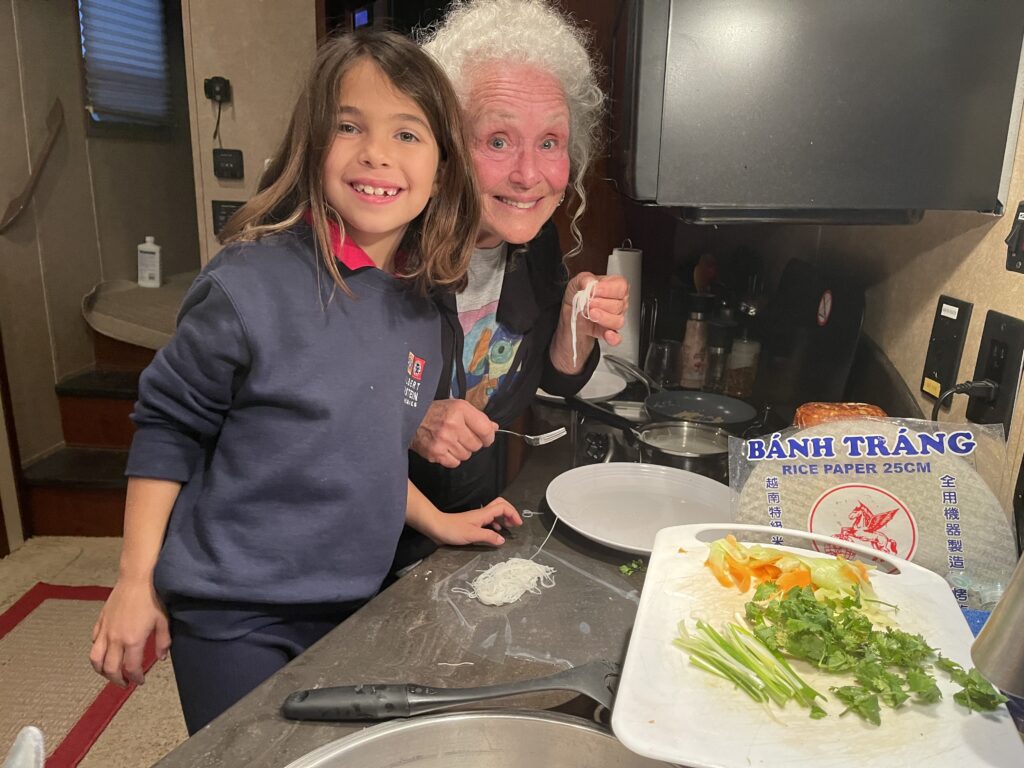 Dinner is always a treat when the girls are here. They love to help!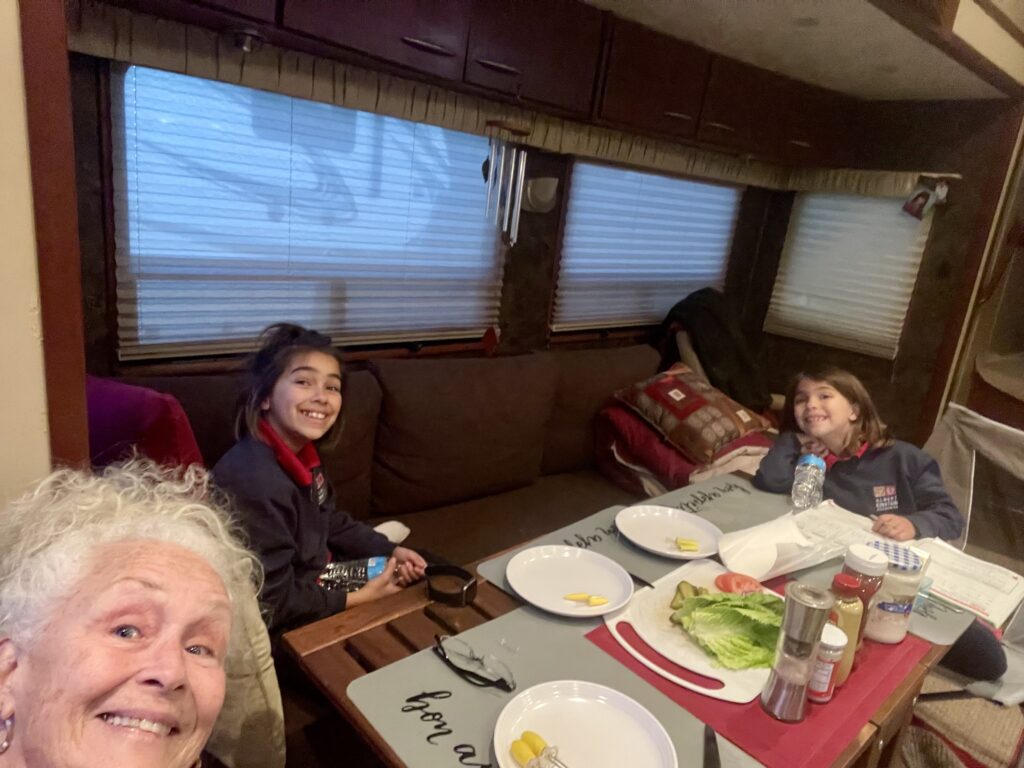 During the week, the kids are at school, and my daughter and husband work. We decided to take off to check out the storm damage on the coast along 101 in Imperial Beach. I was surprised the pier was still standing. Woo, it was sure windy and cold.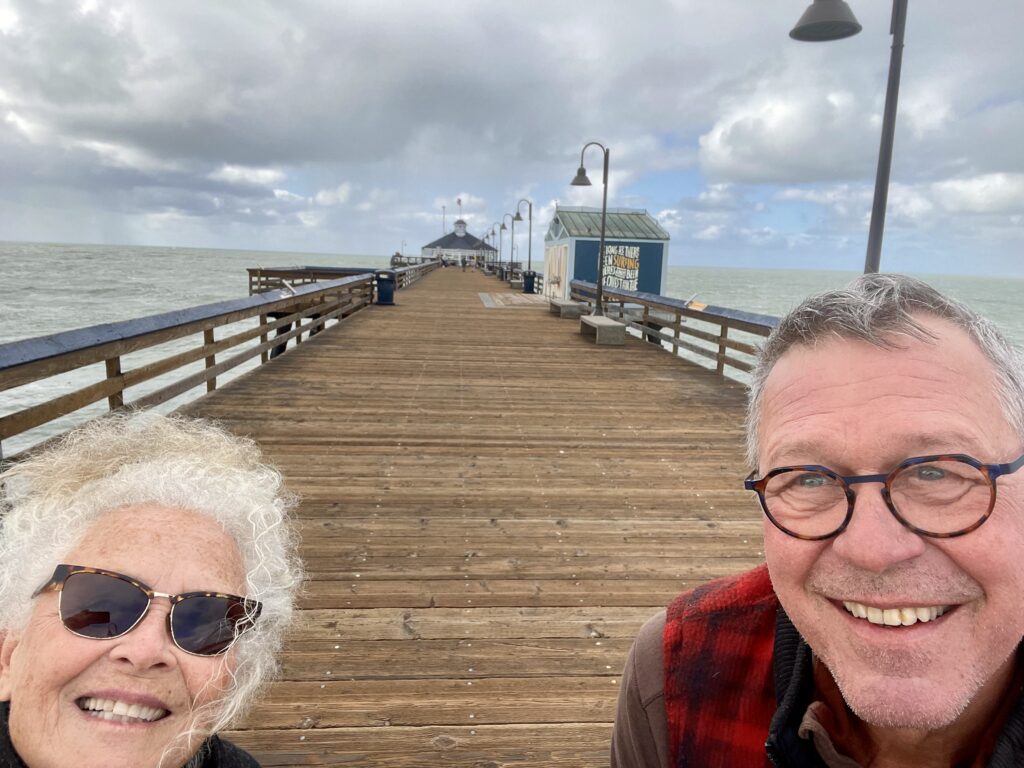 I love this walk. There are cool beach signs along the way. This one was written for me. I have beach hair every day.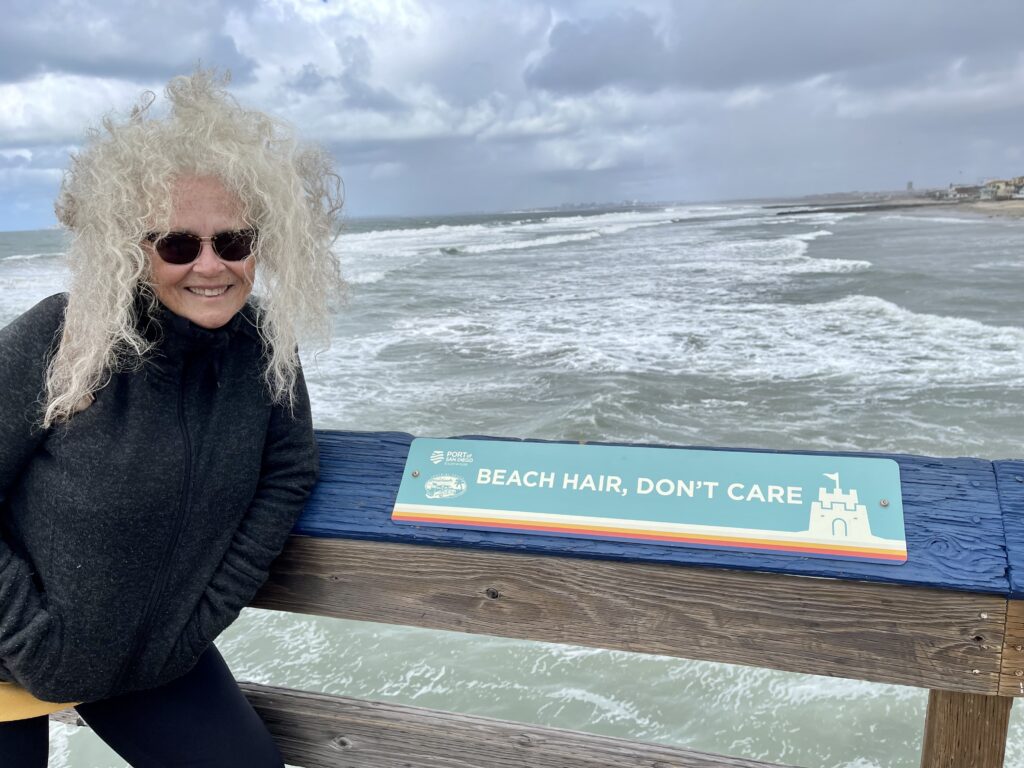 Looking to the left of this picture, you can see Mexico. That's how close we are! We are still waiting for our daily dose of vitamin D since the sun is not fully out.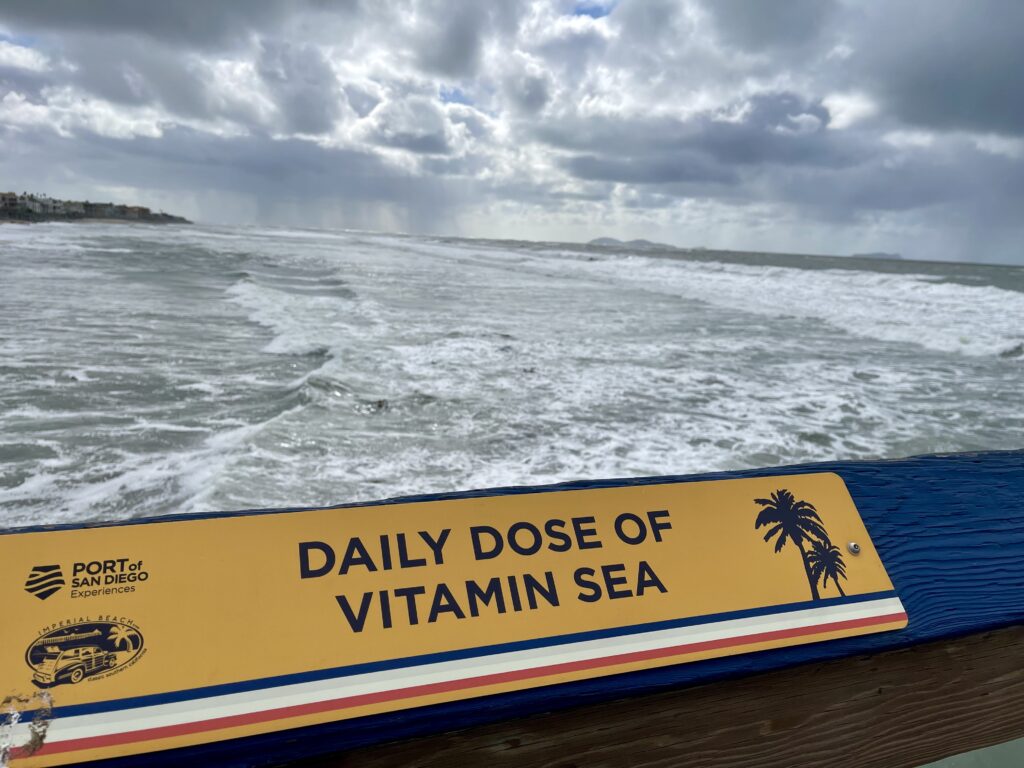 We got to see Ruby's school in action. They do a similar event periodically as I did in my class. I did Steven's Store for my classroom, but Einstein Academy (German Immersion school) does a grade-wide store to help teach the children about economics. These kids were pumped, and it was great to hear them bargaining and hassling over change.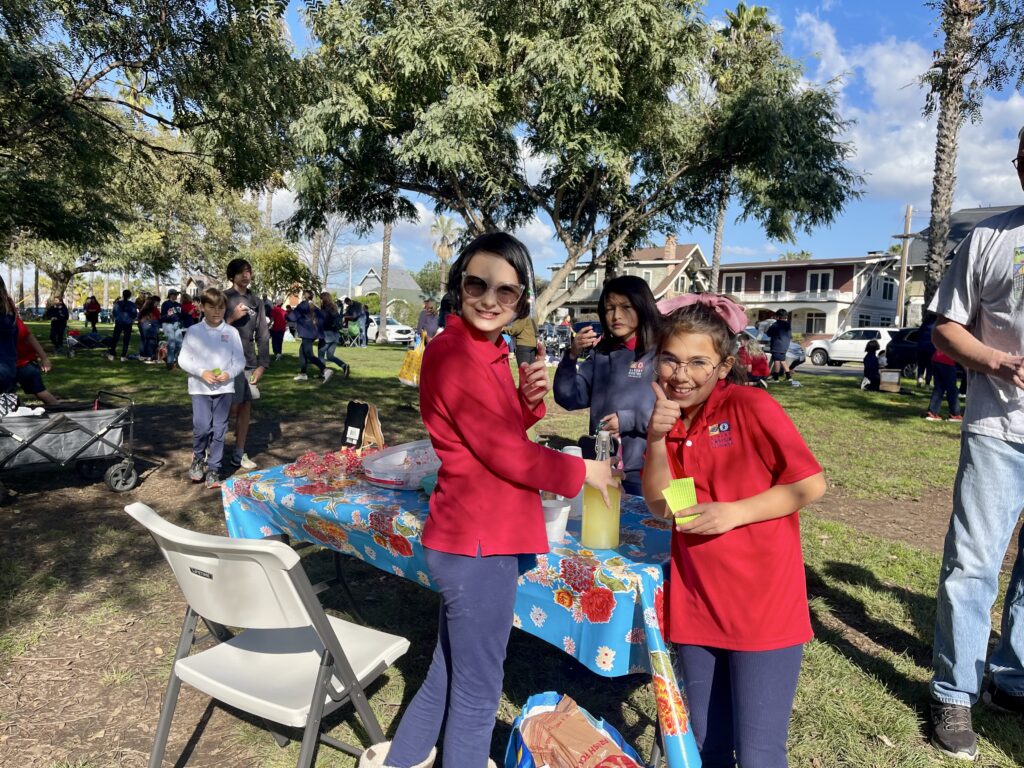 During the week, I got to hook up with some of my "old" friends and classmates. It's great to catch up and connect. I look forward to seeing them each time I am here.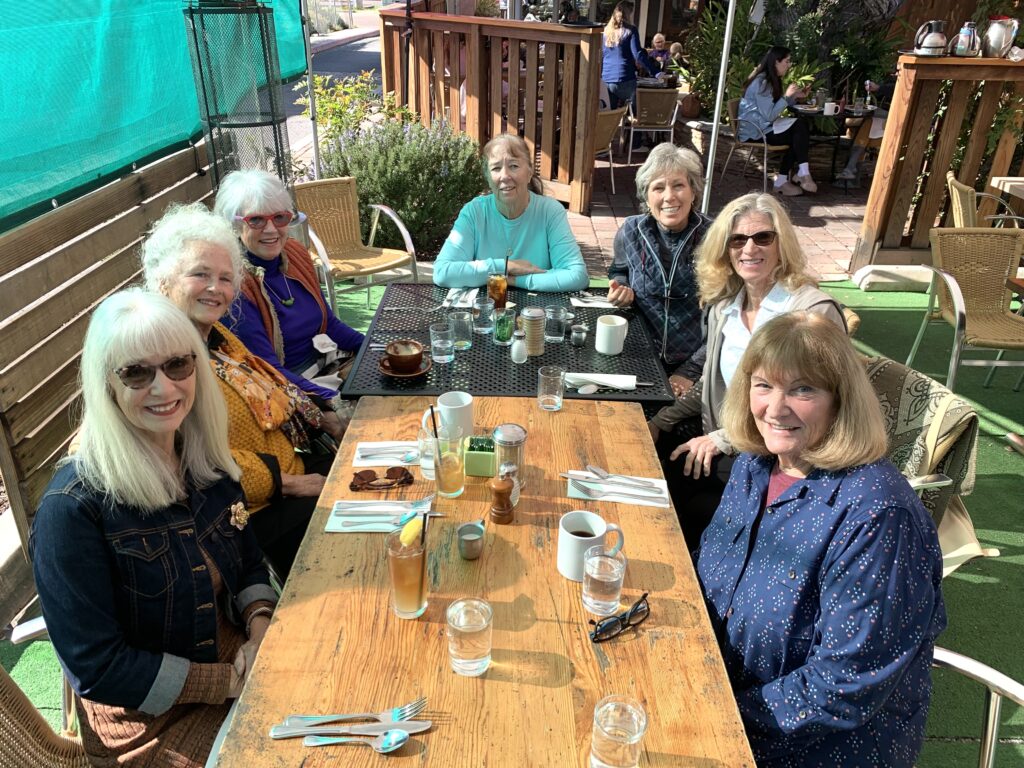 We are limited in where we can go in this Military Campground as far as riding bikes, roller skating, or walking. Signs are posted preventing such activities. This year they closed the back lot, and we had enough room to practice all our activities, from biking..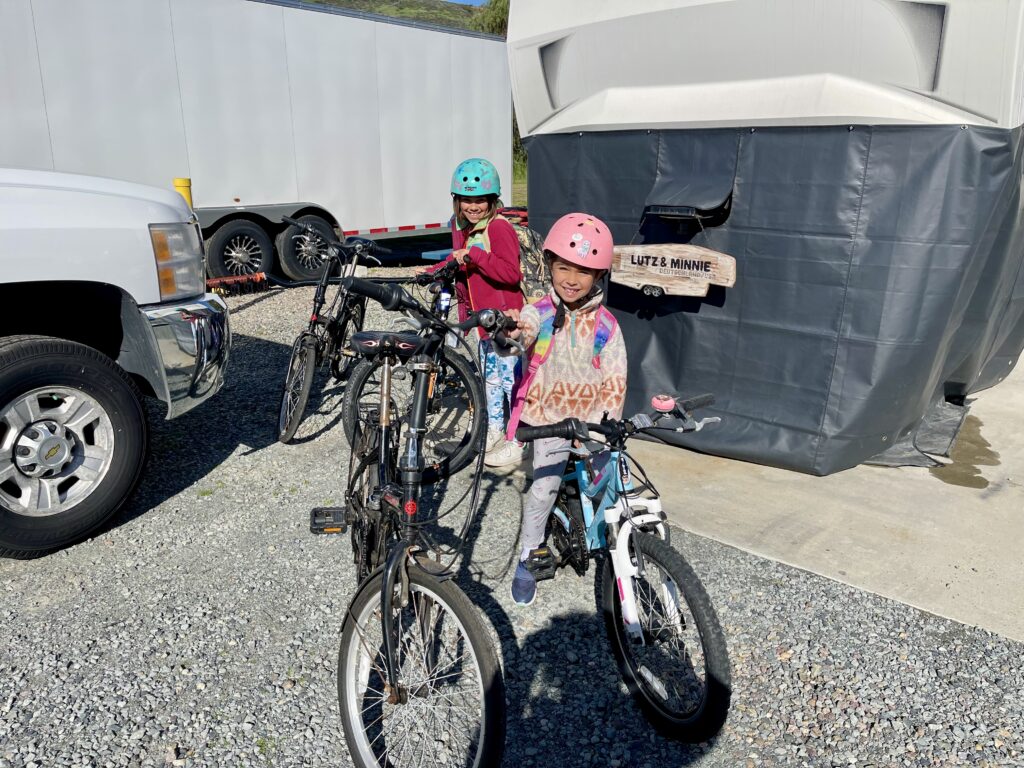 To rollerskating…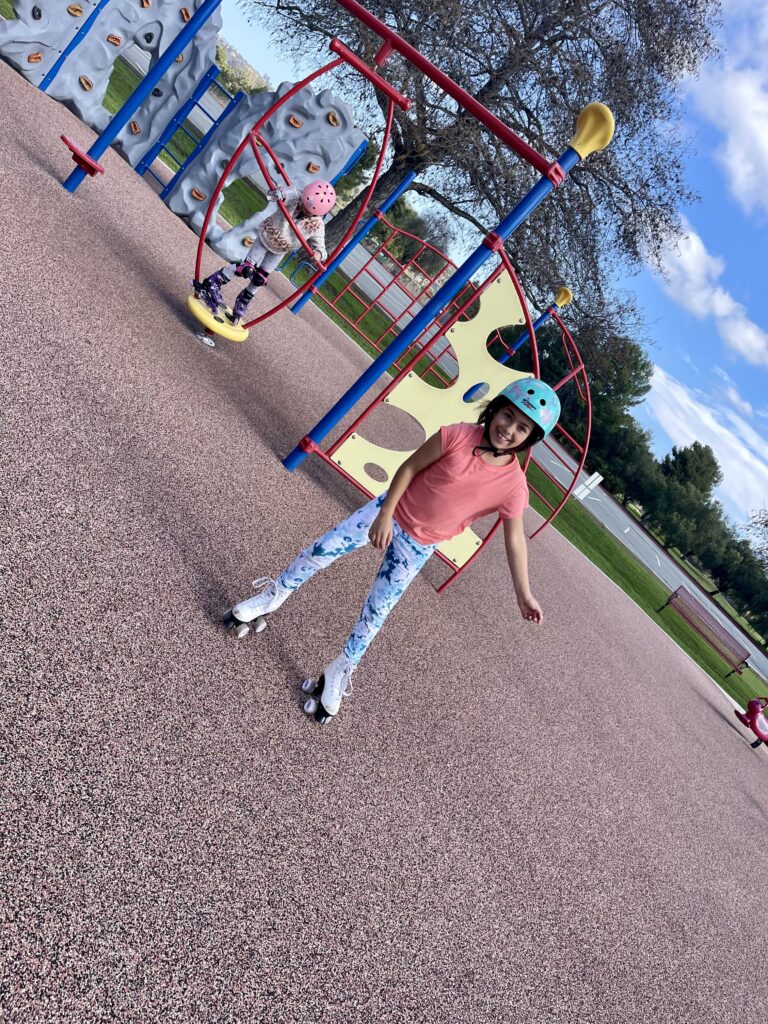 and rollerblading.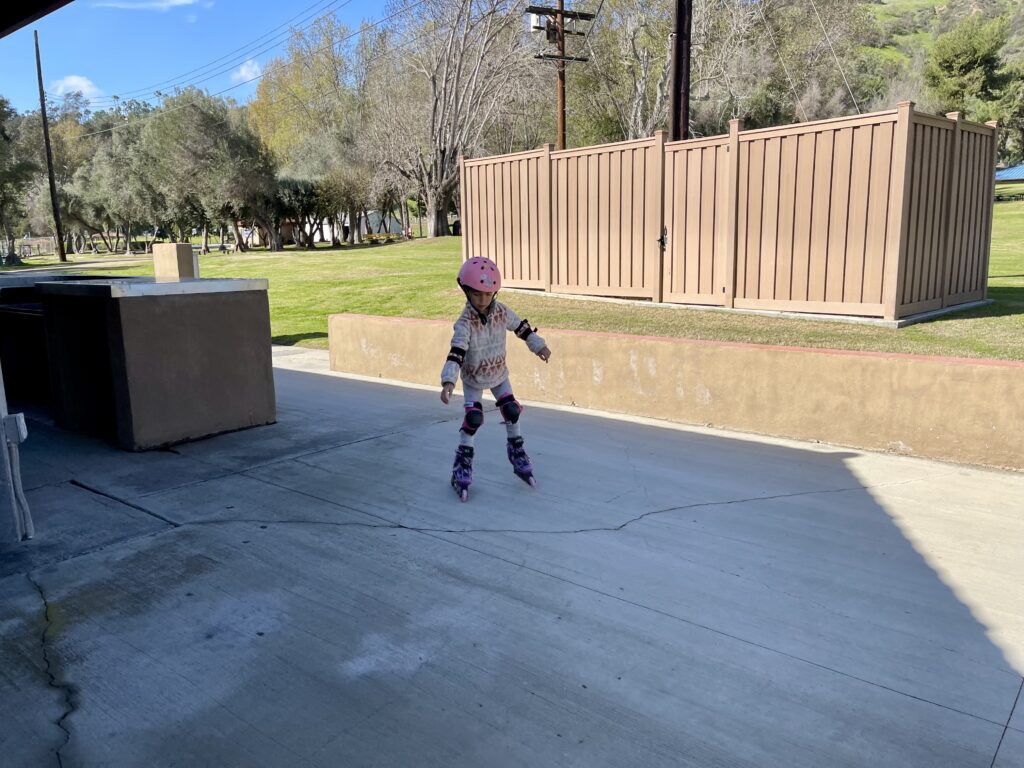 When the sun is out, and we want to make use of our bikes and roller skates, we head to the San Diego Bay Park,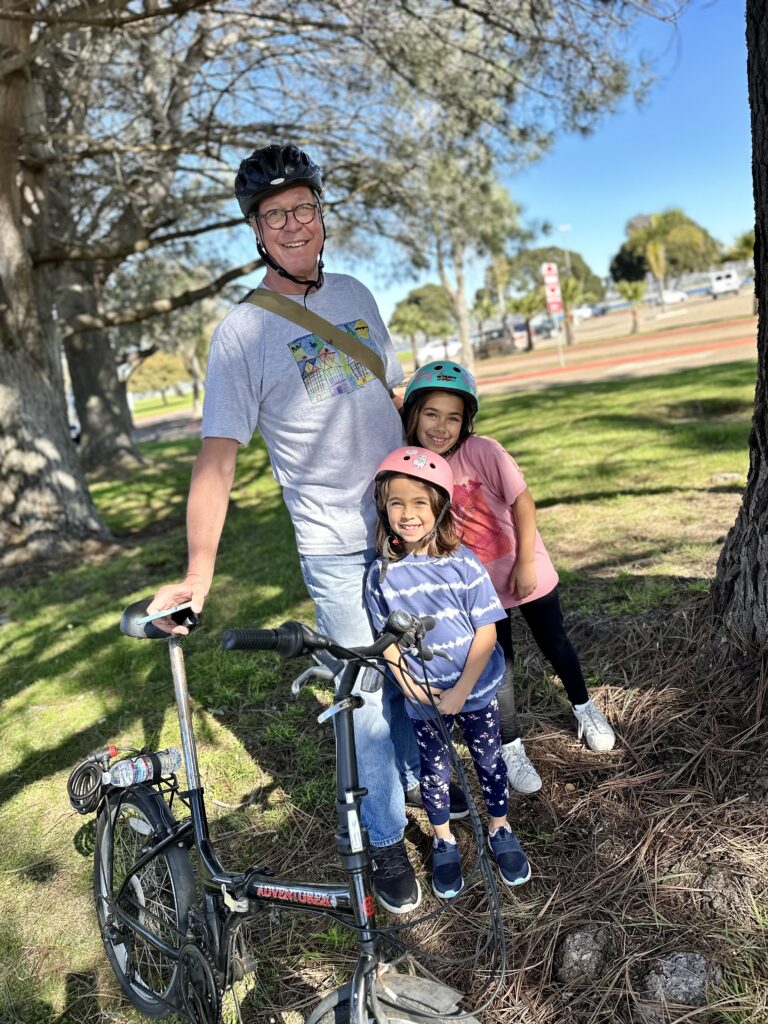 Opa has taught both girls how to swim, ride their bikes, and rollerskate or rollerblade. He's done a marvelous job, and both girls are very athletic. After a couple of lessons at the RV park, Eva was a pro on her rollerblades.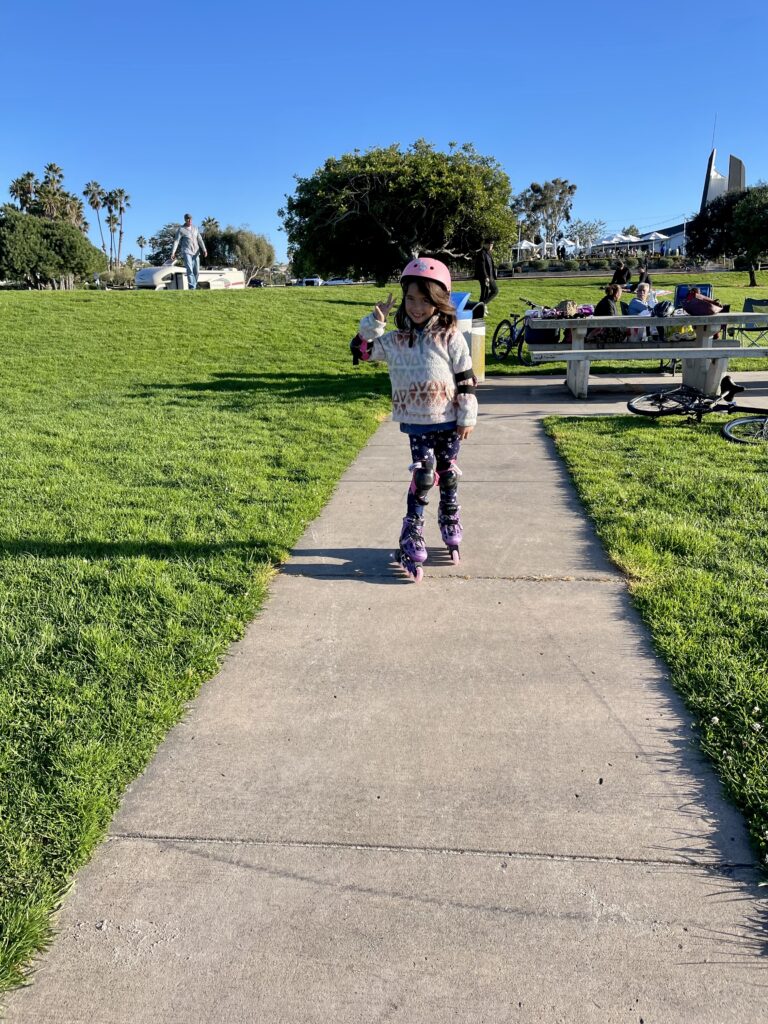 Of course, the family came down for the sun and activities, and another photo was a must.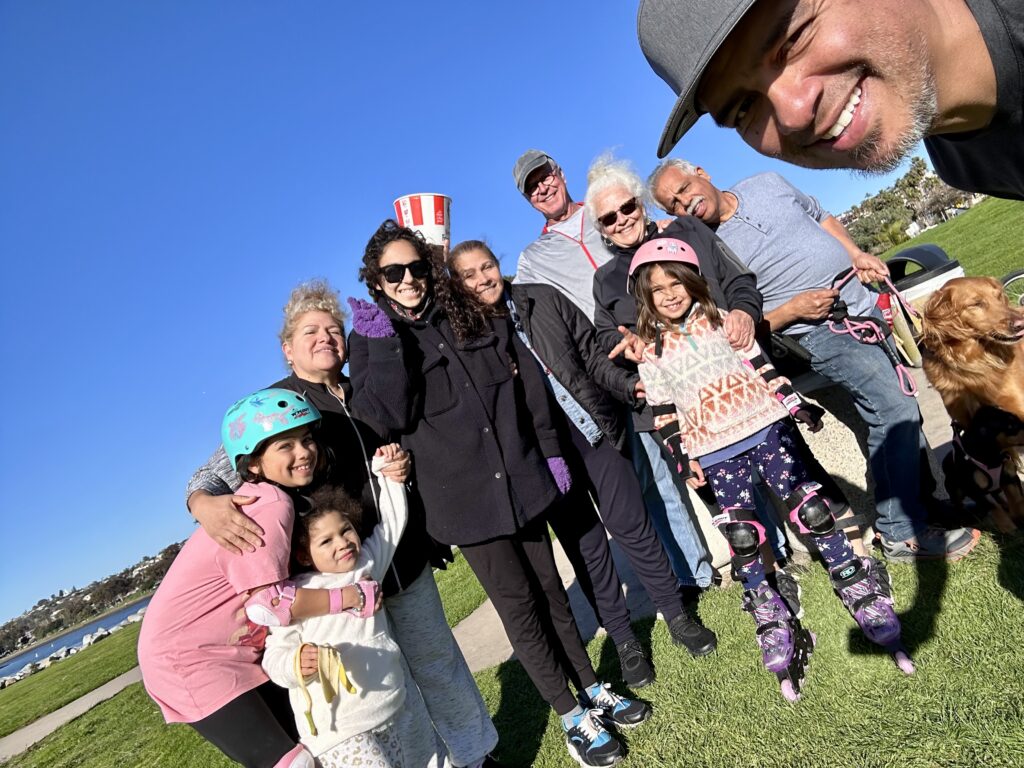 The sun finally made its debut, and we certainly took advantage of it. Lutz's birthday was on the 27th of January, so it was off to the San Diego Harbor for a hot date.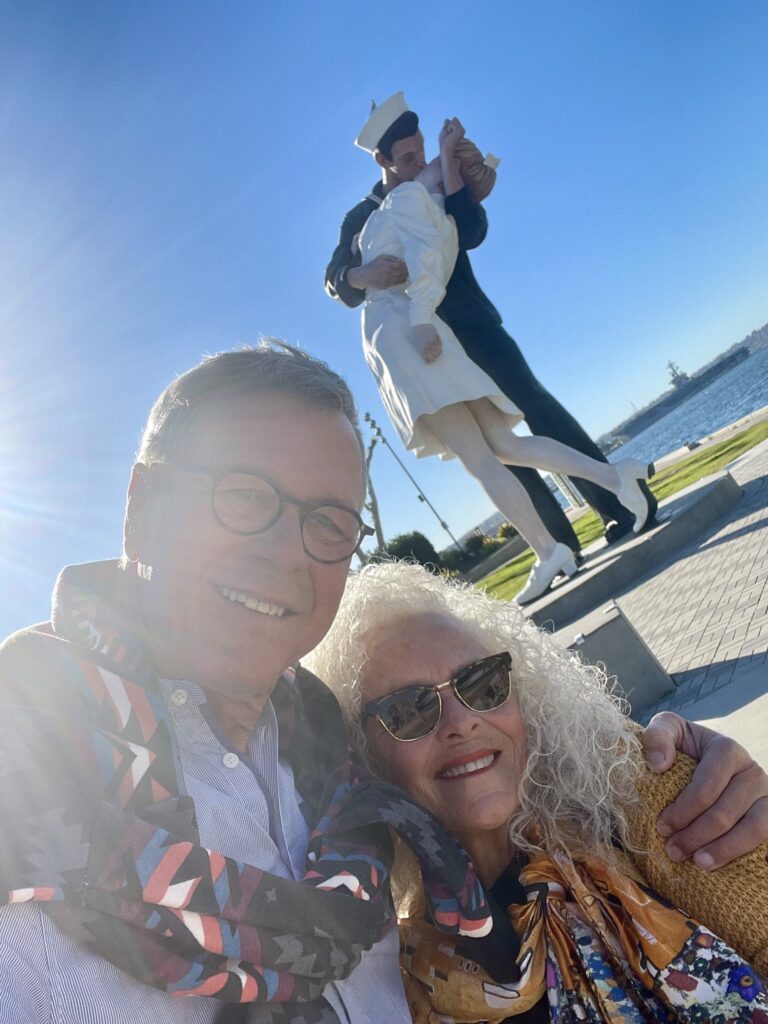 And yes, these moby dick cruise ships do land here.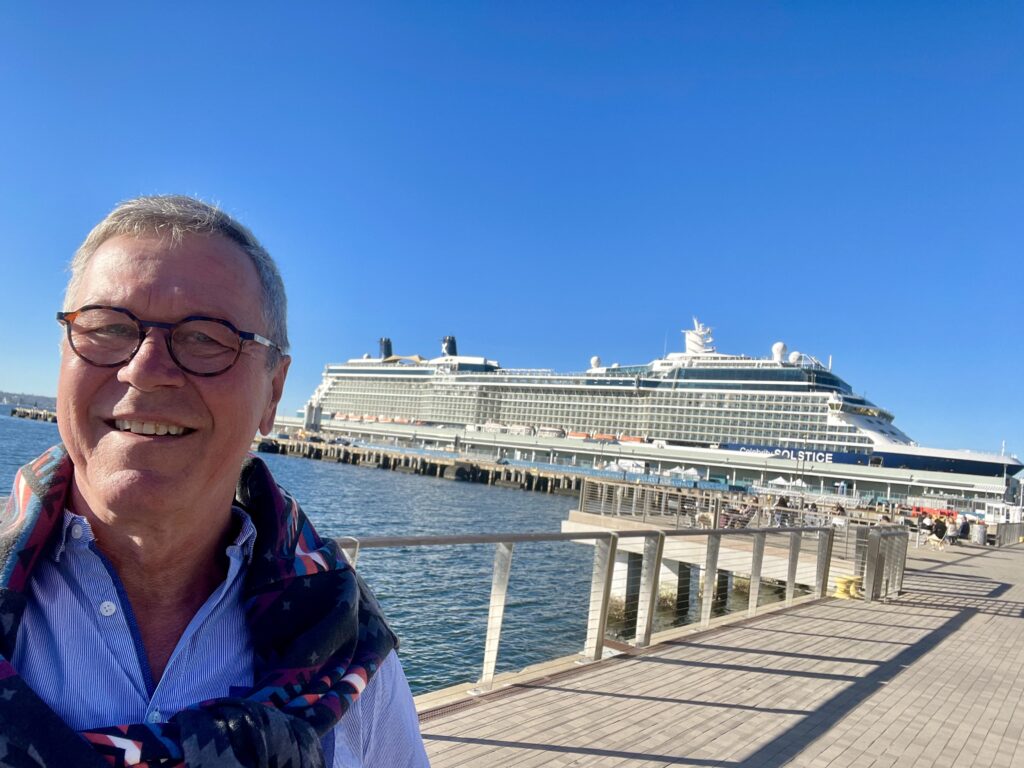 And, of course, a little drink and guacamole while we watched the sun setting in the west.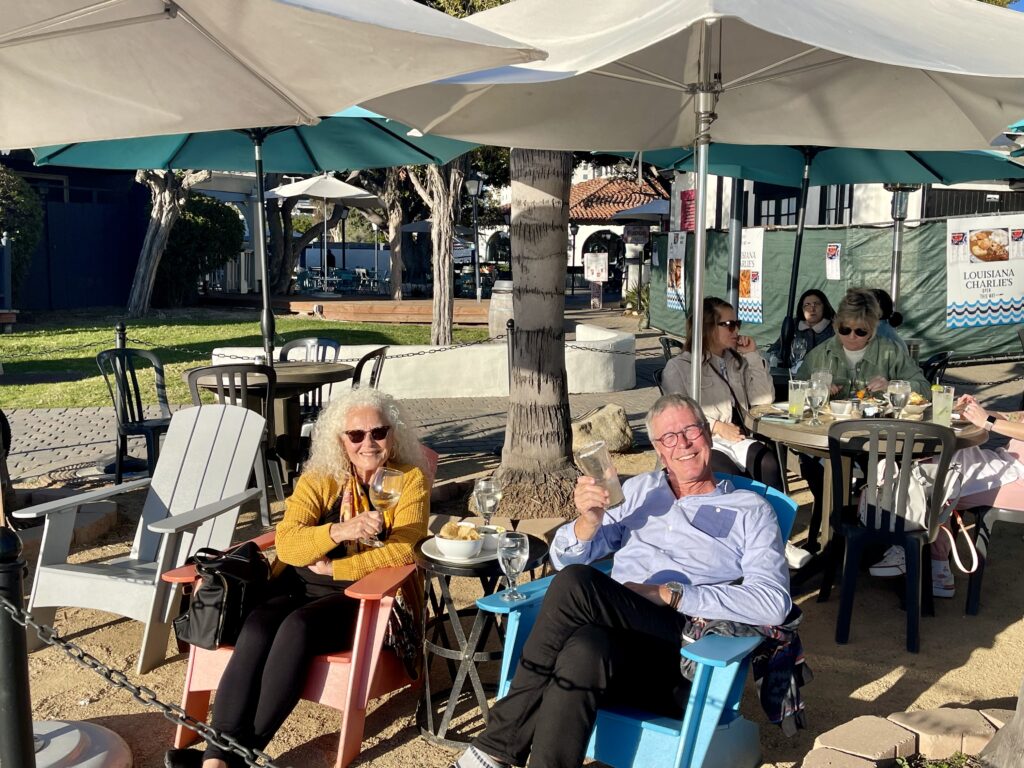 We ate at the Fish Market outside on the deck and watched the sunset. It was so good to be back at sea.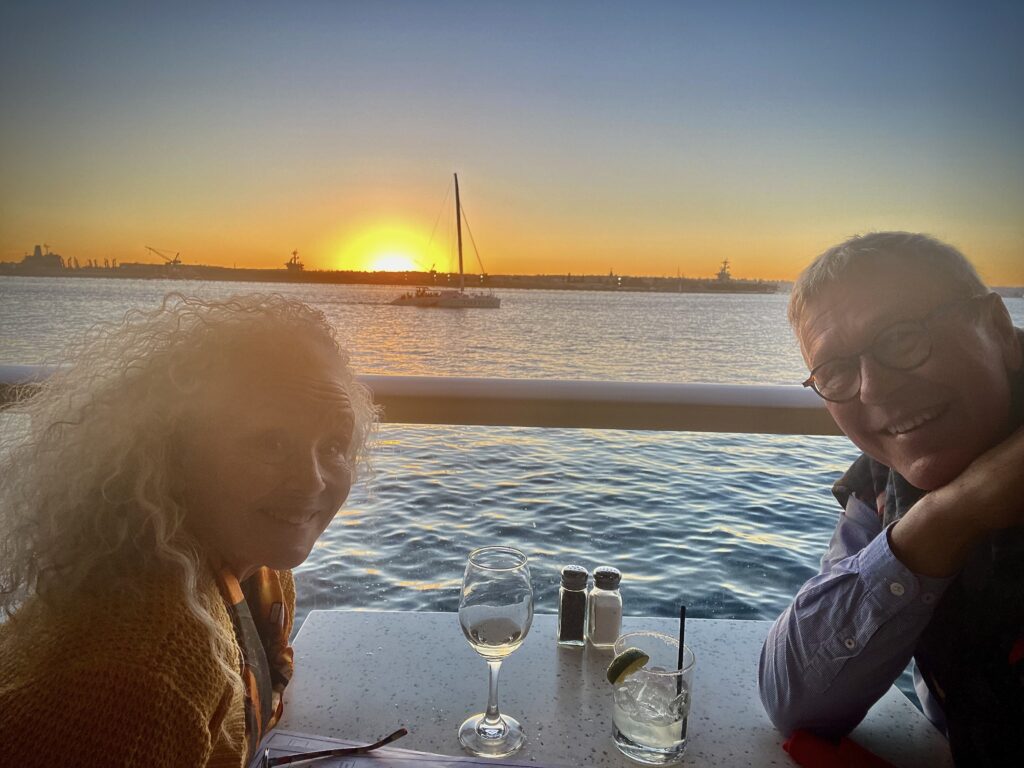 Our day was filled with memories and bucket list ideas for our future. 
The next morning my daughter called to say we were all going to prison. I was a little confused at first but then recalled she had a surprise birthday gift for Opa. Yes, we were on our way to jail and had to escape! We did, but not without much help from the Red Door Escape team! What an adventure we had. Even the girls were hooked on finding the clues and opening the locked door! Seriously it was a fun event.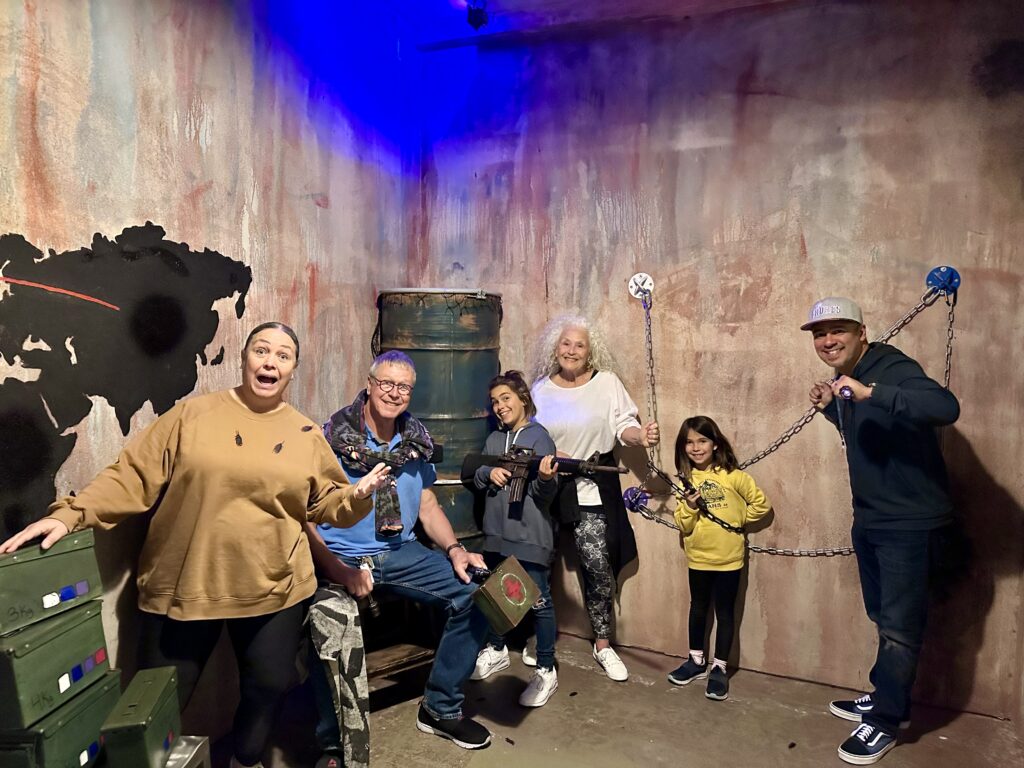 That's it for this month's post. I hope you are experiencing wonderful weather and have not been imprisoned. Thanks for keeping up with us. Next month we are off to Coronado Island and then to Borrego Springs. Two of our favorite places to enjoy. In the meantime, check out this new delicious recipe and favorite resource. Let me know what you think.
Fave Recipe: Tangy Apricot Salad
This is one of the best salads I've had—Tangy and sweet with a touch of sour sun-dried tomatoes. Click here for the recipe!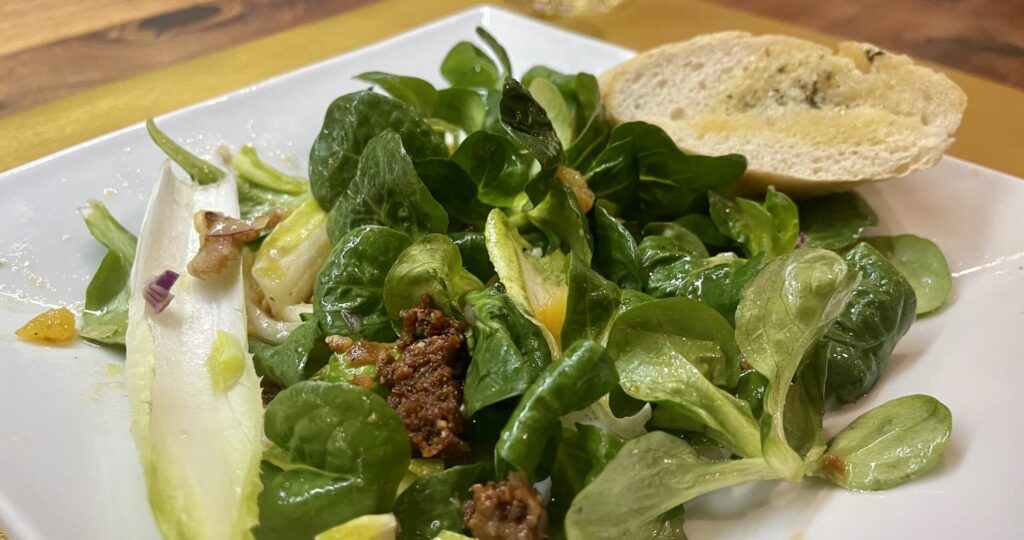 Fave Resource: How Can Herbs Be Incorporated Into AIP?
Using Herbs to fight inflammation caused by an autoimmune disease can be beneficial. But which ones? This article is so helpful! Click here to learn more.