When it rains, it pours…Cash!
They say it never rains in Southern California, and that's not true. It pours. Our RV, Cash, has definitely stayed true to his name! The land is grateful, as you can see in the picture above. These hills along highway 101 have never been this green. However, spring has certainly not sprung. This has been one of the most challenging travels to the USA we've ever experienced. The weather has not been kind, and I'm sure you all have your share of unpredictable weather craziness. 
The roads are damaged, and potholes cover many streets, especially highway 101. I think we'd be better off in an ark! Our RV is a living testament to the damage these potholes can bring. More about Cash and his condition later, but let me share some good times for now.
I can say that I've read more books this tour than I have in a whole year. Staying inside our RV and hiding from the rain, wind, and snow has given me a lot of time to catch up on some great books. Please send me more good book titles; it looks like I'll need them. How about you?
Last month when I posted, we were in Borrego Springs, and it just so happens that we were amazingly warm and sunny the previous two days! We got in some hiking,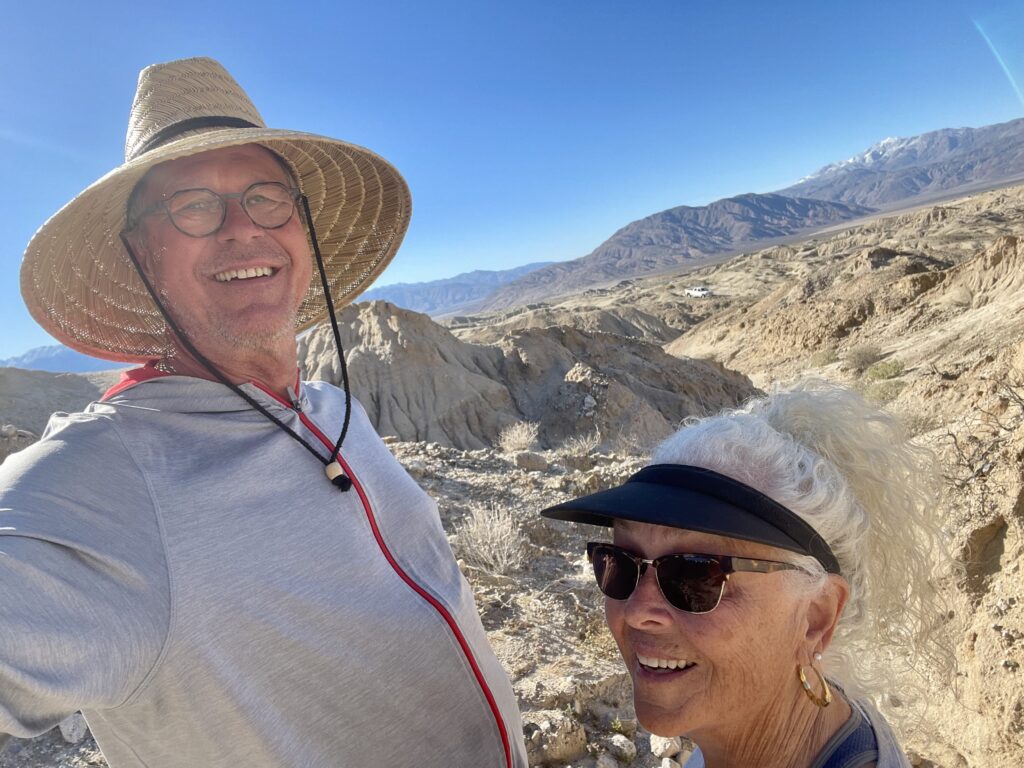 Some flower tours,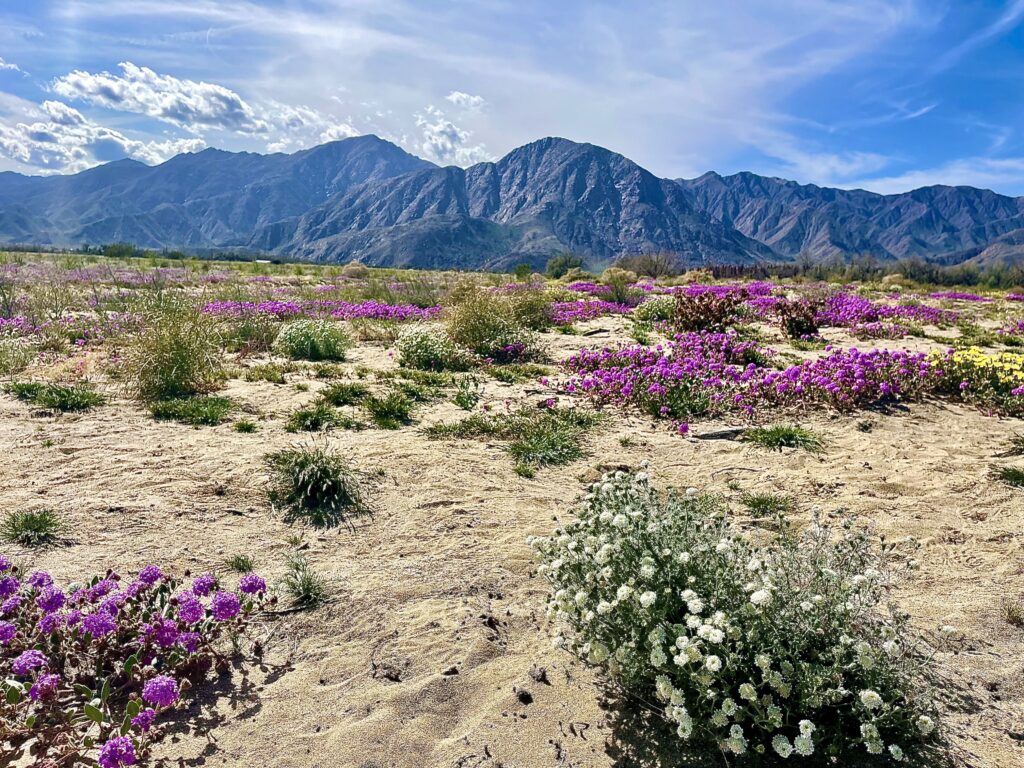 And the wind and rain stopped long enough to golf with good friends, Gay and Dan.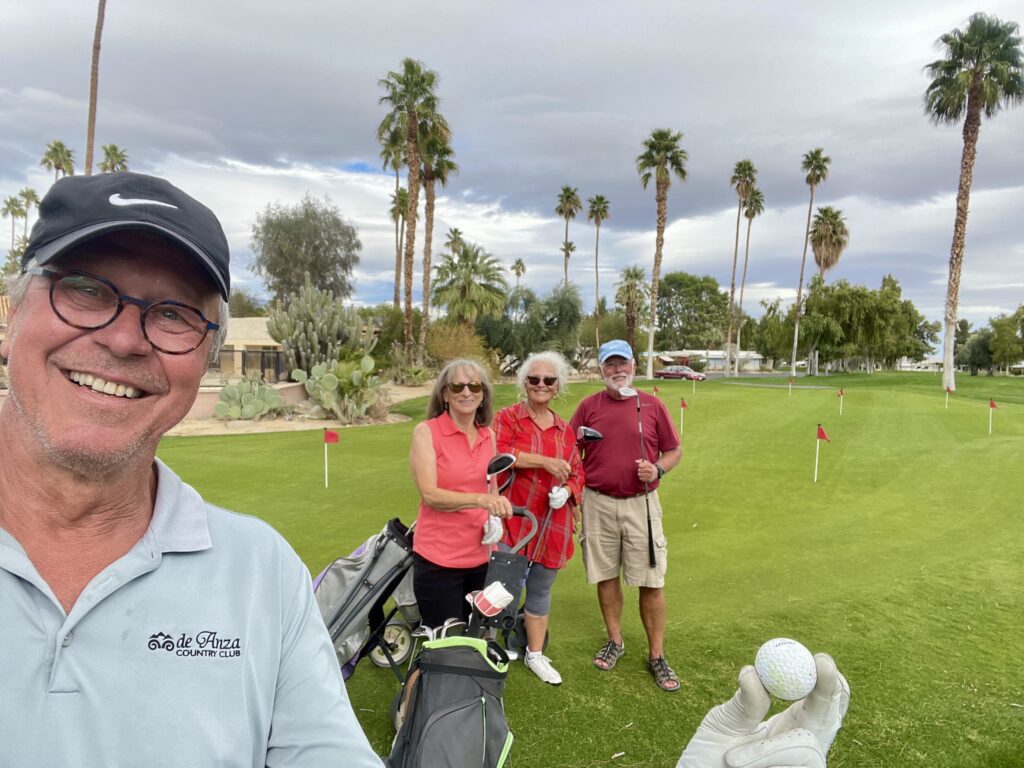 There is a horse camp in Borrego I've always wanted to check out. We took a ride through the 10-mile-long bumpy road to see it. It's pretty cool. No electricity, sewer, or water but restroom facilities and a corral for your horse. Even a tie-up post for your horse is on your site!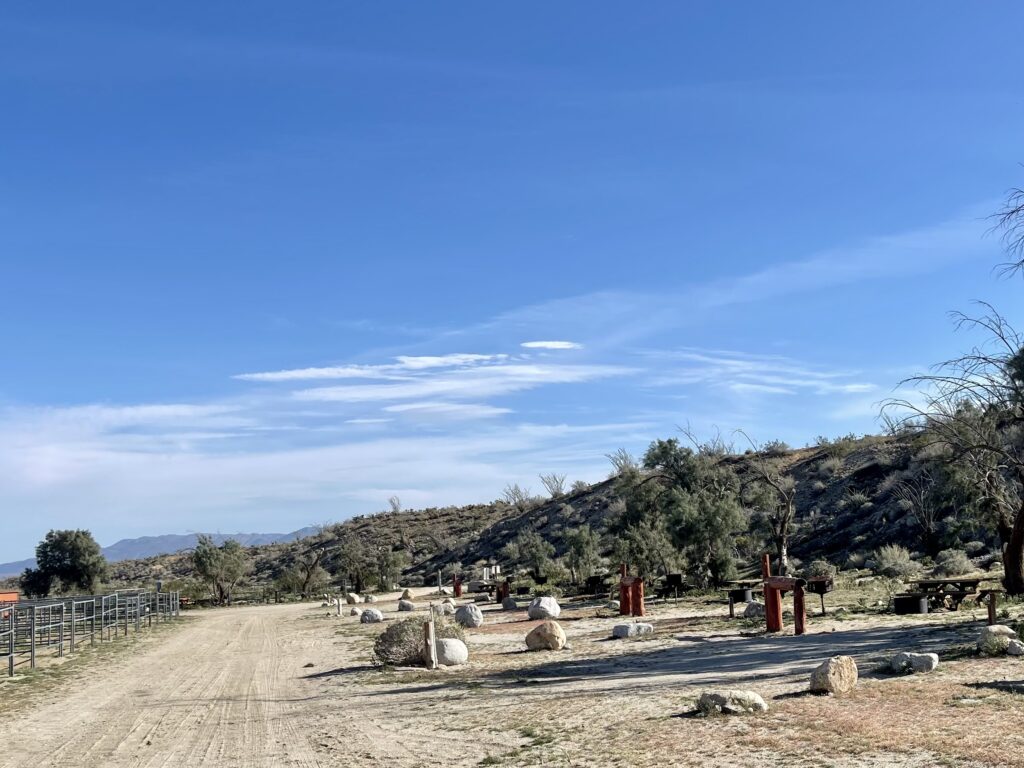 We even rode bikes through the deserted Borrego Springs Resort Spa Golf Course, The Arches! This is a Google view. It is spooky and reflects the slow loss of water in the area.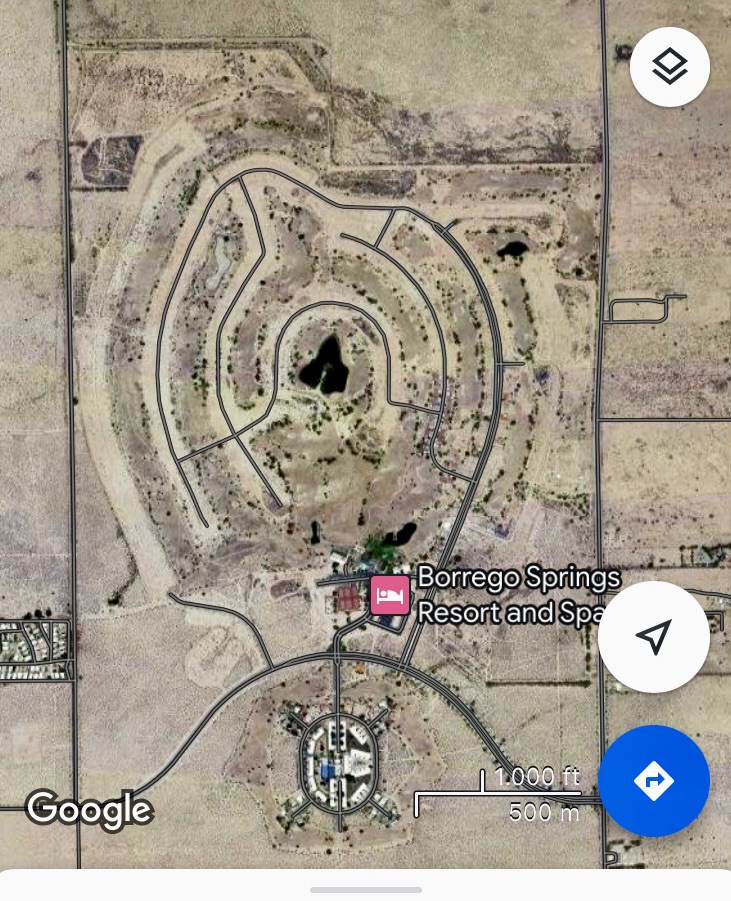 It was pretty cool biking on the golf cart path. Super fun!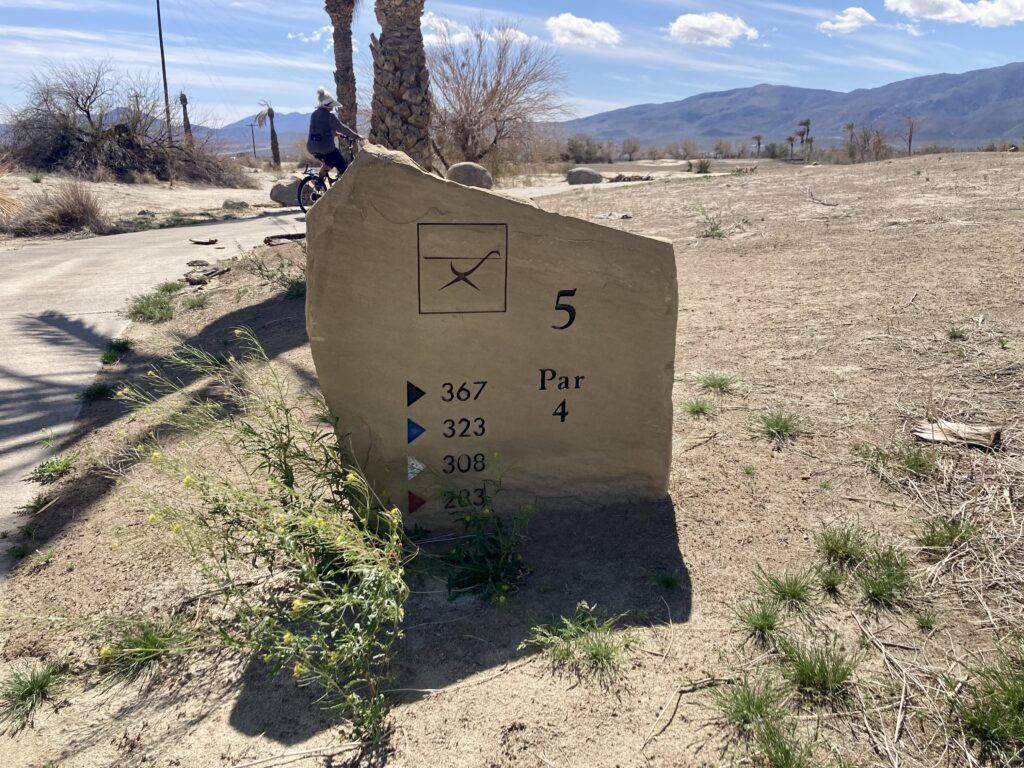 We love cruising Borrego and checking out the sculptures that fill this amazing desert land. And no, these are not e-bikes. They are the old fashion kind you peddle! I think we are the only ones who own non-electric bikes in our campground.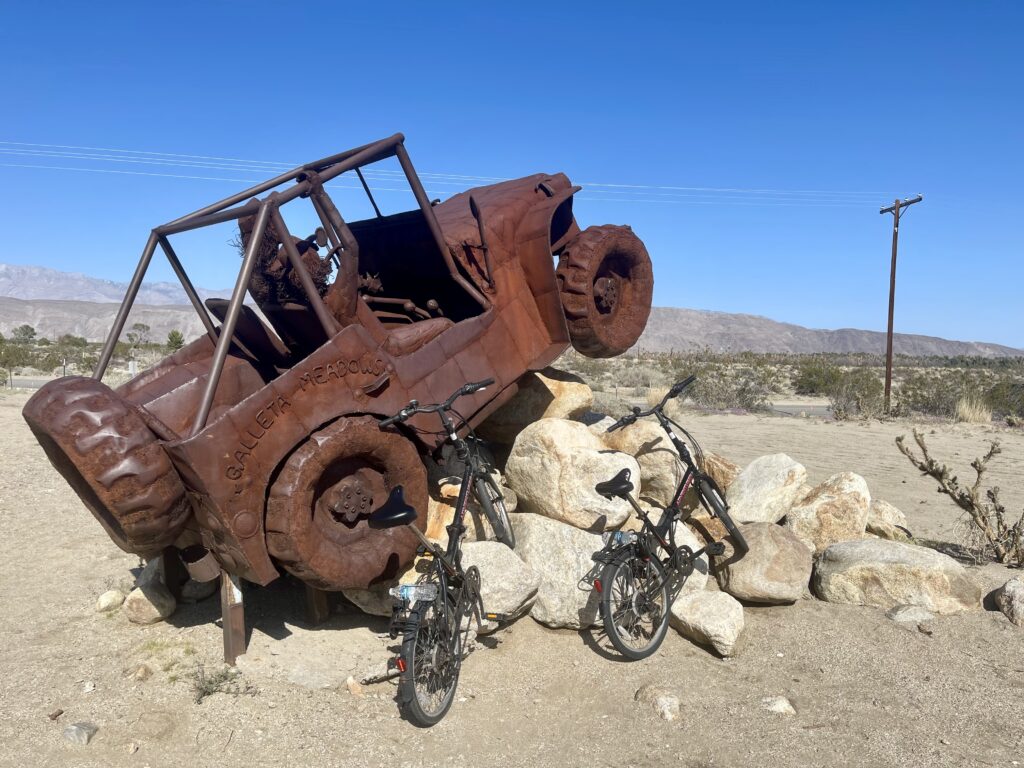 I've been coming to this part of Anza Borrego with my family since I was a kid. There is an airport here, and as long as I have been visiting, I've never seen a plane land or take off. But this time, I got lucky. A pilot came for lunch to meet up with friends and then took off for home! I know what you're saying, "so what, big deal." But it is a big deal for Borrego! Not much action out here.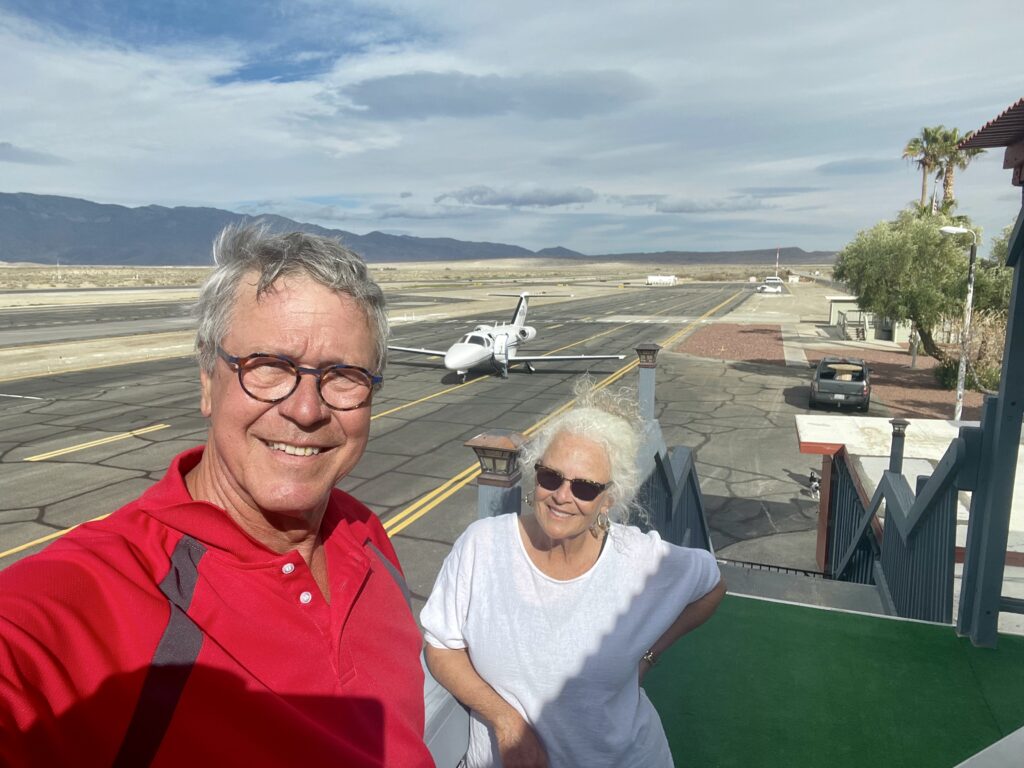 We enjoyed the evening music and entertainment at the Spring RV Resort and our daily water aerobics. Since on the road, we are still keeping up our yoga and weights in the RV.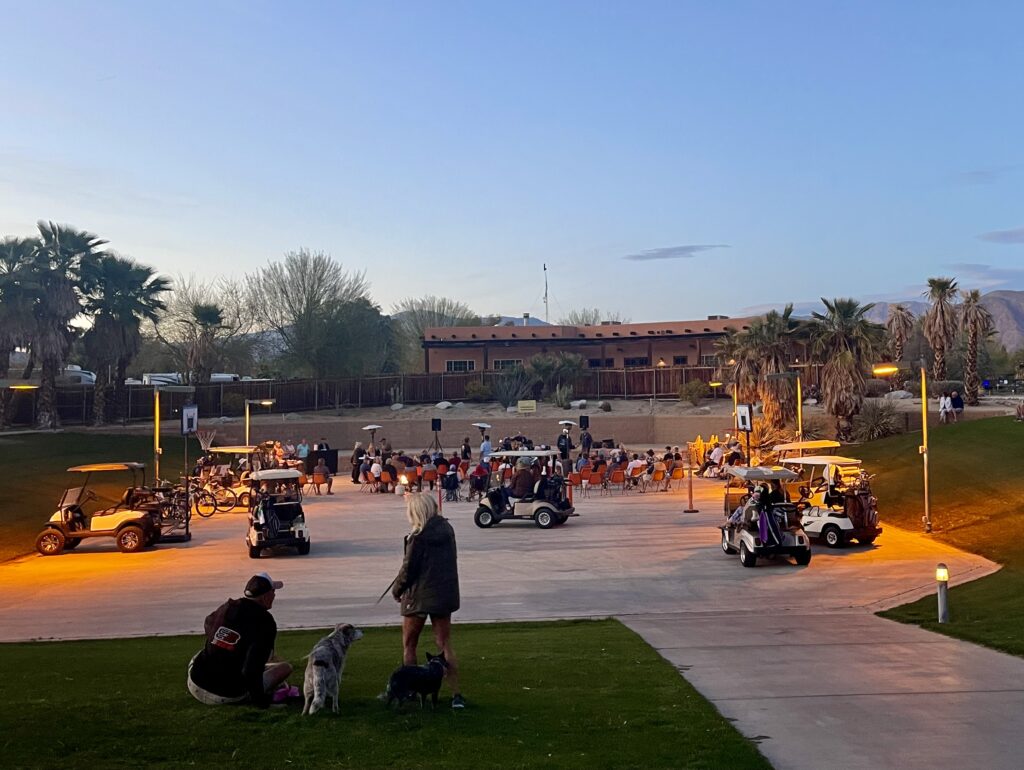 It was time to say farewell to our happy place, Borrego. We packed up and headed to Camarillo to visit my brother for a few days. It was wonderful to see him; he is in great spirits and shape!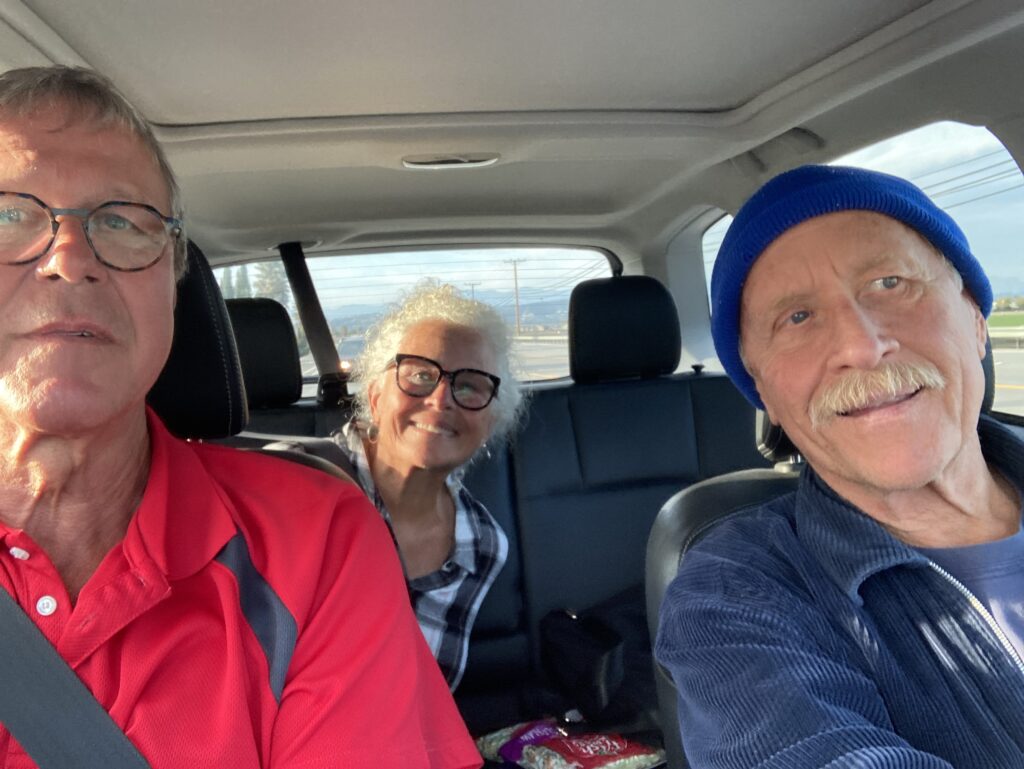 We stayed at Port Hueneme on the base and had a great spot! It seemed empty, but it started filling up the following day because a big event was happening on the weekend…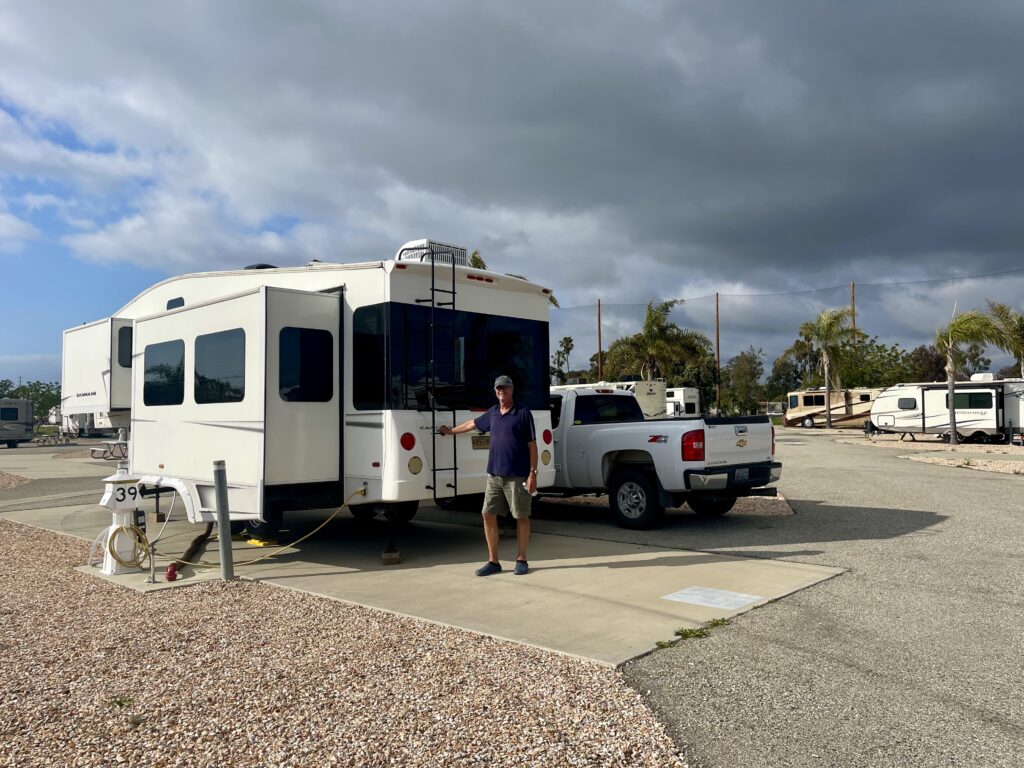 The Blue Angles performed. We saw them do their thing, and then the clouds rolled in.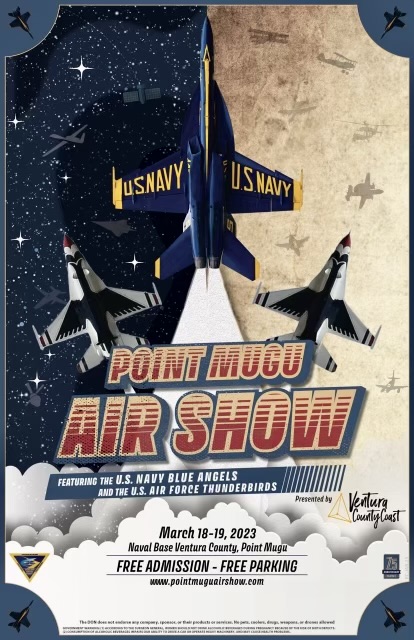 Meeting up with a high school friend, Mike Stephenson, was a special treat! He prepared a wonderful sushi meal, smoked salmon, and a million little dishes of yumminess. And yes, he truly does cook all those meals he posts on FaceBook!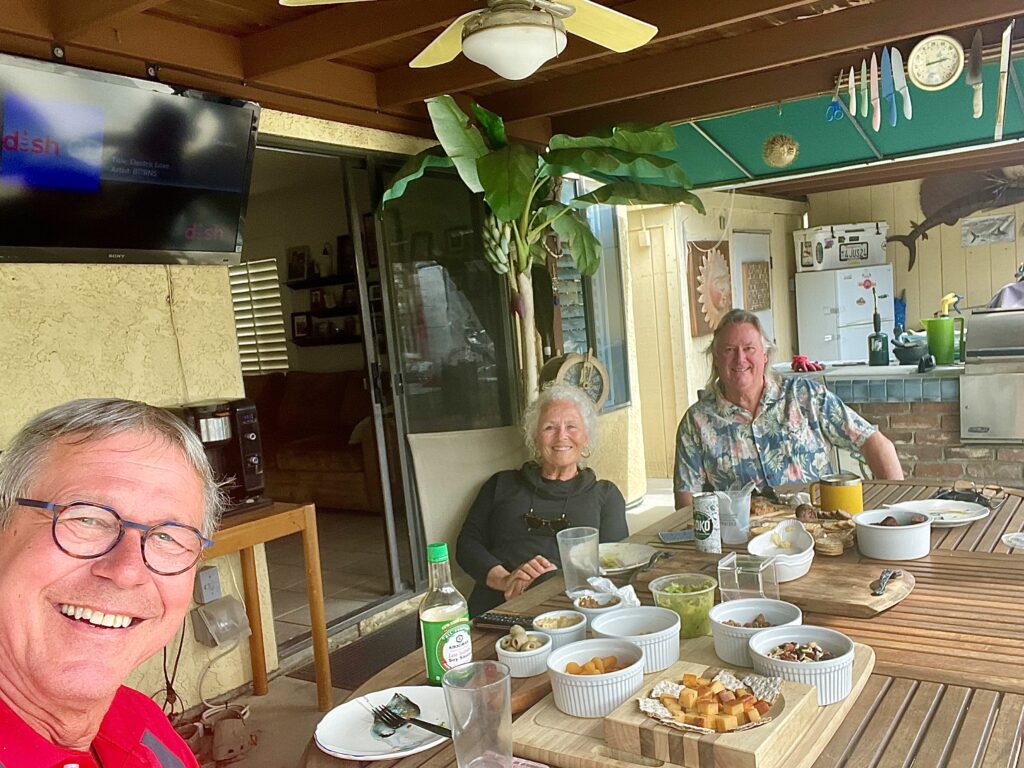 The weather report was not looking good for our next few days of travel north to Brookings, Oregon. So to avoid the rain, we headed out after three days of visiting my brother and his family. We reached an RV park in Paso Robles, right off 101. There were clear skies for a moment, and it felt like spring was on the way…ha!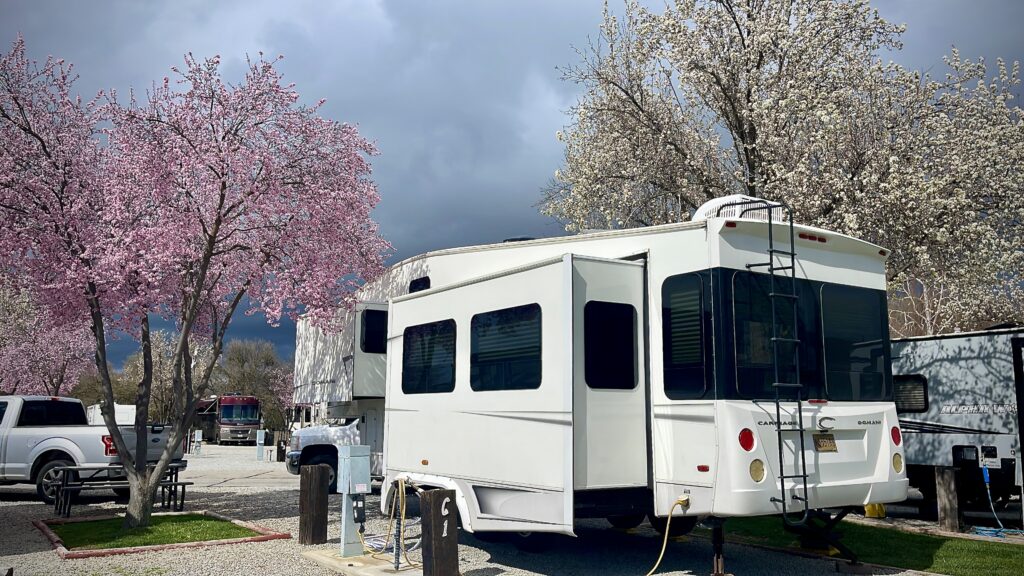 We even went to a wine tasting and got a few bottles without selling a kidney. Then back to the RV to deal with the wind and rain.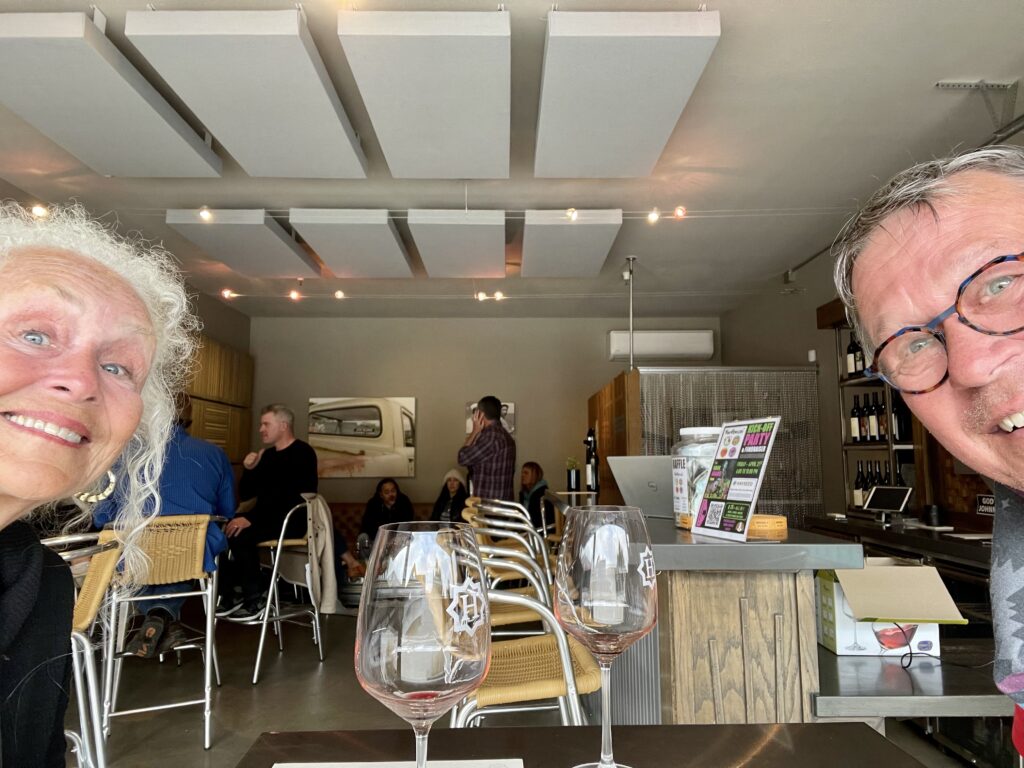 The next day it was cloudy, and two days of the "worst storms" were on their way. We made a run for it to Morgan Hills Coyote RV Resort to batten down the hatches.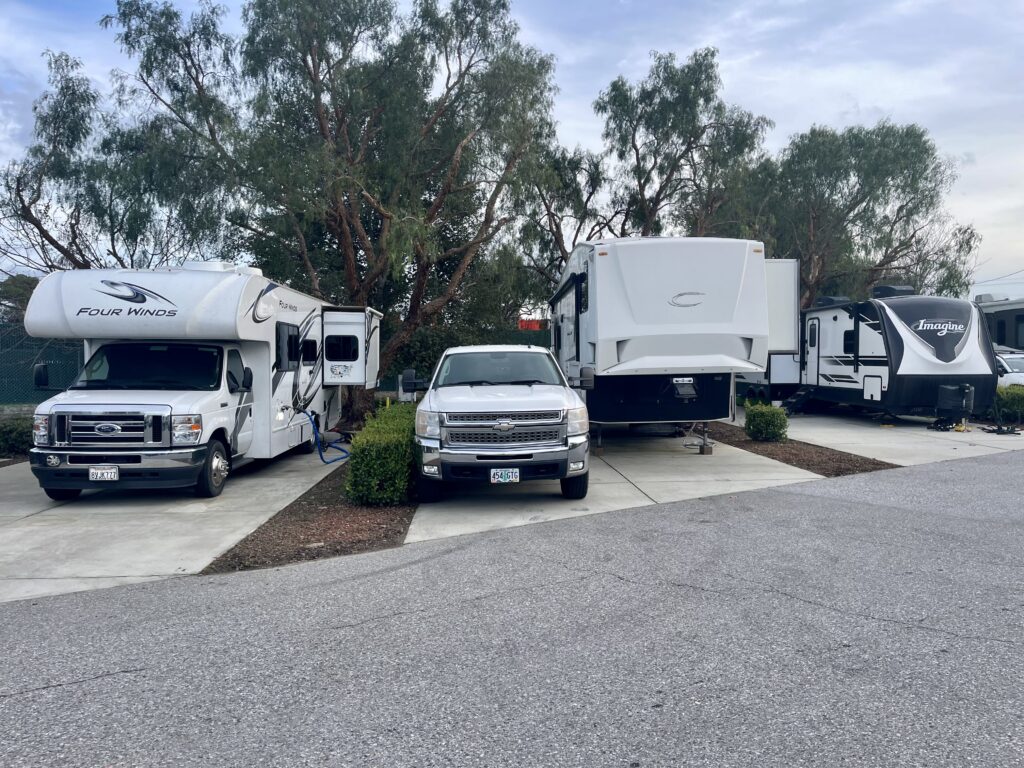 Since we made it early and the storm wasn't due until the evening, we explored the area and checked out a few local recreation areas. It seemed like spring was really trying to come out, but…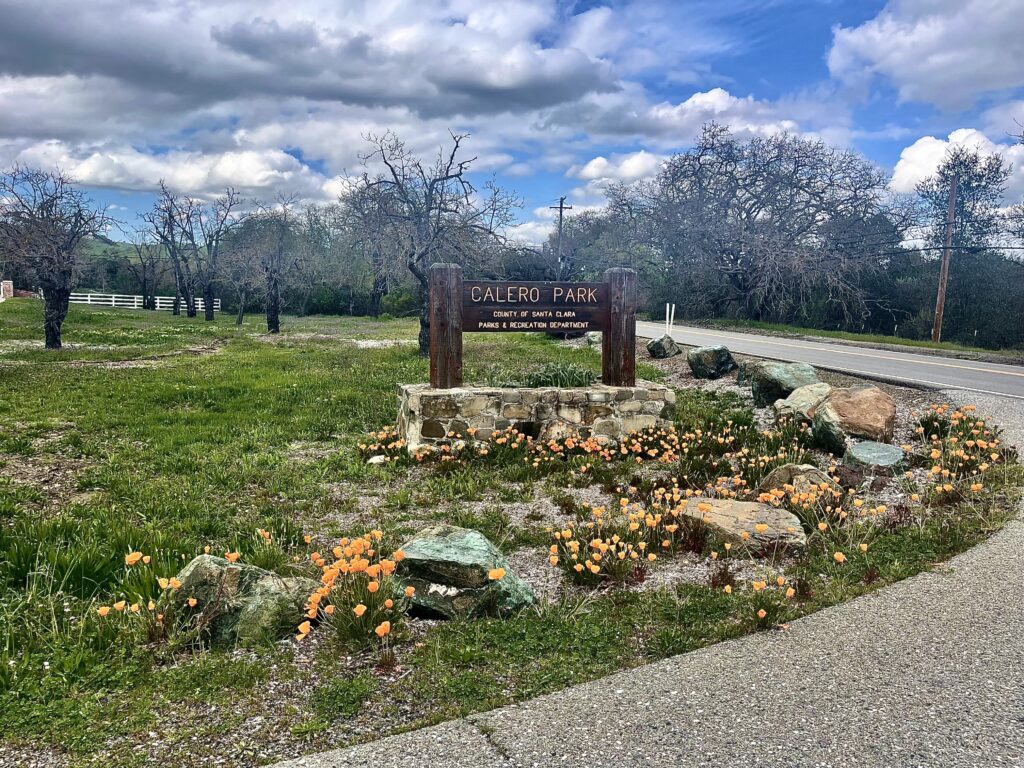 By 4 am the next morning, the rain started coming down in droves. Seriously, it was pounding on the roof like hail and never let up. The news reported flooding from Monterey to San Fransisco.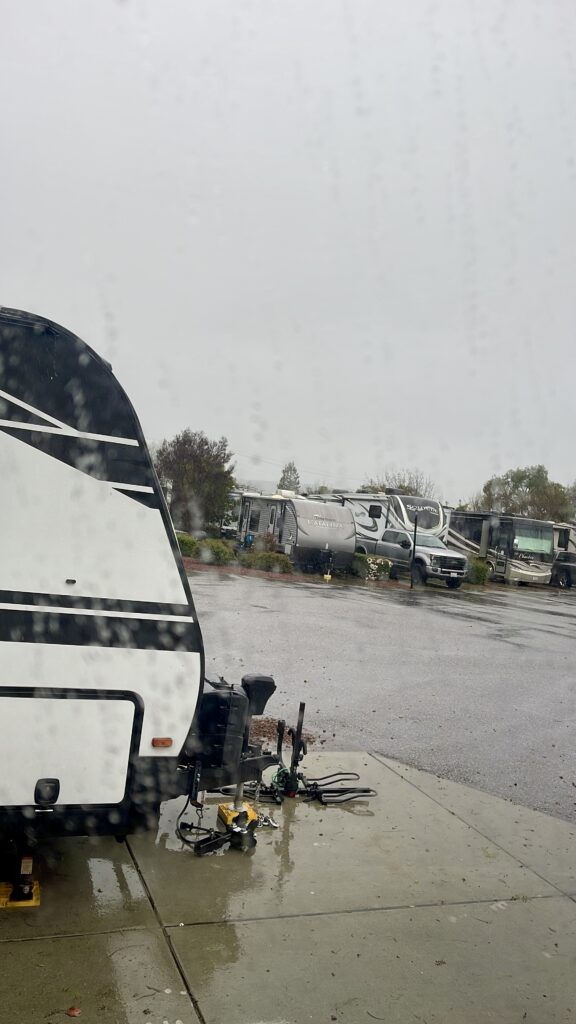 After two days locked inside our "ark," we took off through the San Fransisco area to Willits. The damage was crazy along the way. Several stalled vehicles, road closures, and two accidents made our three-hour drive a five-hour drive.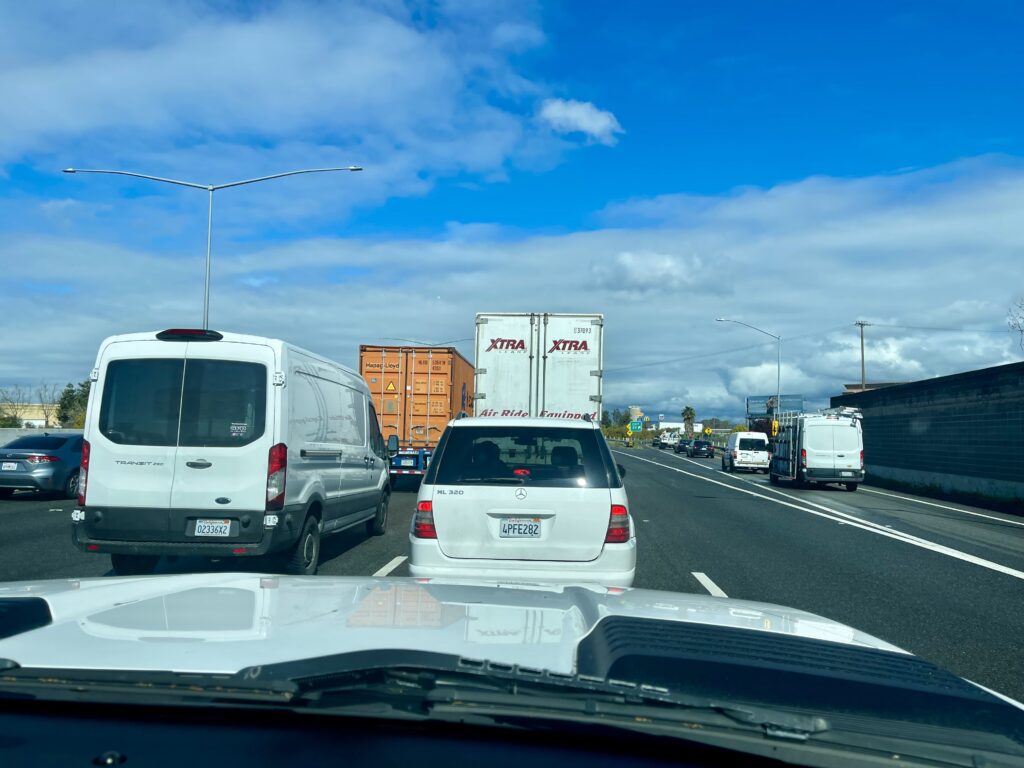 We finally made it to Willits with off-and-on rain and tons of potholes. We filled up with gas, re-stocked food, and waited two days for the storms to pass so we could move on. By the way, this campground is perfect for families with kids. They have it all, from fishing to mini golf.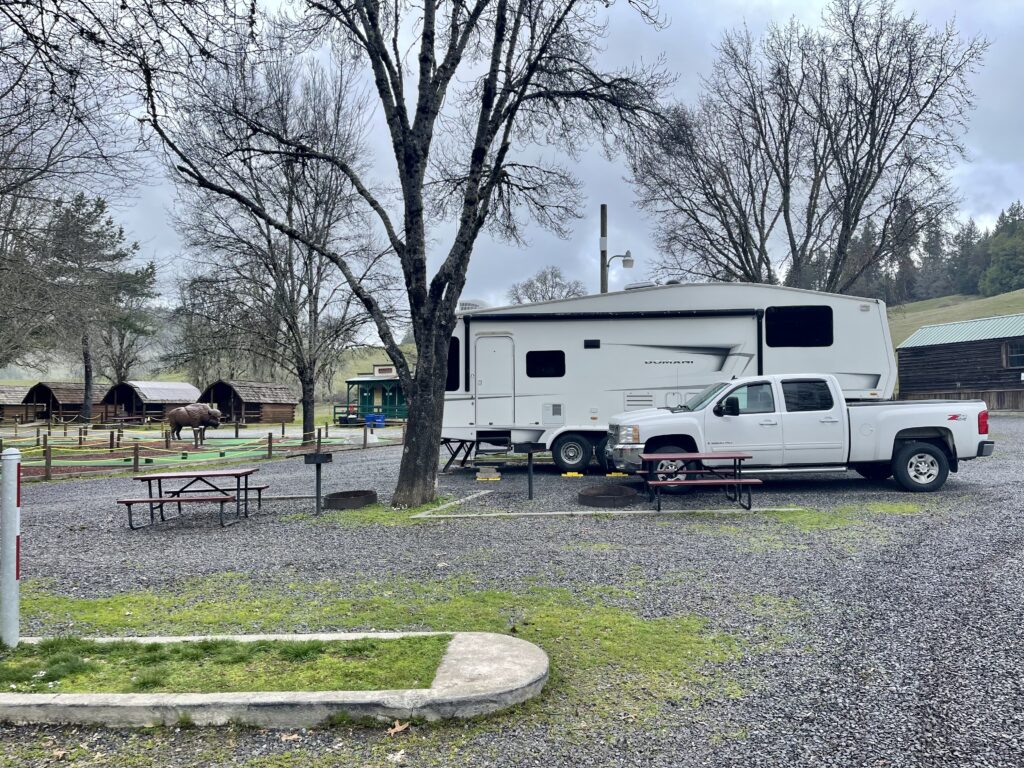 The morning arrived, and a break in the rain was our invitation to head out. This next part of our journey north was through the California redwoods and narrow winding roads. Some of those roads had fallen into the ocean, and single lanes with signals for one-way traffic would pop up now and then. Thus extending our estimated time of arrival once again.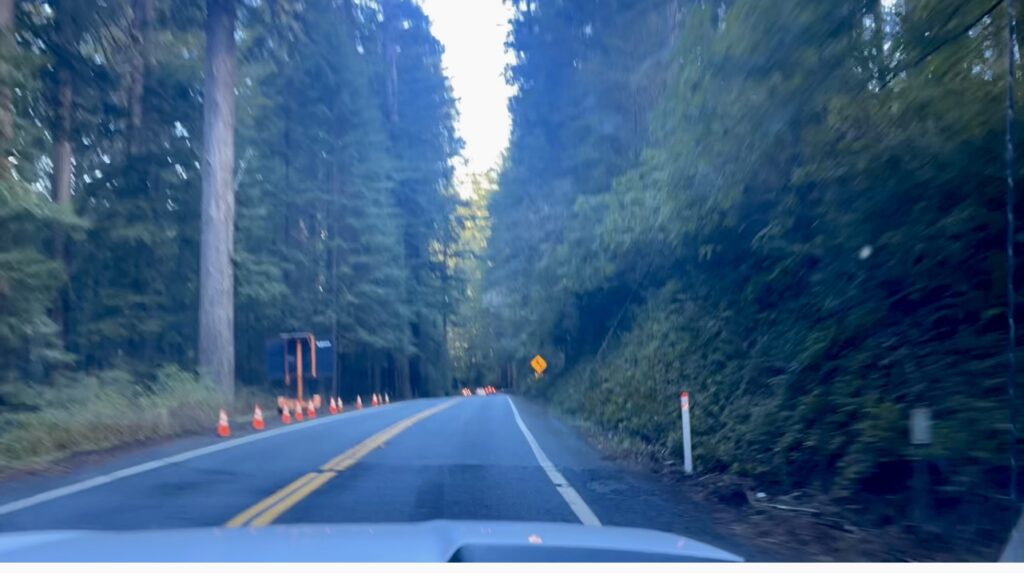 After several hours of slow driving, we emerged from the forest to the most beautiful view and a greeting of sunshine!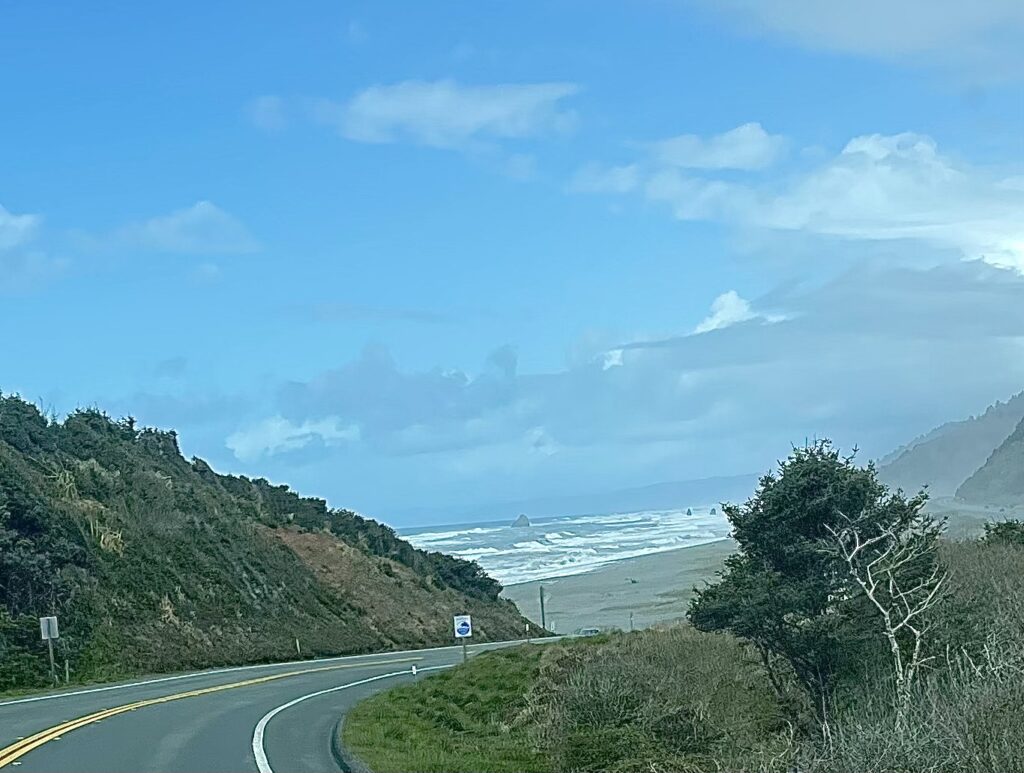 Our next stop was Chinook RV Resort on the Klamath river. We were the only ones there. I'm not surprised since this truly wasn't camping weather.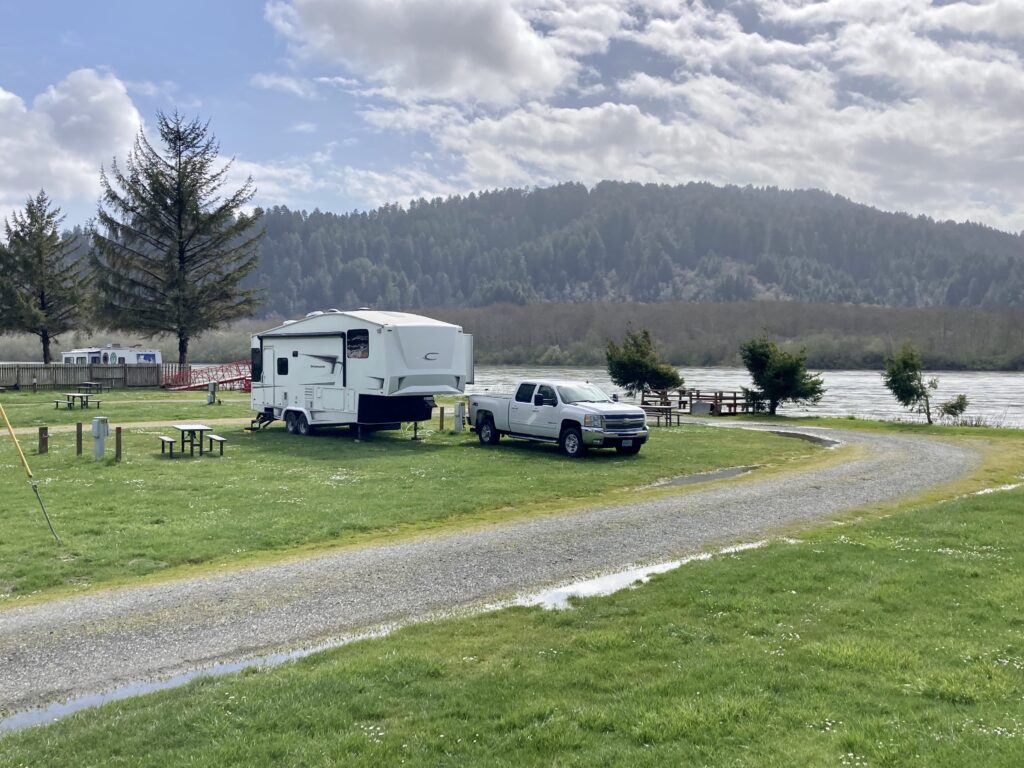 We filled up with gas and took in the view. The next day we headed out to explore the area while the rain was not expected until later that evening. The Yurok Reservation has a landmark called High Bluff Overlook Picnic Area. At the entrance is an old bridge used in the past to connect the town of Klamath to this area.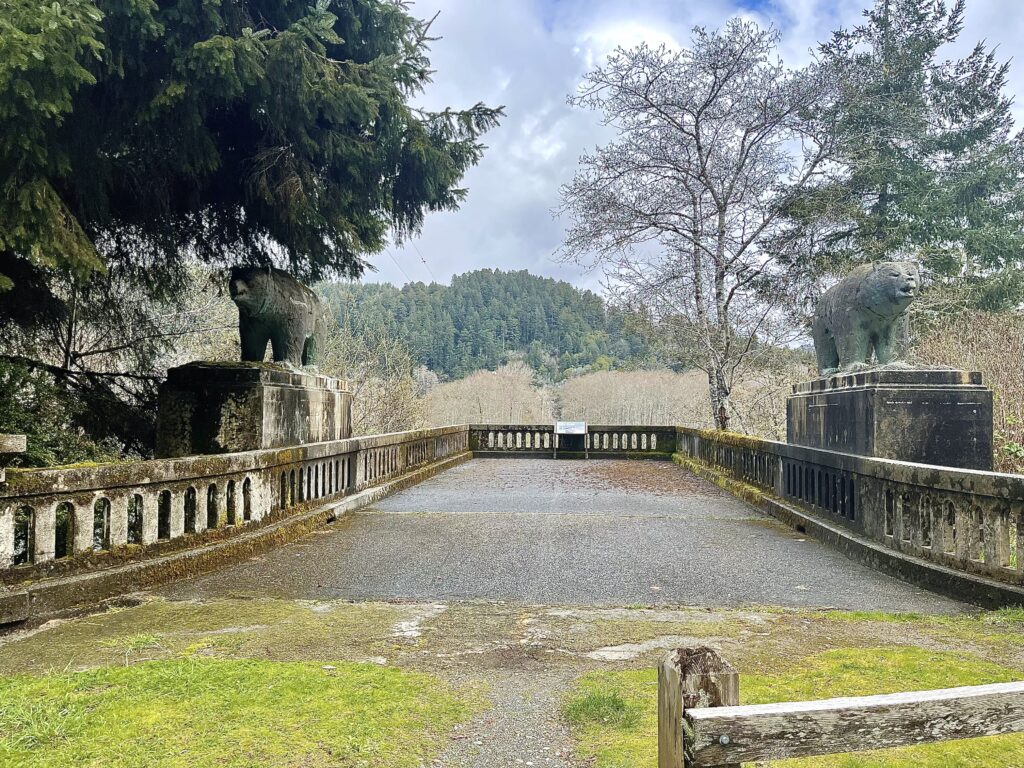 On December 28, 1964, the biggest storm that ever hit the area dumped 24 inches of rain and washed away the forty-year-old bridge and town. Click on the picture to read more about this devastating event.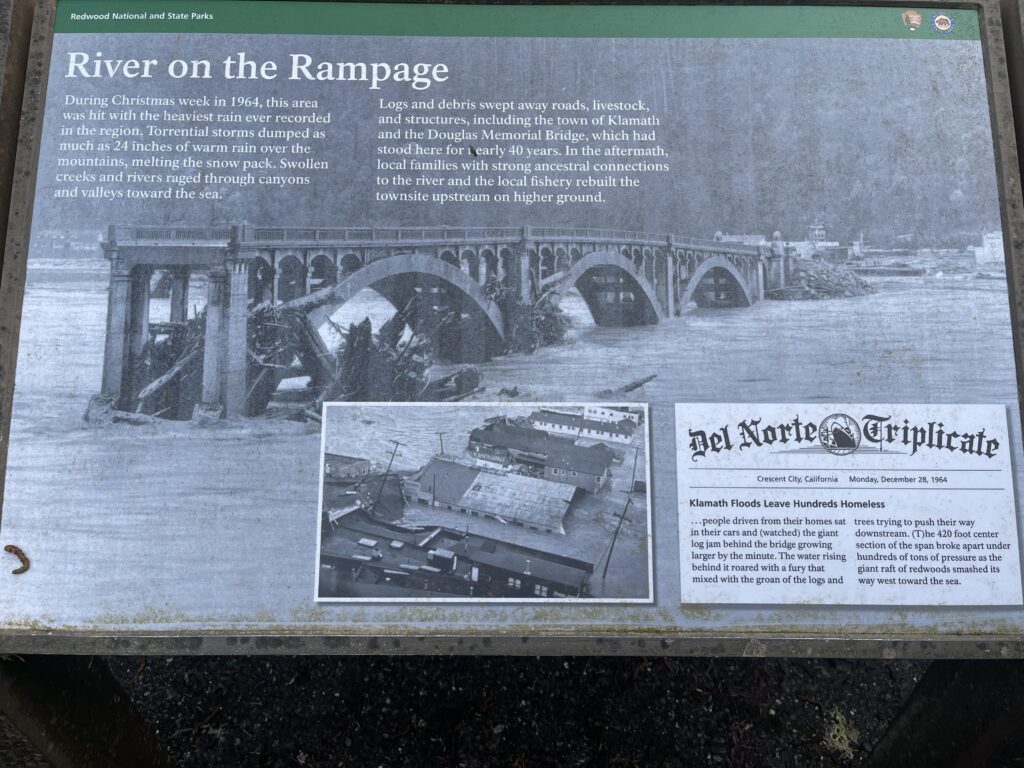 The town of Klamath moved to higher ground to rebuild.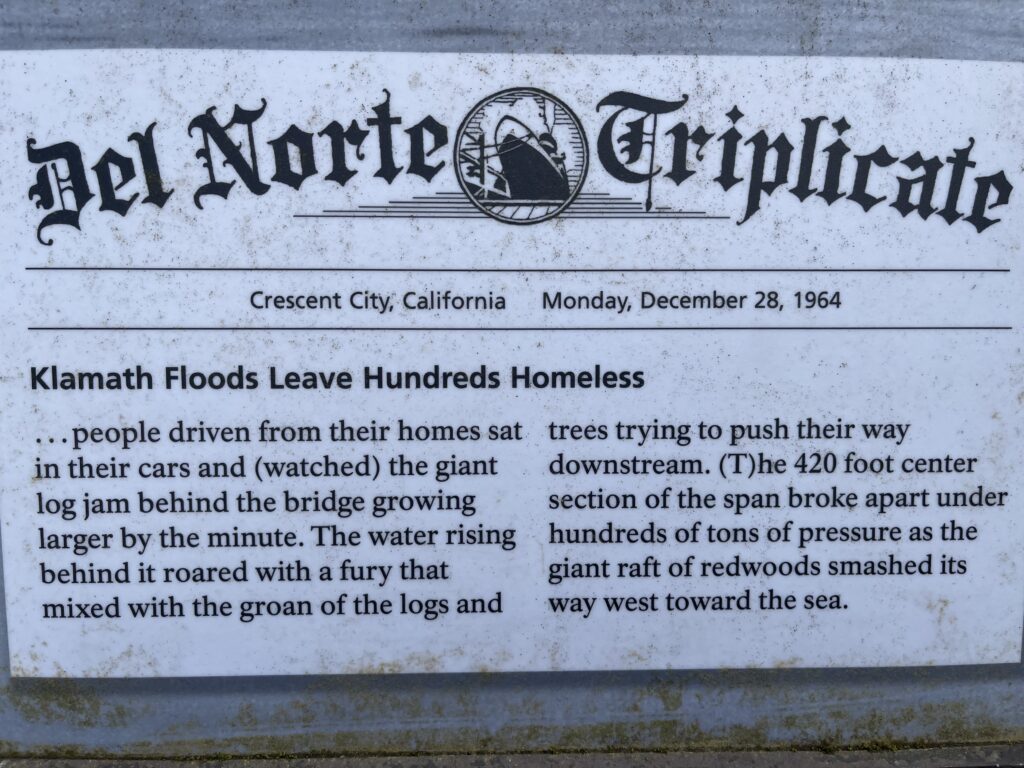 We continued our tour on a narrow one-way dirt road along the cliff's edge. The views were spectacular. The heights and drop to the sea were not so pleasing.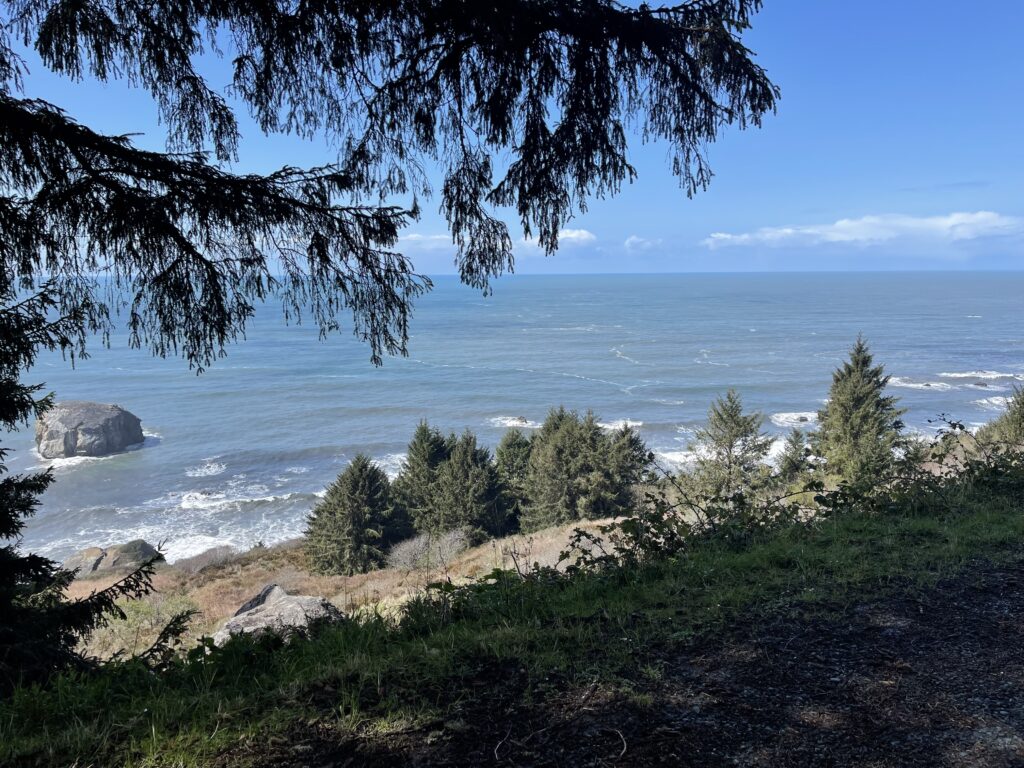 Check out the ton of seals basking in the sun on their private beach below the cliffs.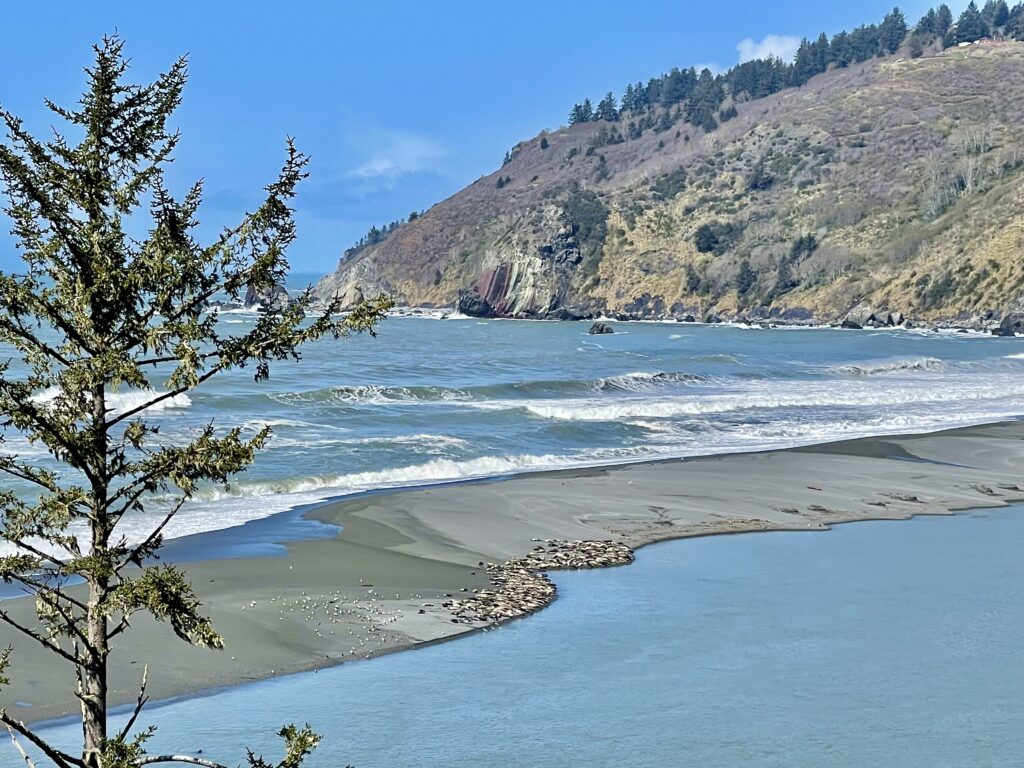 This sign shows an old farmhouse and barn built during WWII as a lookout for enemy submarines, boats, and airplanes. They are still there, but I couldn't get a good photo and was unwilling to hike down the cliff! Click on the picture to enlarge it to read more about this cool monument.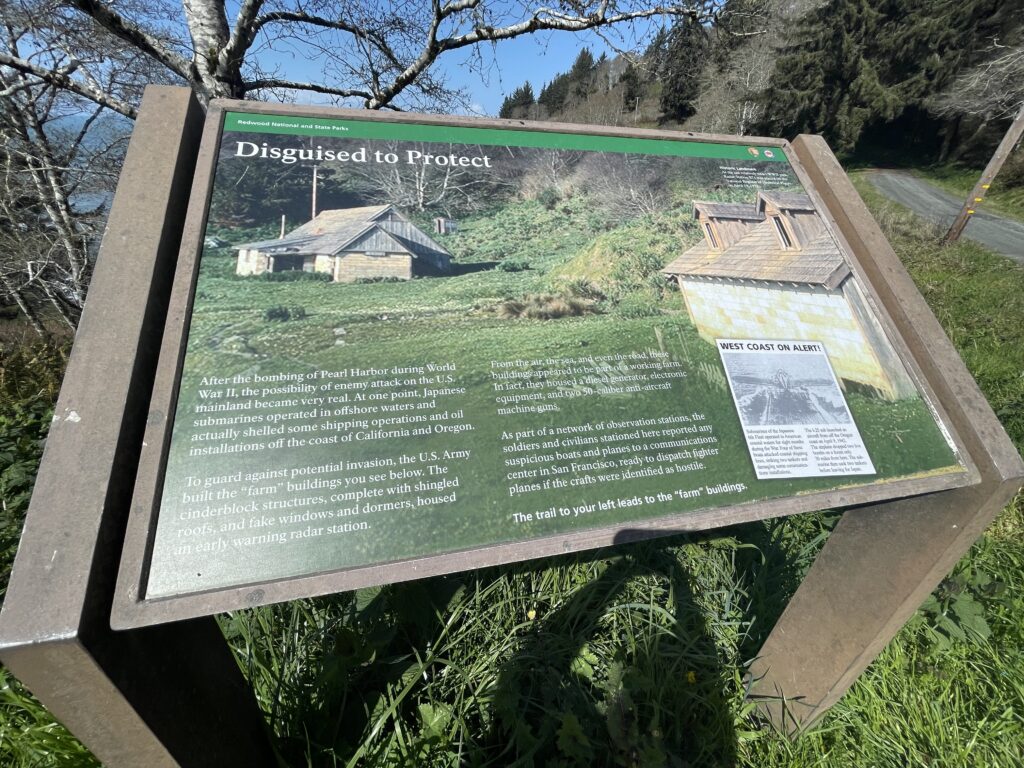 We were surprised as we came to the end of the road and started our trip back home. There on the road was a bear! It was definitely curious and not the least bit afraid of us.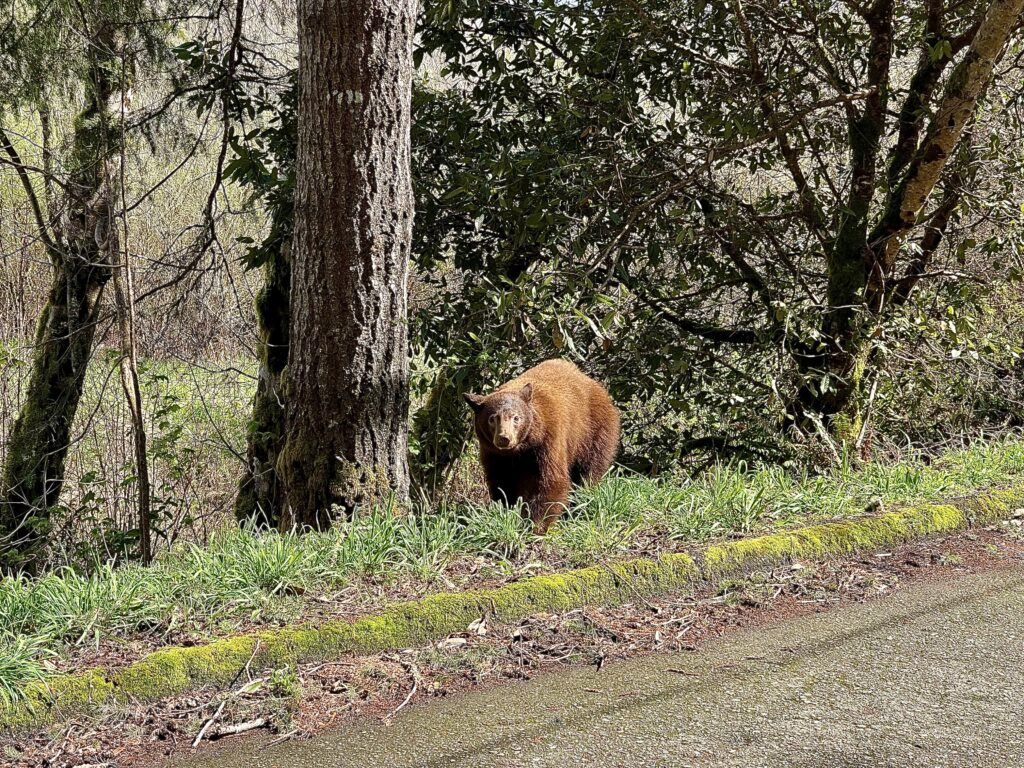 The next day looked promising, so we headed to our final destination, AtRivers Edge RV Resort in Brookings, Oregon!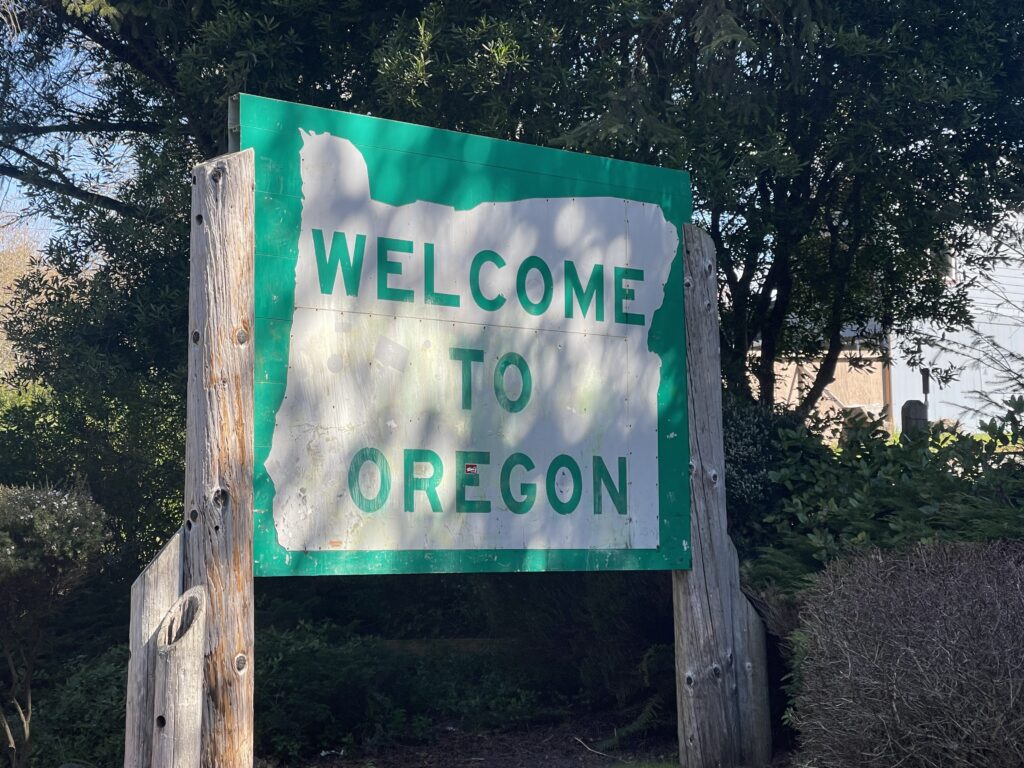 While driving, we received a phone call from my mom informing us that my family and friends had been exposed to covid! So our long-awaited meeting with family and friends would be postponed for five days of quarantine. After days of looking forward to hugs and catching up, we were sad but happy to arrive safely.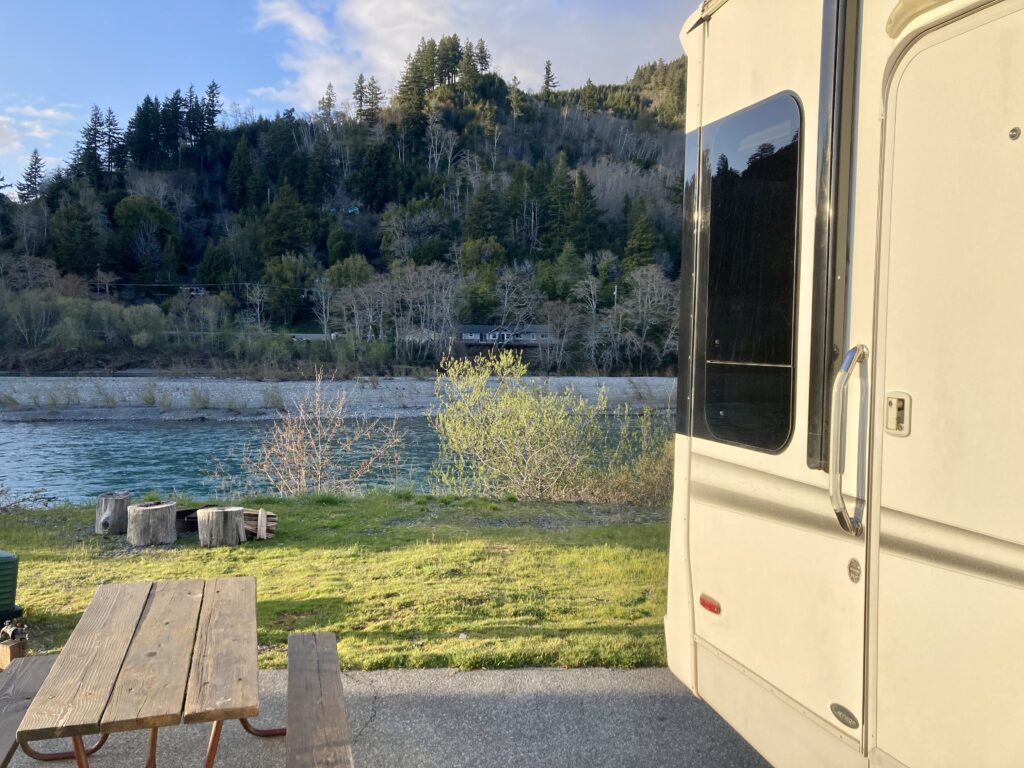 After pulling in and setting up, we started to open the living room slide, and with a loud bang and a few inches out, it stopped and broke. This is not our first experience with this slide. On our first trip out with Johnny and Cash, a pillow accidentally got caught in the slide, and the chain that pulled the slide in broke. So Lutz hit the ground (literally), and under he went while I was on the phone for four hours trying to get help from Good Sam (don't ask). Since it was Sunday, no service was in sight. Our only hope in sleeping or using the toilet was to get the slide out wide enough to slip by and enter the back half of our RV. Lutz was a success; we had a place to sleep and pee!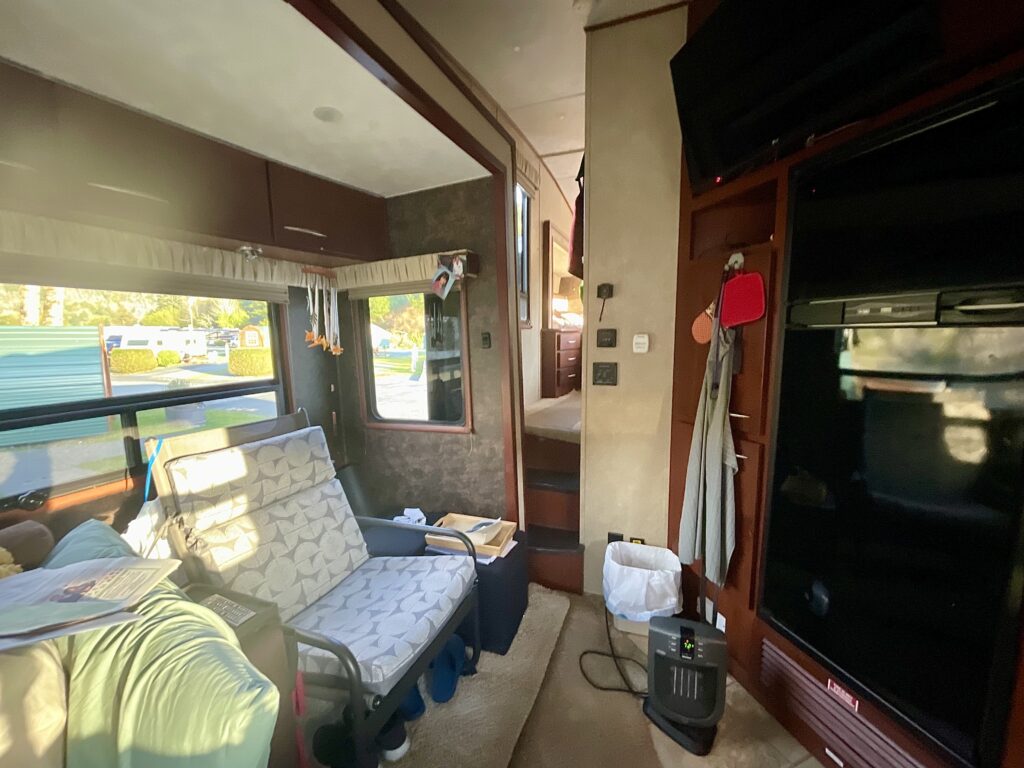 Apparently, all those potholes and bumps along our 101 really messed up poor Cash. Today we are waiting for the call back from a local RV repair man and crossing our fingers that he can order the part and help us get Cash working again. So it really does pour in California, and it never rains cash. Our Cash keeps asking for more cash. Such is the RV life. I'll let you know next month if we can move on with Cash or not. Stay tuned!
Fave Recipe: Authentic Ceviche
I'm preparing for the spring. This is it! What a super nutritious, healthy power-packed appetizer or snack! Click here for the recipe.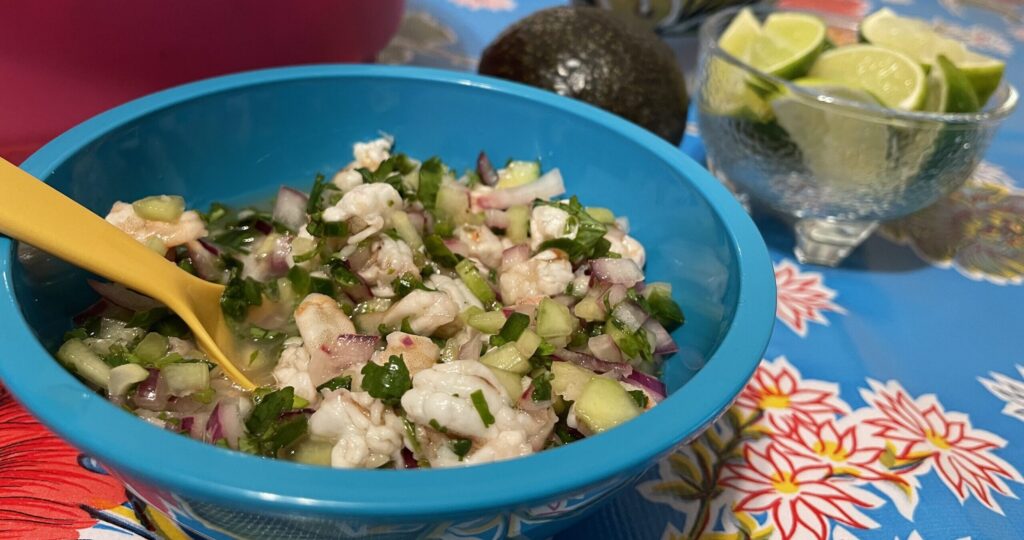 Fave Resource: Antioxidants
Don't you ever wonder about all the hype regarding antioxidants? This article is very helpful in understanding exactly why the hype is! Click here to read more.