Once again the seasons in Germany surprise me with the array of wild herbs and plants. This time of year our wild garlic or as we call it, bärlauch, is in full bloom.  The street markets are decorated with herbs and radical-looking plants. There's nothing better than preserving this wild herb in the freezer for seasoning savory dishes or for creating fresh Wild Garlic Pesto.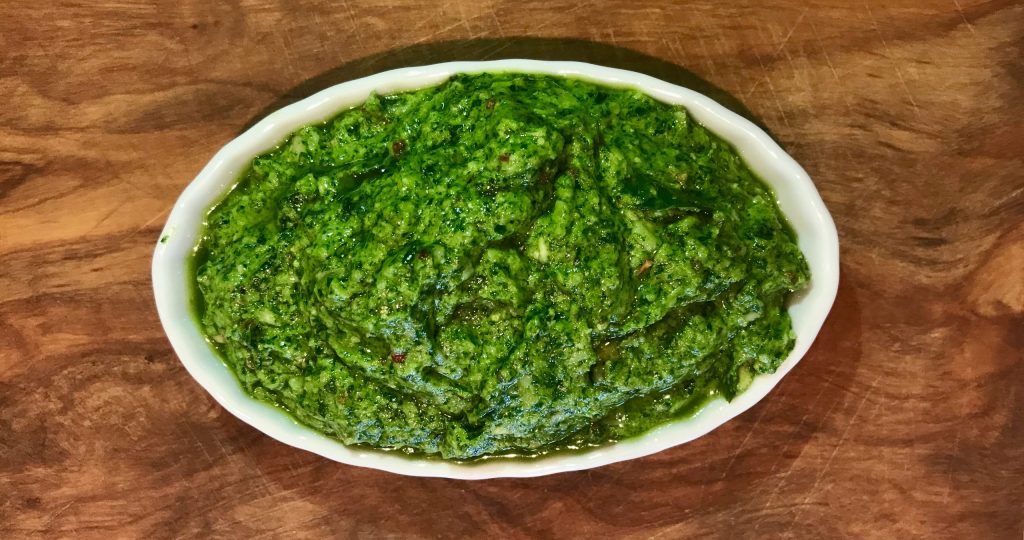 You can use this as a marinade, for pasta, topping off potatoes or any of your favorite veggies.
Here is my version of this delicious pesto. It can be made with or without grated parmesan!
Wild Garlic Pesto (Bärlauch)
March 22, 2020
: 3/4 cup
: 15 min
: Easy
Ingredients
1 bundle of wild garlic chopped roughly
1/2 juiced lemon
1/4 tsp red pepper flakes
1/4 cup toasted walnuts or pine nuts
1 large clove garlic diced
1/4 cup olive oil
1/4 cup fresh grated parmesan cheese (optional)
Himalayan salt and fresh ground pepper to taste
Directions
Step 1

Place all the wild garlic, lemon juice, red pepper flakes, toasted nuts, and garlic in a food processor or the tall container that came with your immersion blender. 

Step 2

Blend on low until all the ingredients are basically mixed. I like to see the pieces of the wild garlic and some small nut pieces in my final product so I don't puree this like crazy. Just blend enough to mix well.

Step 3

While blending slowly add the oil until you get the right consistency. Then add cheese if you plan to use it and blend just enough to mix well.

Step 4

Place pesto in a jar. Right before you place on the lid, cover the top of the pesto with a thin layer of olive oil to keep it moist and fresh. I've kept this in the fridge for up to a month!