This was one amazing soup. I had never heard of it until we landed in Sneek, NL. It was on the menu, and since it was made with cream, I decided my husband should get it, and I could take a taste test…dang was that hard. I could have eaten the entire bowl. 
Of course, I had to get back to the boat and figure this out using dairy-free. I wanted to use coconut cream milk but decided against that since the original didn't have a coconut flavor at all. I choose to use almond milk, and it was fabulous. The next time I made this, I used oat milk, which gave it a bit more creaminess.  Either one works great.  
I also used my homemade Boney Chicken Broth and thought my Mustard Soup came out better than the restaurant's soup, where I discovered this dish. The flavors and combinations are really unique, and just a twang of mustard gives it a warm, smooth ride to the belly! Make sure it's the spicy mustard with seeds. Don't use sweet mustard.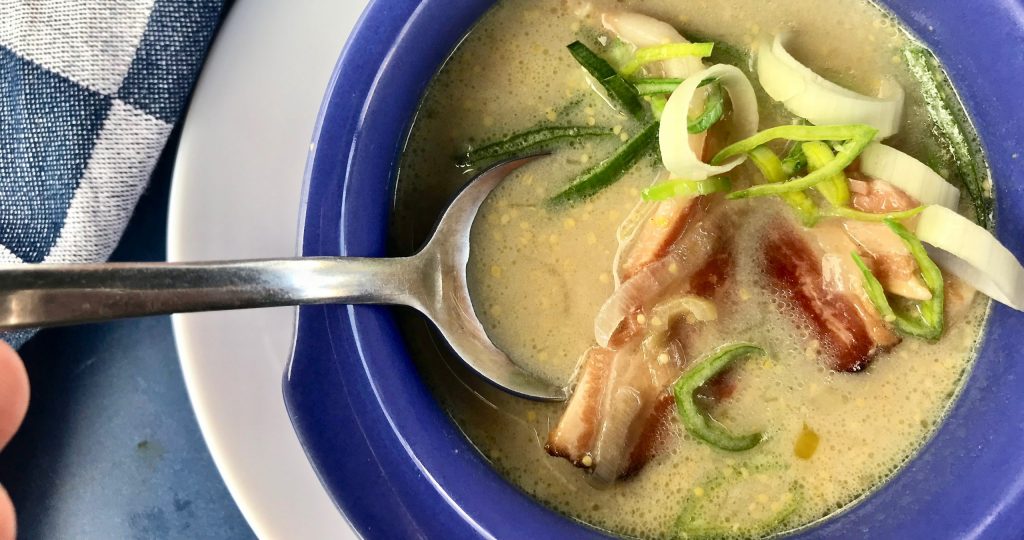 I decided not to use a thickener and used a large peeled, boiled, and mashed potato. If you prefer using a thickener, you can substitute the potato with 1 tablespoon of tapioca or potato starch. Mix it into the 1/2 cup of cold broth before you add the broth to the recipe.
I've made this using bacon and other times using pork belly. I prefer the pork belly strips. This is what was used in the original recipe I tested in the Netherlands. It's so easy and a soup that definitely draws the attention of your guest!
Netherland Mustard Soup
March 21, 2020
: 6
: 20 min
: 20 min
: 40 min
: Easy
Ingredients
1 pound of pork belly sliced in thin strips
1 large peeled and boiled potato (1 cup) or 1 Tbsp Tapioca or potato starch
1 Tbsp ghee
1 large leek sliced in rings. Reserve a few rings to garnish the top of the soup.
1 onion diced
1 garlic clove diced
2 Tbsp mustard with seeds
2 cups of almond or oat milk
4 cups chicken broth
Himalayan salt and fresh ground pepper to taste
Directions
Step 1

If you choose to use a fresh potato as your thickener, peel, boil, and mash it using a potato masher and set aside. If you're using tapioca or potato starch, stir it into 1/2 cup of your cool broth until no lumps appear.

Step 2

In a medium-size saucepan, fry the pork belly strips until done. If you're using organic pork, you might have to add the ghee. You'll need about a 1/4 cup of the oil left from the pork belly to sauté the onion and leek.

Step 3

Once the pork belly is done, add the sliced leek, diced onion, and diced garlic. Give it a stir and keep on medium to low heat. Simmer for a minute or 2 in the pork belly fat and ghee if using.

Step 4

Add the almond or oat milk. Stirring continuously. Add the mustard and 3 1/2 cups of chicken broth. turn the heat up to medium-high. 

Step 5

Placed the cup of mashed potato or the 1/2 cup of chicken broth with the tapioca or potato starch into the saucepan and continue to stir.  Once it thickens up a bit, turn the heat down to low.

Step 6

Let it simmer for a few minutes, then serve it up with a few sliced leeks over the top!