I love to read Bon Appetite magazine and watch their videos. They have some fantastic recipes, but all of them seem so complicated. I had just finished scanning one of their gingerbread apple cake recipes and thought, "why are there so many steps"? My sister and I had just picked a batch of wild apples, and I decided to adapt their recipe for a gluten-free one and simplify it, plus put some pizzazz in it. I wanted to use coconut sugar or monk fruit sugar instead of a large amount of processed sugar (I'll give you some choices). In addition, they had a ton of steps, so I not only changed ingredients and proportions but streamlined the direction since I wanted CAKE NOW! I've made caramel sauce before and was not that excited about their recipe…so I slipped mine in instead. It was a hit, and no one knew it was gluten-free. I sure hope you like this recipe as much as we did.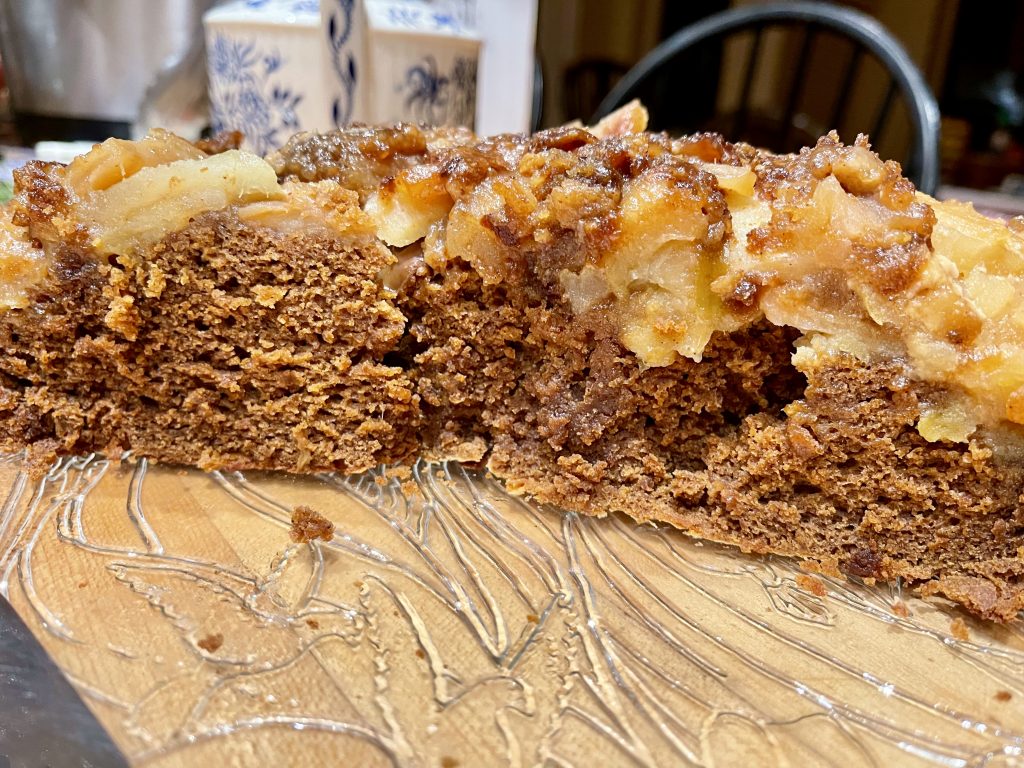 Caramel Apple Gingerbread Cake
January 10, 2022
: 8
: 30 min
: 40 min
: 1 hr 10 min
: Medium
Ingredients
Caramel Sauce:
1 cup brown sugar, coconut sugar, or 3/4 cup brown monk sugar
6 Tbsp unsalted butter
1/2 cup coconut cream milk shaken or natural cream
1 tsp salt
Apples:
1 pound peeled, seeded, and thinly sliced apples
1/4 cup melted butter
Cake:
2 cups of gluten-free flour
1 1/2 tsp baking powder
1 1/2 tsp salt
1 1/2 tsp ground cinnamon
1/2 tsp cloves
1/2 tsp nutmeg
1/2 cup dark organic molasses
1/2 cup pure organic maple syrup
1/2 cup coconut sugar or 1/3 cup brown monk sugar
1/2 cup butter
2 eggs
2 tbsp fresh grated ginger
1 tsp baking soda
1/4 cup hot water
1/2 cup coconut cream shaken or natural cream
Directions
Step 1

Caramel Sauce:

Step 2

Heat brown sugar, coconut sugar, or monk sugar on medium heat in a medium heavy-duty saucepan (avoid using non-stick), constantly stirring with a wooden spoon. Sugar will slowly melt. Stir continuously. Be careful not to burn it.

Step 3

Once the sugar is completely melted and golden brown, stir in the butter until melted and combined. Be careful

Step 4

the butter will bubble up, and it's boiling! Use a whisk to incorporate at this point. If you are having trouble combining the butter and sugar, remove them from the heat for a few minutes while you beat vigorously to combine. Keep whisking until it comes back together, about 3 minutes. Set it back on the burner and continue whisking.

Step 5

Cook for one more minute without stirring. It will bubble up and turn golden brown.

Step 6

Very slowly stir in the coconut cream or natural cream. Be careful

Step 7

the mixture will bubble up when added. After adding all the cream, let it boil for another 1-minute undisturbed. It will rise in the pan as it cooks.

Step 8

Remove from heat and stir in the salt. Set aside and let it cool. The caramel will thicken as it cools. You will only be using half the caramel sauce recipe in this cake—store the remaining sauce in an air-tight jar for later or drizzle over the top of each serving.

Step 9

Step 10

Apples:

Step 11

Grease a 10″ spring pan or ceramic dish with butter. Cut baking paper to cover the bottom of the baking pan.

Step 12

Peel apples and remove the seeds. Slice in thin rings. If you have a hand-cranking apple corer and peeler like my sister did, this saved a ton of time! Place the sliced apples in a bowl and pour the 1/4 cup of melted butter over the apples and gently flip the apples to coat them.  

Step 13

Place the apples over the caramel in decorative layers.

Step 14

Pour half the cooled caramel sauce over the layered apples.

Step 15

Line a cookie sheet with foil and place the baking pan with the apples and caramel sauce on the covered tray. The cookie sheet will prevent the caramel from leaking onto your oven if it overflows or seeps out the spring pan.

Step 16

Cake:

Step 17

Turn oven to 375 degrees

Step 18

In a large bowl, mix the flour, baking powder, salt, cinnamon, cloves, and nutmeg with a whisk until combined.

Step 19

Place the molasses, maple syrup, coconut or monk sugar, and butter in a medium bowl. Nest this medium-sized bowl in a slightly larger bowl filled with boiling water. Whisk sugar and butter until melted and the mixture is combined. Or, place in the microwave for 1 minute with bursts of 30 seconds at a time until butter and sugar are melted. Be sure to stir after each burst.

Step 20

Let the molasses, sugar, and butter mixture cool. You can replace the hot water in the larger bowl with cold water to cool it down. Make sure your mixture is cool-you don't want scrambled eggs in this next step. 

Step 21

Whisk in eggs and fresh ginger into the cooled molasses, sugar, and butter mixture until well combined.

Step 22

In a small cup, place the baking soda into one-fourth cup of boiling water until dissolved. Add this mixture to the molasses and egg mixture and mix well.

Step 23

Pour the molasses mixture slowly into the large bowl with the dry mix scraps the sides frequently and mix for 2-3 minutes.

Step 24

Pour the cake batter over the apples and caramel sauce.

Step 25

Drizzle the one-half cup of coconut cream or natural cream evenly over the top of the cake batter. It will pool in spots.

Step 26

Bake for 40 minutes. Use a knife or toothpick and insert it halfway down the cake (any further might bring up moist apples and caramel). If the knife or toothpick comes out clean, it's ready. If not, bake for 5-10 minutes more and check again.

Step 27

Let cool for 15 minutes.

Step 28

Cover the cake with a serving dish and flip it over. Tap the bottom of the pan with the palm of your hand and remove the pan slowly. 

Step 29

Remove the baking paper from the top of the apples if it does not peel away when you flip it over.

Step 30

Serve warm with a dollop of ice cream or whipped cream and a drizzle of remaining caramel.
eel away when you flip it over.