I'd eaten venison years ago in Arizona and was never impressed with it. Maybe it was the way it was cooked or seasoned. Since living in Germany, venison is a way of life. They make venison sausage, goulash, loin roast, and on and on. These tasty treats are available year-round but most popular during the winter months. We actually live near a Hunting Camp where I can buy fresh venison year-round.
Of course, I had to do some research and experimenting. I finally came up with this deliciously flavorful soup that warms your belly and has tons of natural vitamins. I used my Basic Bold Tomato Sauce and cooked the goulash in my dutch oven.
An alteration I made to this unique recipe was to create my own "Worcestershire Sauce." Most goulash recipes call for this ingredient, but store-bought usually contains things like gluten and soy. I added the ingredients directly to the soup, but you can double this Worcestershire recipe and mix it in a bottle instead. Add 1/2 to the goulash and store the other half in the fridge for future recipes––like making those super hamburgers or meatloaf. Check it out and let me know what you think.
VENISON GOULASH
January 26, 2017
: 6
: 20 min
: 4 hr
: 4 hr 20 min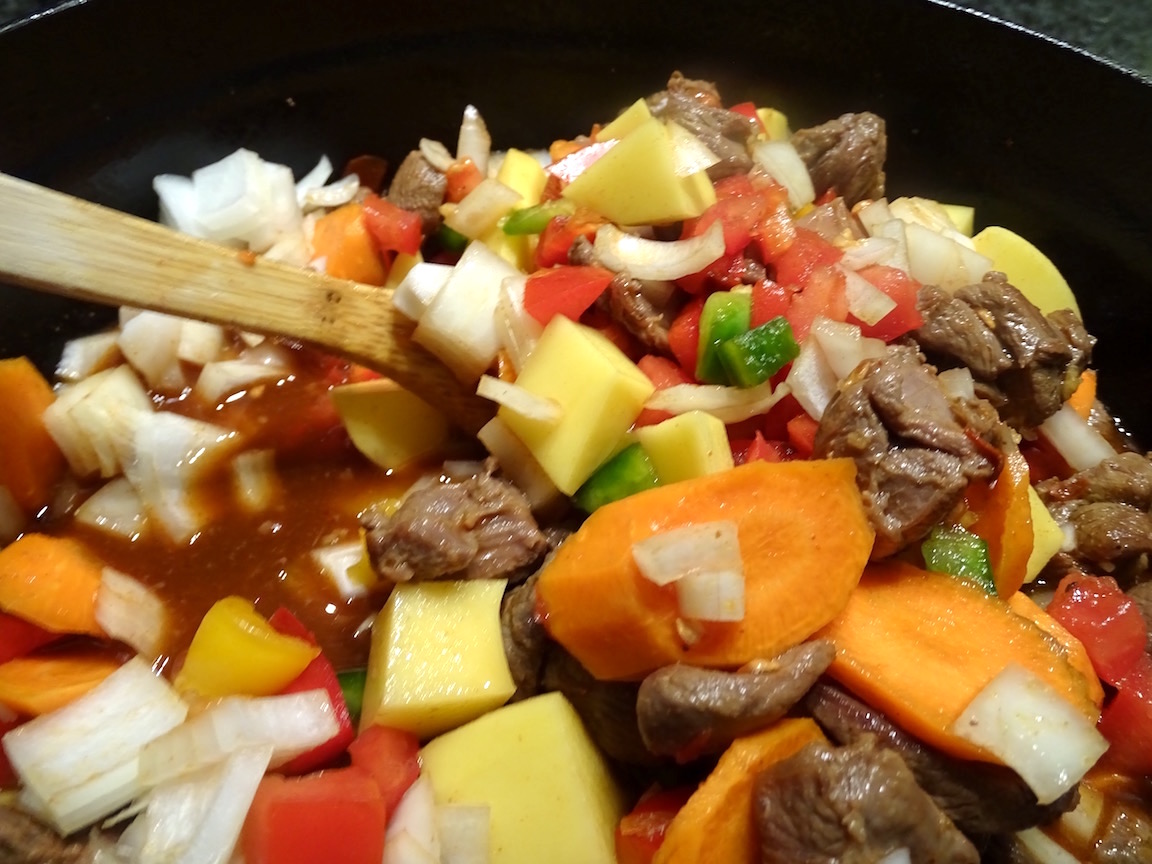 Ingredients
Goulash Soup
2 lbs venison meat cubed or beef cubed!
4 cups organic beef broth or 4 cups of water
1/2 red bell pepper diced
1/2 green bell pepper diced
1/2 yellow bell pepper diced
3 carrots sliced
4 medium potatoes cubed
2 large fresh tomatoes diced
1 large onion diced
1/4 cup avocado oil or coconut oil
1 1/2 cups organic tomato sauce
6 oz can organic tomato paste
1 Tbsp red pepper flakes
3-4 bay leaves
3 cloves garlic pressed
1/8 tsp ground cloves
1/8 tsp ground nutmeg
1/4 cup Hungarian sweet paprika
1 tsp smokey paprika or chipotle (optionsl)
2 tsp salt more if needed
1/2 tsp ground pepper
1/4 cup coconut sugar
1/4 cup potato flour optional: for thickening
Worcestershire Sauce (single serving)
1 Tbsp water
1/4 cup organic Apple Cider Vinagar
1/8 tsp onion powder
1/8 tsp ground ginger
1/2 tsp ground cinnamon
1/8 tsp mustard powder
1 Tbsp coconut amino
Directions
Step 1

Goulash Soup

Step 2

You can do this in a Crockpot (leave on low for 6-8 hours) or in a dutch oven. I like the dutch oven approach, so I don't have to wash a bunch of dishes…everything goes right into one pot! You can cook it on top of your stove on medium for an hour then on low for 3 hours or in a preheated oven at 275 degrees for 5-6 hours. Just give it a stir now and then.

Step 3

I like to prep all my veggies first so I can roll with it, so clean and cut your veggies, rinse and set aside…peppers, carrots, potatoes, tomatoes, onion, oh yeah!

Step 4

Heat a large dutch oven on high, add the avocado or coconut oil and sear the cubed meat until browned.

Step 5

Make sure you have the dark brown leavings from the venison left in the dutch oven. Then, add 4 cups of water or 4 cups of organic beef broth to the browned meat. Meanwhile, continue chopping your veggies.

Step 6

Add tomato sauce, tomato paste, pepper flakes, garlic, cloves, bay leaves, nutmeg, Hungarian sweet paprika, smokey/chipotle paprika (if using), salt pepper, and coconut sugar. Don't forget the ingredients for the Worcestershire Sauce. Give it a stir!

Step 7

Add all your chopped veggies and give it a nice mixing. Cook as suggested above.

Step 8

If you want a thicker soup, during the last cooking hour, in a small bowl, place 1/4 cup of potato flour and 1/3 cup cold water and mix until it forms a smooth paste. Add a 1/4 cup of the hot soup liquid to the potato flour mixture and blending well. Drizzle this into the goulash and stir thoroughly. Continue cooking the last hour and give it a stir now and then.

Step 9

Worcestershire Sauce

Step 10

You can add the ingredients directly to the soup as I did or you can double it by mixing the ingredients in a bottle or jar and shaking it well. Add half to the Goulash and store the other half in the fridge. This is great for hamburgers!