Yes, it is still cold and snowy here, so soup it will be! This one is light, flavorful, and with a distinct yummy flavor. A combo of herbs, tangy spices, and a hint of hot peppers. Check it out and let me know what you think. I forgot to take a picture of the end product…next time I make this incredible soup. I will upload it to the site. Hey, you make it and send me one, I'll post it!
ITALIAN MEATBALL SOUP
January 26, 2017
: 6
: 20 min
: 45 min
: 1 hr 5 min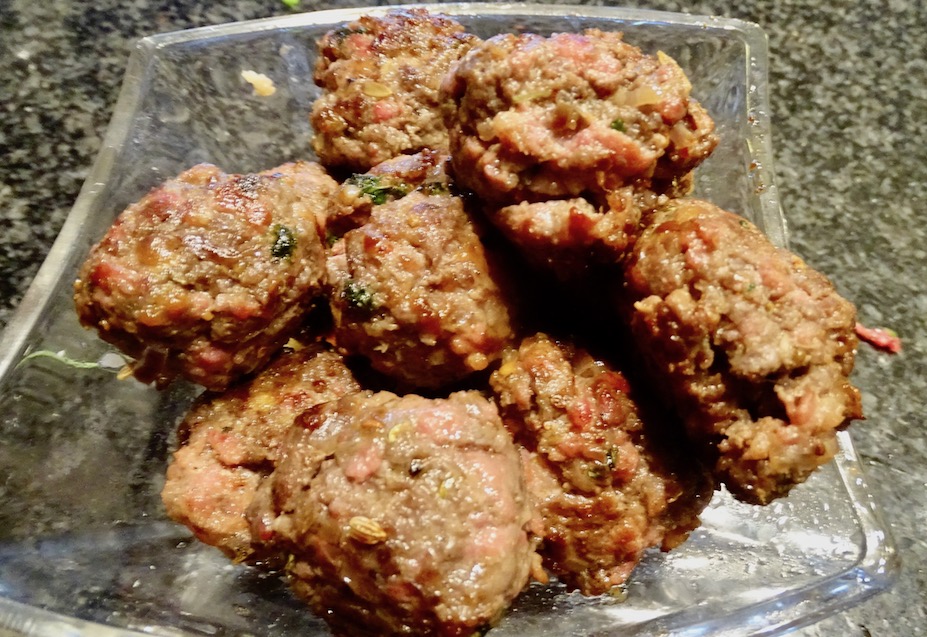 Ingredients
Broth
1 small white onion diced
2 garlic cloves pressed
8 cups organic chicken broth or beef
2 medium organic tomatoes diced
1 tsp crushed rosemary
1/2 tsp fresh thyme
1-2 bay leaves
4 fresh basil leaves chopped
6 + stalks Shredded Kale or, chard or 1 1/2 cups spinach
1-2 tsp Himalayan salt I used 1 Tbsp!!!!
1 tsp fresh ground pepper
1 tsp red pepper flakes or more!
2 Tbsp apple side vinegar or pepper or wing sauce
1 tsp Italian seasoning or my Belle Italian Seasoning
2 cups cooked white navy beans optional. I made my own from dried organic
Saute
2 tsp anise seeds
2 tsp fennel seeds
4 Tbsp coconut oil divide- 2 Tbsp is for frying meatballs
1/2 red onion minced
2 garlic clove pressed
2 tsp salt
1/2 tsp ground nutmeg
1/2 tsp smoky paprika
Meatballs
1 tsp coconut sugar
1 tsp red pepper flakes optional
1 tsp Italian seasoning
2-3 sage leaves diced
1/2 cup minced fresh parsley lose 1/2 cup
1 lb ground organic beef or buffalo or ground beef
1 lb ground organic pork or ground turkey or chicken
Directions
Step 1

Broth

Step 2

Place all the ingredients for the broth EXCEPT the beans in a large soup pot. Cook on medium heat until slight boil rises. Then turn to low. While it simmers, start your meatballs. See below for Crockpot cooking.

Step 3

TIP: If using canned or pre-cooked homemade white beans, add them to the last 30 minutes of cooking, so they don't fall apart. If using overnight-soaked white beans, you can add them to the soup broth immediately. You might have to increase the cooking time. Just check them now and then.

Step 4

Saute

Step 5

In a frying pan or Dutch oven on low, toast and toss the fennel and anise seeds until they pop—about 2 minutes. Press with the back of a spoon to crack them open right in the pan.

Step 6

Turn the heat to low. Add 2 Tbsp of coconut oil to the roasted seeds. Sauté the garlic, onions, and salt. When translucent, sprinkle in the salt, nutmeg, and smokey paprika. Cook for 3 minutes. Set aside to cool.

Step 7

Meatballs

Step 8

In a medium bowl, mix, with your hands, the sugar, sage, parsley, pepper flakes, Italian seasoning ground beef, and ground pork.

Step 9

Add the cooled spicy sautéd onion mixture to the meat. Continue mixing by hand until all is infused.

Step 10

Form meat mixture into 1 1/2 inch balls. Repeat wetting hands if they get a little sticky. This recipe makes about 24 meatballs.

Step 11

Heat 2 Tbsp of coconut oil on medium-high in a large frying pan. Fry the meatball until golden on the outside. Don't worry about cooking them through. They will simmer in the broth!

Step 12

OR you can line a cookie sheet and turn on the broiler and grill the meatballs all at once, turning them often in your oven.

Step 13

Once all meatballs are sautéd, place them in the simmering broth and cook for 45 minutes. Don't forget to add the cooked beans 30 minutes before serving!

Step 14

If you eat dairy, grate a bit of your favorite Italian cheese or goat cheese on top!

Step 15

Tip: If you want to use a crockpot, you can add all the broth mixture to the crockpot instead. After browning the meatballs, place them in the broth. I cooked mine for 5 hours on low, and it was YUMMY! I almost forgot to add the beans at the end, and they made the soup really tasty.