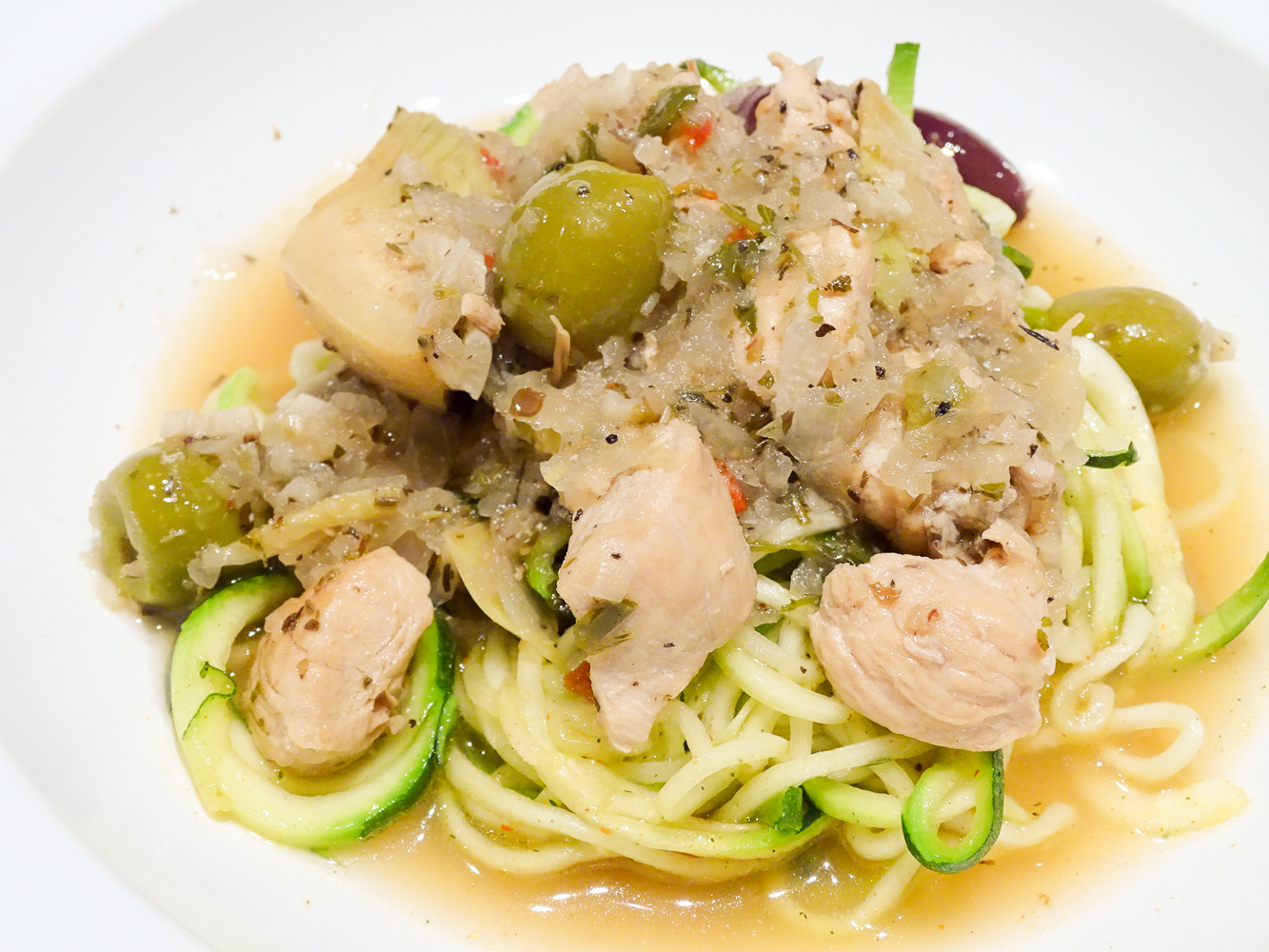 Chicken

Pick your chicken. I buy fresh Bio chicken already cut since my husband and I like different parts so we usually have 2 breasts, 2 wigs 2 thighs, and 2 drumsticks.
Chicken
2 onions
4 cloves of garlic
3-5 tsp of coconut oil
3 tsp of oregano
1 tbsp of savory
1 tbsp of herbs de province
¼ nutmeg
¼ cinnamon
2 tsp Himalayan salt
1 tsp pepper
2 lemons
2 cups of organic chicken broth
Greek black olives pitted
Green olives pitter
Artichokes (careful, many are in soy oil)
Sprinkle of Lemon zest!
Tapioca flour or potato flour (for the end to thicken the sauce if you like)
Get your big frying pan and put 3 Tbsp's of coconut oil in the pan. Turn on high. Get it real hot. Have the lid nearby or a screen. Wash the chicken and dry it…yes, dry it good.
Rub the pieces with salt and pepper. Place them in the frying pan and cook for 5 minutes on each side. You might have to cool in shifts so you can fit the chicken in the pan without overlapping the pieces. Watch for flying grease!
While the chicken is frying, chop the onions and garlic. I use a processor and do them together.
Once all the chicken is cook 10-15 minutes remove the chicken from the pan and place in a Dutch Oven
Now, using the same pan you fried the chicken in, lower the heat to medium, add the chopped onions and garlic. Stir and smell! When they become translucent add all the seasonings, salt & pepper, juice from 1 lemon, ½ jar each (unless you just love olives add the jar) of black and green olives, artichokes slices if whole, and the 2 cups of organic chicken broth.
Now pour this over the chicken that has been waiting in the Dutch Oven. Slice the second lemon into small rings and lay on top. You can also add a dash of lemon zest if you like just to top it off.
Bake at 350 for 1-2 hours…really, if your having company just let it stew away while you chat and visit.
Gravy
Remove from oven and place on a burner on medium.
Remove ½ cup of the sauce and pour it into a small bowl. Add ½ cup of cold water. Add 3 tablespoons of tapioca flour or potato flour to the bowl and mix well. Slowly whisk the thickener into the broth, yes, I know the chicken is still in the pot…push it over and whisk away. Add slowly until you have the consistency you want. Place the lid on top and there you go!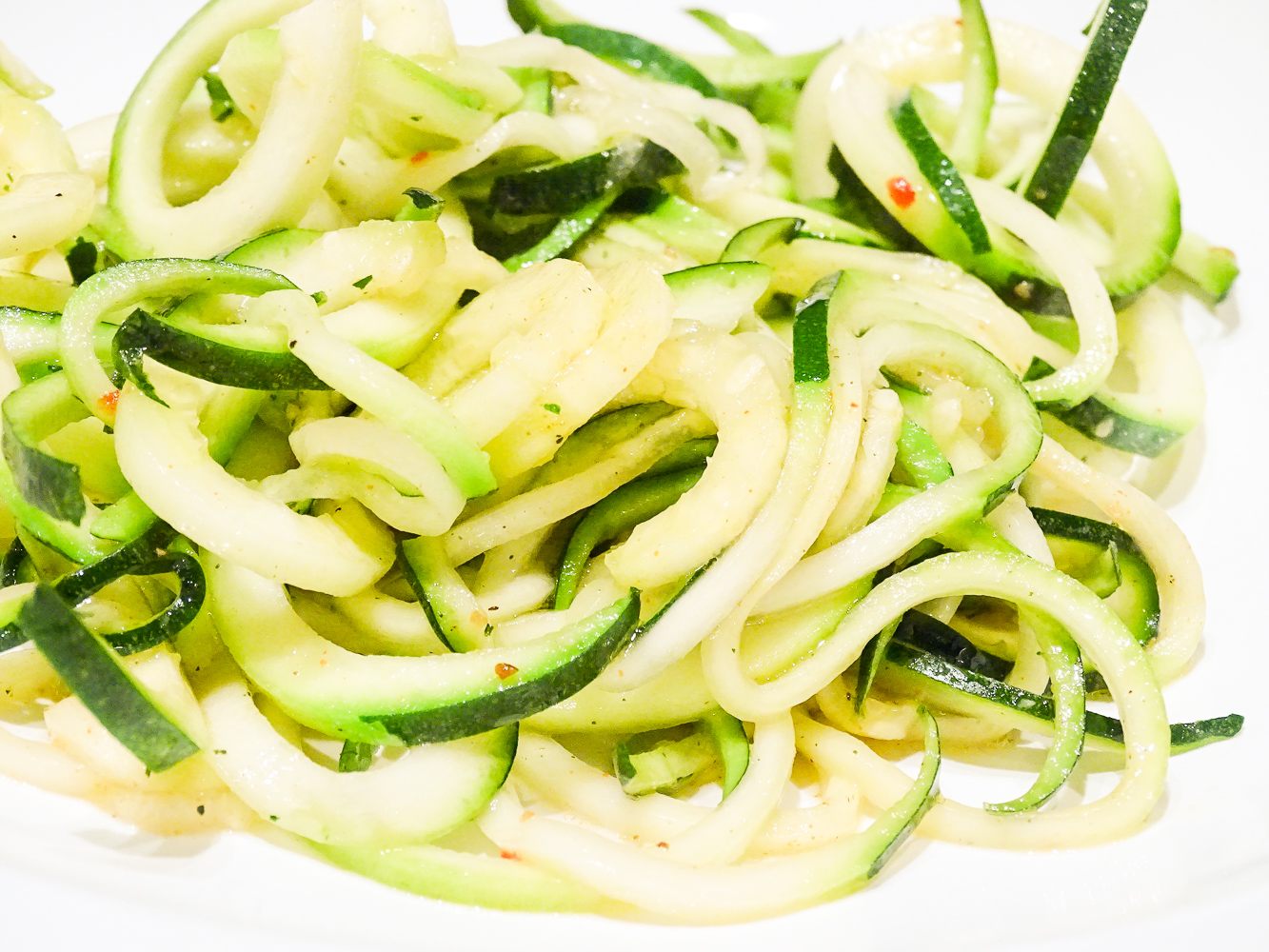 Spiral Zucchini
2 fresh zucchini spiraled
Salt and pepper
Seasoning (herbs de province, Montreal steak spice, or Tex Mex)
Toss all ingredients into the spiraled zucchini and then steam for 5 minutes.
OR
Place seasoned spiraled zucchini on a lined cookie sheet and put in the oven at 350 for 8-10 minutes…watch them!