While on the boat, we typically eat the same food groups while traveling. Usually, a protein, some veggies, and some salad. I use my crockpot when it rains, but mostly we grill rain, snow, and sun! How do I keep things from getting boring? To switch things up and keep the palette happy, I create tasty sauces and seasonings. I play around by combining different ingredients to pesto, marinades, and veggies. This one was so good that you can be used for your meatless Mondays or add meat if you like.
One of my favorite sauces to create a nice power punch to any meal is Garlic Chili Paste from the Asian store. I'd surely recommend it as a pantry staple! It's incredible for switching up meats, casseroles, sides, and dips. If you don't have it on hand or prefer to make it yourself, here's a simple recipe (I keep red chilis in the freezer for when I run out). I've shared in the recipe how I added meat with a simple sauce to compliment the meal.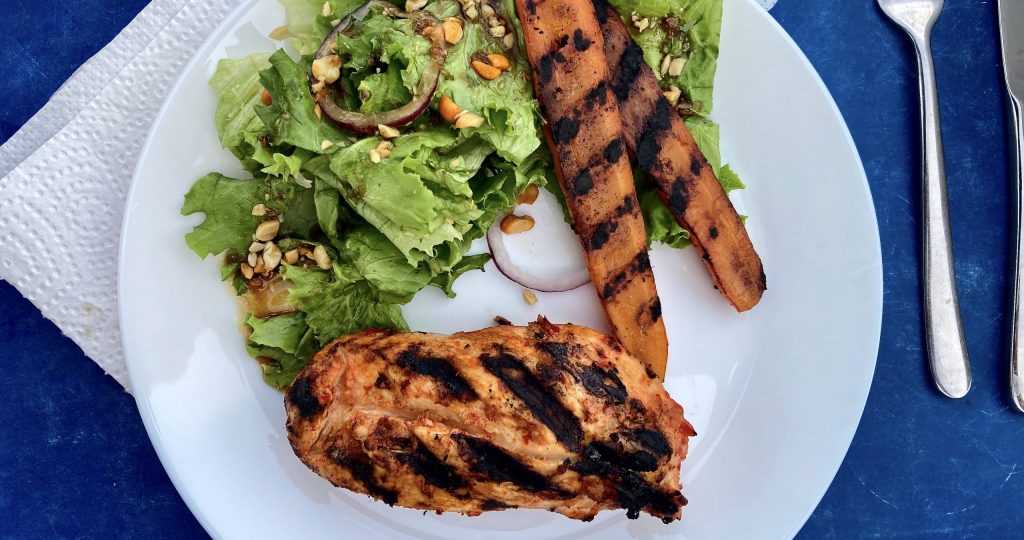 Homemade Garlic Chili Paste:
You'll need a small food processor or a wide enough jar for the immersion blender to fit into the jar.
1 tsp red chili flakes
Four fresh Chinese Red Peppers  (keep the seeds in if you want a punch)
Five cloves of crushed garlic,
1/4 cup of olive oil
1 tsp Himalayan salt
1/2 tsp white vinegar
Store in an airtight jar in the fridge for a month!
Now, let's get started, and I hope you enjoy this as much as we did!
Teriyaki Grilled Carrots & Asian Dressing
September 27, 2020
: 20 min
: 20 min
: 40 min
: Easy
Ingredients
Marinade & Salad Dressing:
1/4 cup coconut amino soy
1 Tbsp sesame seed oil or peanut oil
1 Tbsp of honey
1 heaping tsp of Garlic Chili Paste (or the above option)
1 tsp grated ginger
2 Tbsp olive oil
Dash of Chinese 5 Spice
Dash of Himalayan salt and pepper
1/2 spicy mustard (used in salad dressing)
Veggies:
8 Carrots
Head of favorite lettuce
1/4 cup chopped toasted almonds
1 tsp of toasted sesame seeds
Meat Option:
Chicken Breast, Fish, or Pork loin
2 Tbsp Garlic Chili Paste or above option
Directions
Step 1

Marinade & Salad Dressing

Step 2

Set aside the mustard. Place all the remaining ingredients listed for the marinade & salad dressing in a small jar and shake vigorously. Set aside.

Step 3

Veggies:

Step 4

Wash your carrots and slice each carrot in half lengthwise. Steam in a pan with 1/4 cup of water for 10-15 minutes until slightly tender but still on the firm side so they don't snap. You can do this in a microwave.

Step 5

When the carrots are tender, place them in a dish and cover with half the marinade. Let them marinate until ready to grill. I usually make this the day before and leave them in the fridge overnight. 

Step 6

In the remaining half of the marinade, add the mustard and shake well. Now you have your salad dressing!

Step 7

Wash and slice your salad. You can add some red onions or grated carrots, tomatoes, or any veggies you enjoy.

Step 8

When ready to serve, dress the salad and toss. Sprinkle the top with toasted chopped almonds and sesame seeds. Save a few if you'd like to sprinkle over grilled carrots and meat.

Step 9

Meat Option:

Step 10

Use the Garlic Chili paste to coat your meat and place it in the fridge until ready to grill.

Step 11

Cooking:

Step 12

Grill chicken breast or pork loin 7-8 minutes on each side depending on the thickness. If your chicken has a bone it will take a bit longer 10-12 minutes on each side.

Step 13

Grill carrots 7 minutes on both sides.

Step 14

Remove meat, if using, and let it rest for 3-5 minutes before slicing. Dress the salad and serve up those yummy carrots! Sprinkle your entire meal with the toasted almonds and sesame seeds…yes even your meat! Fish is another option that we enjoy with these savory carrots and tangy dressing.