It's rhubarb season here in Germany, and I needed to make something unique. Ok, I cheated! I was at the Saturday market, and there before my eyes were the most brilliant red rhubarb stalks I've ever seen. I grabbed them, and not wanting to fiddle around with a homemade gluten-free crust for a galette dough, I decided to buy a gluten-free phyllo dough. 
I wanted to keep this vibrant red color in my sauce but didn't want to use food coloring, so I bought a package of fresh raspberries. This treat was delicious with a dollop of Coconut Whipped Cream melting on top!
Quick and easy!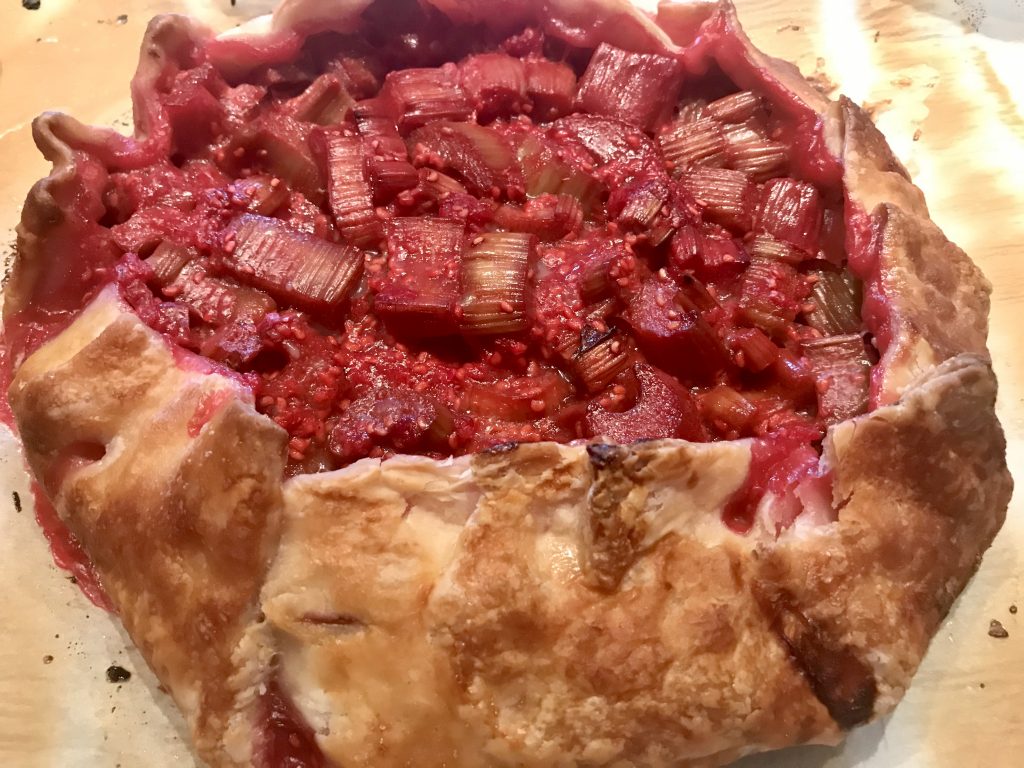 Rhubarb and Raspberry Galette
April 28, 2022
: 6
: 15 min
: 1 hr
: Easy
Ingredients
3-4 stalks of rhubarb diced
1 1/2 cups fresh raspberries
1 Tbsp of grated fresh ginger
1/4 tsp of cardamon
Juice from 1/2 lemon
3 Tables Monk Fruit sugar (honey or pure maple syrup)
1 pinch of salt
2 Tbsp tapioca starch
Homemade phyllo dough or store-bought!
1 Tbsp melted butter/ or egg white (optional)
1 Tbsp of Monk Fruit sugar for sprinkling crust (optional)
Directions
Step 1

Turn the oven to 375 degrees or 185 C.

Step 2

Place a sheet of baking paper in a sheet pan. Leave it on the counter to thaw while making the filling. 

Step 3

Place rhubarb, raspberries, ginger, cardamom, lemon juice, Monk fruit sugar, salt, and tapioca starch in a large bowl and stir to combine. Stir it once in a while. Let it sit while your dough thaws and your oven heats up.

Step 4

Lay your phyllo dough on a baking paper. 

Step 5

The shape of your dough will determine the form of your galette. I was fortunate to find round gluten-free dough! But hey, square or round, it's delicious! Spread the filling 2 inches from the edge of the dough.

Step 6

Fold the dough in 2 inches and pinch it together to make an edge encompassing the filling. Brush the edges with a bit of melted butter or egg white and sprinkle with birch tree sugar.

Step 7

Bake for 35-45 minutes or until the center is bubbling like crazy and the edges of the dough are brown. 

Step 8

Eat warm with your favorite dairy-free ice cream or Coconut Whipped Cream!