My favorite cookie is Chocolate Chip with tons of walnuts. With or without the walnuts, you'll go nuts over this recipe. It is so delicious, and I make it with Monk Fruit Sugar and Low Carb Schokodrops (a German company on amazon.de). In the USA, you can use Lily's Dark Chocolate Chips. Using these low-carb sugar ingredients helps reduce sugar consumption since I can't stop eating them. 
This recipe makes at least 24 cookies. It depends on how large a cookie you want. Suppose you're only into testing the recipe. Cut the ingredients in half. However, there is a method to my madness. I can't get enough of these buttery, chewy, crispy-edged cookies.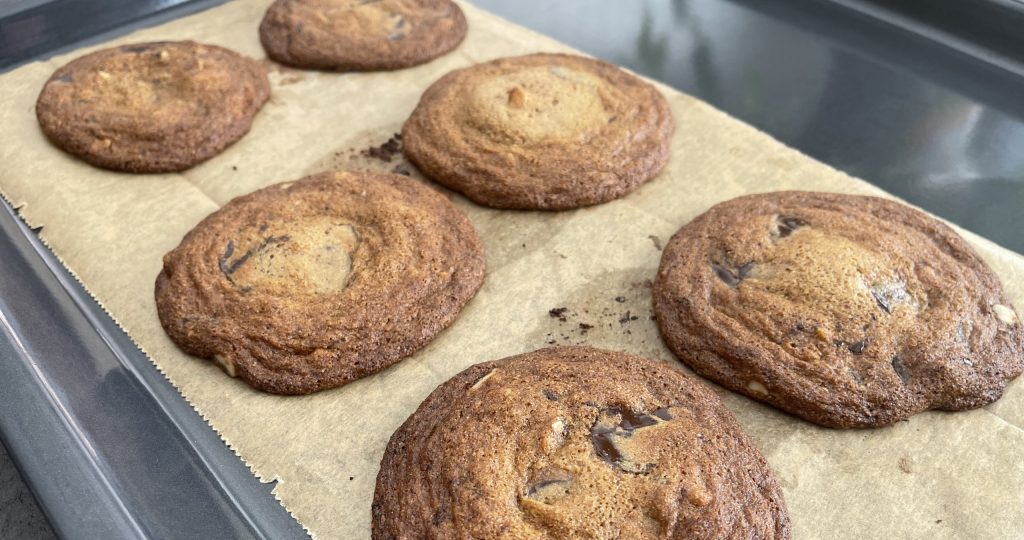 I doubled the ingredients one day and froze the dough in individual serving logs in the freezer. Since you will have to place the dough in the freezer for an hour before baking them, it just makes sense to double the recipe and have a backup! Now I don't have to wait an hour. I pop out a roll when I have the urge or if guests stop by and "bang" in 8-10 minutes, they're baked and warm. You must wait at least 10 minutes before biting into these little nuggets. They are very soft in the middle and crunchy on the edges.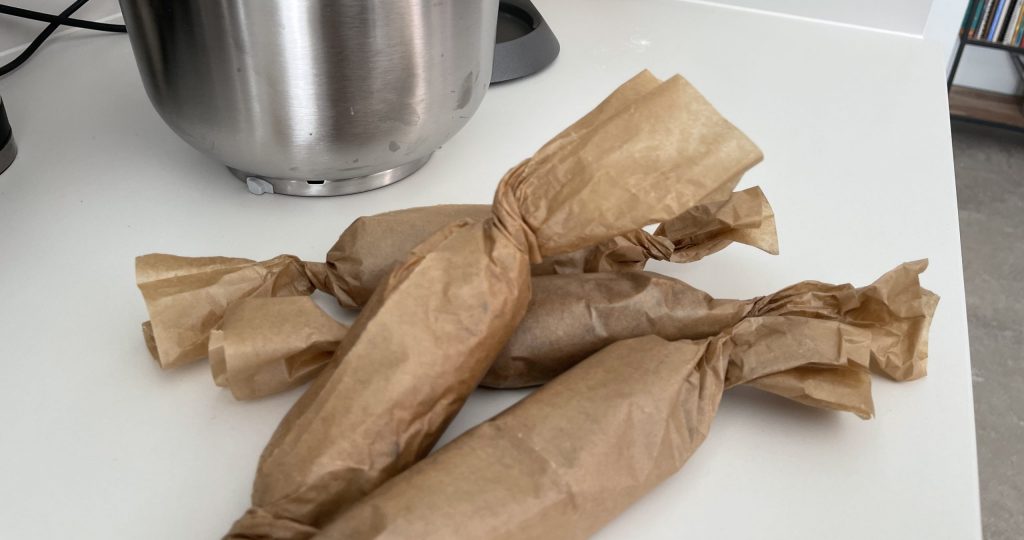 Ok, are you drooling yet? Let's get started!
Brown Butter Grain-Free Chocolate Chip Cookies
March 27, 2022
: 2-3 dozen
: 20 min
: 30 min
: Easy
Ingredients
3/4 cup of butter
2 Tbsp coconut cream milk
1 cup brown sugar, or coconut sugar, or 3/4 cup golden Dark Brown Monk Fruit sugar
1/2 cup sugar, or 1/3 cup white Monk Fruit sugar
2 eggs
2 tsp vanilla
1 1/4 cup cassava flour
1 cup almond flour
2 tsp baking soda
1 tsp salt
2 cups chocolate chips
1 cup chopped walnuts (optional)
Directions
Step 1

Heat the butter in a small saucepan on medium. Use a whisk and continuously whisk so it doesn't burn. It will begin to pop and simmer. Continue stirring for about 2 minutes. Eventually, the butter will start to form a foam on the top. Watch it closely now and continue stirring for about 2 more minutes as the foam bubbles. It should have brown bits at the bottom. When it is toasty dark brown on the bottom, remove the butter from the heat to cool.

Step 2

In the bowl of your standing mixer (you can hand mix in a bowl), add the coconut cream milk, brown sugar/golden Monk Fruit, white sugar/white Monk sugar or sugar of choice, eggs, and vanilla. Beat for 3 minutes on medium.

Step 3

Slowly add the cooled butter. Mix for 3 minutes. Be sure to scrap the golden parts of the butter from the saucepan into the batter.

Step 4

Mix the cassava flour, almond flour, baking soda, and salt with a fork in a medium bowl. Slowly add the flour mixture 1/4 cup at a time to the butter batter and mix well after each addition of flour.

Step 5

Stir in the chocolate chips and the nuts.

Step 6

Place about 3 heaping spoons full of dough on individual pieces of baking paper (I cut one piece of baking paper in half for each portion). It will be sticky but wiggle until it is a 2-inch thick log and seal the ends. Set in the freezer for 1 hour.

Step 7

When ready to bake, preheat the oven to 375 degrees or 185 C.  Remove the roll(s) from the freezer and slice in circles on a cutting board. Place the rings on a cookie sheet covered with baking paper. Bake for 8-10 minutes. Watch them for the last 1-2 minutes. The edges will be brown, and the centers will be golden.

Step 8

Remove from the oven and let sit for 10 minutes. You can store leftovers for 5 days in a sealed container.