Ok, so I like raspberries…who doesn't when you get a deal at the open market in Belgium. Five Euro for a flat of 20 trays. Hard to resist but not so easy to use in 2 days. They were ready for eating pronto. After distributing a few trays I still had a boatload and I mean a boatload. My brain went into over-drive and viola! I created several wonderful tasty raspberry delicacies.
Check them all out while you're at it.
Raspberry Medieval Compote
Raspberry Cassava Crepes
Raspberry Belgium Sweetie Cake
Let's get cook'n!
You're going to need my Raspberry Medieval Compote for each of the amazing recipes above and what is dessert without
Of course in a pinch, you can buy compote in the store but really…if you can't read what's in it then it's probably not that good for you unless you find organic naturally sweetened compote. So whip up a batch of my Raspberry Medieval Compote and Let's get cook'n!
RASPBERRY COCONUT LEMON CAKE
June 10, 2018
: 10 min
: 1 hr 30 min
: 1 hr 55 min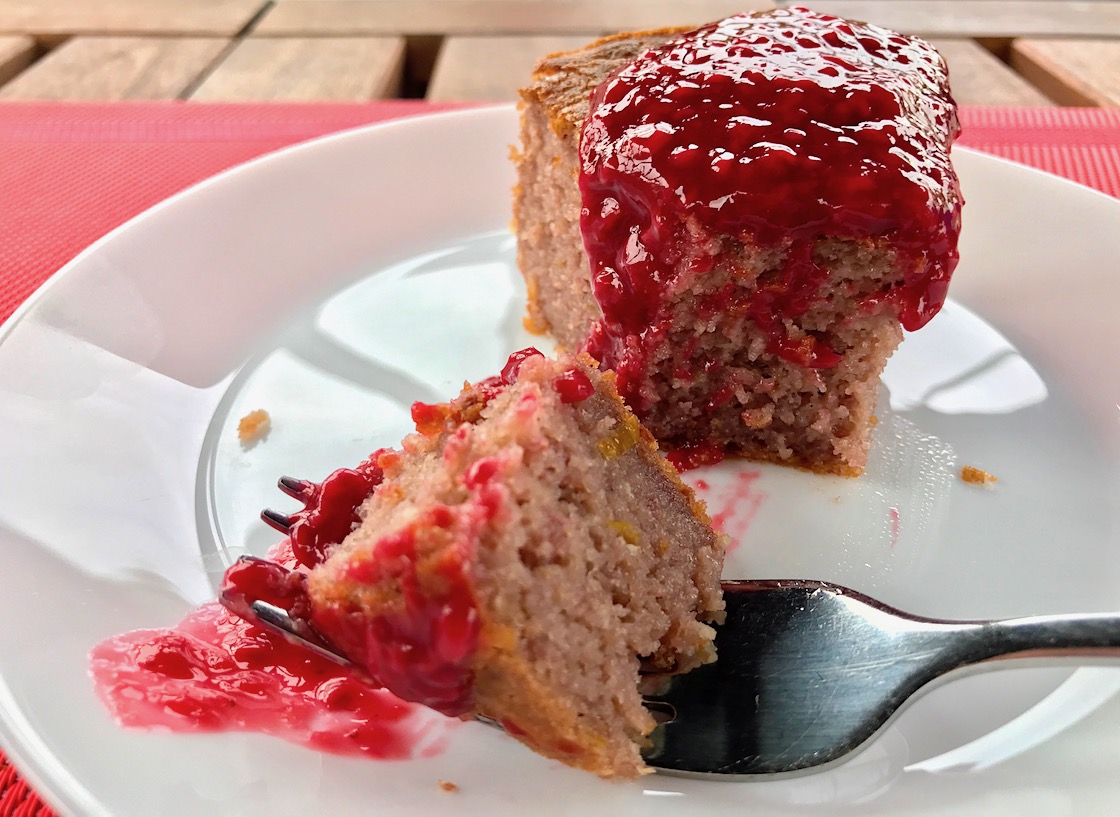 Ingredients
Cake:Wet Ingredients
2 large eggs
1/2 cups honey or birch tree or coconut sugar
1/2 cups Raspberry Medieval Compote or your own sugar-free raspberry spread
1 tsp pure vanilla
1 lemon zest and juice from 1/2 the lemon
3/4 cup coconut or almond milk I used coconut cream and had to add a bit of water
3 Tbsp melted ghee or organic butter
1/4 cups natural flaked coconut
Cake: Dry Ingredients
1 1/2 cup cassava flour or 1 to 1 gluten-free flour mix
1/4 cup tapioca flour
1 tsp phylum powder or agar powder
1 tsp baking powder
1/4 tsp baking soda
1/2 tsp Himalayan salt
1 pinch ground cinnamon
1 pinch ground cardamom
Raspberry Topping
1/2 cup Medieval Raspberry Compote
Coconut Whipped Cream optional
Directions
Step 1

Butter the insides of an 8X8″ spring pan. Preheat your oven to 375 degrees. Remember I'm using a little baking oven and it has European controls. I set it at 180 C degrees. I had to bake my cake for 1 hour and 1/2. It filled the pan 3/4 of the way to the top and so it was rather thick. If your using a larger glass or aluminum pan your cooking time will be much less.

Step 2

Cake: Wet Ingredients

Step 3

In a large bowl whisk all the wet ingredients by hand or with a mixer. Make sure it is well blended.

Step 4

Cake: Dry Ingredients

Step 5

In a medium bowl whisk all the dry ingredients well and slowly pour into the wet bowl mixture making sure no lumps develop. It should be the consistency of a real cake batter!

Step 6

Cooking & Topping

Step 7

Pour the batter into your spring pan and bake for 45 minutes. Check the center with a thin knife and if it comes out clean it's done. If the knife has batter on it, leave it in and check again every 15 minutes. Until it is done.

Step 8

When done, let it cool for 15 minutes. Remove the spring wall once it has cooled.

Step 9

It's delicious warm with fresh Raspberry Medieval Compote drizzled over the top.

Step 10

Oh yeah, don't forget the Coconut Whipped Cream!

Step 11

Tip: This cake can be kept in the fridge for up to 4 days if it lasts that long. It can be warmed it up in the toaster oven or microwave.