Since I had steamed two small fresh pumpkins and puréed them, I was excited about coming up with some simple pumpkin recipes. Pumpkin bread was at the top of the list. I had a helper, so the mixing went fast! It's so great to cook'n camp with family. My longing for teaching is always satisfied with a herd of nieces, nephews, and grandkids who are excited about creating something new in the kitchen. This bread was a special dish for my nephew, who can't eat nuts. It was terrific, so spicy and warm. Add any or all options suggested below to spice it up for the holidays or any time of the year.
PUMPKIN BREAD
December 20, 2016
: 1 loaf
: 20 min
: 45 min
: 1 hr 5 min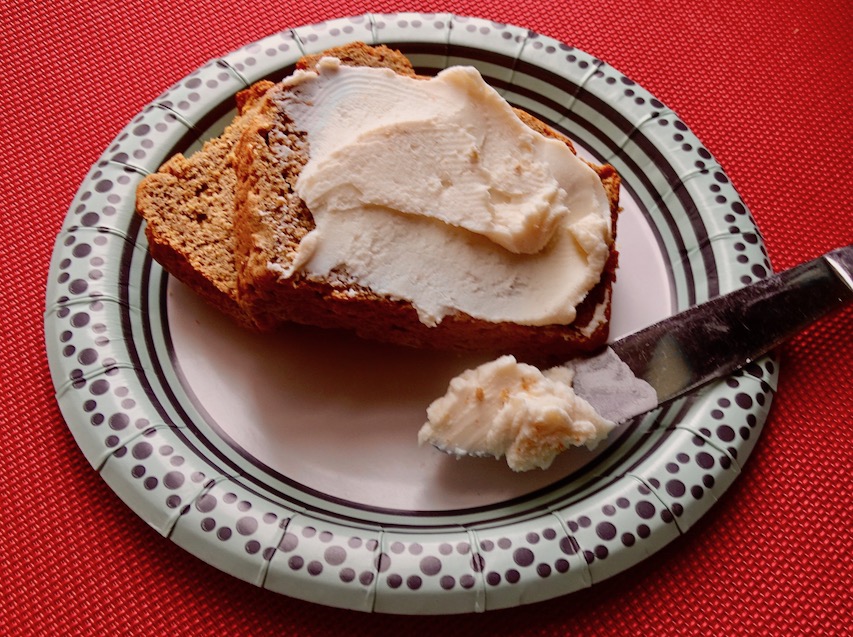 Ingredients
Dry Cake Base
1 cup gluten free flour or Cassava flour
1/2 cup banana flour or almond flour
1 tsp himalayan salt
2 tsp baking powder
1/2 tsp baking soda
1 tsp pumpkin spice seasoning
Wet Cake Base
2 eggs
1/2 cup 100% maple syrup or 3/4 cup for sweeter bread
1/4 cup almond or coconut milk
1 cup pumpkin puree sweet potatoes work as well!
1/2 cup coconut oil
1 tsp homemade vanilla or pure vanilla
1 tsp fresh grated ginger or 1/2 tsp ground ginger
Optional Ideas
1/2 cups chopped walnuts or chopped pecans
1/4 cups raisins or cranberries
1/4 cups raw coconut flakes
1/4 cup dairy free chocolate chips
1/4 cup fresh cranberries
1/2 cup diced apples
1/2 cup grated zucchini
Directions
Step 1

Turn your oven to 375 degrees. Line a loaf pan with baking paper or wipe with coconut oil.

Step 2

Whisk dry cake base ingredients in a medium bowl until blended.

Step 3

Whisk wet cake base ingredients in a large bowl until well blended.

Step 4

Slowly add the dry cake base ingredients to the wet cake base ingredients and mix well. You can use a hand mixer or your food processor as well.

Step 5

Add Optional Ideas of your choice!

Step 6

Bake in preheated oven for 45 minutes. Check to make sure it has cooked completely by inserting a knife in the middle and it should come out clean.

Step 7

Let cool for 15 minutes before serving.

Step 8

Tip: I don't eat cheese but on rare occasions. This holiday I found organic goat cheese. I let it sit at room temperature for 15 minutes until it was soft. Then I added a bit of organic maple syrup and a dash of pumpkin spice seasoning. We spread this on top of the warm pumpkin bread and ate it around the campfire!!! It was AMAZING. If you avoid all types of dairy, try topping it off with my Chai Cashew Butter instead.