Summer is the time for savory cold salads that keep you going all day. I like to make a huge batch of this Pico de Gallo and use it all week on my eggs, chicken salads, and to top off my Carne Asada tacos or steak.  It can also be a dip or a topping on your bowl of greens. I like it just plain but drop in some steamed shrimp or fresh crab and BAMMMM! What a meal! You can also mash up an avocado and mix in a 1/2 cup of Pico de Gallo. This combo makes a flavorful guacamole!
PICO DE GALLO
July 5, 2016
: 4
: 20 min
: 20 min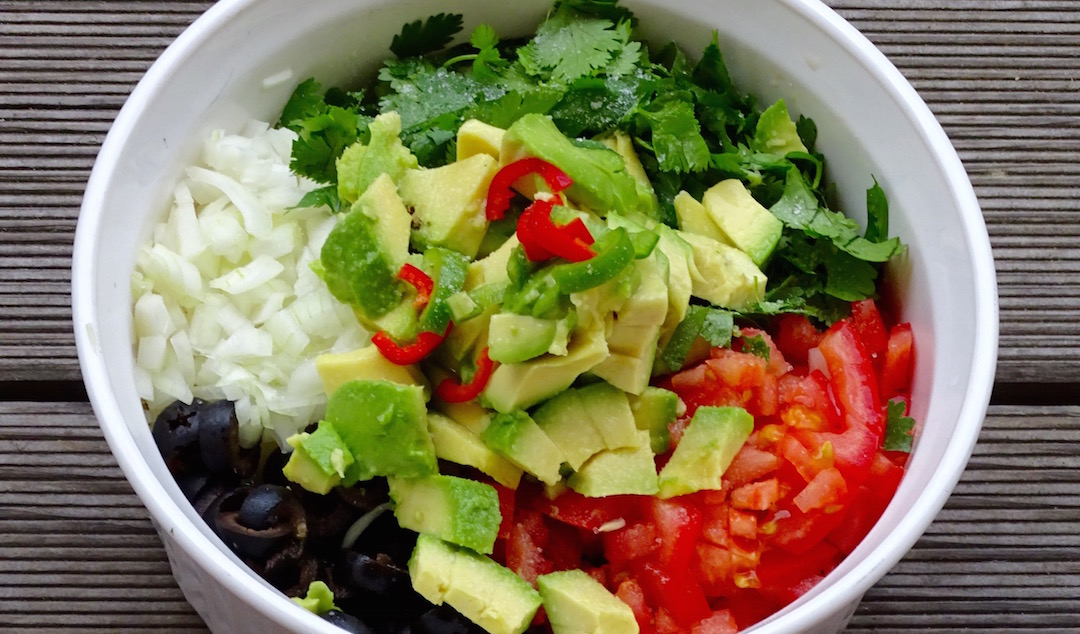 Ingredients
1 cup cilantro leaves chopped & packed
5-6 medium tomatoes diced
1 medium onion diced. I like the purple for the color!
1/2 cup black olives sliced
2-3 cloves garlic pressed
1/2 red pepper or more...
1/2 fresh green jalapeño or more...
1 ripe avocado diced
1/2 fresh lime juiced
1 tsp himalayan salt
Directions
Step 1

Wash and dry the cilantro and remove steams. Chop into pieces. This opens the fragrance of this healthy herb.

Step 2

Prepare the remaining veggies. and layer in a large serving dish. Dice avocado last and put on top. Don't mix YET!

Step 3

Drizzle the juice form 1/2 of a fresh lime over the top of the chopped avocado. Don't mix YET!

Step 4

Sprinkle the top with salt and the pressed garlic. Don't mix YET!

Step 5

Right before serving toss NOW! This prevents the cilantro from wilting in the juices of all the luscious veggies and lime.