OOOOOh so good. There are 1000 different things you can do with this sauce… ok, ok, ok, close to 1000. From marinades to salad dressing, from topping off a taco to dressing up your morning eggs! It makes the best marinade for chicken and pork, as well. ENDLESSNESS, I say. Easy, quick, and so tasty. It reminds me of Mojo, the sauce they serve with salted potatoes in Spain and the Canary Islands. They make Mojo with pureed grilled green or red peppers. Maybe I'll post my Mojo sauce soon for your summer cooking. But in the meantime, this sauce is super drizzled on my marinaded Carne Asada Flank Steak and Rainbow Rock Salt Potatoes. If there are leftovers, it is delicious on your summer salads as a dressing, too.
CILANTRO CHIMICHURRI
July 5, 2016
: 4
: 20 min
: 20 min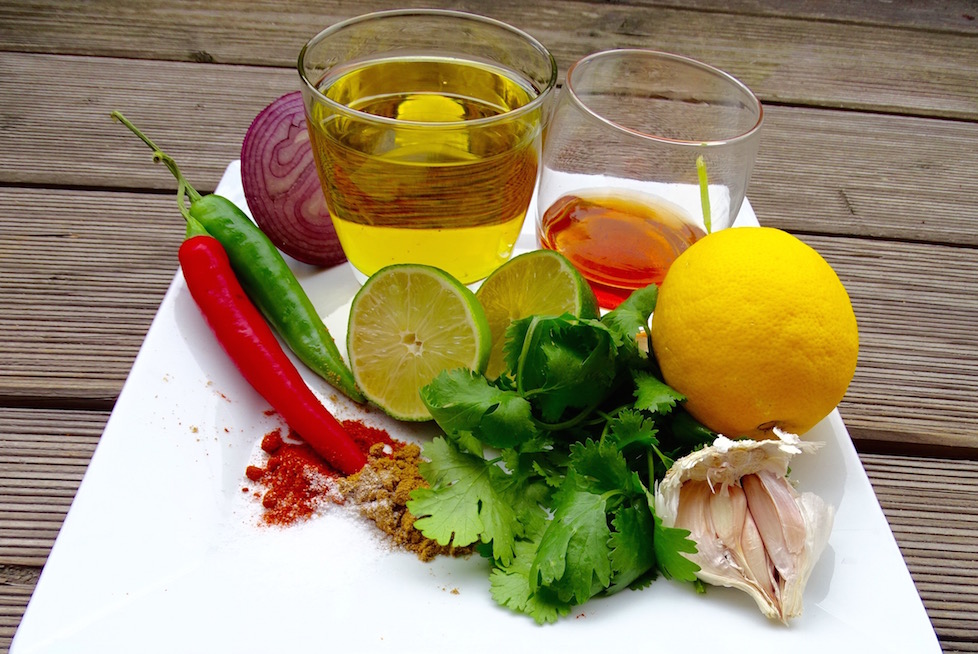 Ingredients
First 10 Ingredients in Food Processor
2 cups cilantro washed, shake dry. Stems and all diced.
4 cloves garlic
1 tsp sweet paprika smokey adds a nice touch!
1 tsp cumin
1 tsp Himalayan salt
1/2 tsp ground black pepper
1 tsp coconut sugar or 100 % maple syrup
2/3 cup olive oil
2 Tbsp red wine vinegar or rice vinegar
1 fresh lime juiced or lemon or a combo
Last 3 Ingredients - Stir in
1/2 fresh green jalapeño seeds removed & diced
1/2 fresh red pepper seeds removed & diced
1/2 red onion diced
Directions
Step 1

Place the first 10 ingredients into the food processor and pulse for 2 – 3 minutes.

Step 2

Remove from your food processing machine and pour the mixture into a jar or container that has a lid.

Step 3

Add the chopped red onion, red pepper, jalapeño and shake well.

Step 4

Before serving shake well. This will store in the fridge for 2 weeks! The longer it sits the more pungent the peppers become!