With a sad heart, we bid farewell to Johnny (our truck) and Cash (our 5th Wheel). We sold them both before we returned home to Germany. But… this trip was filled with some of the most fun since we bought them both in 2016 from the coolest family ever! We did all the buying over the phone and Internet and flew from Germany to pick them up from a family who had bought them both brand new in 2009. We are excited that Cash, the RV, is heading back to Tennessee with his new owner, whose truck is called June Carter (the real Johnny Cash's wife)! Johnny and Cash were kept in covered storage and cared for very well. So, they served us some wonderful adventures for the last eight years.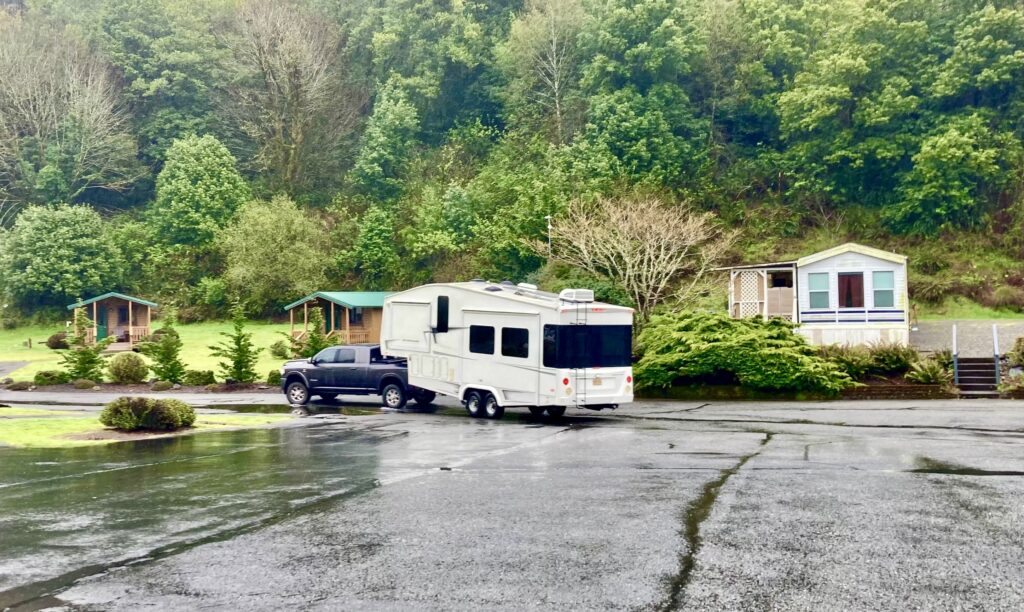 Since we still had Johnny, we decided to hold on to him until we finished our travels and go" hotel and eating out style." But before I share how we managed to sell Johnny, let's start from the beginning. The last post ended with the slide-out breaking as we pushed it out after landing in Brookings at The Rivers Edge Campground. It took a little work, but this wasn't our first rodeo with the RV slide. It happened once before when we picked it up from Tennessee, and I did not check as it was going out. One of the pillows got caught between the wall and the slide and popped the chain. Yes, a chain. Thank goodness Lutz is an automotive engineer. This time we were ready for it. Lutz always buys double parts, just in case. He fiddled with the slide and made a crack to squeeze into the bathroom and bedroom since help with the proper tools couldn't come until Monday. And I thought he owned every tool in the shed!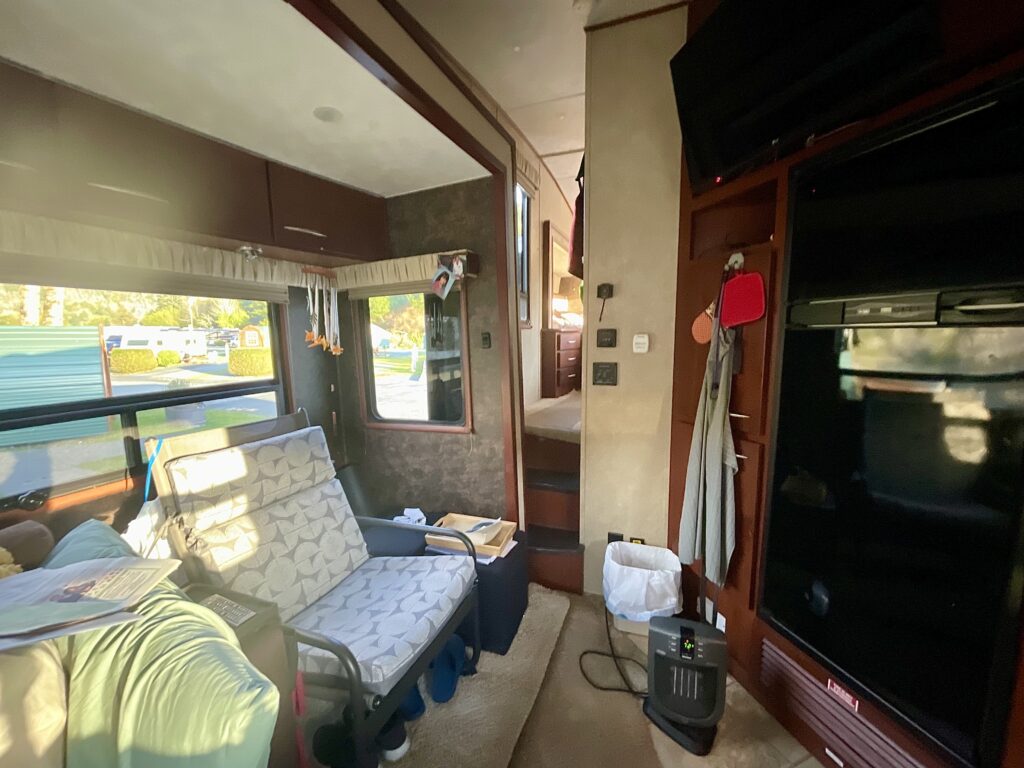 We were in Brookings for ten days, and it rained the whole time. Ok, I take that back. We had two days with a peek at the sun, and boy, did we take advantage of those days. Off to the beach, we went.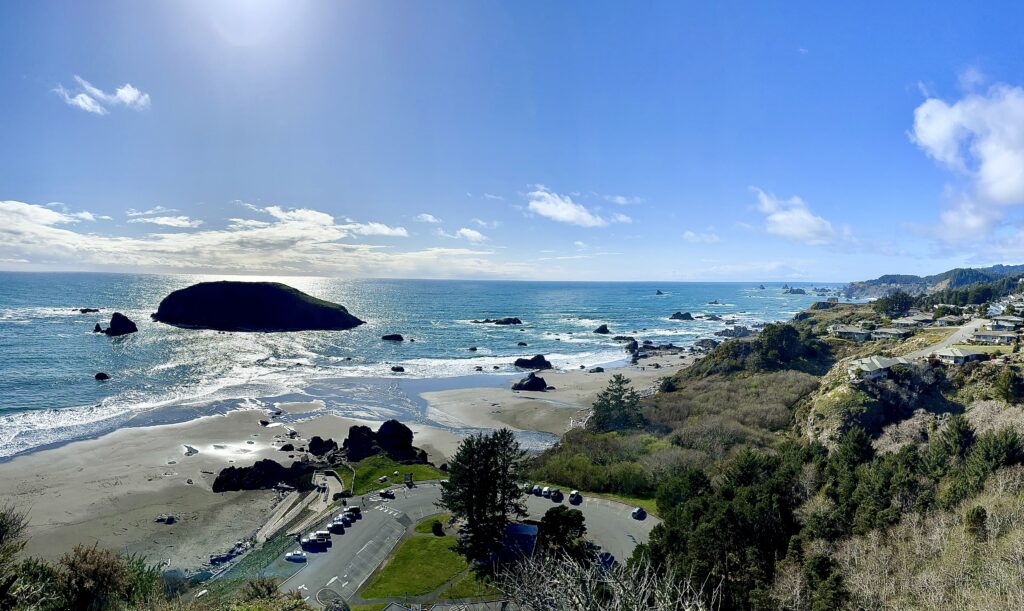 I believe this coast has some of the most amazing views and creations. We were thankful for these brief moments of sun, and so enjoyed the stay.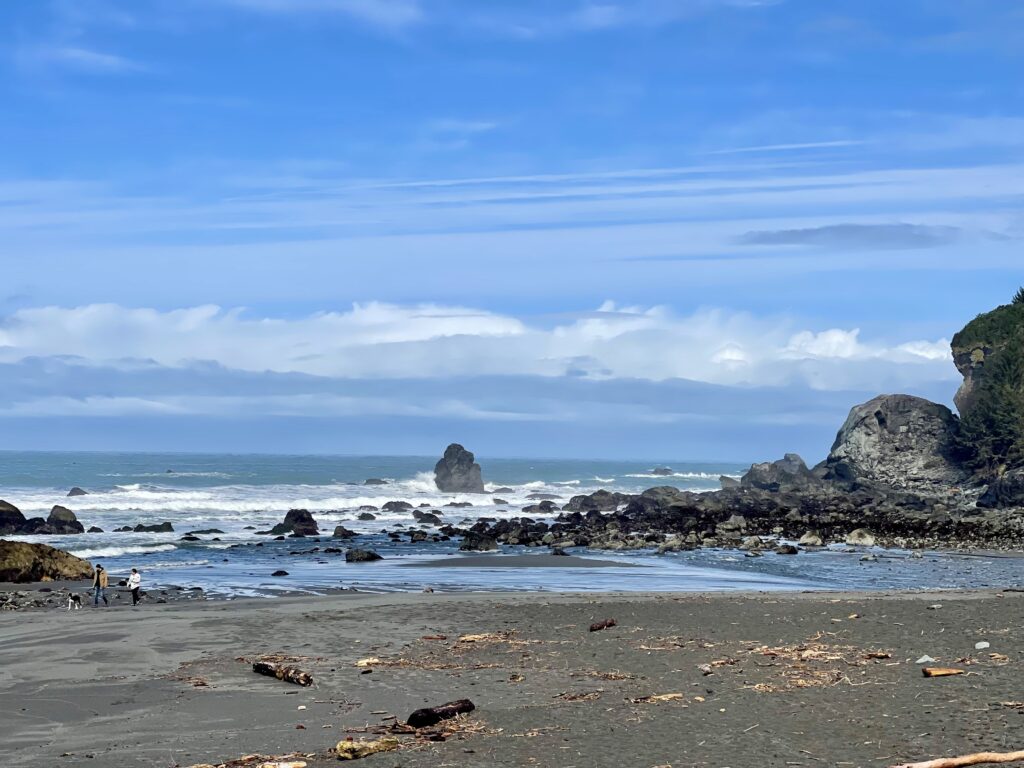 On rainy days we visited my mom at her assisted living community.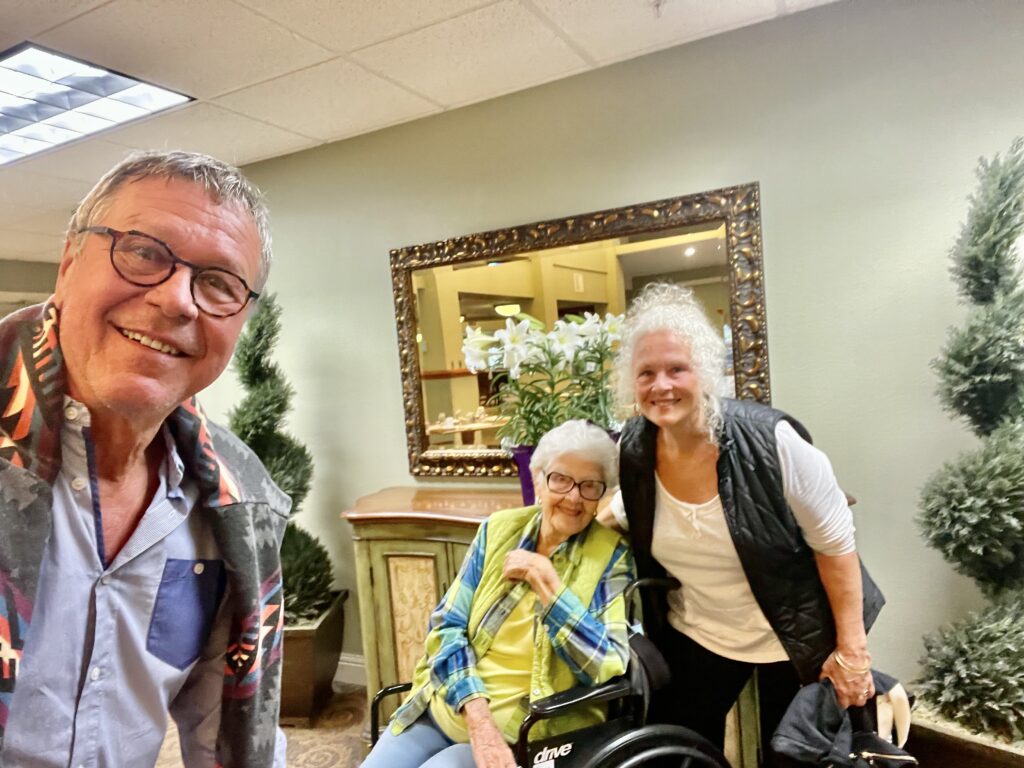 On other days we picked mom up and took her to my sister's on the hill, looking out her windows at a beautiful meadow where mama bear and her two babies would visit—or admiring the 180-degree view of the sea.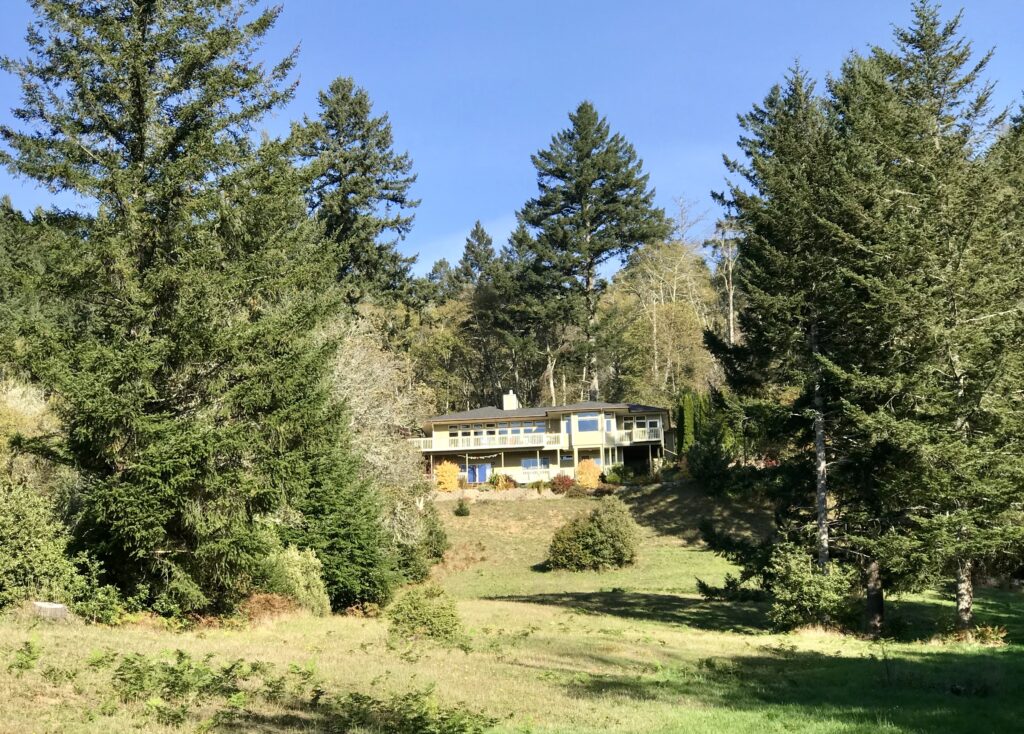 The sunsets are amazing from her home.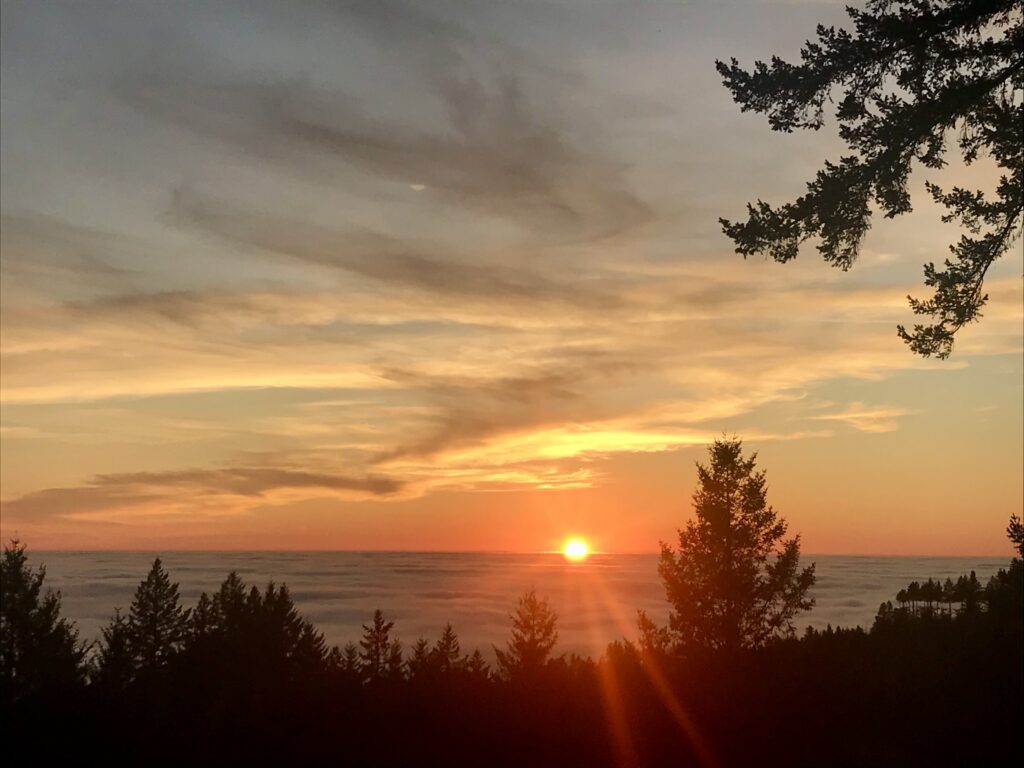 Of course, we had pizza!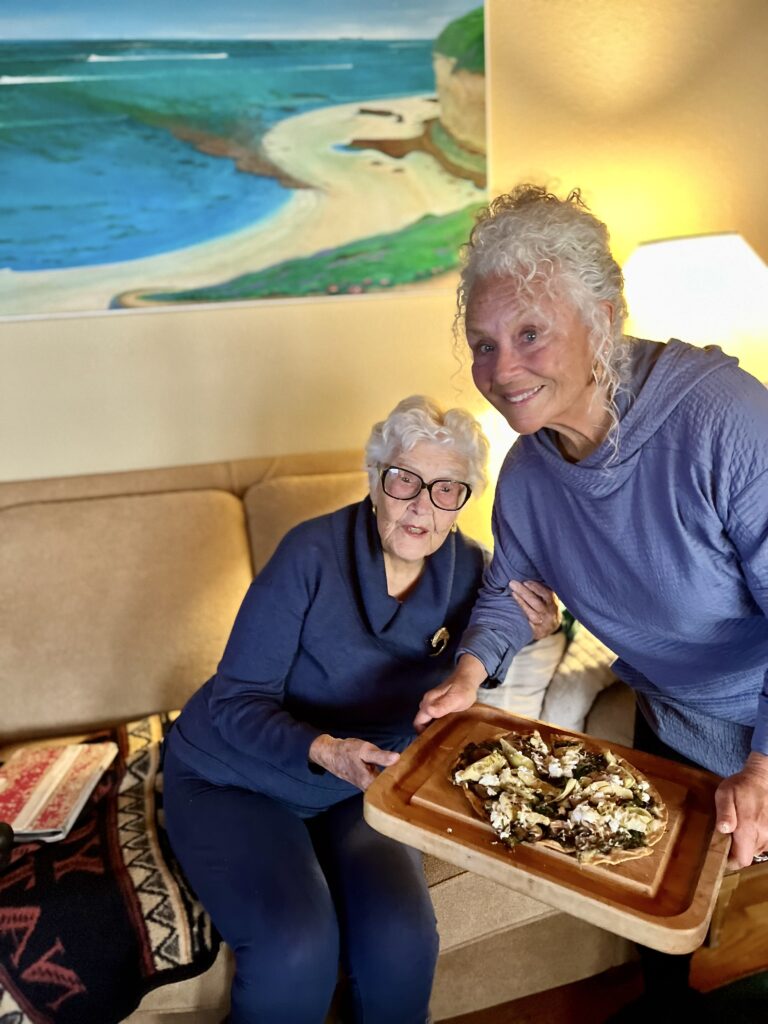 We spent many days cooking and watching movies as the rain kept pouring down to make the earth green and me cold! This lemon chicken and green asparagus was delicious and a perfect ending to a great family day!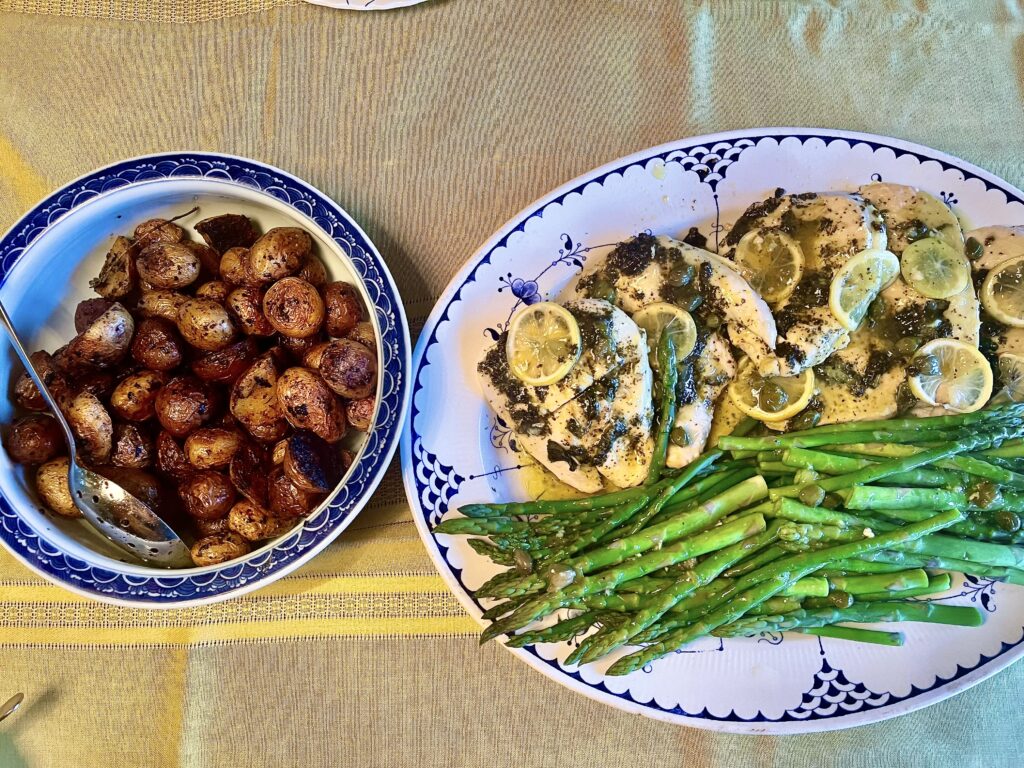 I was born on my mother's birthday, and this was the first we'd celebrated together in years. You don't turn 93 every day! A dear family friend Terry, a professional chef, made us the best flourless chocolate cake. It was sooooooo good!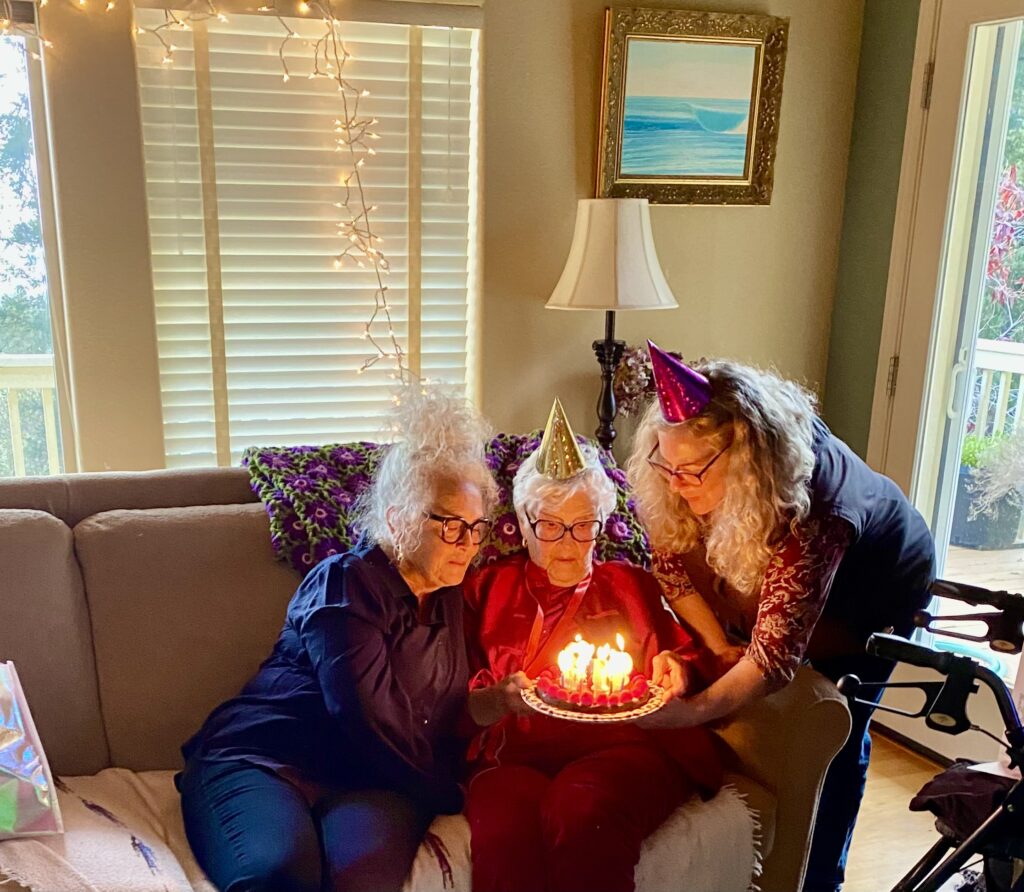 This visit was even more special since my brother flew from Camarillo, CA, for the event!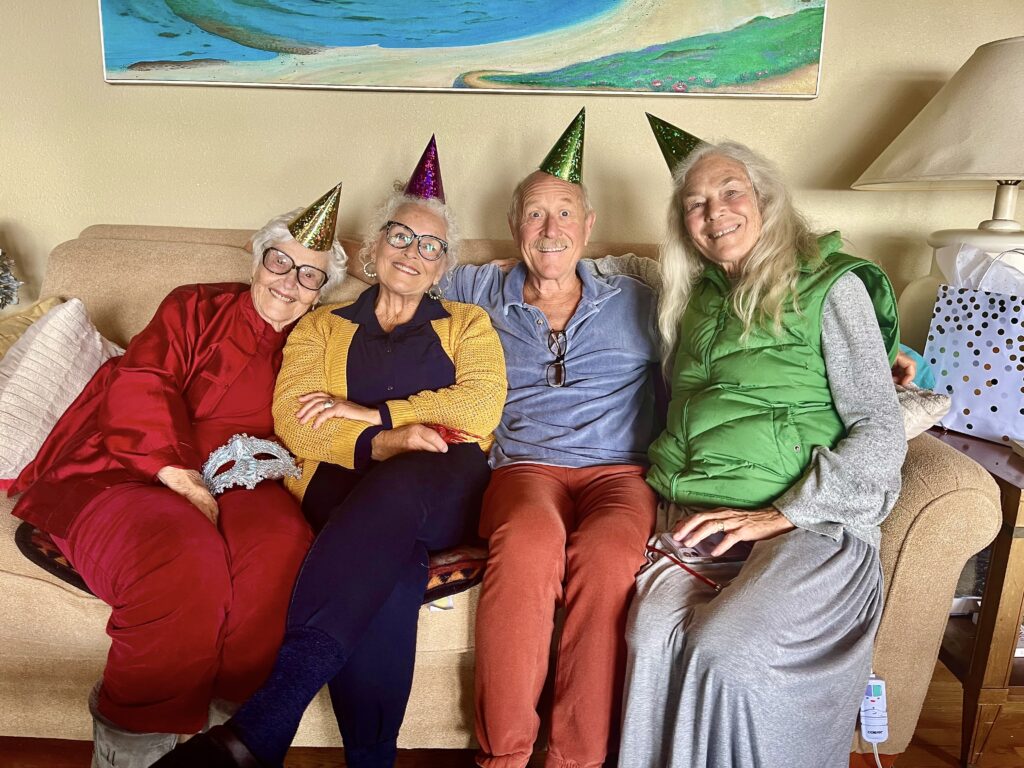 Mom also received a gorgeous bouquet of fresh flowers from Jericho (my daughter's family) and Oceanna (my sister's family)!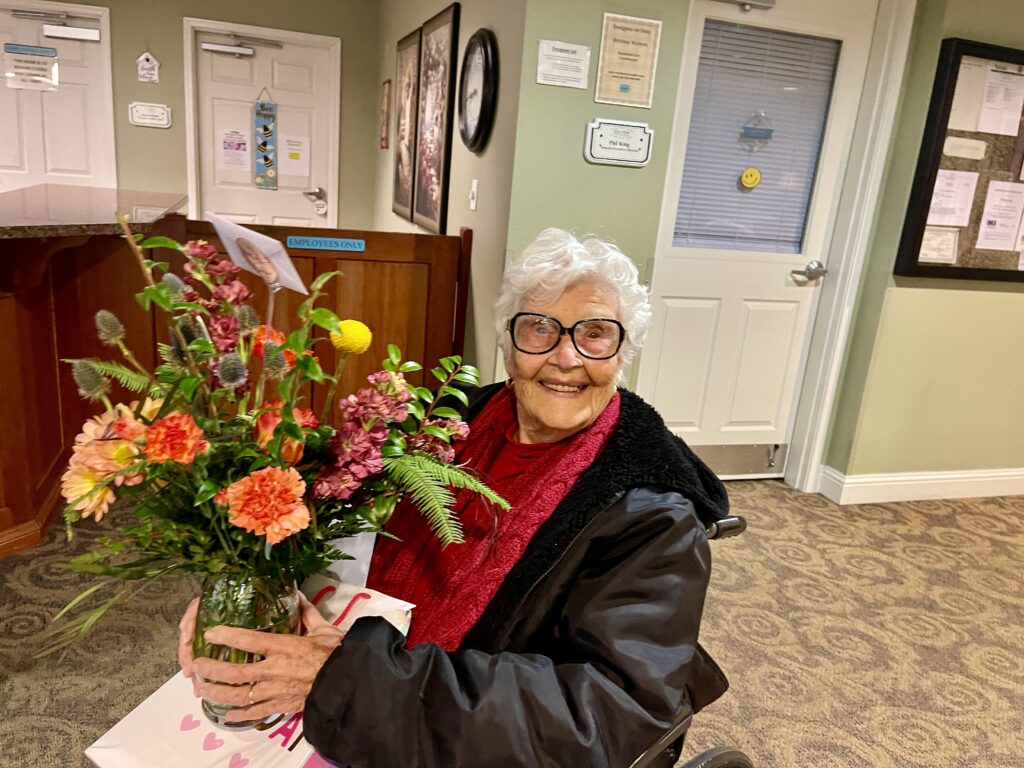 Time just slipped away in Brookings, and the last two days were spent packing eight years of personal items we wanted to keep. Yes, we gave the new owners everything, and what they didn't wish to, we took to the humane society or pawned it off on my poor sister. We even left several tubs at my daughter's in San Diego.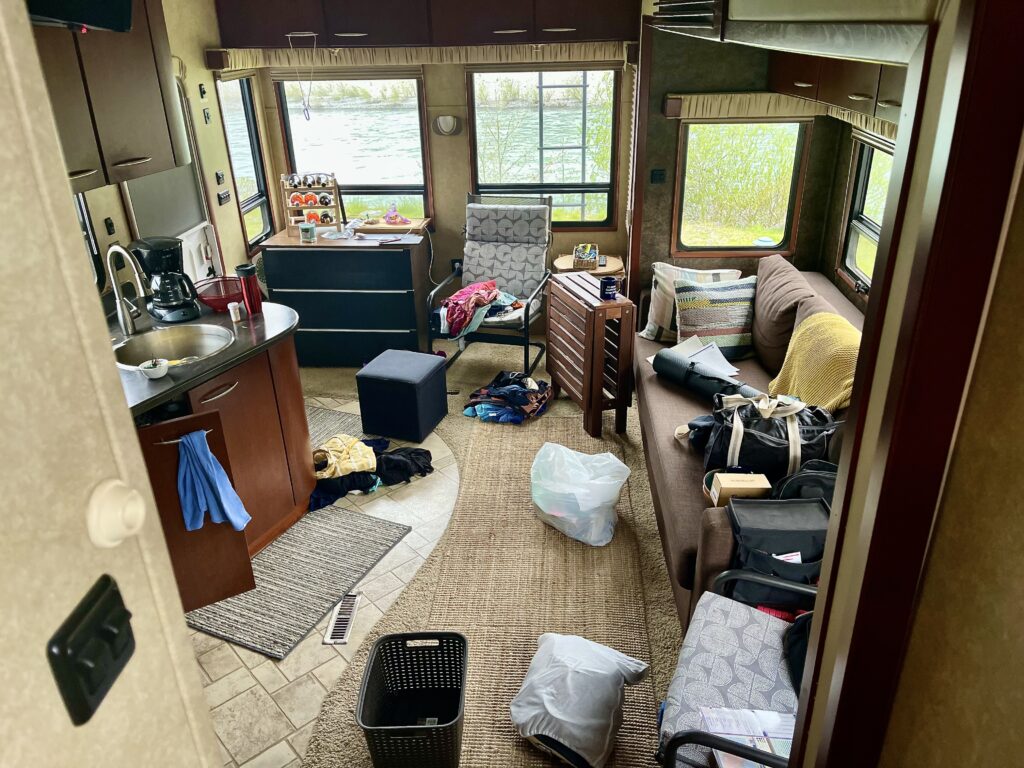 With hugs and a sad heart, we headed for a new adventure, life without Cash! It felt strange not towing Cash, our fifth Wheel. However, we sure made good timing and great gas mileage without him. We made some stops on our way to Mendocino, California, and took in the beautiful forest and views. Prairie Creek State Park was gorgeous.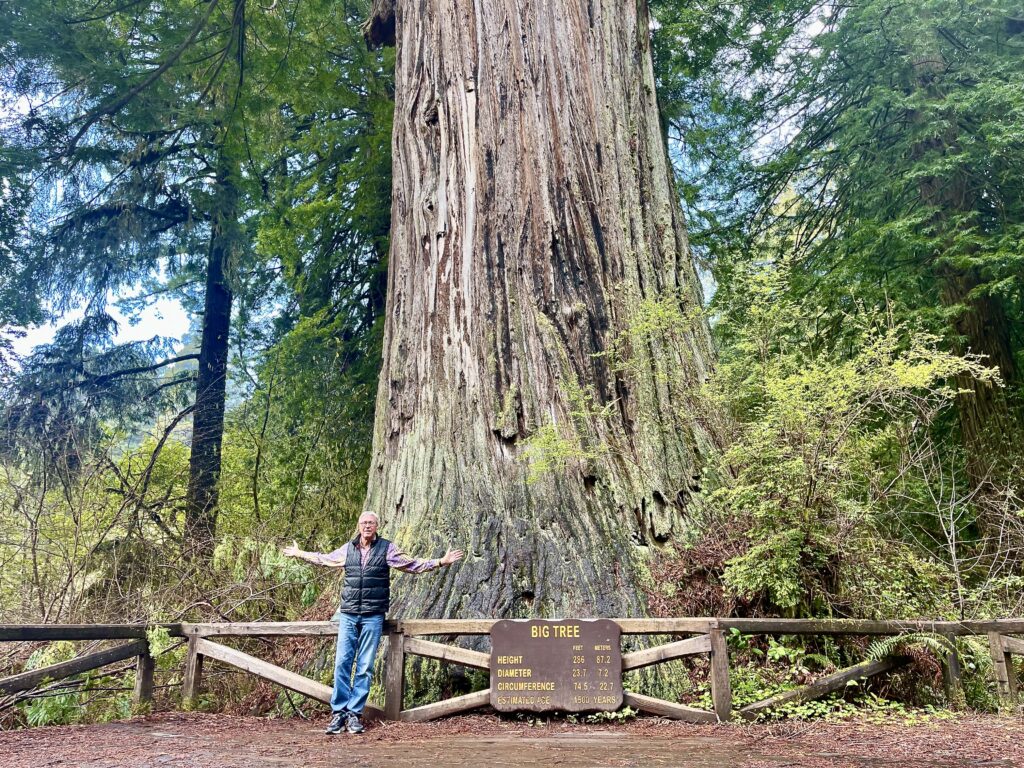 We picked a clear day to leave, that's for sure. We cruised through Trinidad near Crescent City, where elk tend to visit and munch on the grass. This old school house is located in this cool campground.
Continuing, we went through one of my favorite places, Eureka. This city was hopping during the 1800s gold rush. The old central portion is incredible with its restored old home charm. Many are original and turned into a bed and breakfast spots. It's filled with history, and we have decided to hang out for a few days to visit the next trip north!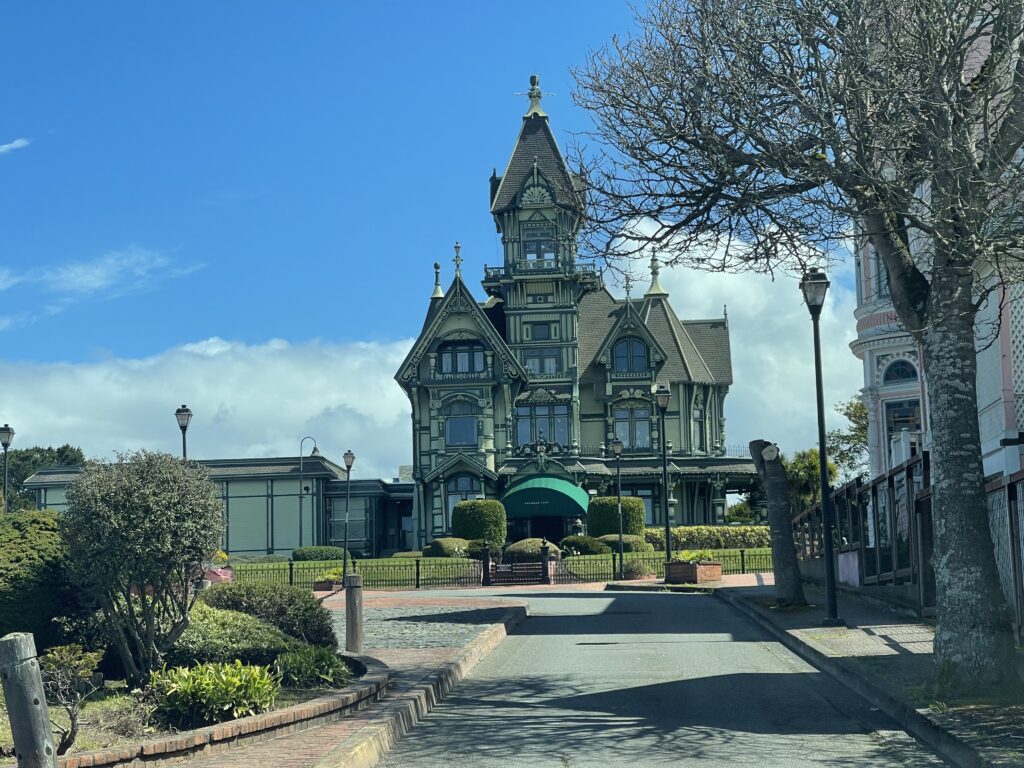 The buildings downtown are so amazing, with art everywhere.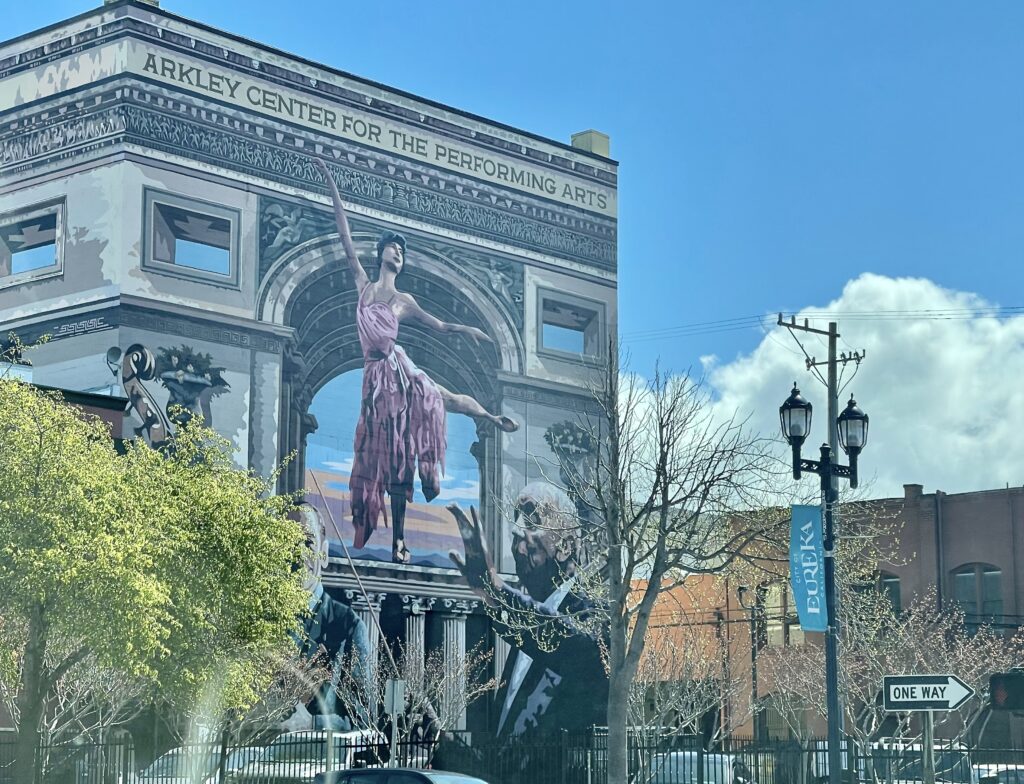 Our first-night adventure was to Mendocino down Hwy-1 on the coast. It had been eight years since we had taken this route, and without the RV, it was not as scary (sort of). But we did have our moments. Due to the rain, one side of the road slid into the ocean every ten to fifteen miles, and a signal was set up to manage the one-way traffic.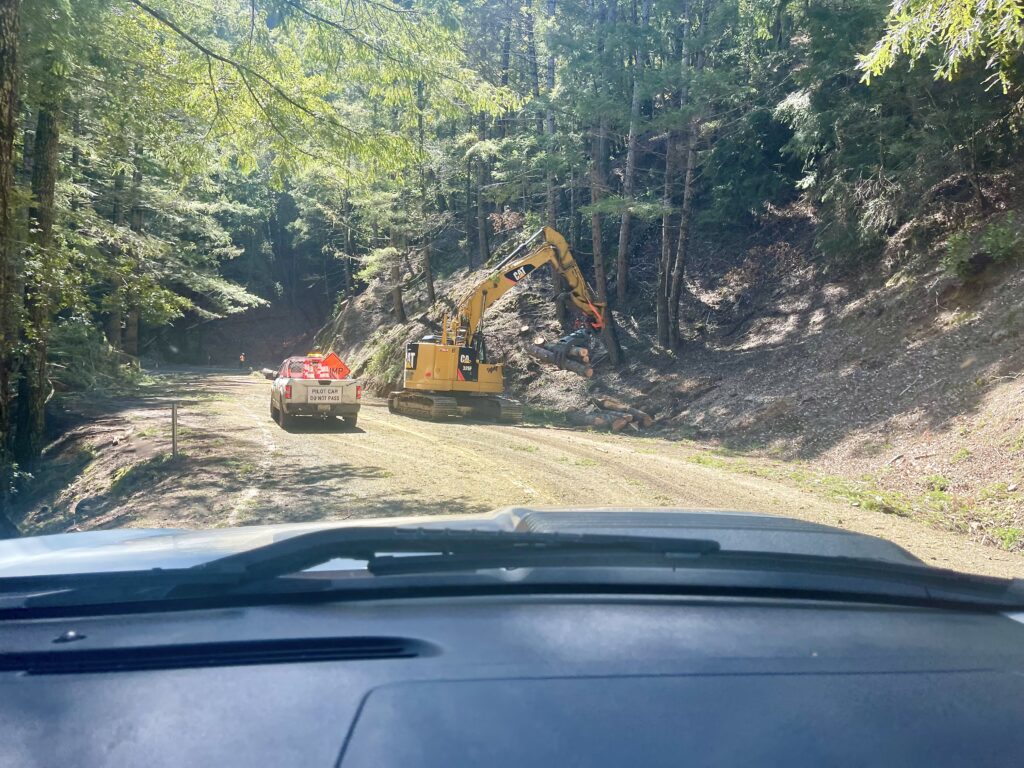 If you've never been on Hwy-1, it is a drive you will never forget. We drove it from south to north. This time, we drove from north to south, and I call it "the vomit view drive." The pictures do not do it justice. The road is along the edge of the cliffs that drop to the sea. In some areas, the drop is over 2000 feet down. This picture was taken as we descended the road along the cliffs. The only place I felt safe to get out and take a picture.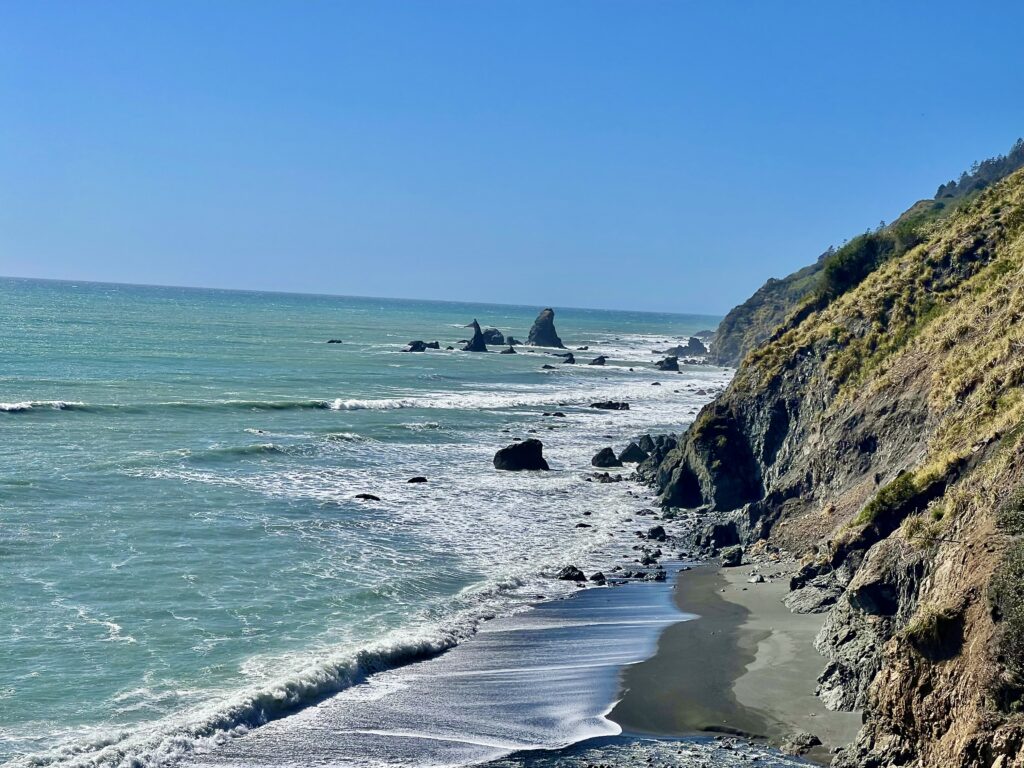 The Mendocino Hotel was so old it was the hot spot for the gold miners in the 1800s. The town is filled with memorabilia and history. Especially when you look for a hotel the day you need one. I used this cool app on this trip called Hotel Tonight to find our hotels and discovered some great bargains and unique stays.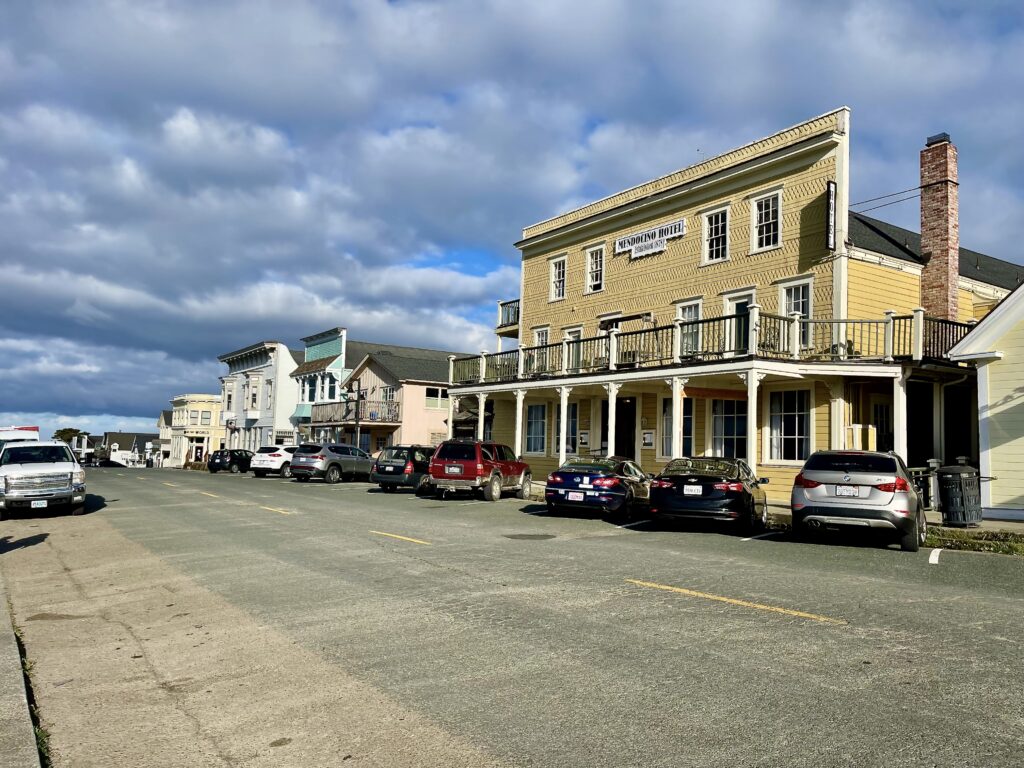 The inside of the hotel was amazing, with original fixtures and furniture! I think the receptionist had been here as long as the hotel. She was so kind and helpful. She asked if we wanted our own bathroom! We got a luxury room of our own.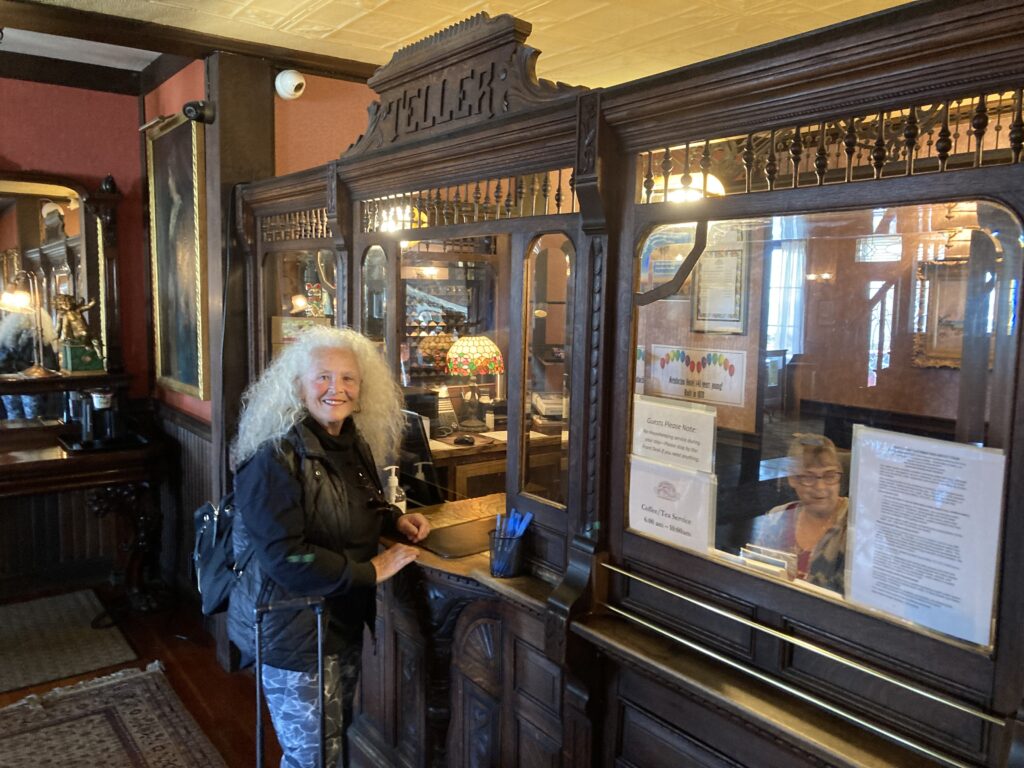 And the views from the deck were unreal!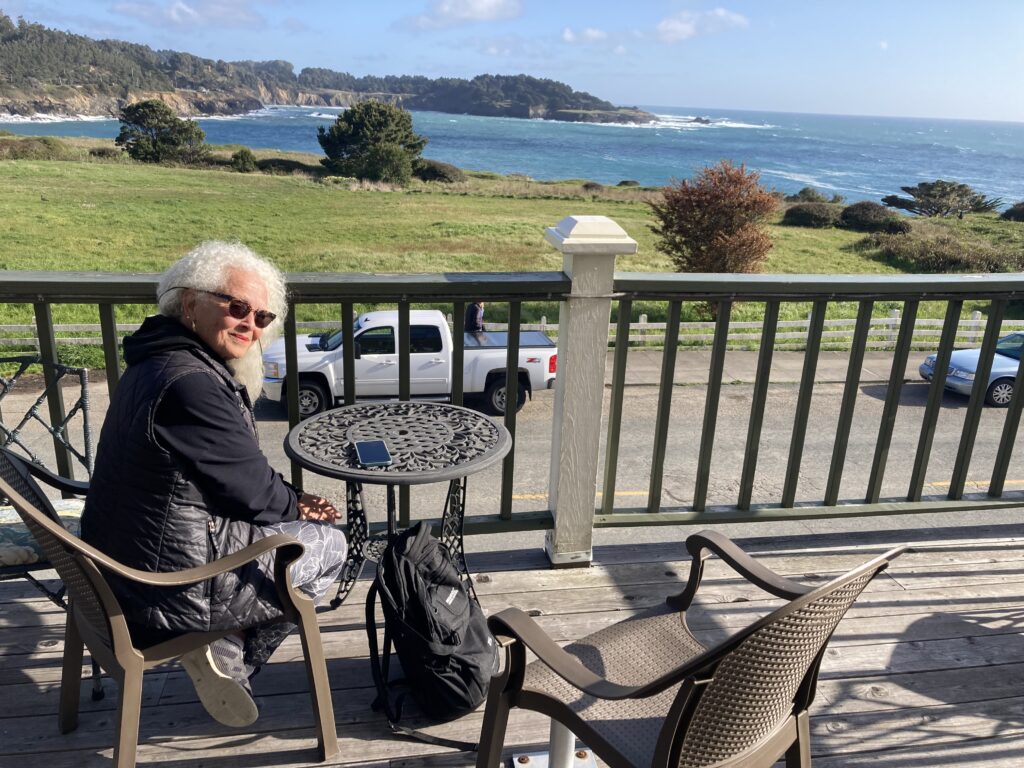 The next morning we continued down Hwy-1 and visited the California Coastal National Monument Lighthouse. What a view!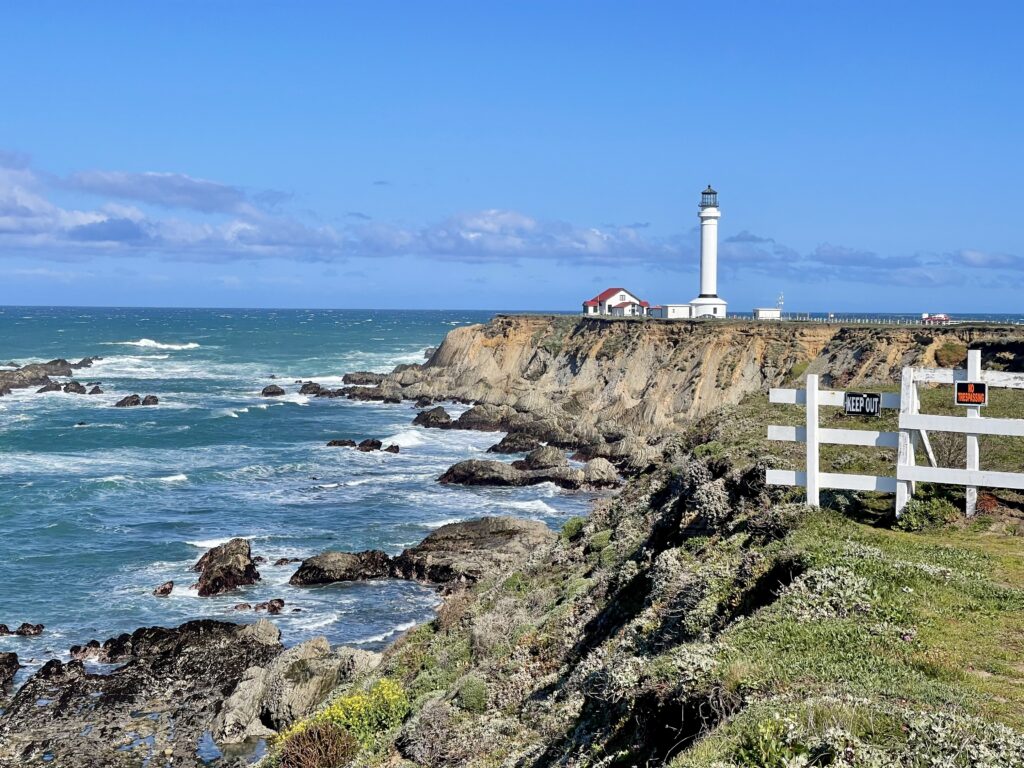 The drive was spectacular, and the views were out of this world. As Hwy-1 ended on the north side of the San Fransisco area, the cliffs seemed to drop even further. This last peek of the sea was so beautiful, and yes, the drop was so steep it made me want to throw up. I took this picture from the car window. I was thankful for the turn inland toward Napa! Our nerves were shot.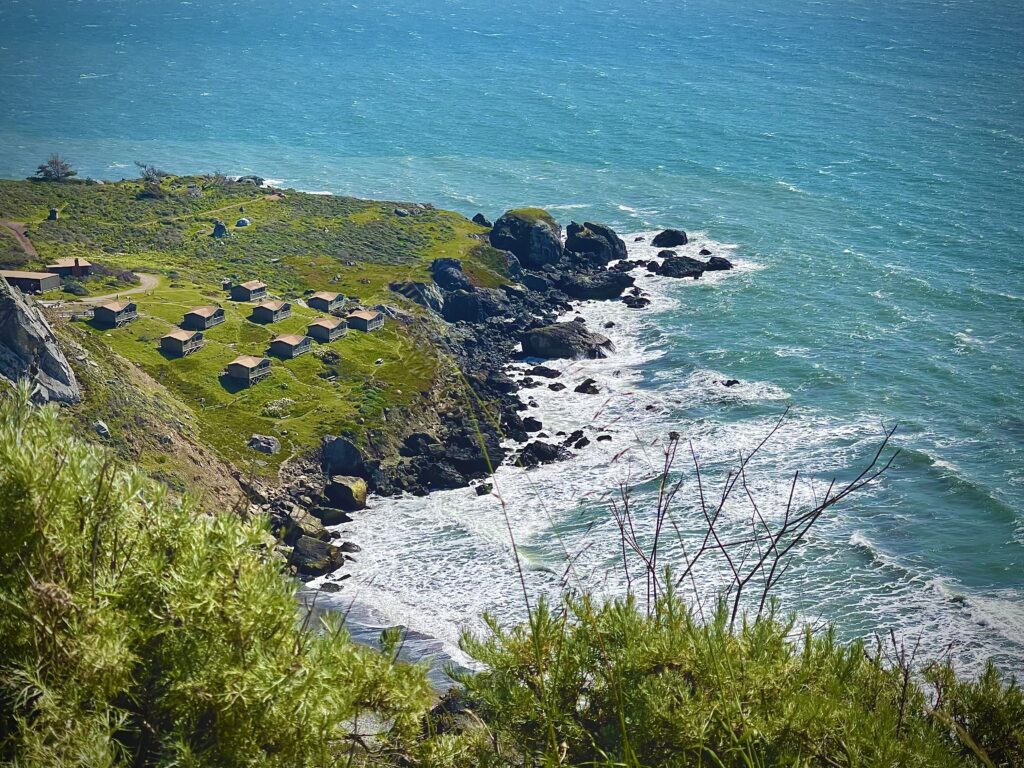 Using the Hotel Tonight app, I located this cool bed and breakfast within walking distance of downtown Napa.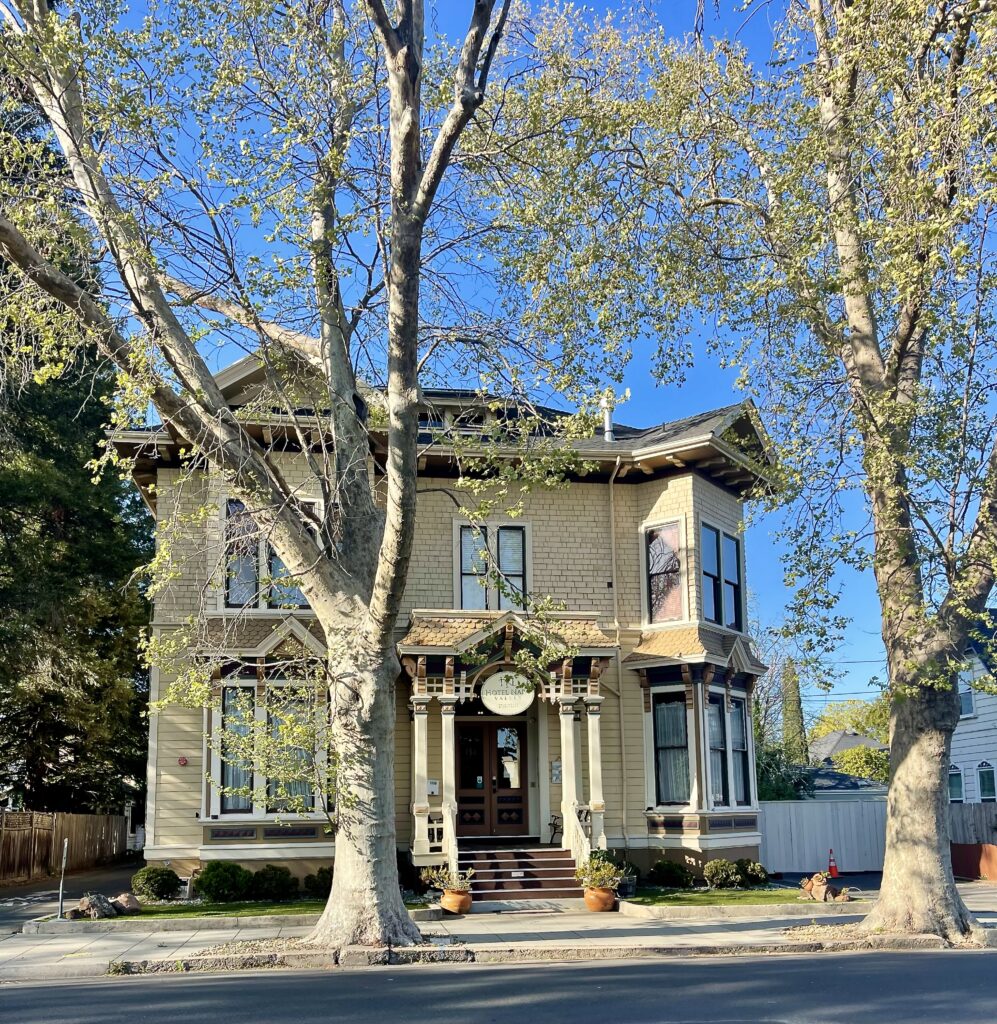 The Hotel Napa Valley was one of the oldest in town, and the lovingly cared-for inside showed it. Once again, you had to share a bathroom with your neighbor in some rooms. We were fortunate to have our own! The interior looked original, and the host was amazing. Breakfast included fresh muffins, fruit, and an egg and cheese souffle.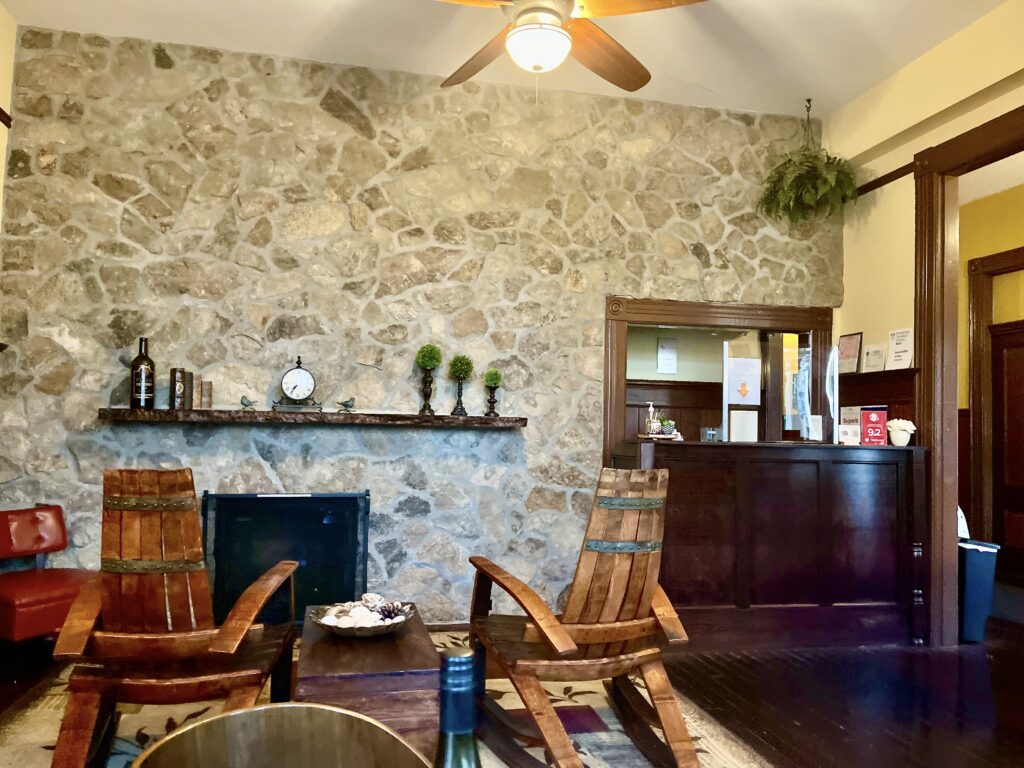 Of course, we had to explore Napa and check out the wineries…big mistake! We buy our wine at Aldi! Check out these prices. Four wine tasters for seventy-five dollars. Too Cheeky-Meeky for us.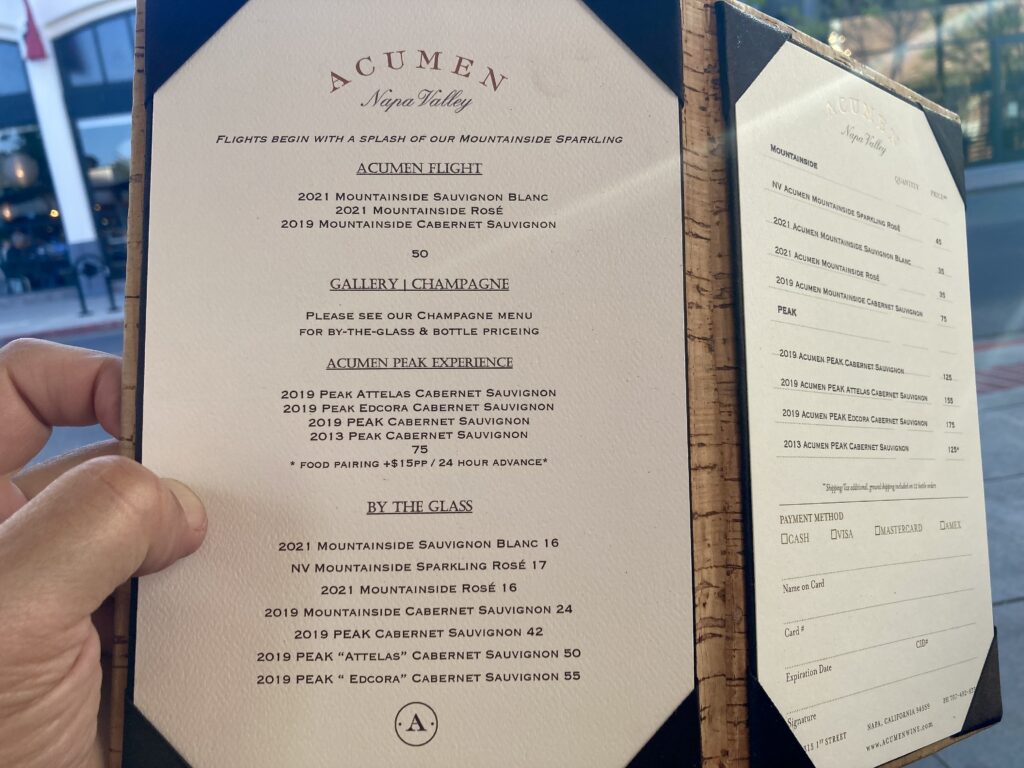 I'm sure you know which ones we settled for.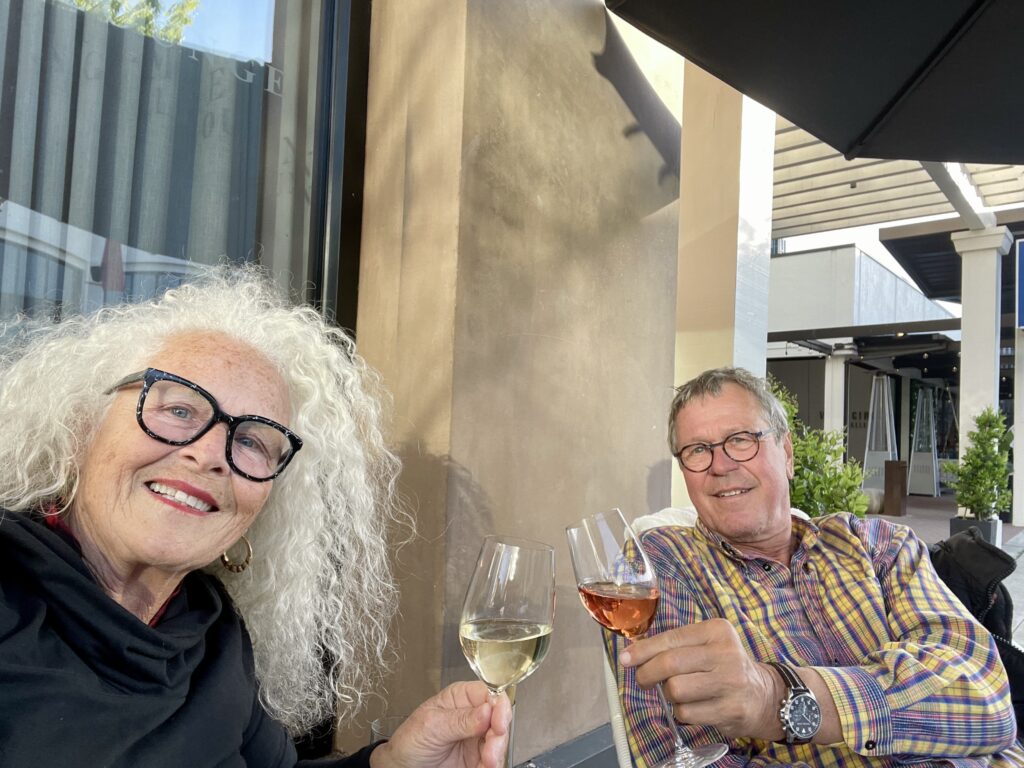 We'd never been to Lake Tahoe and decided to head out the next morning. It's one thing to hear about the major snowfall on TV and another to see it. This place was buried in it!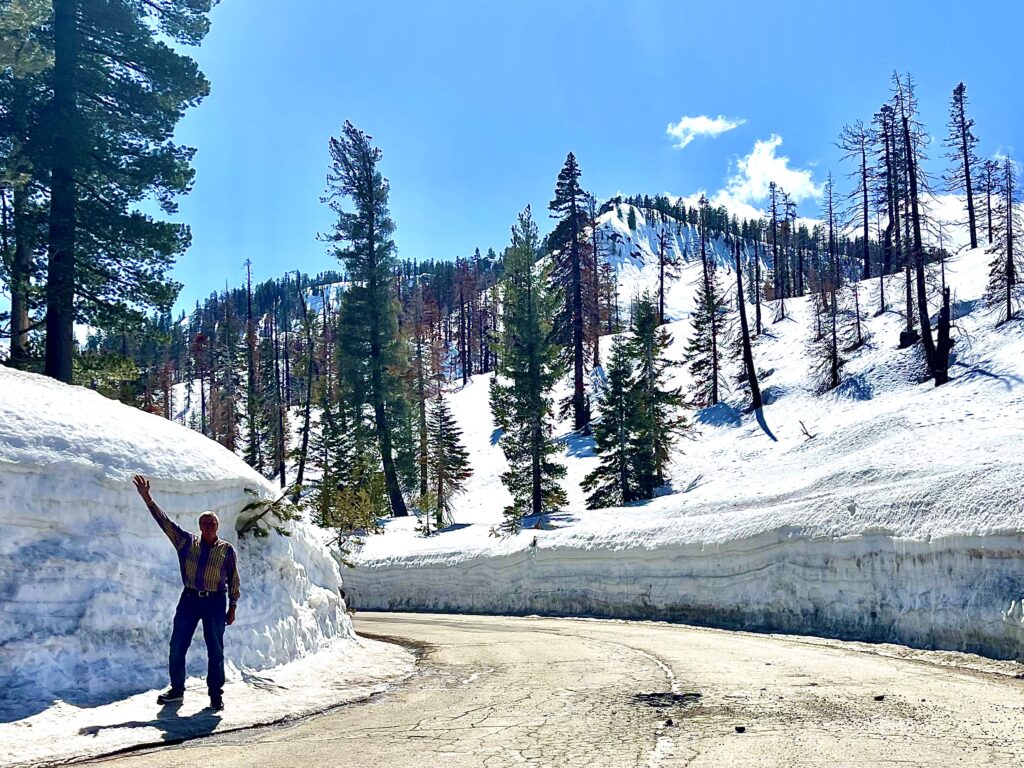 We found another super hotel in the city with my new app, and took a few hours to make a tour!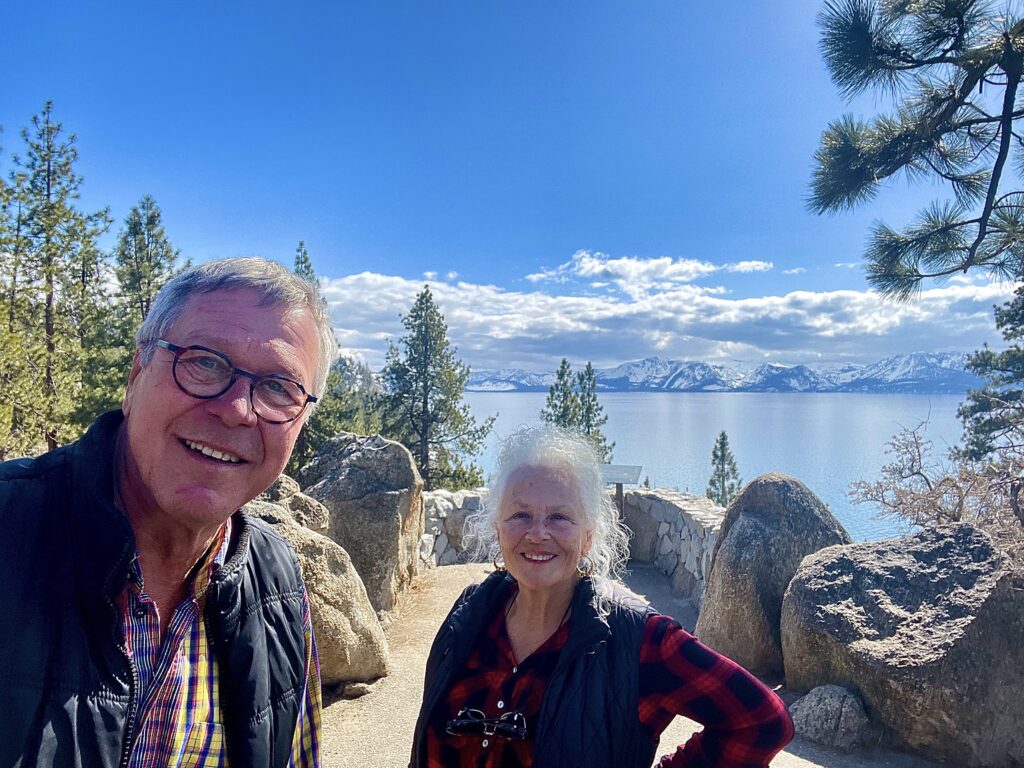 The road around the lake takes two and a half hours. We took the most scenic for an hour and then went back through a tunnel. This tunnel was once a sacred Native American cave until man turned it into a tunnel.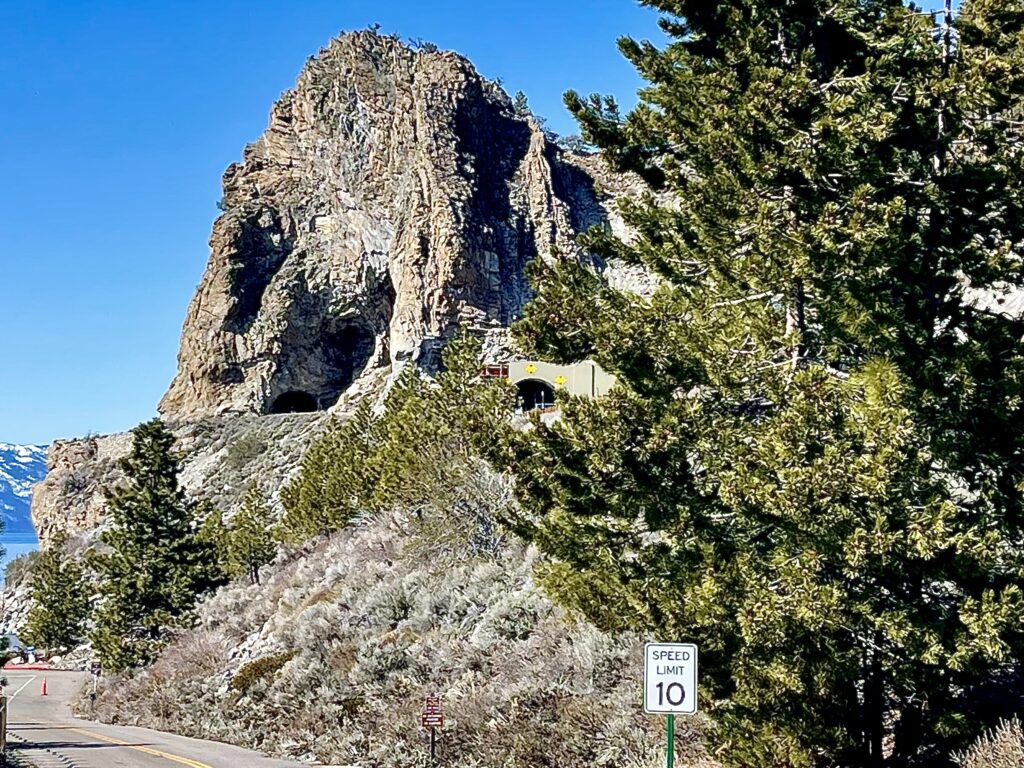 We hit the beach for a shot of the tour boat!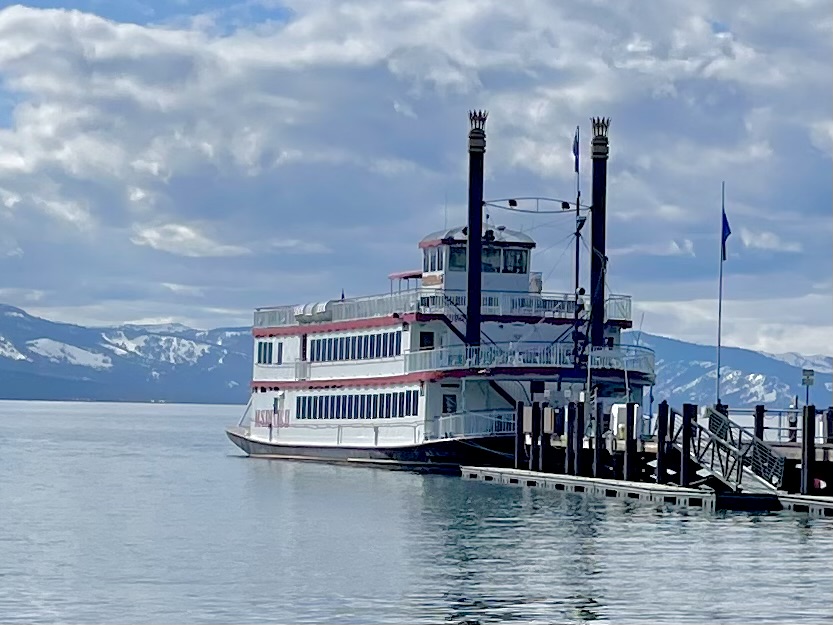 The next morning we were off and running down the back side of Tahoe and headed toward Lone Pine. Now this is a very interesting spot. "Who'd a thunk it!"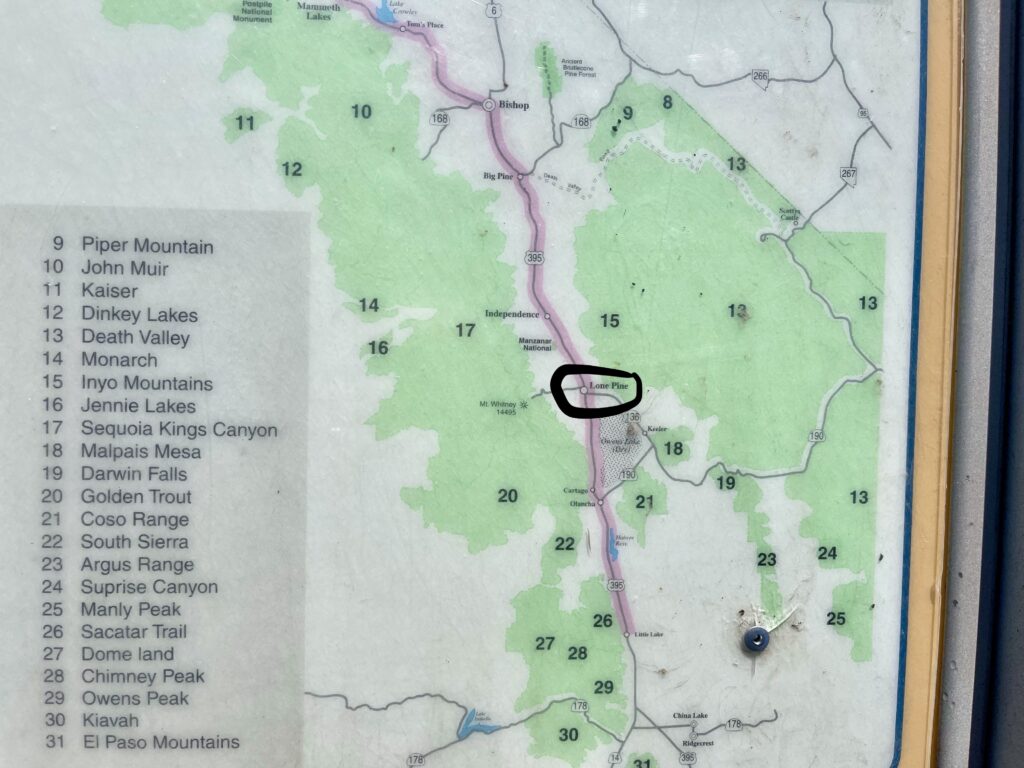 On our way, we stopped at Manzanar National Historic Site. This is where in 1942, 10,000 Japanese immigrants were housed as a result of the bombing of Pearl Harbor. What a site! It was such a reminder of how prejudice was dealt with at this time, yet many were American citizens. It seems today; nothing much has changed except increased discrimination and more violence.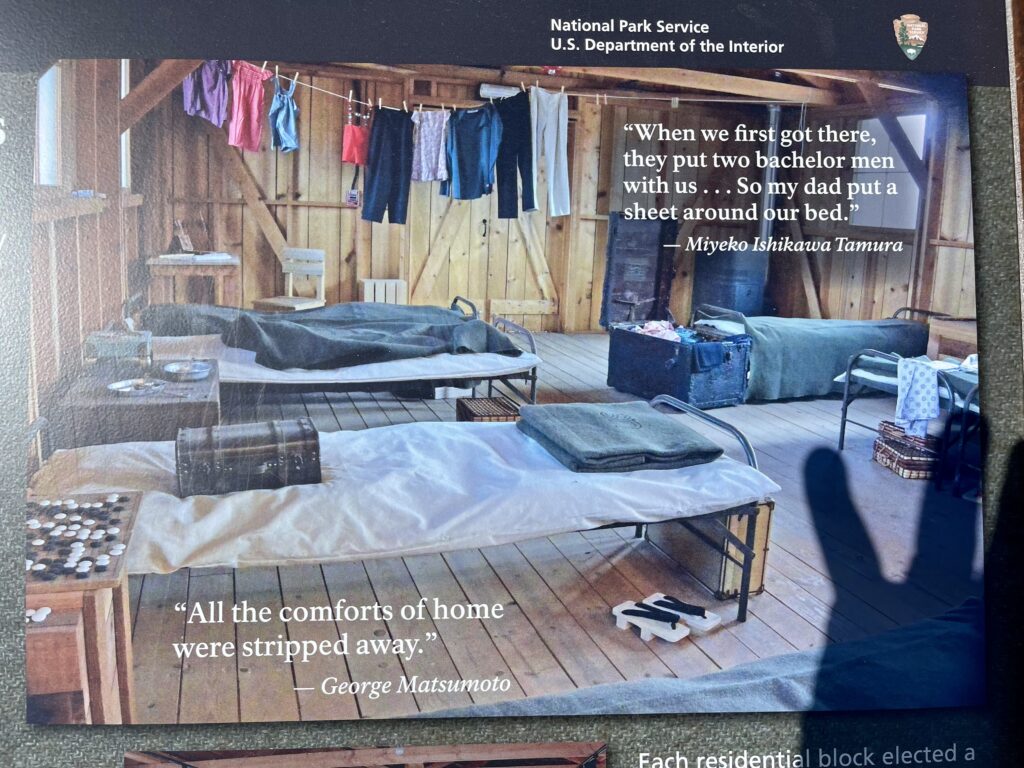 Arriving in Lone Pine later that day, Hotel Tonight came through again, and I believe this hotel, The Dow Villa, was also one of the original in town during the 1800s. It housed all the actors who came to film some of my favorite movies.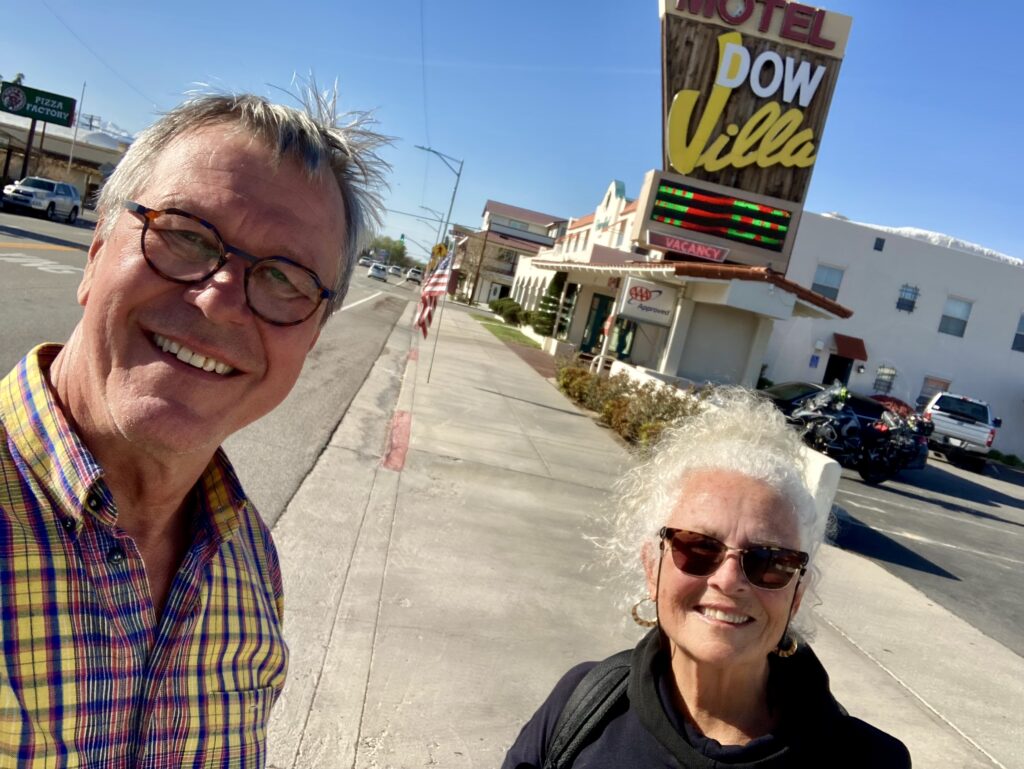 Shared bathrooms were available, but we preferred our own! This picture is then…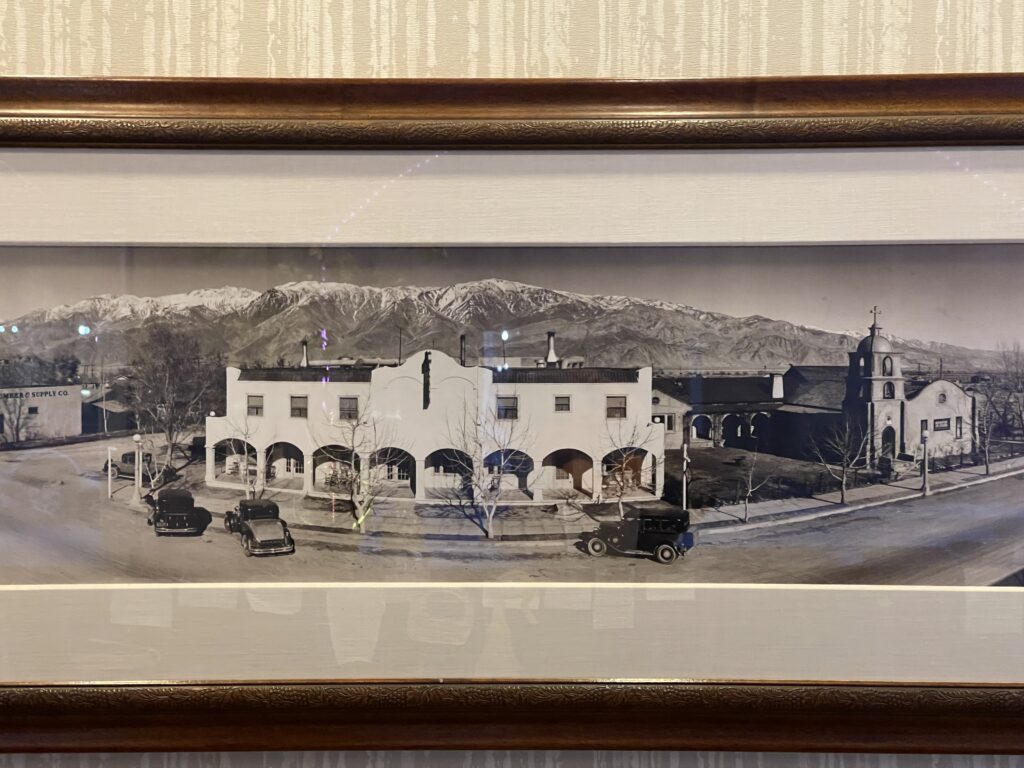 This is now!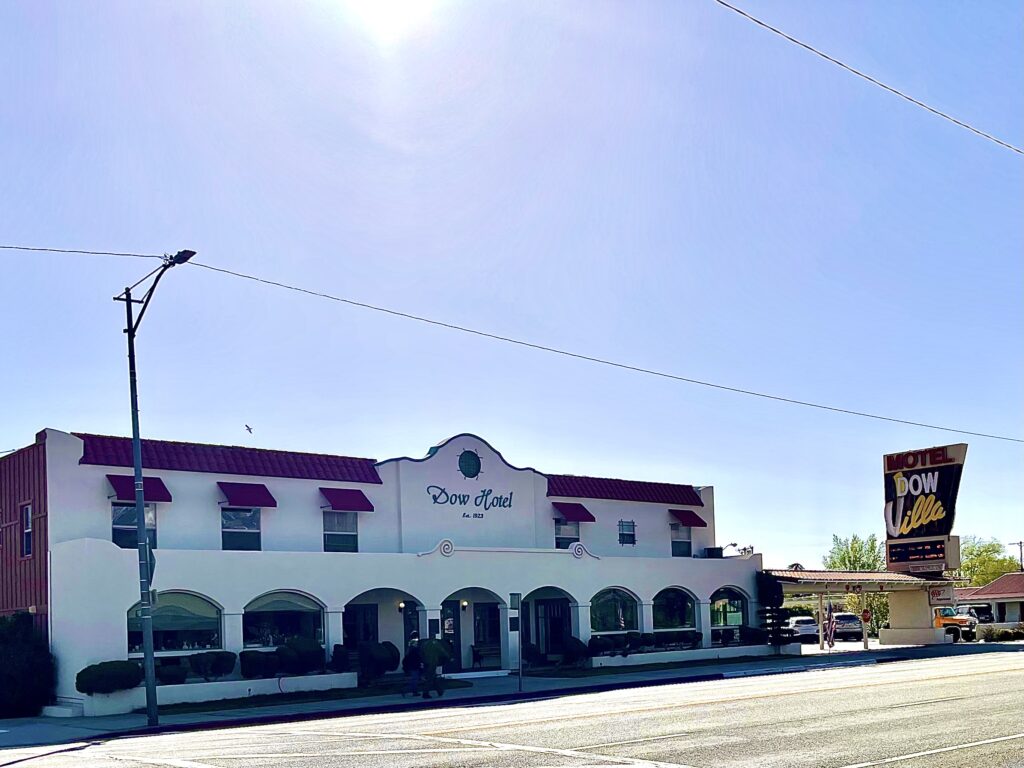 The coolest thing about Lone Pine is that it is where many of my cherished childhood movies were filmed, and the museum in town told the story!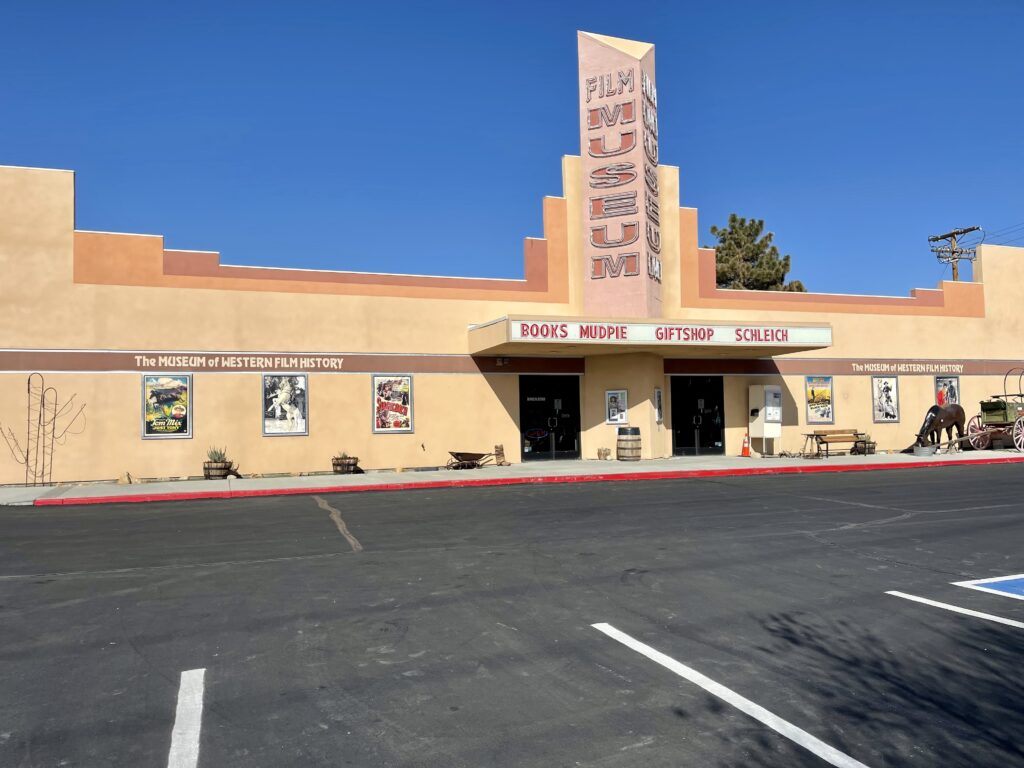 Roy Rogers & Dale Evens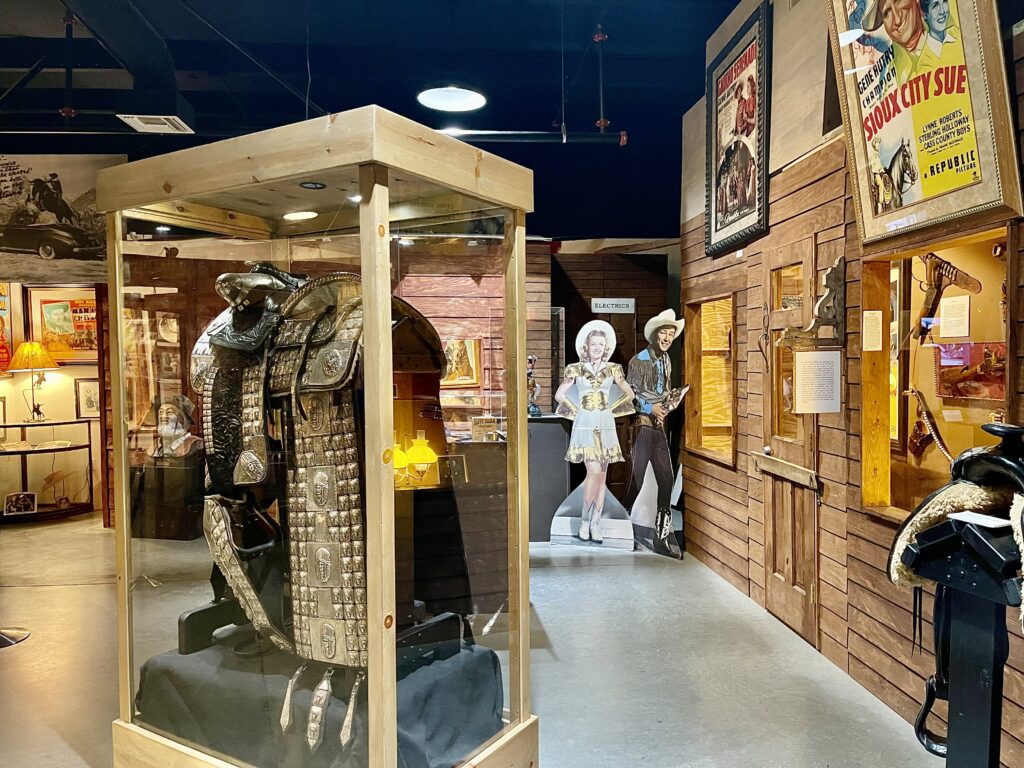 Even Hopalong Cassidy was filmed in the area.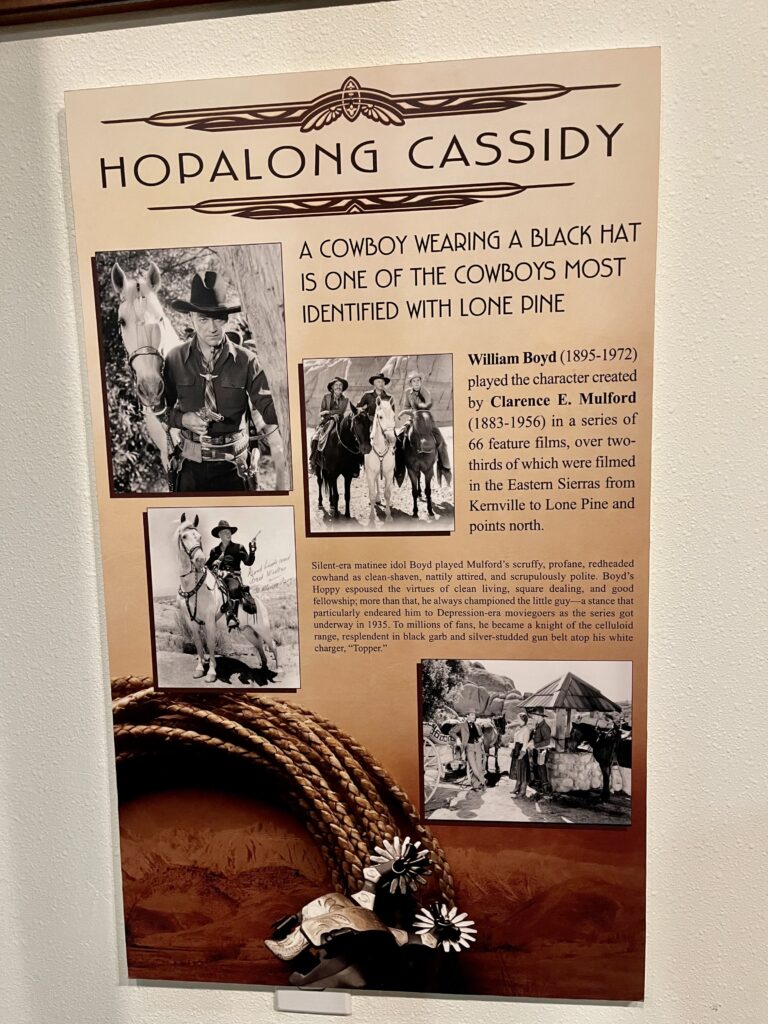 It was such a cool display of old movie paraphilia from the early years of soundless movies to one of today's hits, Django!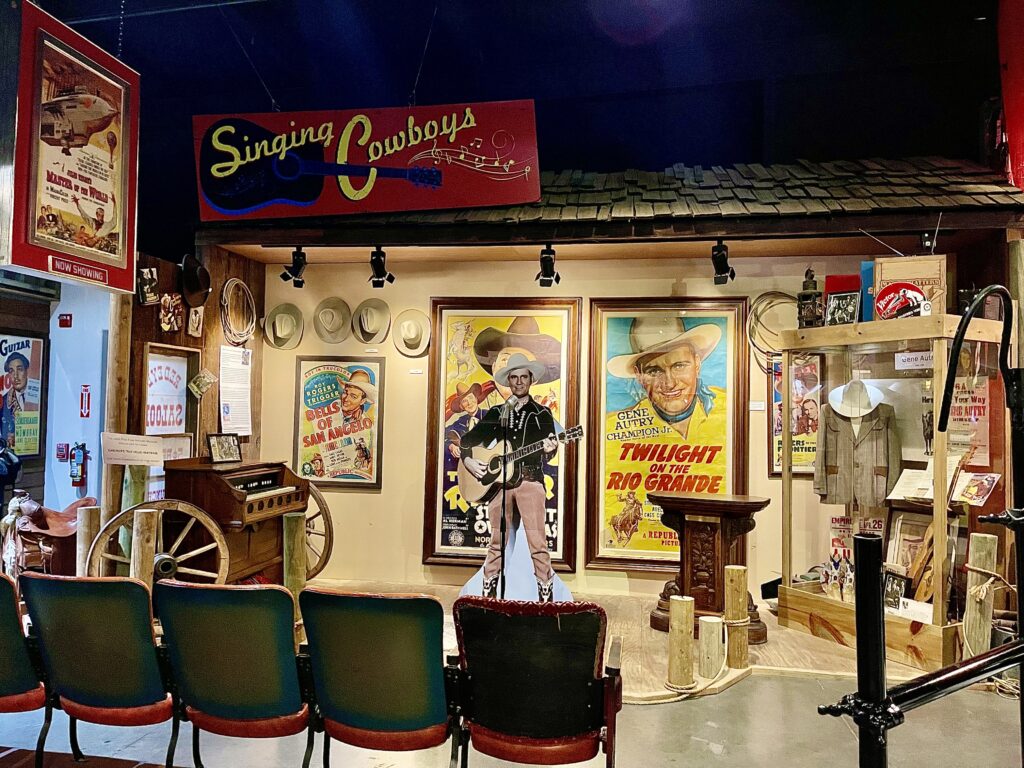 We took off after breakfast and explored Death Valley. The 27-mile oneway pass, Titus Canyon, was closed due to the floods and rain. I rode through it with my family as a child and still remember the experience. I so wanted Lutz to take the drive with me once again. Looking back, it sure deserves its name, Death Valley.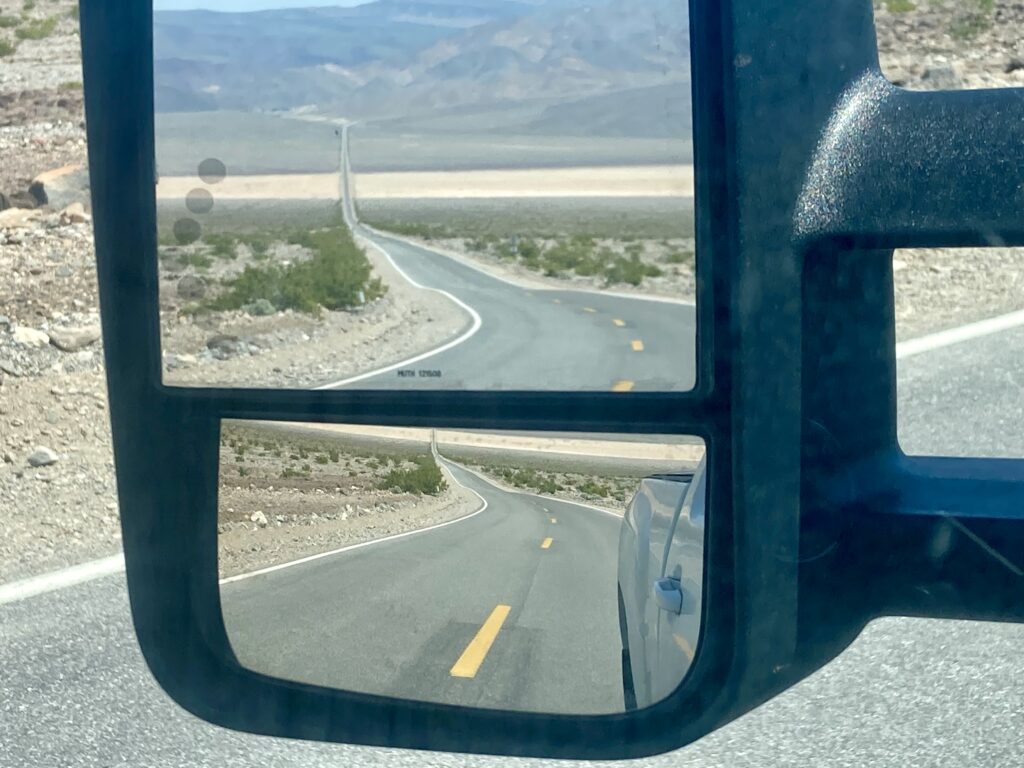 Maybe we can drive through Titus Canyon next year, but the Borax site still exists.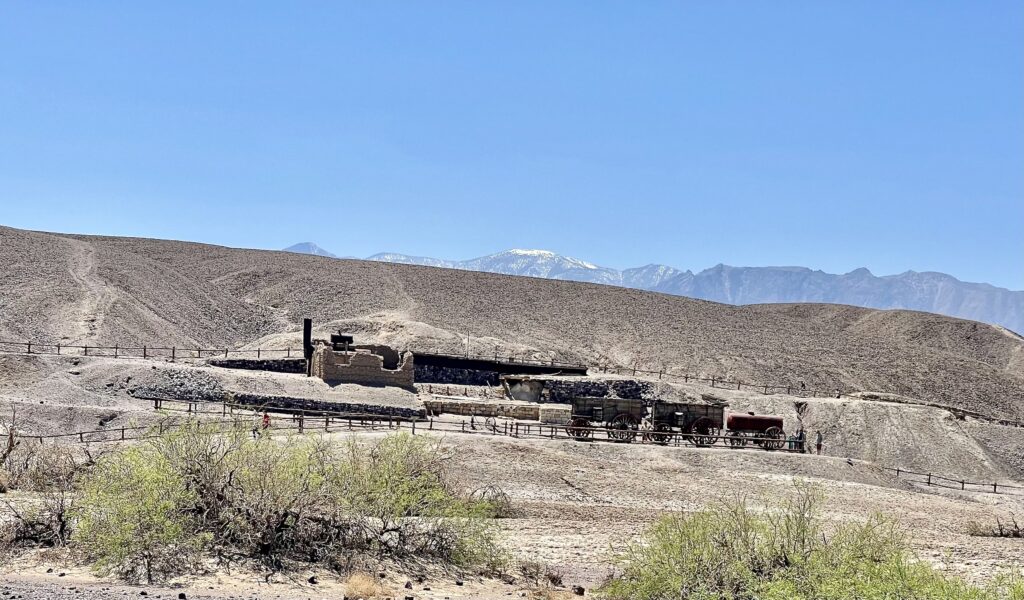 We needed to keep moving on! We were on a mission to get to Springdale, Utah, to meet up with my childhood friend, Jennifer, whom I've known since I was twelve, and her husband, Steve. They were coming over from Colorado. We tried to visit Zion in the USA three times and committed this time. No hotels were open except this one outside Death Valley Park, which looked a little suspect! It housed the Amargosa Opera House at one time. There wasn't anything else around.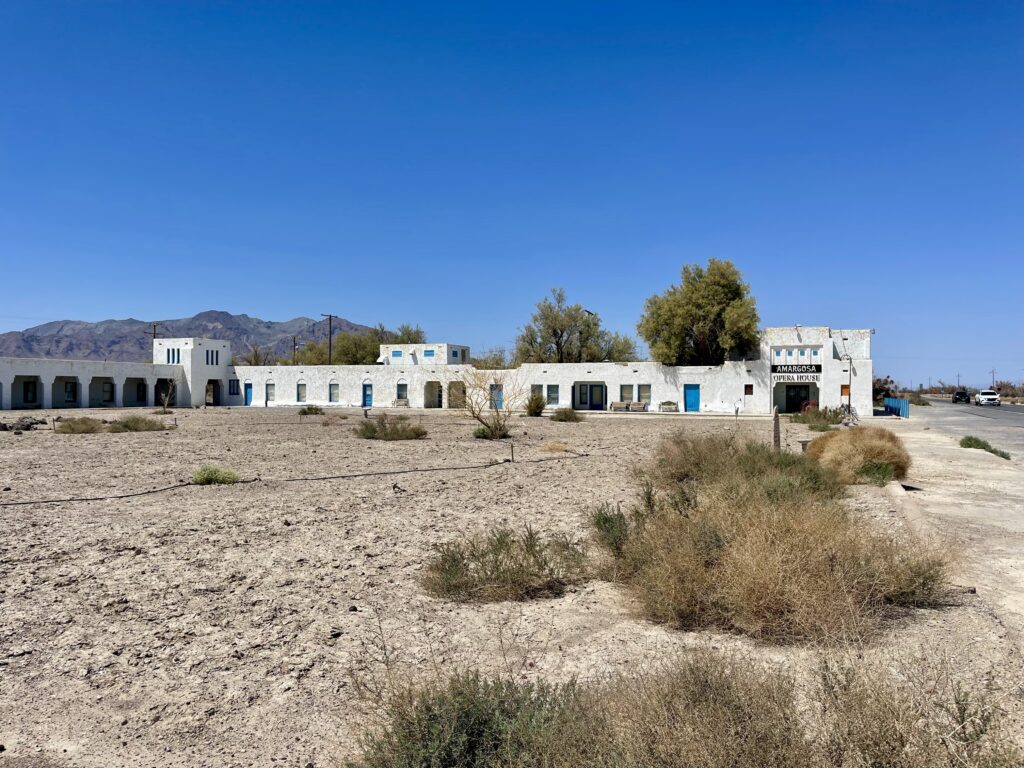 We made a mad dash through Las Vegas without stopping. We stayed at a casino on the outskirts of Las Vegas. The most interesting thing we saw as we drove through the city was this incredible RV and truck. This thing was crazy! We thought our rig and truck were huge.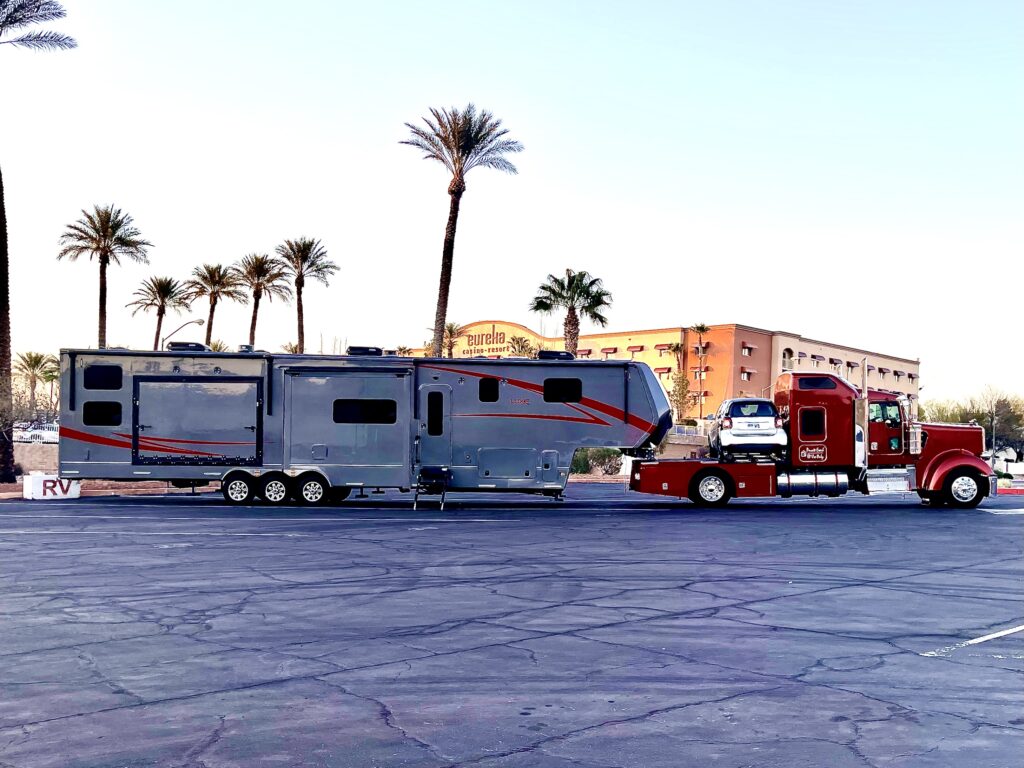 The next morning we headed to Springdale, Utah. The drive was spectacular.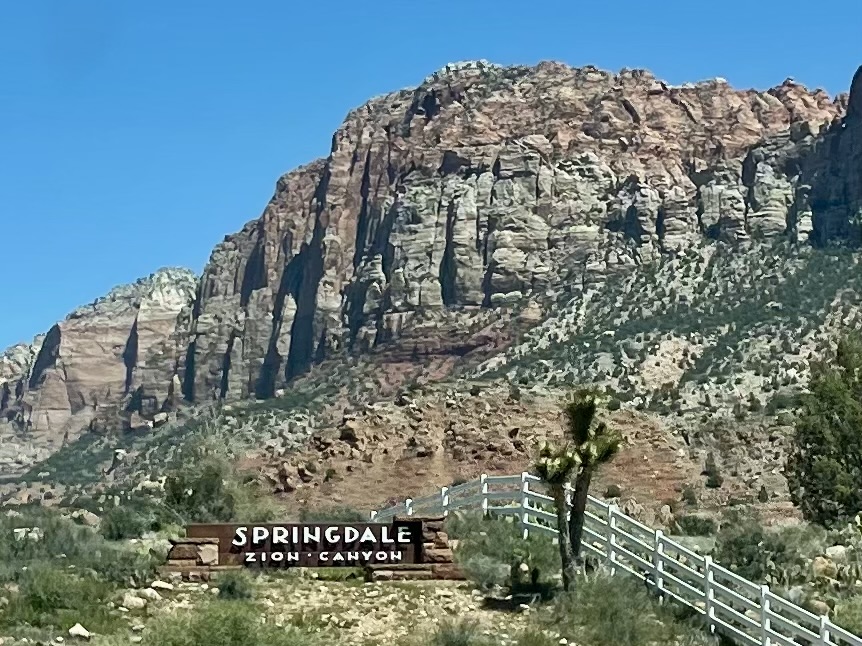 We pulled into our hotel, unpacked, and had a nice cool drink on our balcony with the best view of the illumined Zion mountains!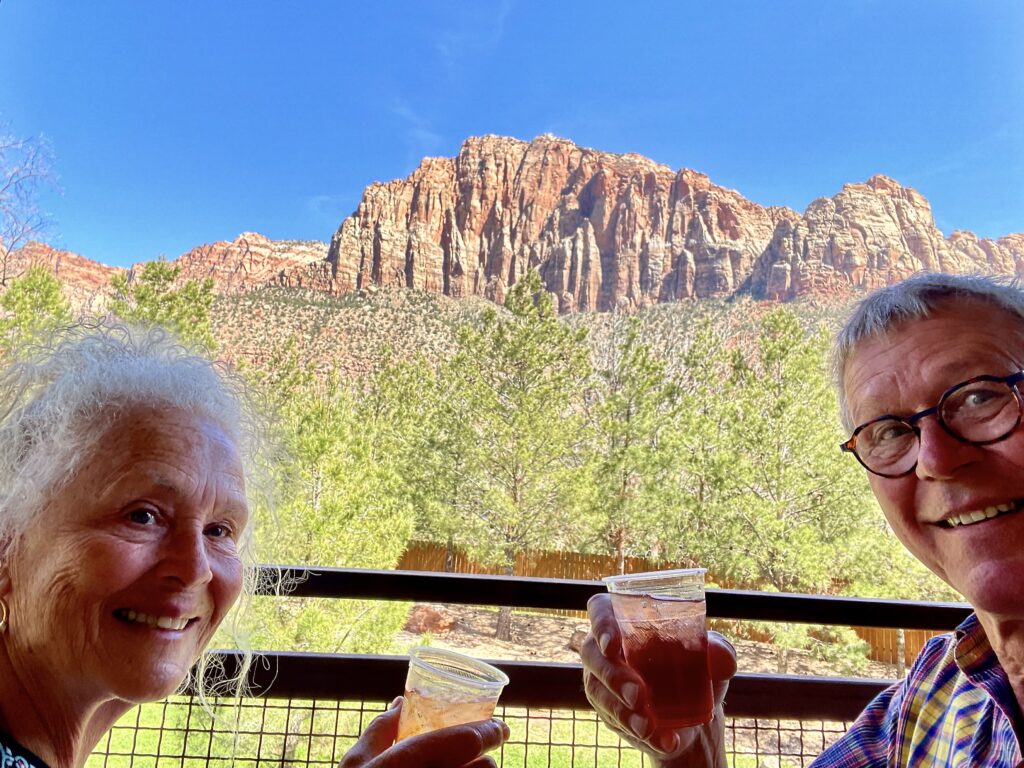 That evening Jenny and her husband Steve showed up. What a fabulous three days. Just incredible.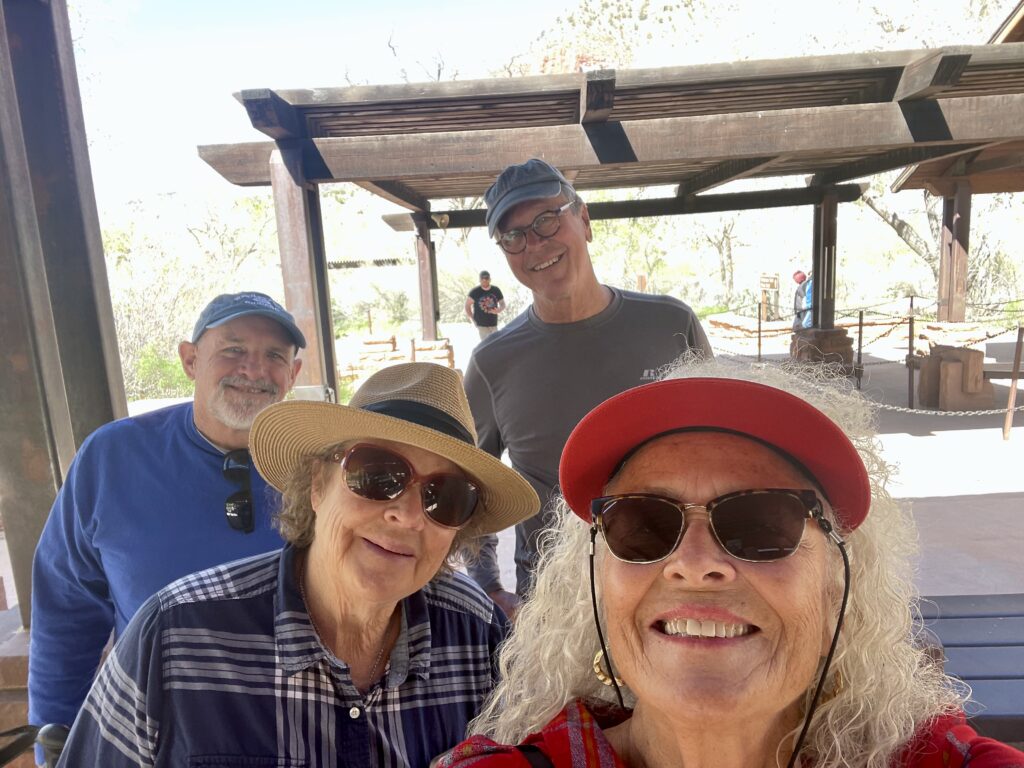 We spent the greater part of two full days walking the canyon and taking it all in.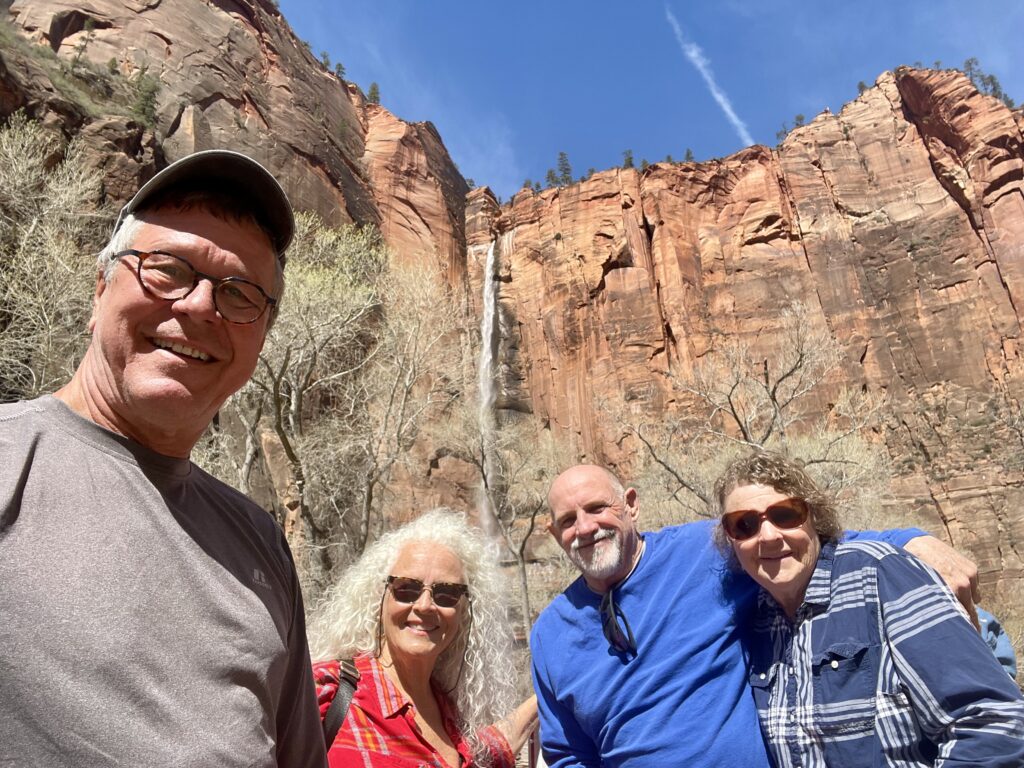 Even though we all suffer from knee and leg challenges, the paths were super.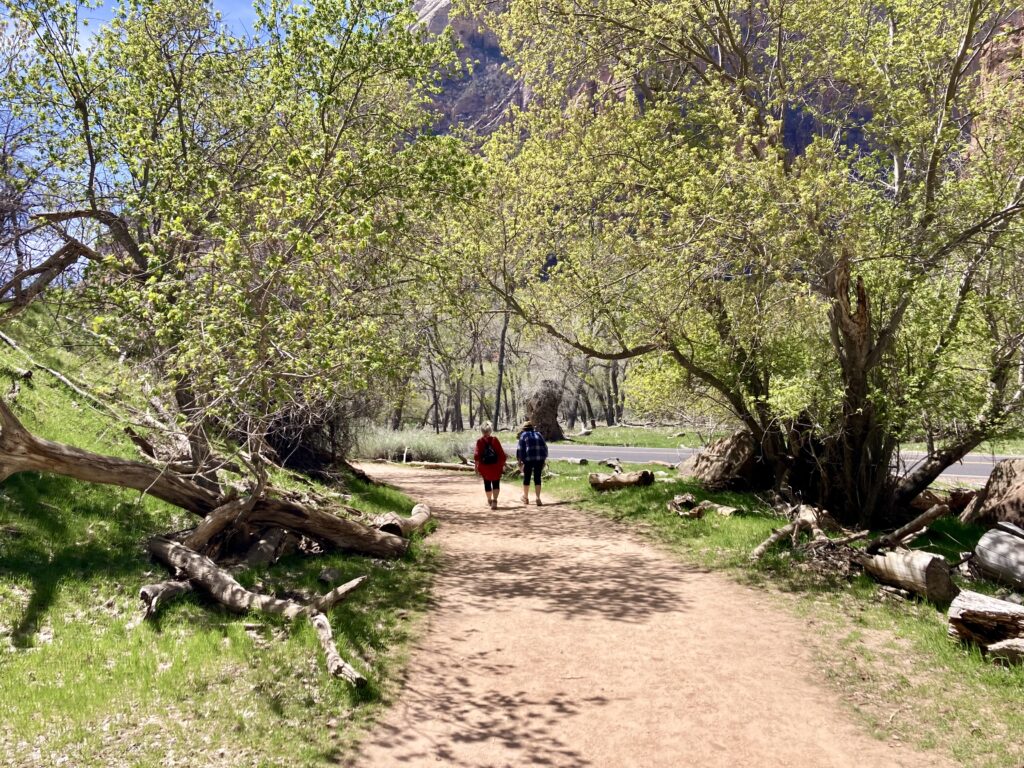 Even Steve, with his foot brace, and Lutz, with his bad knee, enjoyed the easy walks through the canyons.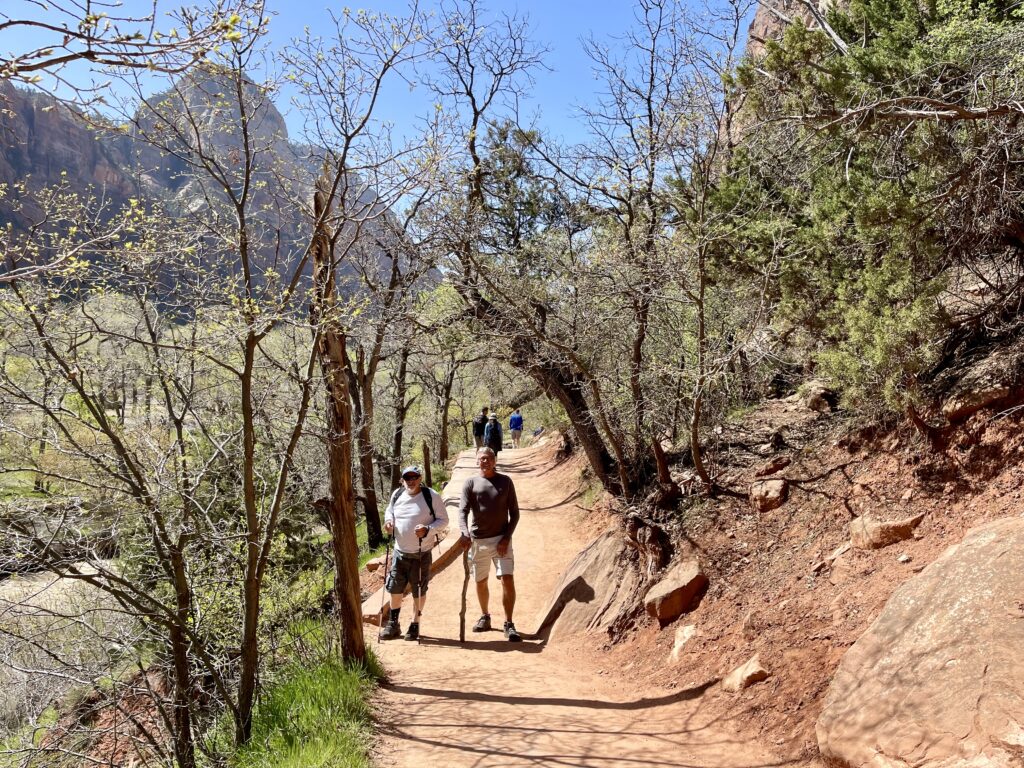 We scored big the last night with a super meal at Oscar's in town. It was delicious, and they had gluten-free options. It was a real treat to see Jenny and Steve and catch up. We made plans to hook up each year. I'm crossing my fingers they will be with us in Germany in April 2024! We are all planning as I type.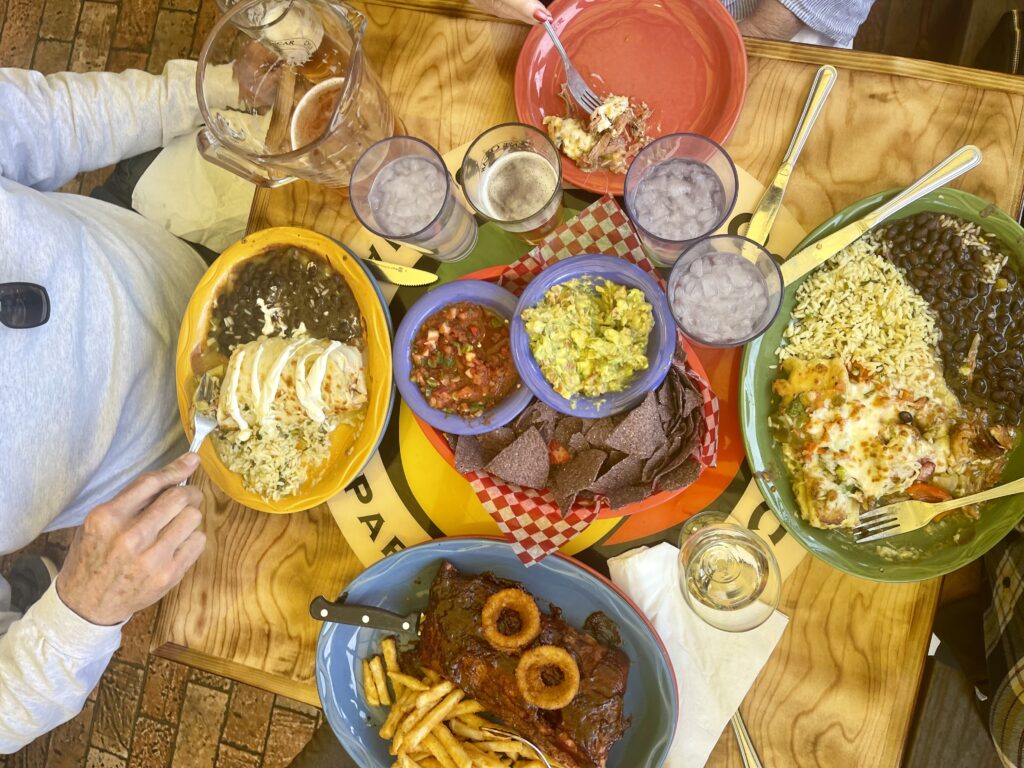 The next morning we were on a mission. Of all things, my dear friend Tanja and her husband Sven from Germany were doing a crazy semi-worlded tour. They were in Santa Monica, California, and we just happened to be heading back to San Diego, so heck yes! We haven't seen them for ten years and are hooking up in the USA! We drove straight through and spent the night at the same hotel! It was so crazy. We made plans for them to visit us in September in GERMANY.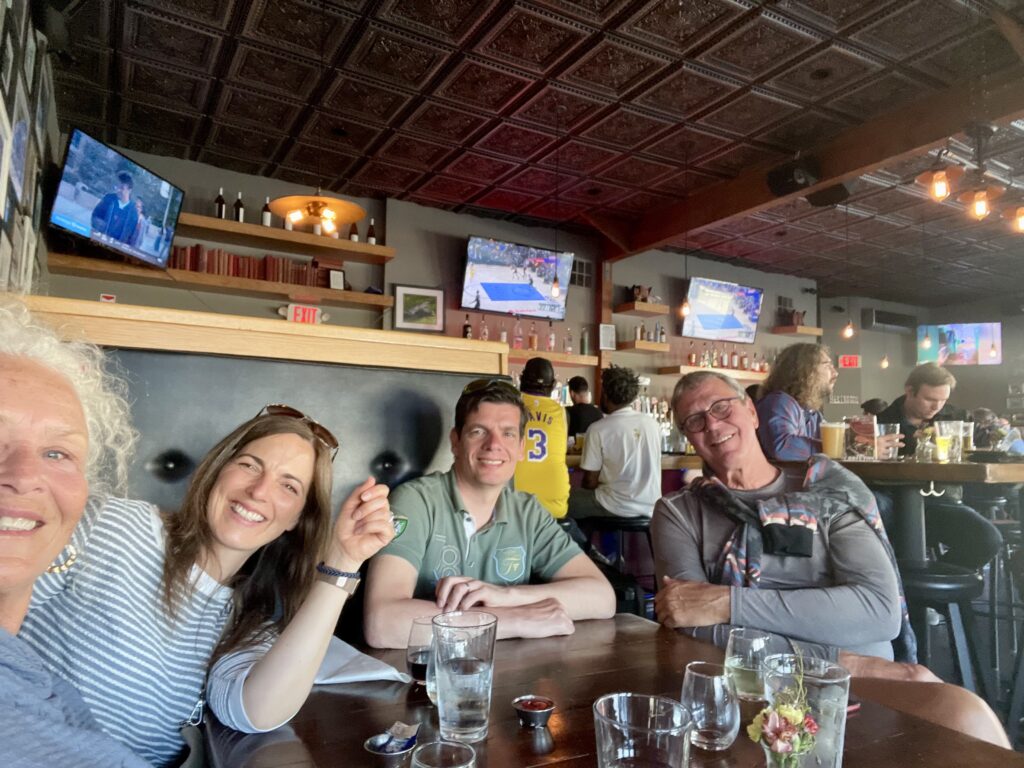 We got up early to say our goodbyes and check out Santa Monica since it was my old stomping ground. Not only was I born there, but my dad was a Lifeguard for LA County Guards, and we spent all summer on the beach.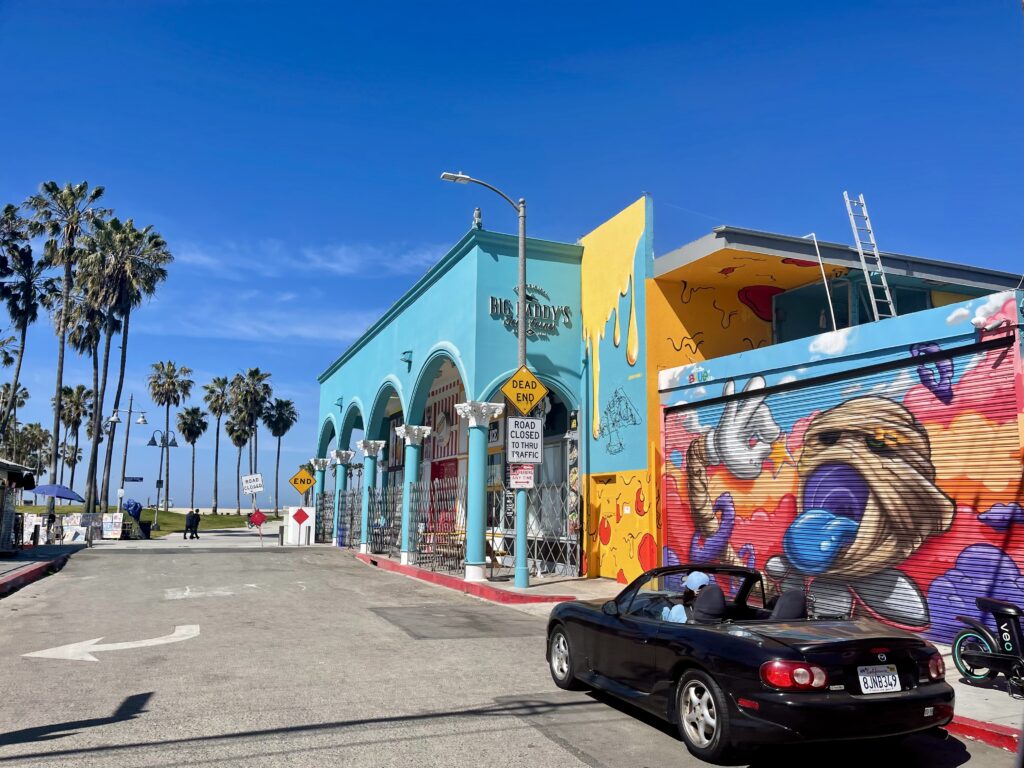 I wish we had more time so we could take a  dip! The sun was out, and it was warm, finally! Who knows, that could have been one of my dads' towers!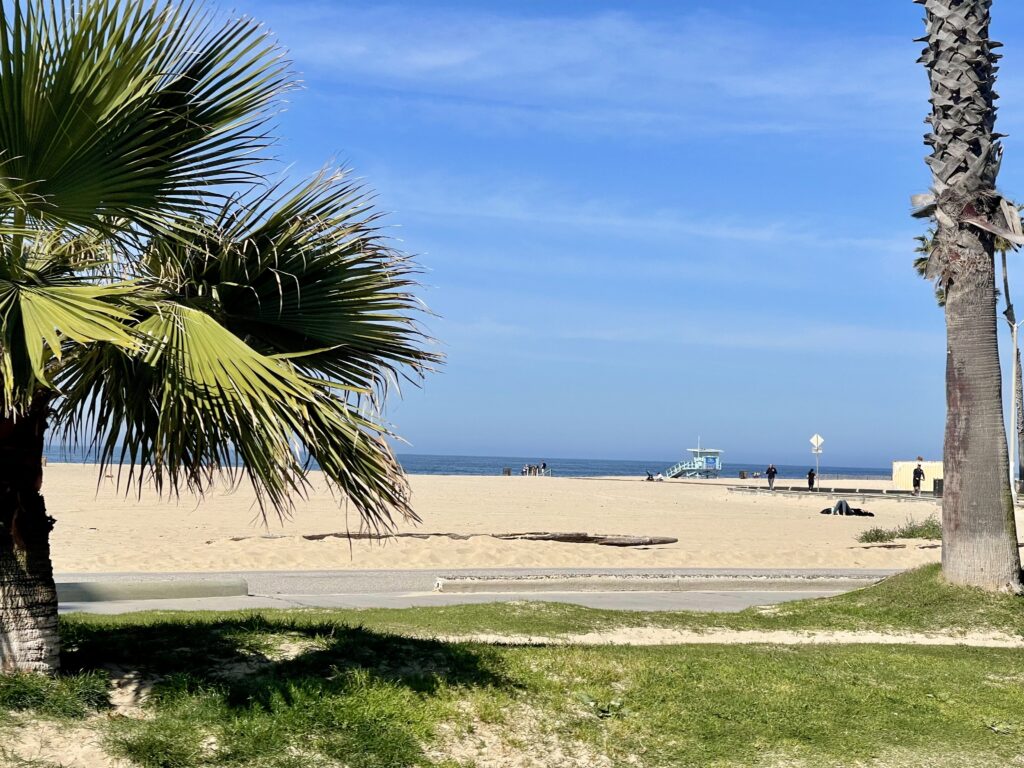 You either love this place…or hate it! I love it! I find it unique, and today with the sun…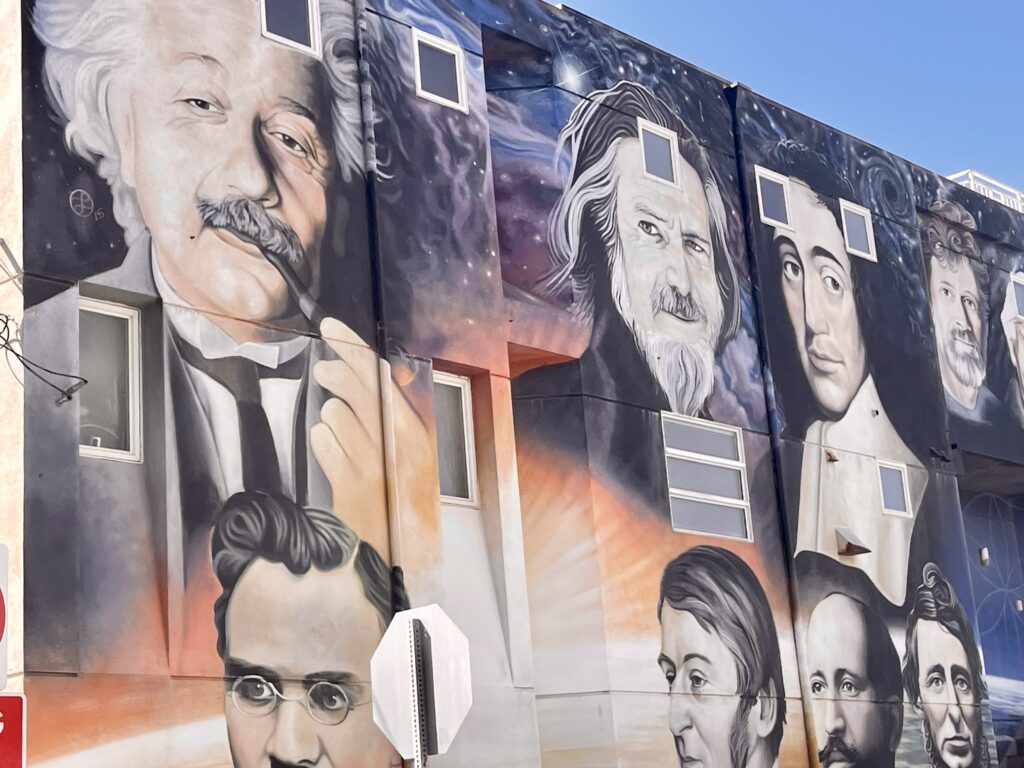 We made super driving time to San Diego and spent the last four days of our trip with my daughter, her husband, Albert, his whole family, and my grandchildren, Ruby and Eva.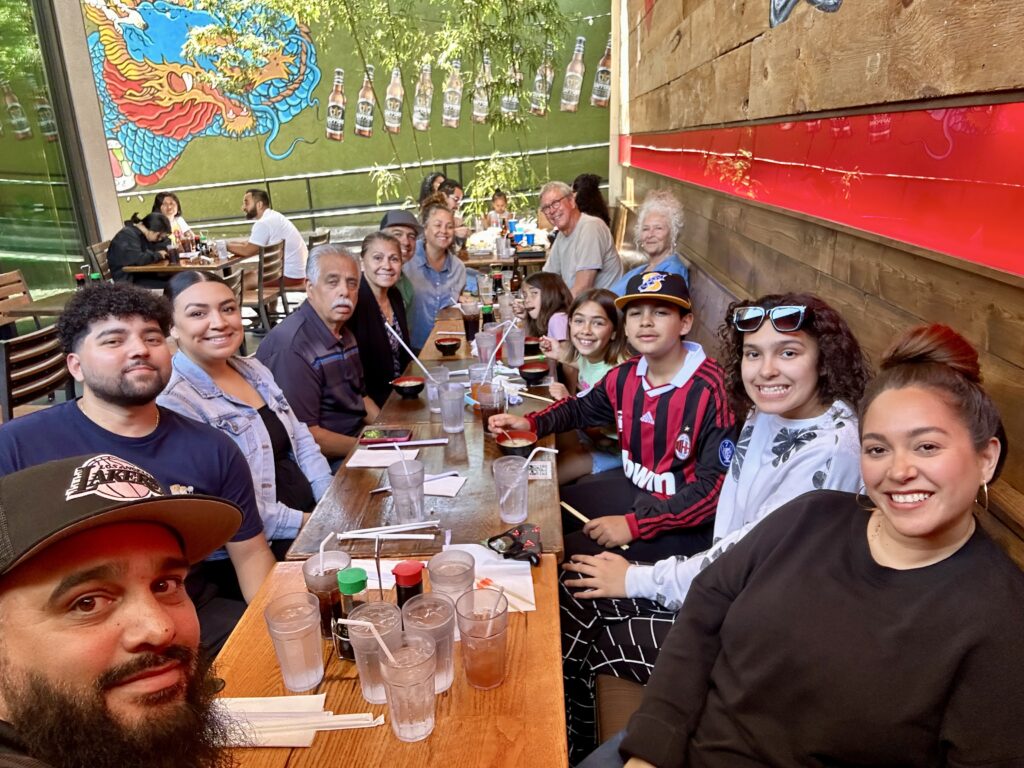 We took a day to roller skate and…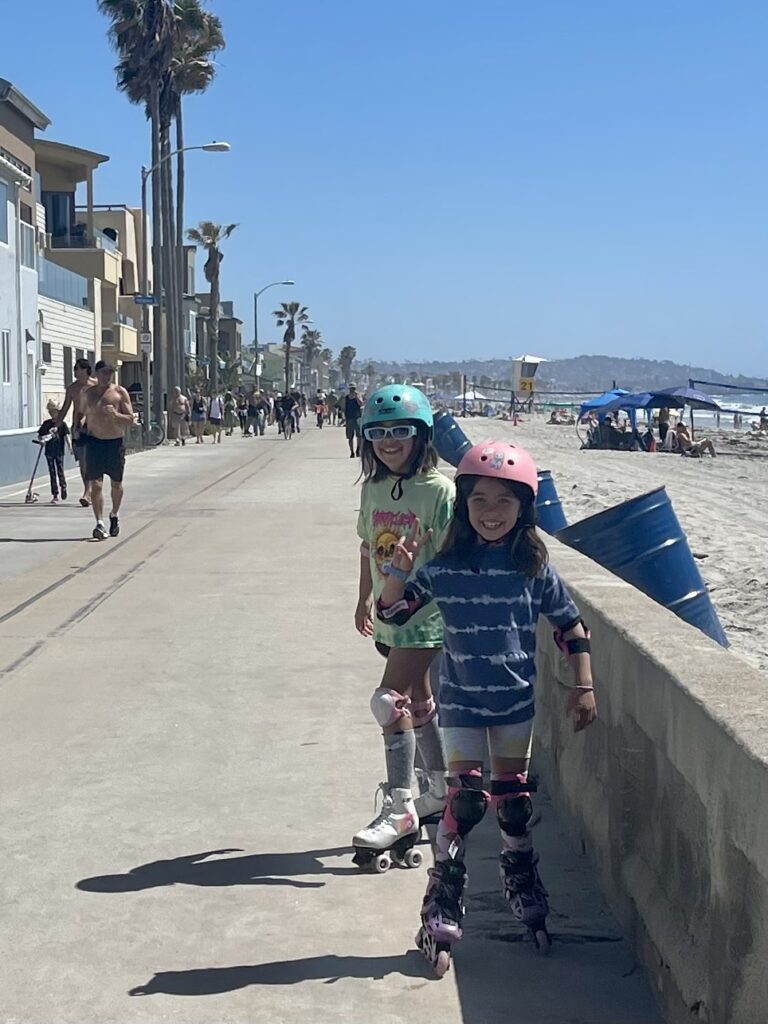 Swim,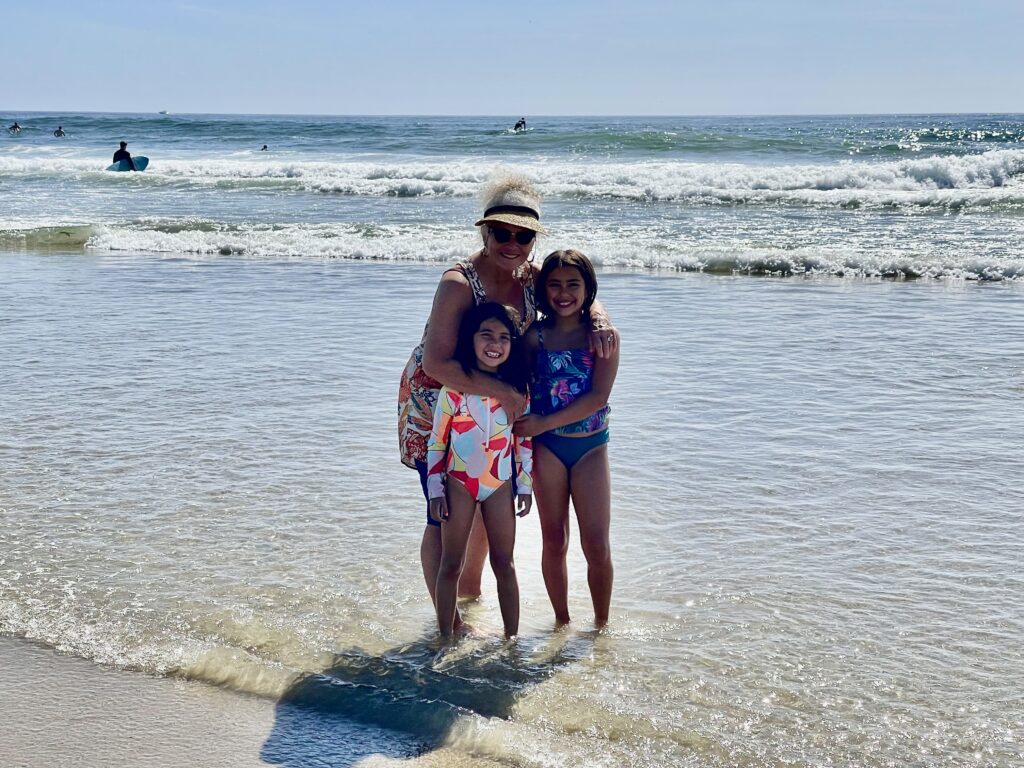 On the last day, we headed to Belmont Park in Pacific Beach.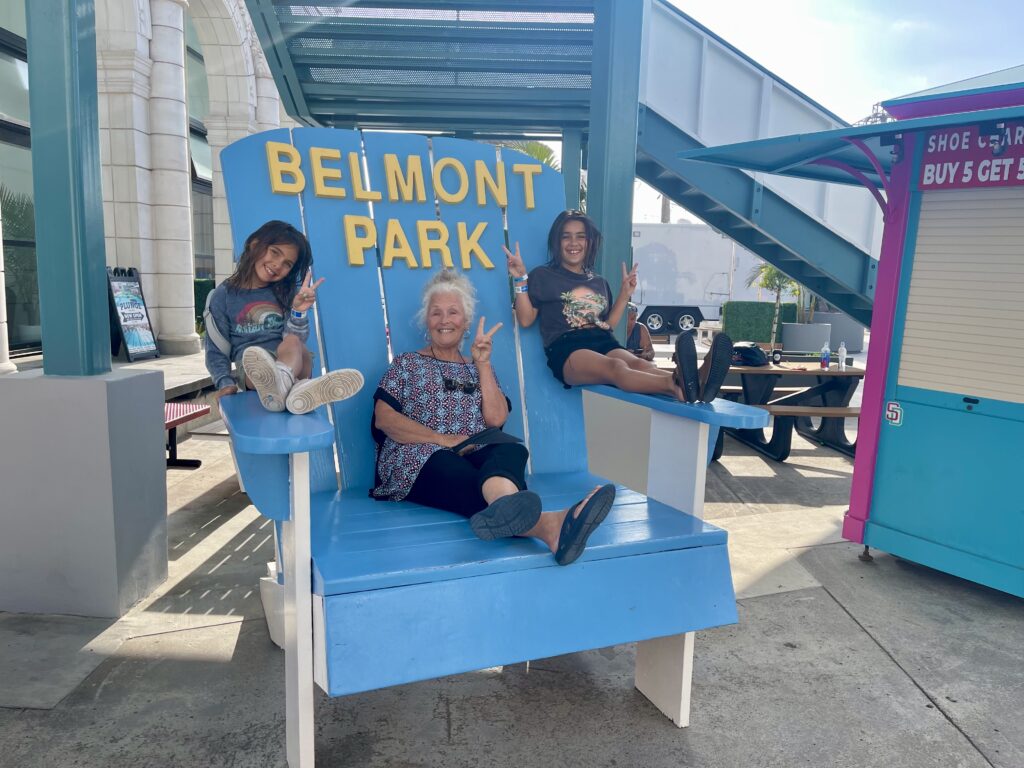 This was the coolest park, and Eva mastered wall climbing.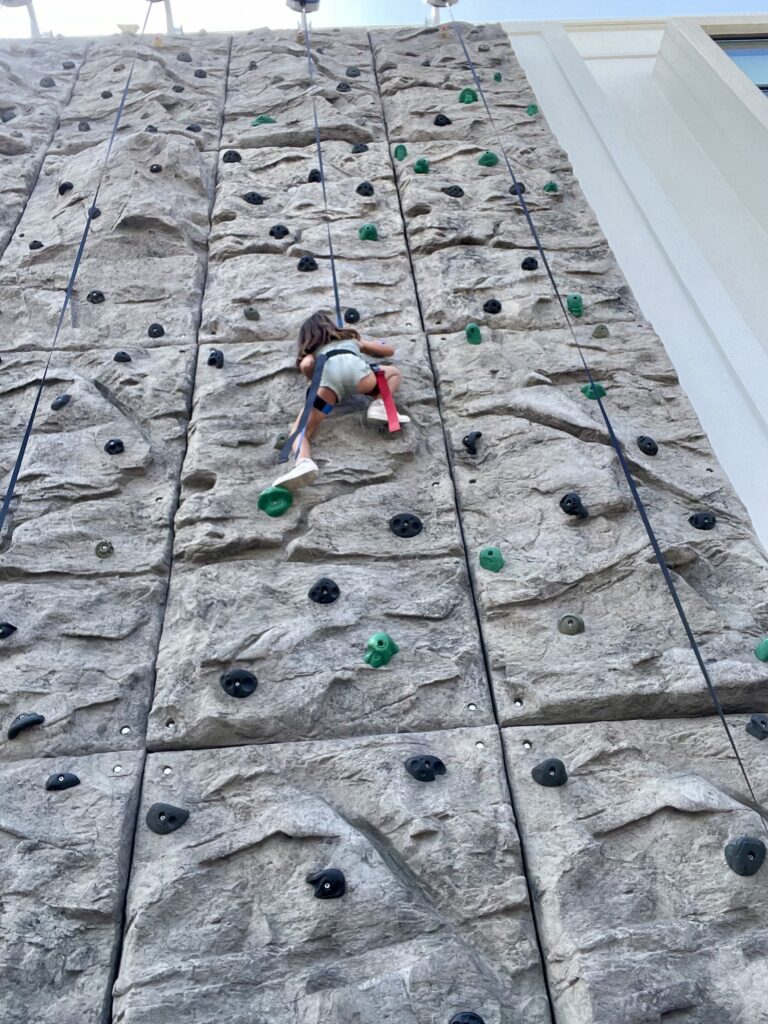 Ruby mastered driving upside down.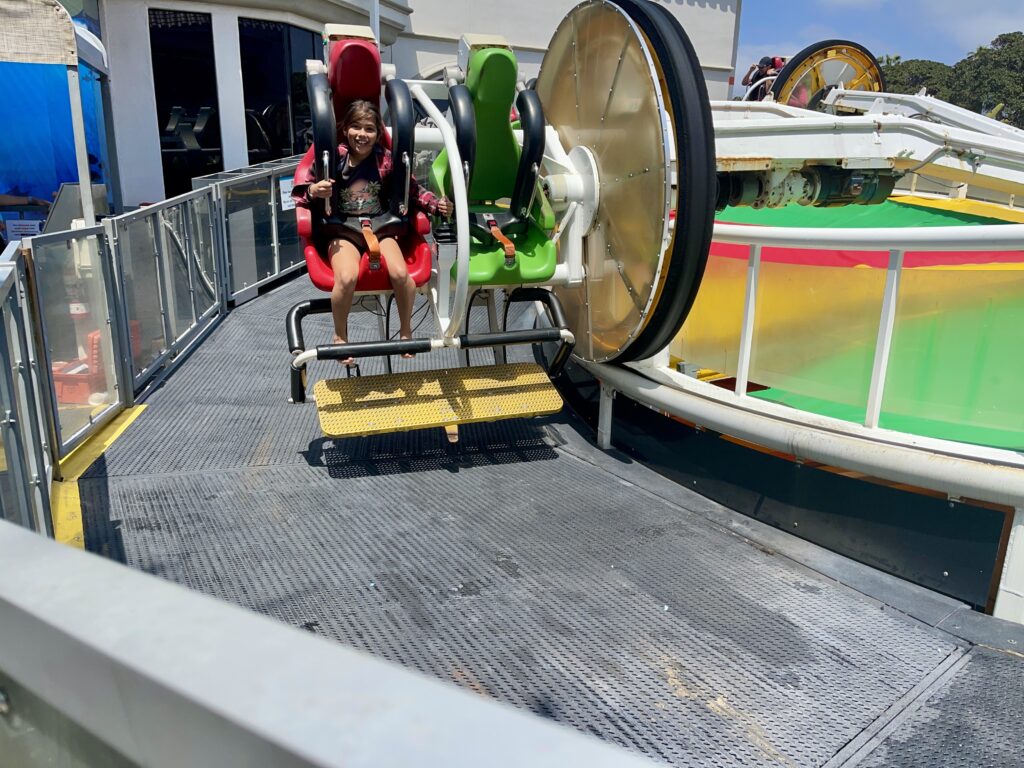 And Lutz mastered his fear of roller coasters thanks to Ruby…yes, they were in the front!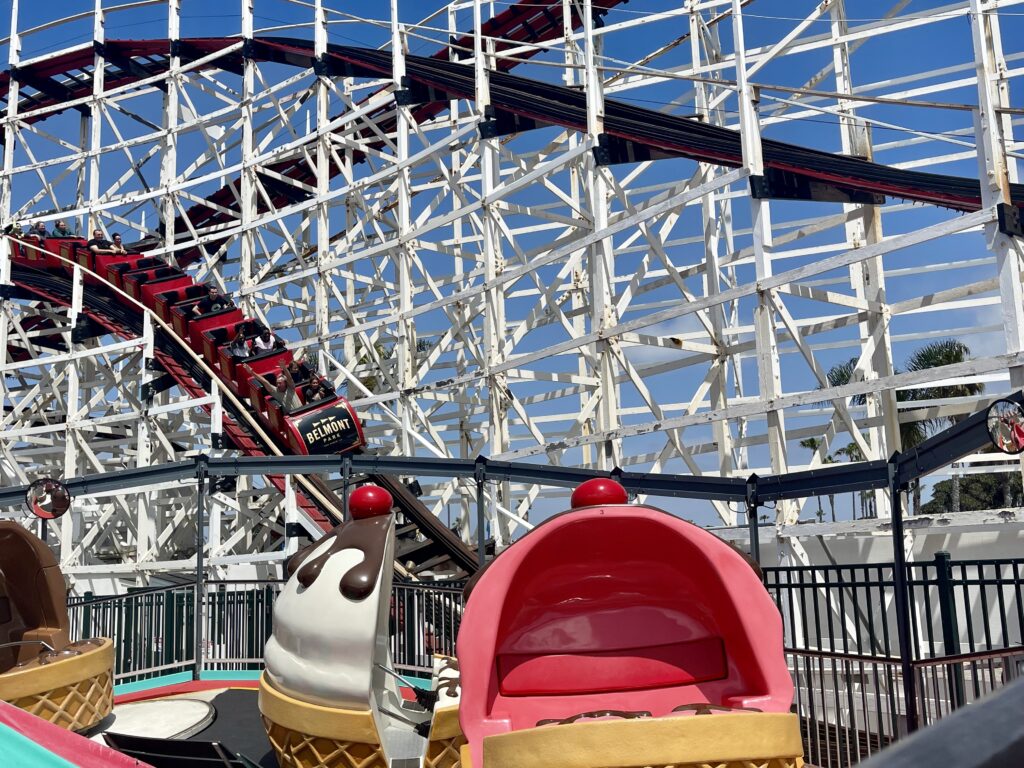 And Eva helped Opa master his fear of heights (almost).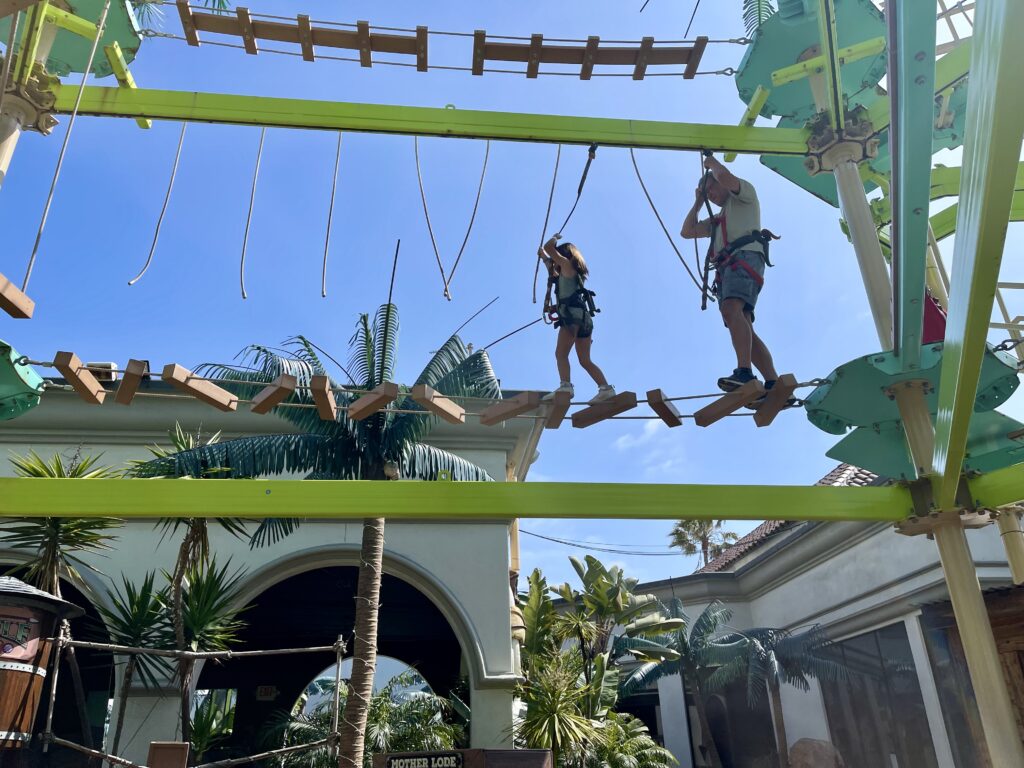 They even spent an hour in this obstacle swimming pool.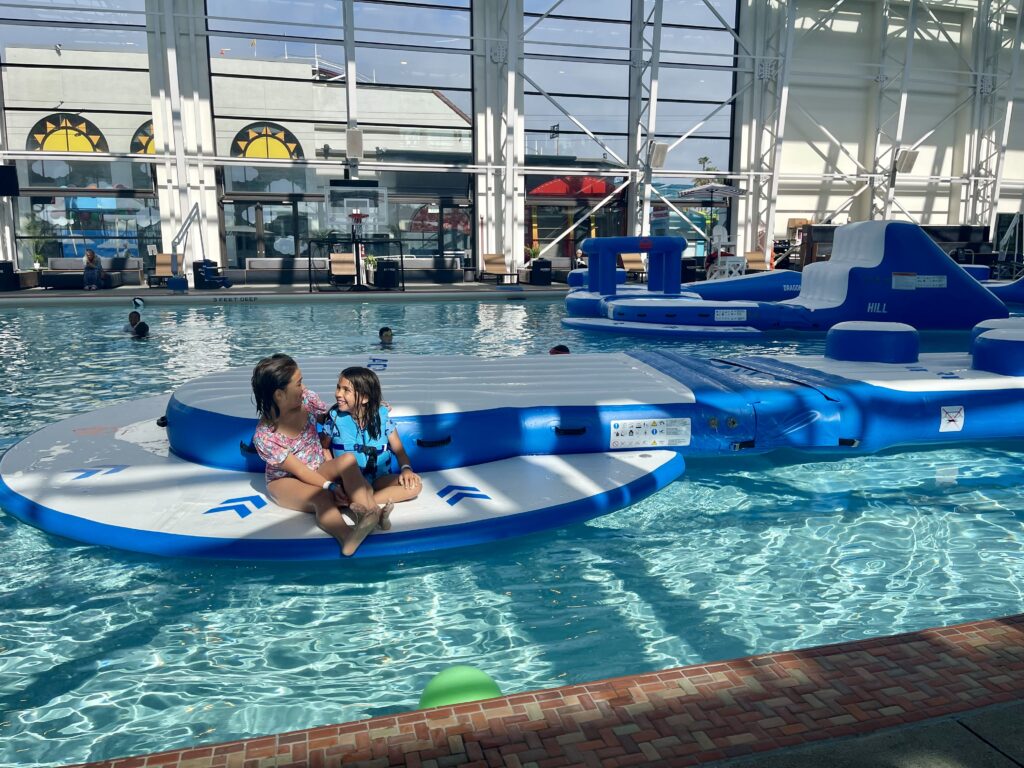 During our four days in San Diego, we visited CarMax to see what they would give us for Johnny! We had been trying to sell our truck for a week but had no luck. Johnny was a gem, a 6.6-liter 8-cylinder diesel, 90,000 miles, and a 2009-year-old Chevy Duramax LTZ. We were shocked when they offered us a bit more than we expected, that's right! Going, going, gone! Sad to see him leave, but we "cashed in everything," and we're not looking back.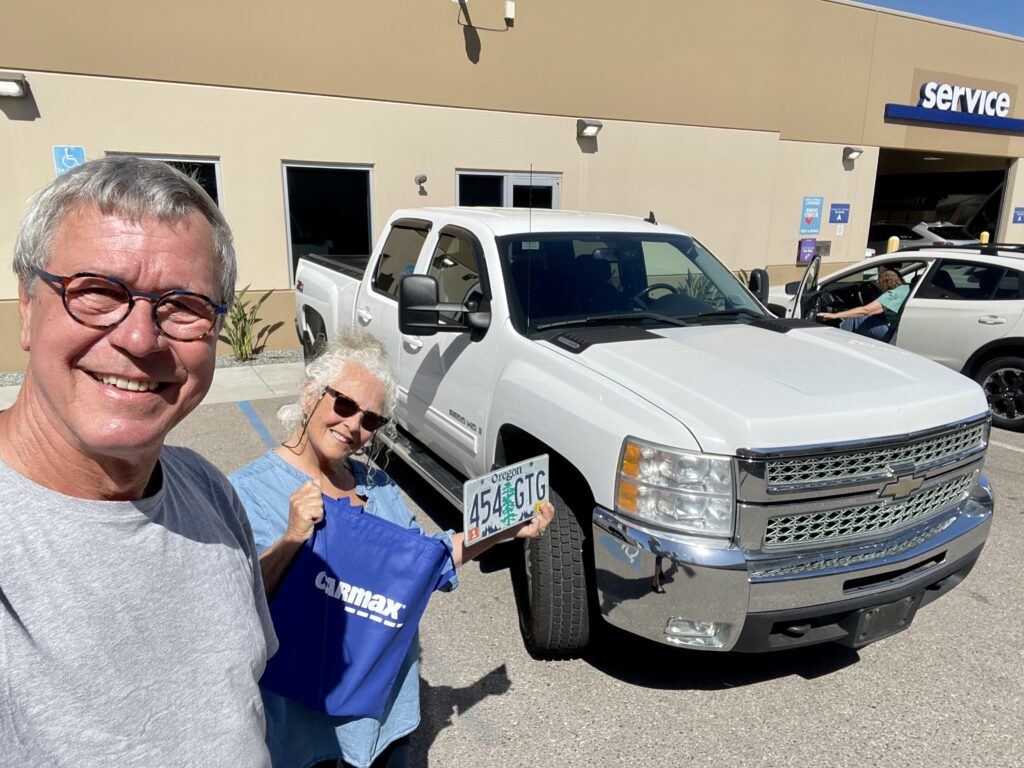 With excitement about our future travels and sad to leave my family, we headed to the airport the next morning for our flight home and a bite to eat. We ate a delicious breakfast at Qdoba, where my daughter is employed as their director of Digital Marketing and Public Relations. This place is one of the top fresh Mexican food restaurants that actually cook your food before your eyes, and it's filled with flavor, as the slogan goes! My egg and chorizo burrito was amazing. I'm suggesting they offer these meals on airlines! Airline food could use an upgrade, as we soon experienced.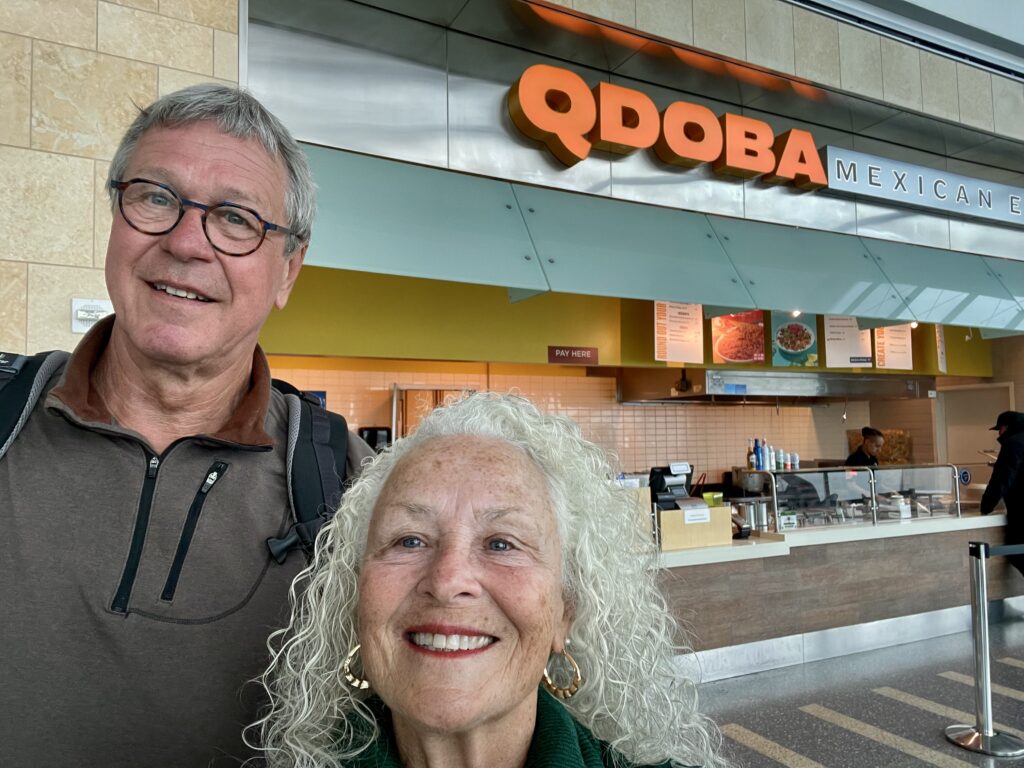 Look out, June, here we come! We safely made it home to Germany and are recovering from the long flight and train ride to our house in Wolfach, Germany. We are excited about our next travel plans. New adventures await us, and we're ready to experience them! Chat with you all next month when we head out for…
Fave Recipe:
Put some ZEST in your life and try this delicious easy Chicken & Asparagus with Lemon Sauce.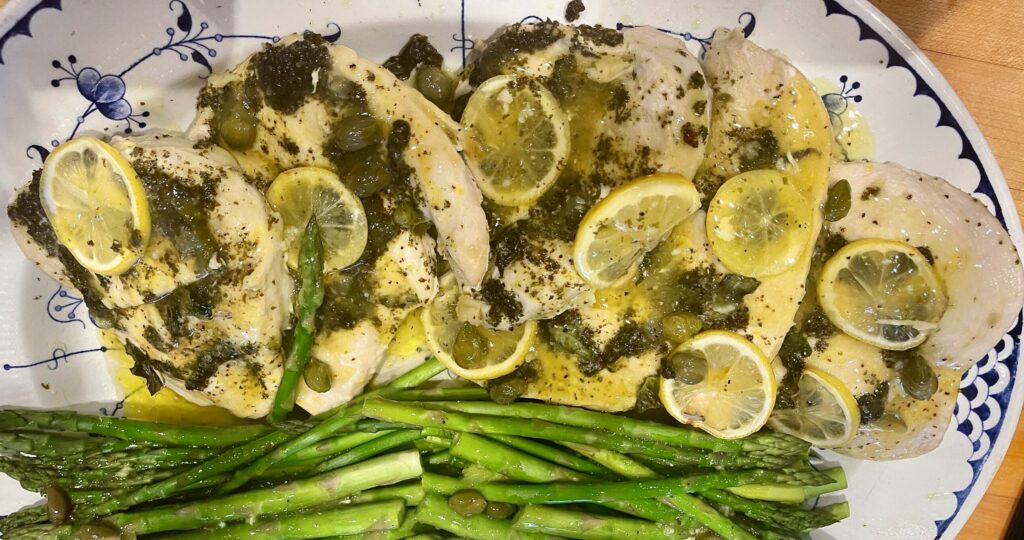 Fave Resource:
Ten years ago, I knew something was wrong with my health. The symptoms I was experiencing led me to seek medical attention. After an hour session with tears and explaining all the changes in my body,  My physician told me…click here to read what she said! What are the symptoms of a thyroid disorder?