Was planning on cooking this on the grill in my iron skillet but since the rain came back I whipped it up in my dutch oven and made tangy Lemon & Garlic Gravy with the sauce. I accompanied it with white asparagus. The lemon gravy was to die for drizzled over the asparagus. I colored up the plate with a warm side of whipped sweet potatoes and melted farm fresh butter. This gravy really set off the sweet potatoes with a sweet sour zing.
LEMON & GARLIC CHICKEN
October 4, 2016
: 2
: 20 min
: 2 hr
: 2 hr 20 min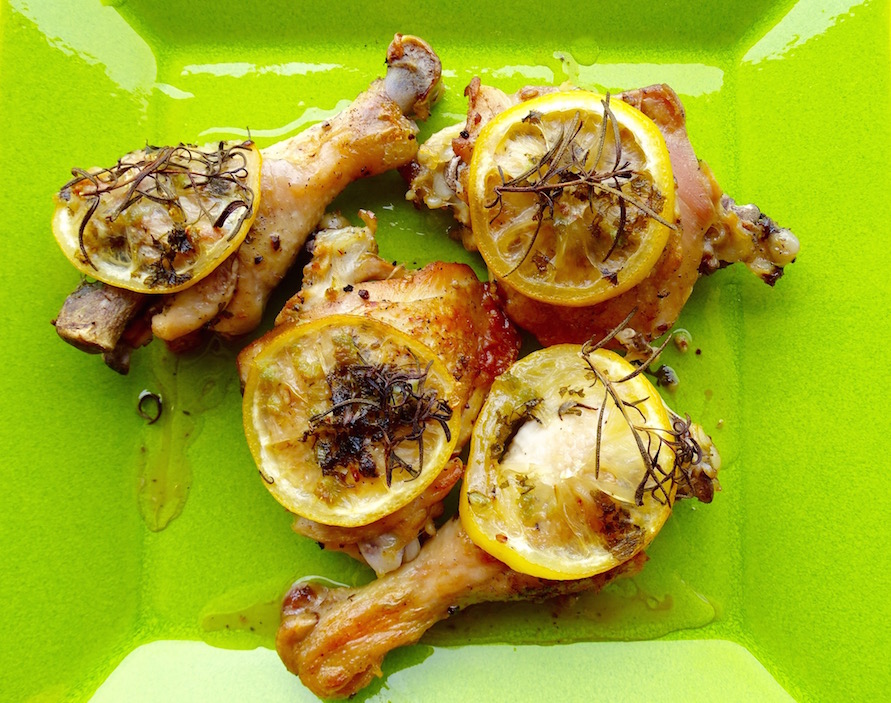 Ingredients
1 whole chicken cut in pieces I only had 4 pieces this day
1 fresh lemon cut in rings
2 tbsp fresh lemon juice
1 tsp himalayan salt
1 tsp ground pepper
4 cloves garlic chopped
3 sprigs rosemary crushed
1 Tbsp fresh parsley chopped
dash onion salt
2 Tbsp ghee
2 Tbsp tapioca flour
1 Tbsp organic butter
Directions
Step 1

Turn oven to 250 degrees F.

Step 2

Heat the ghee on medium high in your dutch oven over the stove. Wash and pat your chicken dry and rub with salt and pepper.

Step 3

Fry your chicken pieces meat side down first until brown. Then flip and fry the other side.

Step 4

Place a sliced lemon on each (or under the skin, if keeping skin on). Sprinkle with rosemary, garlic, parsley, onion salt.

Step 5

Place the lid on the dutch oven and put the chicken in the warmed oven for 1 3/4 hours on 250 degrees F.

Step 6

After 1 3/4 hours, take off the lid and turn on the broiler. Brown the top of the chicken for 8-10 minutes.

Step 7

Once browned, remove the chicken from the dutch oven pan and place it on a plate to rest. Cover it with foil to stay warm while you make the gravy.

Step 8

Lemon Garlic Gravy

Step 9

Strain the liquid from the dutch oven to remove the stems and twigs from your fresh herbs. Place the liquid back in the dutch oven and set the stove to medium heat. Add 1/2 cup of water and whisk well to loosen drippings at the bottom.

Step 10

In a small bowl, place 2 Tbsp of tapioca flour and 1/4 cup of very cold water. Mix this well.

Step 11

Slowly drizzle in the tapioca mixture into the bubbling broth mixture on the stove using a whisk. Stop drizzling the tapioca flour as soon as you reach the right consistency of gravy you like.

Step 12

Cook for 4 to 6 minutes whisking often so it does not scorch.

Step 13

Add 1 Tbsp of organic butter and a bit more pepper and salt to taste. Enjoy this delicious gravy over the top of your Lemon & Garlic Chicken. Add some fresh asparagus and butter whipped sweet potatoes for a full flavored tasty meal.