I'm not a fan of wild meat meals, but I'm living in Germany, a country where organ meats, sausage made from animal fat and blood, and wild boar sausages are offered at least once during one of the daily meals.
The Germans do not waste any part of an animal. Most parts of the animal are consumed in incredible German dishes: broth from the bones; the stomach lining to create Saumagan. Some portions are combined with herbs to make unique dishes like Maultaschen (a stuffed version of ravioli served in broth) or Fleischkäse or Leberkäse (a type of German sausage loaf inside a dinner roll). So when I received a pound of clean, fresh venison, I went to work finding a recipe that would highlight the best flavors and was gluten-free!
I can't say I am responsible for this delicious recipe. As usual, I spent time collecting similar recipes and decided that the recipe for the sauce was not dark or savory enough. So, as usual, I did my own thing, combining and switching up ingredients. The trick to the dark sauce is achieved when you take the time to reduce the dark red wine in the frying pan as directed below. A thick dark sauce with a touch of flavor with a hint of sweet paprika was a must. I have to say I think I hit the jackpot. I've used venison, wild boar, and Ochsenbä Backel (Instant Pot Oxen Cheek with a few adjustments) with this recipe as well, so you can choose your meat and still have an incredible dish. A large beef cut would produce the same luscious flavors and work just as well if you want to try that. It's all in the sauce, folks! I do have another Venison Goulash recipe on my site; however, the sauce is a bold tomato flavor with sweet paprika and is made in a crock pot. it's just as yummy! Try them both and let your family decide.
You can cook this using a:
Dutch oven with a lid on the stovetop for 30 minutes on medium-high, then 3 hours on simmer with the lid cracked for remaining time. Take the cover off the last 30 minutes if it needs to thicken.

You can also add the sauteed sliced mushrooms at this time if you are using them.

Back oven at 200 F for 3-4 hours with the lid on for 3 hours. Take the cover off for the last 30 minutes so it will thicken.

You can also add the sauteed sliced mushrooms at this time if you are using them.

Instant Pot on manual, high, for 1 hour. 

Let the steam release by itself. Then if the sauce needs thickening, set the Instant Pot on saute, and string often until you reach the consistency you like. You can also add the sauteed sliced mushrooms at this time if you are using them.

Slow cooker/crockpot for 6-8 hours, depending on your choice of heat (low, medium, high). If the sauce needs thickening, I remove the lid for the last 30 minutes. I prefer the crockpot; I can combine all the ingredients the day before, put it in the fridge, then plug it in the morning and hit the bike trail for the day! Before serving, I

add the sauteed sliced mushrooms at this time.
My family loved this dish, and I served it over spaetzle (a type of German noodle). This stew is delicious over gluten-free noodles, mashed potatoes, boiled potatoes,  or just scoop up a cup full and spoon away! Let's get to it, shall we?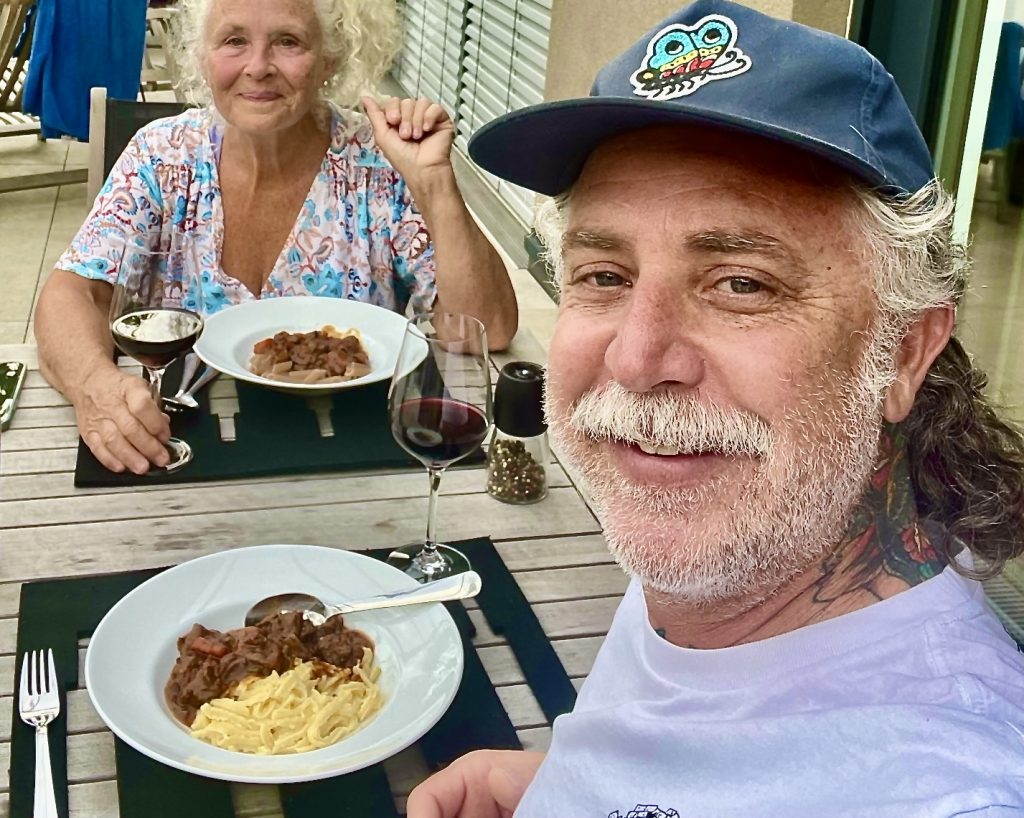 Authentic German Venison Stew
July 23, 2022
: 4
: 30 min
: Easy
Ingredients
500-600g of Wild Venison/Boar etc.
200 g organic bacon
3-4 Tbsp of Ghee
1/2 cup celery
1 cup carrots
1 1/2 cup onion
6 cloves garlic
1 1/2 dry red wine
1/4 cup organic tomato paste
1 cup vegetable broth
1 cup water
1Tbsp Caraway seeds
1Tbsp Dried Oregano
3 Tbsp Sweet Paprika
1 Tbsp Himalayan salt
1 Tbsp ground fresh pepper
3/4 cup cherry tomatoes
1 Tsp Monk Fruit Sugar
1 Tsp of chili pepper (optional)
3 Tbsp cassava/gluten-free flour
3 Bay Leaves
2 cups mushrooms (optional)
3 Tbsp butter
Directions
Step 1

You will need a large frying pan or iron skillet! Have the Dutch Oven, Instant Pot, Crockpot, or back oven dish you plan to use for cooking this delicious stew nearby your frying pan. You will be sautéing and adding the ingredients in stages to your main cooking pot. (i.e., Dutch Oven, Crockpot, Instant Pot, etc.).

Step 2

Prep all your ingredients to make this process smooth: Dice meat into bite-size pieces. Pat dry

Step 3

Dice bacon, celery, carrots, onions, garlic, tomatoes, and mushrooms if using. Set aside the mushrooms and tomatoes. They go in near the end.

Step 4

Set all your measured spices in a small bowl next to the working area so you will have them handy! Oh yes, open that dry red wine as well!

Step 5

In your frying pan, melt a tablespoon of ghee if you are using organic bacon. Organic meats tend to have less fat. Fry the bacon and place it in your cooking pot. Keep the bacon grease/ghee in the frying pan.

Step 6

Place another tablespoon of ghee in the frying pan you just used (do not clean it). Fry the meat pieces to seal them. You might have to do this in small batches. Place seared meat in your cooking pot with the bacon.

Step 7

In the same frying pan (do not clean it). Add another tablespoon of ghee (if necessary) and stir-fry the carrots, celery, and onions for two minutes on medium. Add the garlic to the diced veggies. Put the veggies in your baking pot along with the meat and bacon.

Step 8

Turn the heat under your frying pan on high. Pour in the red wine and cook until it reduces (about 3-4 minutes)and is almost black. Scrape the bottom of the pan often to integrate all the savory crumbs from the veggies and meat.

Step 9

Turn the heat to low and add the tomato paste, broth, and water. Simmer and continue scraping all the bits off the bottom of the pan. Pour this into your baking pot.

Step 10

Add all the delicious herbs to the baking pot: caraway seeds, oregano, paprika, monk fruit sugar, chili pepper (if using), salt, and pepper. Give it a nice toss to coat the meat thoroughly.

Step 11

Add the sliced tomatoes and stir to combine.

Step 12

Mix the cassava flour/gluten-free flour in 2 tablespoons of cold water to create a paste. Add this to the stew and mix thoroughly. Add the bay leaves to the top of the stew.

Step 13

You are all ready to get cook'n. Use your preferred choice for cooking that I've listed above. 

Step 14

Optional Mushrooms: slice in quarters and sauté the mushrooms in a tablespoon of butter. Add to the stew before serving.