Woohooh! This was truly an experiment and one that I will repeat. Such flavor, sweet and spicy and bits of fresh jalapeños throughout! Perfect for a side dish with dinner or lunch, or top with a fried or scrambled egg for breakfast and serve with a slice of Century Bread. Plus, it LOOKS beautiful and full of color….of course, a shake or 2 of turmeric helps bring it to life.
JALAPEÑO SWEET POTATO HASH
June 28, 2016
: 4
: 10 min
: 15 min
: 25 min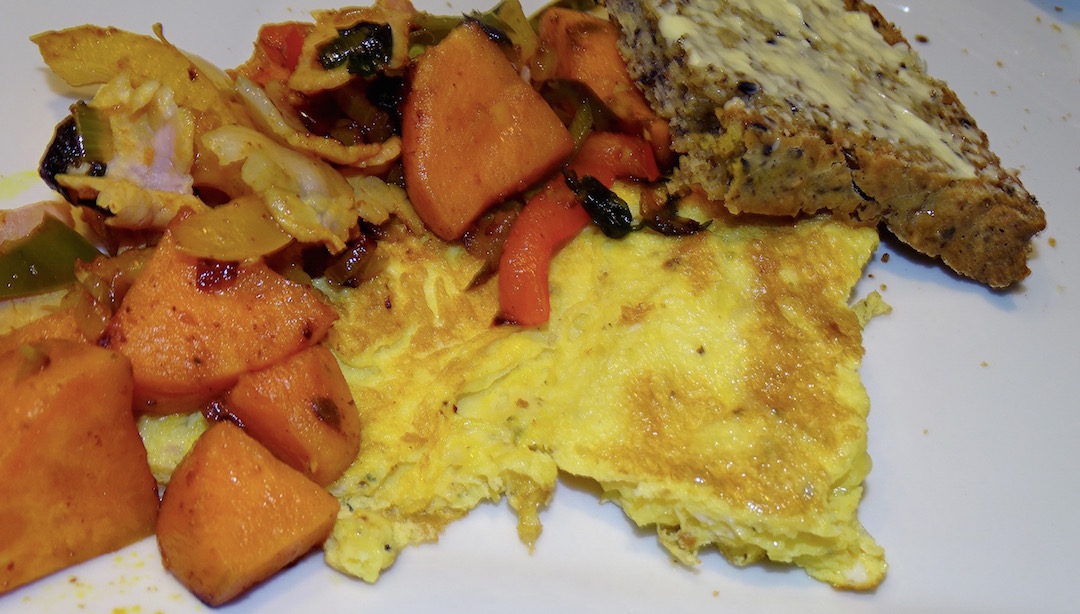 Ingredients
1 medium sweet potato peeled and cut into 1 inch cubes
1/4 cup ghee
1 tsp himalayan salt
1 tsp cracked black pepper
1 tsp fresh grated turmeric or 1/2 tsp powdered
1 tsp chili powder
1 tsp red peper flakes
1 clove garlic chopped
1 medium onion chopped
1 fresh green jalapeño sliced
1 fresh red pepper sliced
1/2 cup yellow bell pepper sliced
1/2 cup red bell pepper sliced
1/2 cup cilantro and or parsley
Directions
Step 1

Peel and slice the sweet potato. Heat the ghee in a large pan on high. Put the sliced sweet potatoes into the ghee and stir often so they don't burn.

Step 2

Add the seasonings (the next 5 ingredients)

Step 3

After the potatoes are tender, add the garlic and onions and stir often.

Step 4

Add the sliced red pepper, green jalapeño pepper, bell peppers and cilantro the last 5 minutes.

Step 5

Serve with eggs or next to your favorite meat!