This winter life in Germany is quite a challenge. We've been experiencing so much rain and cold, and we've had very few occasions to barbecue our salmon or any meal for that matter. It's freezing, and braving the wind and rain storms is not fun. So I created a new tasty way to enjoy our weekly fish rather than grilling. 
These pockets of gold are the best invention for serving up a savory fish dish. I'm sure there are similar recipes, but I was using my imagination and going with the flow with this one. It was a hit and will receive a second performance. 
I cheated a bit by buying a pre-made gluten-free pastry puff dough roll I found in the refrigerated section of my grocery store. However, I plan to use my Versatile Pie Crust for meat or veggies option recipe for next week's salmon dinner. I'm sure it will be just as delicious.
Before you get started:
Skin and remove the bones from your fish. This recipe is for 2-3 pockets, depending on the size of your fish. Mine was 4 inches by 3 inches and about 1 inch thick.
You'll need a recipe to make your favorite pie crust, my Versatile Pie Crust, or a store-bought crust. The puff pastry dough I used was one large sheet cut into two rectangles (12 x 5 inches each piece)
Let's get started!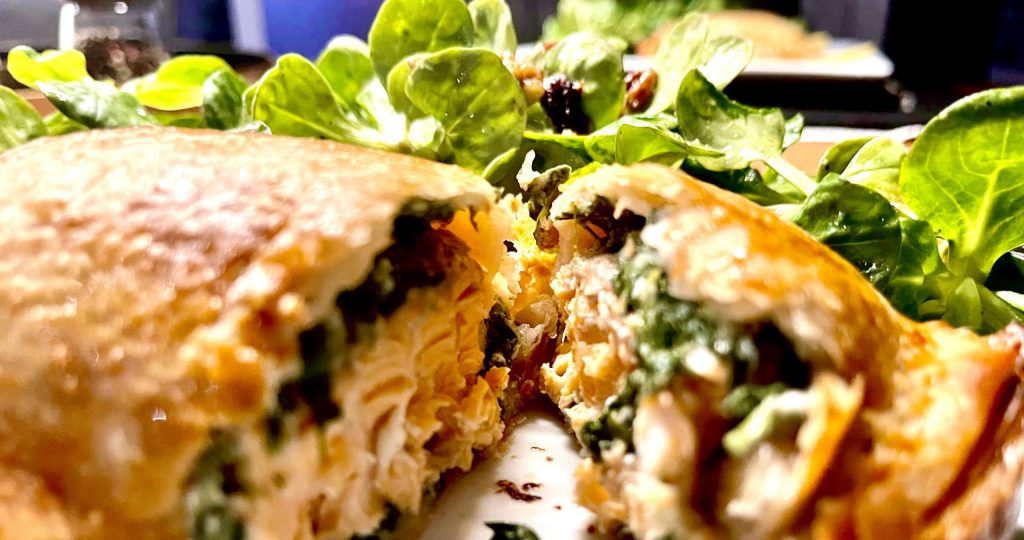 Goat Cheese Salmon Pockets
February 20, 2022
: 2
: 15 min
: 30 min
: 45 min
: Easy
Ingredients
2 pieces of fresh salmon cut into 4x3 inches each and about 1 inch thick.
2 rectangles of pastry crust dough or puff pastry dough about 12 inches long but 5 inches wide. You'll be folding it over the piece of fish and sealing it with egg, and pinching it closed with a fork.
1/2 cup soft goat cheese
2 Tbsp diced fresh parsley
2 Tbsp diced fresh dill
2 tsp diced fresh chives
1 tsp red chili (optional)
1 diced garlic
1 tsp of Old Bay Seasoning (or similar)
Himalayan salt and fresh pepper to taste
4 cups fresh spinach steamed
1 egg
Directions
Step 1

Set the oven to 375 degrees.

Step 2

Place a baking sheet over a cookie tray. 

Step 3

If using store-bought pastry puff, make sure it is room temperature, so it doesn't tear when working with it. If using a homemade pastry crust, make sure you have it cold so you can roll it out and shape it easily. Prepare the dough into the dimensions described above.

Step 4

Prepare the fish by cutting it into an appropriate size as described above. Wash it and pat it dry.

Step 5

Sprinkle the fish with a few dashes of Old Bay or your choice of seasoning on both sides.

Step 6

Steam the fresh spinach. Drain off the liquid. Use a tea towel to squeeze out all the excess water from the spinach. Dice the spinach.

Step 7

In a small bowl mix the soft goat cheese, parsley, dill, chives, chili, garlic, salt, pepper, and old bay if using.

Step 8

Add the diced spinach and mix well.

Step 9

Beat one egg in a small bowl.

Step 10

Roll out your dough into two rectangles. Paint a 1/4 inch stripe along the edges of each rectangle crust with egg. Save the remaining egg batter to cover the top of each pocket.

Step 11

Spread a thin layer of the goat cheese and spinach evenly over the two crusts leaving the egg-covered edges free.

Step 12

Lay the fish over the goat cheese-covered crust at one end (leaving an edge). Fold the other end of the crust over the top of the fish. 

Step 13

Use a fork to seal the edges of the pocket closed. Kind of like a pop-tart!

Step 14

Place both pockets on a baking paper-covered cookie sheet. 

Step 15

Use the remaining beaten egg to coat the top of each pocket.

Step 16

Cook for 30 minutes or until the top crust is golden brown.