Marmalade is one of the main dishes for breakfast in Germany. I jest, but no früstück is complete without a homemade preserve the table. Since it is blood orange season here, my juices are flowing with ideas, and of course, this marmalade is a hit. You're going to need a bag of these delicious gems so rustle up about 12 blood oranges, some fresh ginger, and best of all, Monkfruit. This marmalade is too easy to be so good. You can use this on toast, ice cream, or to top off my Blood Orange Cream Pie. It's amazing!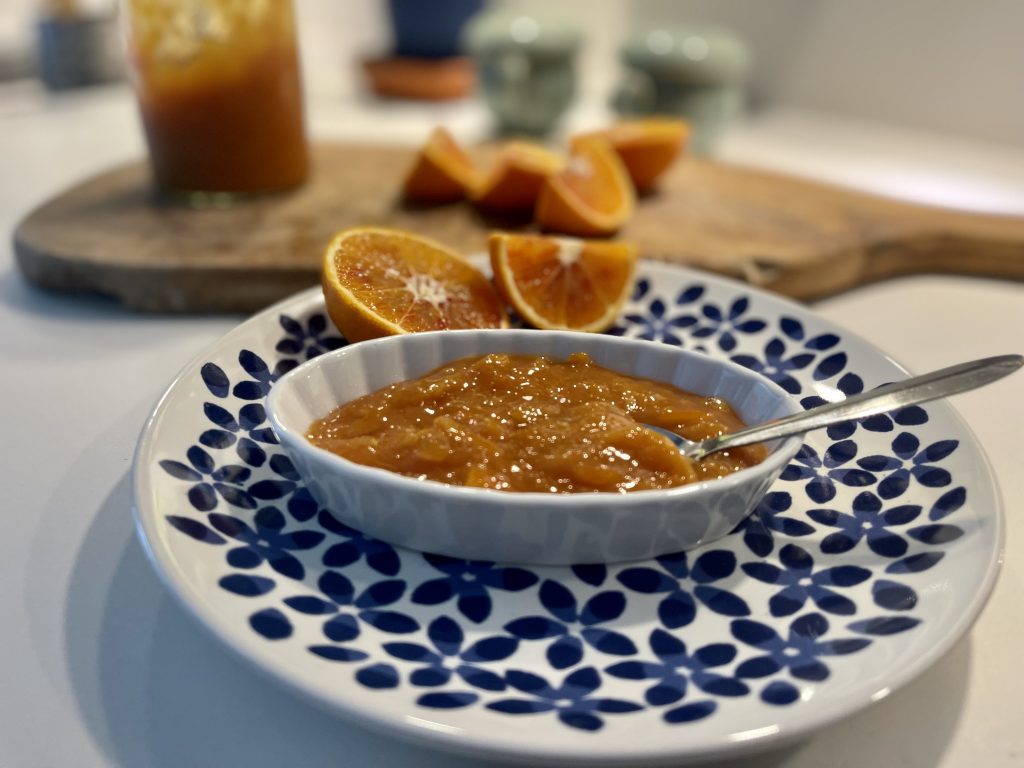 Blood Orange Ginger Marmalade
February 2, 2022
: 1 cup
: 15 min
: 1 hr
: Easy
Ingredients
10-12 blood oranges
1/2 cup of blood orange zest
1 cup Monkfruit
1/4 cup grated fresh ginger
1 Tbsp unsalted butter (omit if vegan)
Pinch of salt
pinch of nutmeg
1/2 to 1 tsp pectin (optional)
Directions
Step 1

Squeez enough oranges to make 2 cups of juice. If you don't have enough juice, add water to create two cups of liquid. Leftovers make great breakfast juice so store it in the fridge for your breakfast.

Step 2

Take the shell of one or two oranges and peel the orange skin into strips avoiding the white layer. Slice the strips very thin until you have about half of a cup.

Step 3

Add all the ingredients, EXCEPT the pectin, to a medium saucepan and bring to a boil. Once it starts to boil, turn low and simmer for one hour string every few minutes. If the liquid has not evaporated enough or is not thick enough for you, add 1/2 teaspoon of pectin and simmer a few minutes more. Just remember, when it cools, it thickens.