Yes, I have a thing for apples. Just search my menu with the word "apple," and you're bound to find a few to try. This one is a snap and cooks up in less than forty minutes from start to finish. Quick, easy, and with a dollop of my Coconut Cheese Whipped Cream, it's a masterpiece sure to impress your family as well as guest.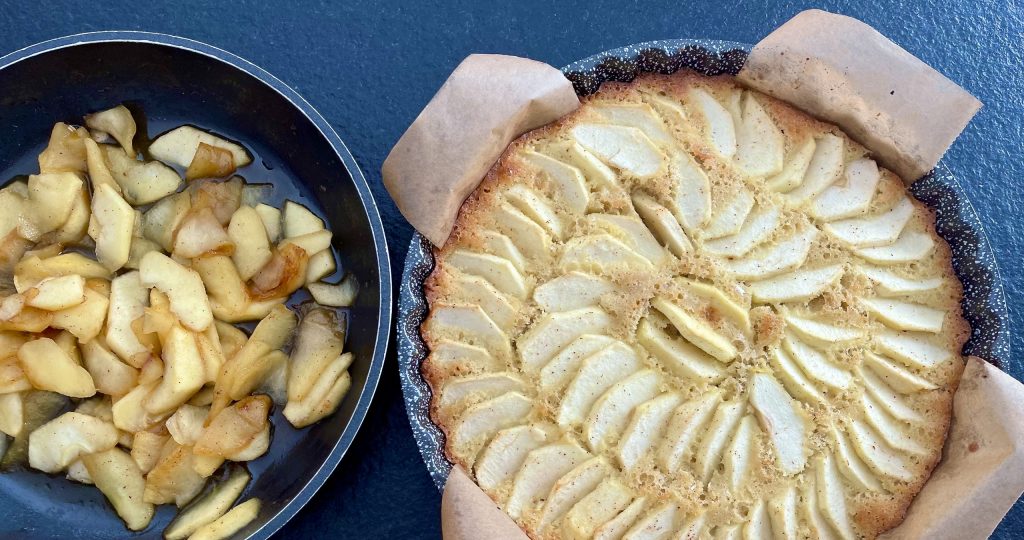 Tips:
If you're planning on whipping up a batch of my Coconut Cheese Whipped Cream, be sure to put the coconut cream in the fridge the day before. It needs to separate, so don't shake it. Overnight is best but if you are in a hurry, you can stick it in the freezer for 2 hours. The best thing to do is always have a can or carton of coconut cream in the fridge!
I used my food processor for this whole recipe, including the Coconut Cheese Whipped Cream, and it was so easy to clean up and made everything in a jiffy! You can also use your standing mixer or hand mixer.
I didn't have a 10-inch springform pan, so I invented a way to remove the cake from a butter greased fluted cake pan by cutting a liner out of baking paper and leaving handles to lift it onto a serving dish! I used a spatula to slide it off the baking paper onto a plate.
I've made this a few times and it is always a hit. Once I served it warm with vanilla ice cream. I sauteed the leftover apples in butter, Monkfruit, and rum and drizzled this delicious sauce over the ice cream then sprinkled each serving with toasted almonds.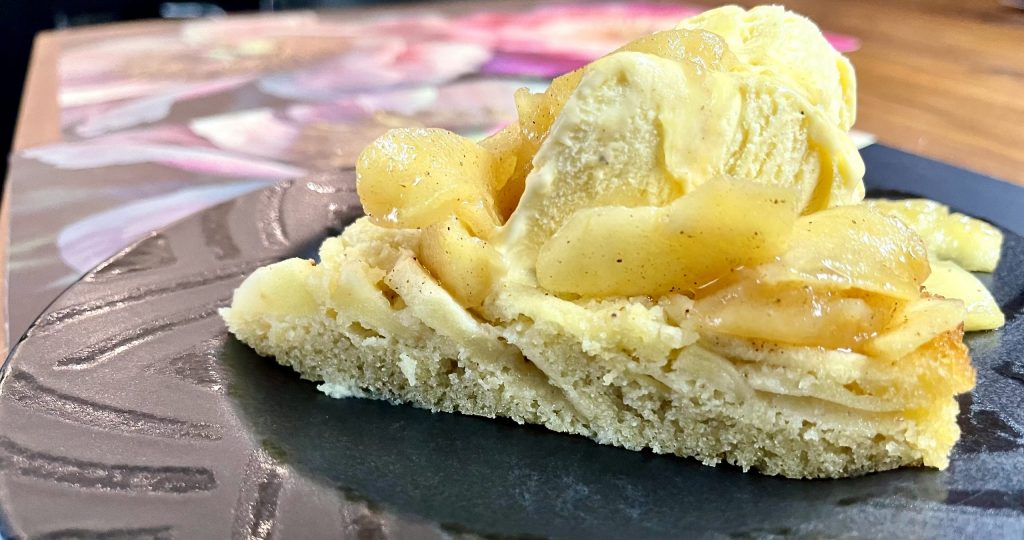 German Apple Sponge Cake
February 21, 2022
: 8
: 20 min
: 30 min
: 50 min
: Easy
Ingredients
Apple Topping:
5 apples peeled, cored, and quartered
2 Tbsp lemon juice
1 Tbsp Monkfruit sugar or sugar. You probably won't use all the apples. I sauteed the leftovers in 2-4 tablespoons of butter and added a dribble of rum. I used this over whipped cream or ice cream. You can also cook them down for pancakes or applesauce
Cake:
2/3 cup soft butter
2/3 cup Monkfruit sugar or 3/4 cup sugar
1 tsp vanilla and a pinch of salt
1/4 tsp almond flavoring
3 eggs
2/3 cup Cassava flour or 1 to 1 gluten-free flour
1/2 tsp psyllium husk if using Cassava flour
1/2 tsp baking powder
Coconut Cheese Whipped Cream Topping:
1/4 cup toasted slivered almonds
1 15 oz can of coconut cream milk (not coconut milk beverage)
2 Tbsp of soft goat cheese
2-3 Tbsp of Monkfruit sugar or sugar
1 tsp of vanilla or 1/4 tsp almond flavoring
Directions
Step 1

Apple Topping:

Step 2

Core and peel the apples.

Step 3

Slice in quarters. Gently slice into the back of each apple piece about 1/4 inch deep.

Step 4

Sprinkle with lemon juice and a tablespoon of sugar.

Step 5

Step 6

Cake:

Step 7

Combine the butter, sugar, vanilla, and almond flavoring in your food processor, standing mixer or hand mixer. Cream together and scrape the sides down often.

Step 8

Continue with the creamed butter and sugar mixture adding one egg at a time, beating after each egg addition.

Step 9

Mix the Cassava flour (and psyllium) or 1 to 1 gluten-free flour, a pinch of salt, and baking powder with a fork in a medium bowl.

Step 10

Add the flour mixture to the eggs and sugar in the food processor and mix for 30 seconds. Just enough if you do not have one.

Step 11

Spread the batter into a butter greased 10-inch springform pan or use my replacement suggestion above.

Step 12

Place the slightly sliced apples on top of the batter.

Step 13

Bake for 30 minutes in a preheated of at 325 degrees.

Step 14

Let cool for 15-20 minutes. Be sure to loosen the edges with a knife before lifting out of the pan

Step 15

Place on a serving dish.

Step 16

Coconut Cheese Whipped Cream:

Step 17

Remove the coconut cream can or carton from the refrigerator. Open the container and drain the coconut water. It would be best if you had a clump of firm cream. If not, be very careful and only scoop out the thick cream into your cleaned food processor. Too much coconut water will prevent it from whipping.

Step 18

Add the soft goat cheese, Monkfruit, and vanilla.

Step 19

Turn the food processor on high and let it run for 30 seconds. Check to see if the consistency is similar to whipped cream. If not, continue beating until it sets.

Step 20

Place a dollop on each serving, add the buttered sauteed apples if using, sprinkle the tops of each with slivered toasted almonds