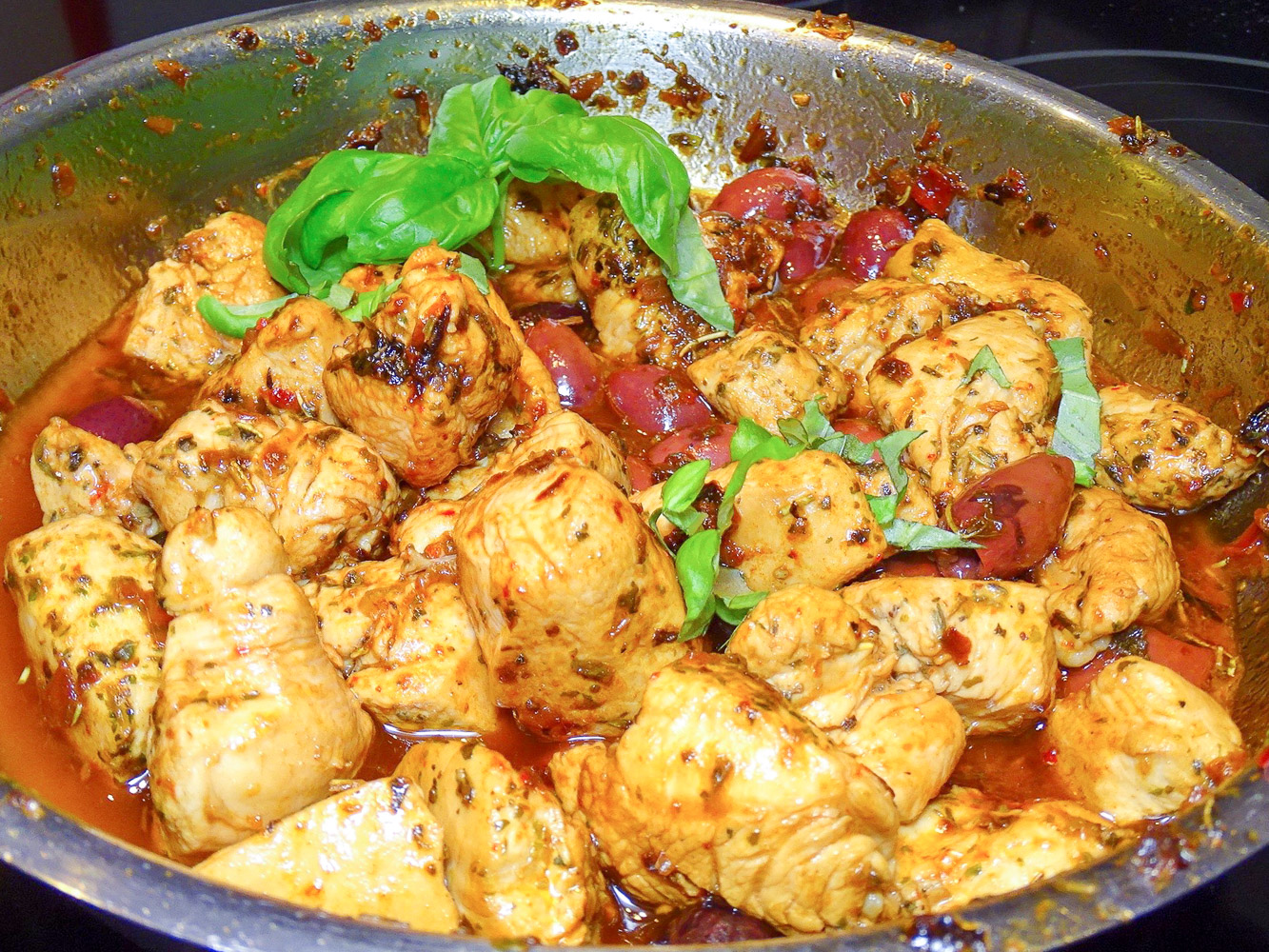 European Herb Chicken
4 – Chicken breast cubed
Gluten-free pasta or cauliflower rice (see recipe below)
Herb Seasoning:
1/4 cup macadamia nut oil or coconut oil
1 tablespoon Minnie's Italian seasoning * recipe to follow. Or any Italian spice.
1 tsp of Himalayan salt
1 tsp ground pepper
1 tsp of red pepper flakes
1 tsp of chili powder
1/4 tsp of fresh red pepper
1/4 tsp of fresh green jalapeño
1/2 onion chopped
6 dried tomatoes (soaked in warm water for 10 minutes)
1 tsp of fresh chopped basil (dry is cool)
1 Tbsp of Cilantro (fresh, dry or frozen is okey-dokey)
2 cloves of roasted garlic or
Sauce:
1/2 cup Greek or black olives
1/4 cup lime juice
1/4 cup lemon juice
1/4 cup dry white wine
1/4 cup olive oil
Soak the dried tomatoes in hot water for 10 minutes. In a large frying pan pour the oil and add all the seasonings (the first 12 items above). Sauté for about 15 to 20 minutes while you wash and cube the chicken breast.
Now it is time to create your cauliflower rice or start the water for your gluten-free pasta.
For the cauliflower rice:
Cut the stems off and cut the flower part into 1″ x 1″ pieces and clean. Place in a food processor and grind for 20 seconds or until it resembles the size of rice. All you need to do is heat this up in the microwave or steamer with 1/2 tsp of Himalayan salt for 1 to 2 minutes.
If you are using pasta, add 1/2 tsp of Himalayan salt to the boiling water. Follow the cooking directions on the box. Usually 9 to 10 minutes of boiling time.
Now here is the timing. Your chicken and sauce take the same amount of time as boiling your pasta: 9 to 10 minutes. So once you start to boil the water turn your pan of sautéed seasonings to medium-high. Once it is very hot and bubbling, add the chicken pieces, stirring to keep from sticking. Sear the chicken cubes until brown. Turn down the heat to medium and add the remaining ingredients except for the olive oil, simmering everything while you heat the cauliflower rice or drain your pasta.
When the chicken is cooked through, no longer pink in the center, turn off the heat under the chicken and drizzle 1/8 of a cup of olive oil over the chicken mixture. Stir and mix the chicken. Pour the rest of the olive oil over your pasta and toss it before placing it in the perfect pasta bowl. If using cauliflower rice, plate it now.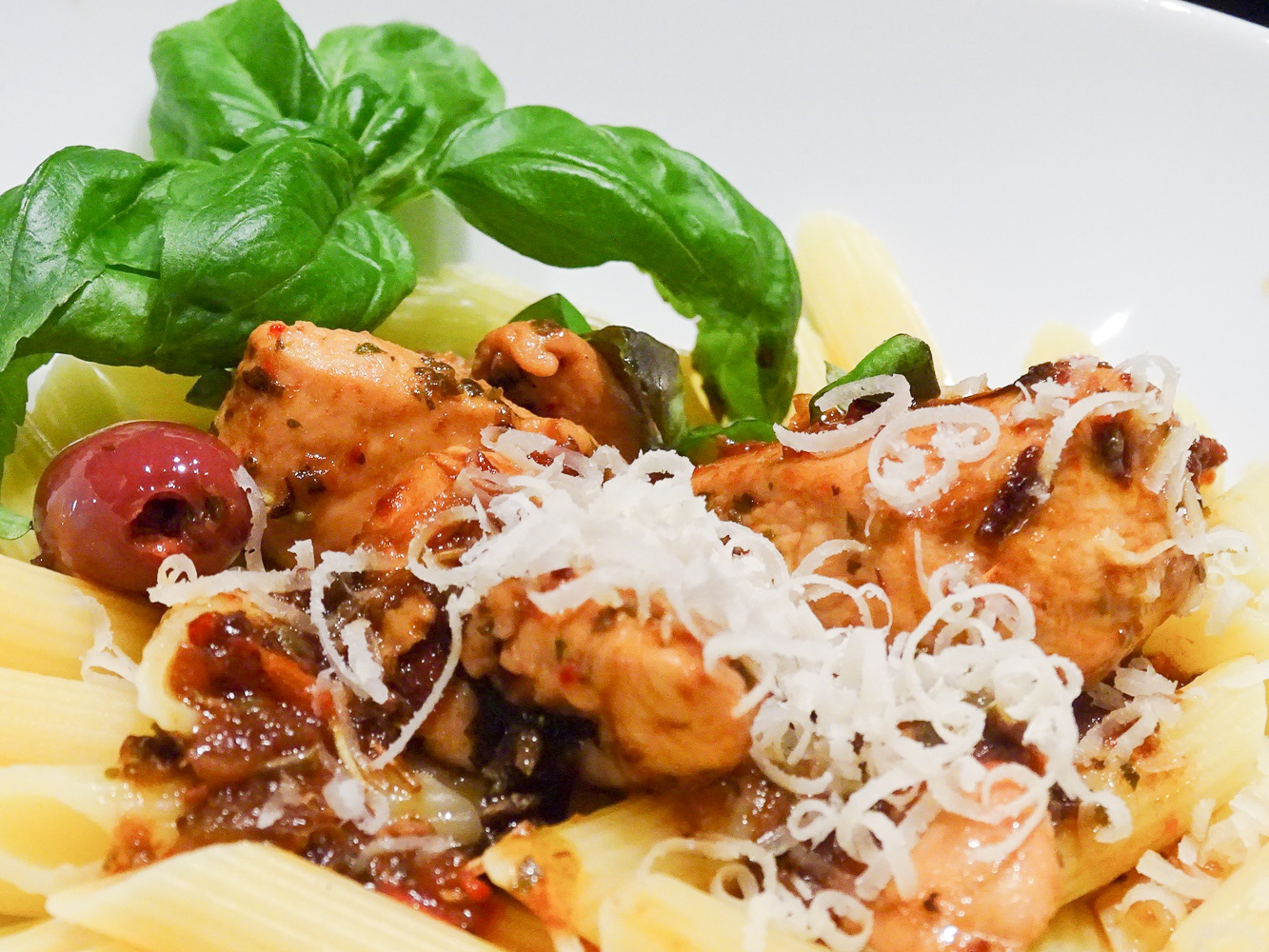 Ladle the chicken and sauce on top. Sprinkle with parmesan cheese and ENJOY.