Got cranberries? Oh yeah…lately, they've become quite popular in Germany during the holiday season. I found a couple of baskets and decided to dress up my holiday Rolauden meal with a classic German Linzer Torte for dessert…of course, with my own twist. Lutz's mom used to make this every winter holiday, and it was one of my favorites since this can be made gluten-free. I hope I have made her proud with my version!
You can make the filling and the dough three days in advance, pop it out of the fridge, and whip this tangy torte up in less than an hour. Or you can make the whole thing a couple of days before and bring it to room temperature before serving. I've made it both ways, and each option tasted amazingly tasty!
I hope you try it and make this one of your holiday treats!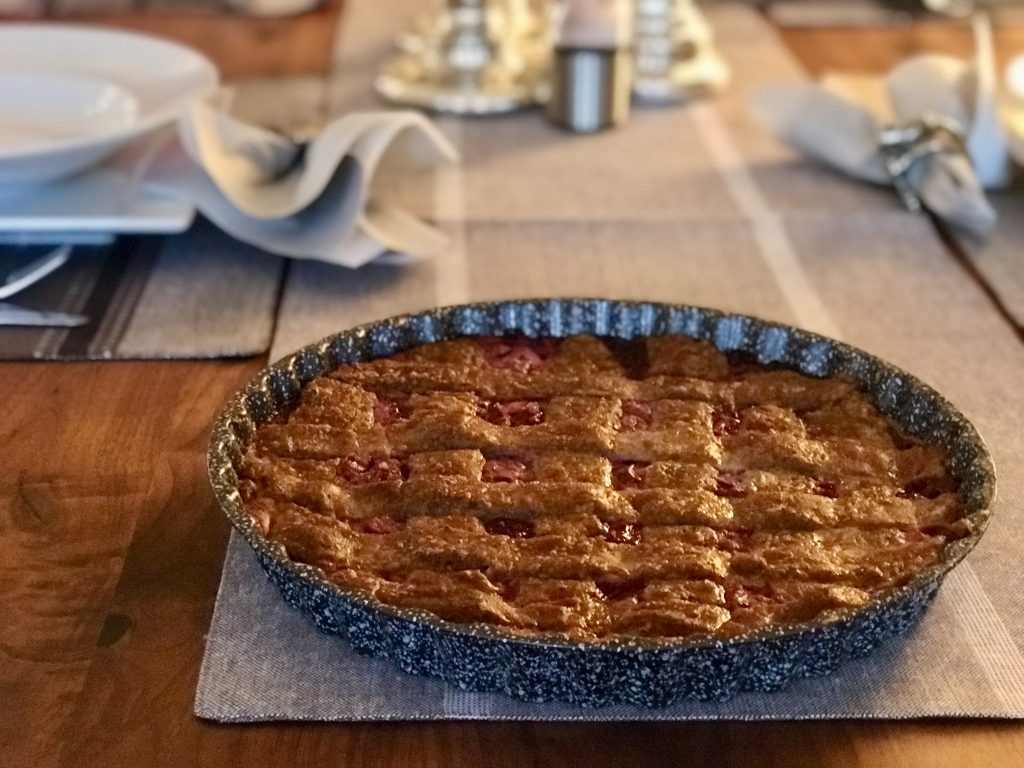 Cranberry Linzer Torte
December 12, 2020
: 8 Slices
: 30 min
: Medium
Ingredients
FILLING
4-5 cups fresh cranberries (and/or a combo of fresh or frozen mixed berries)
1 to 1-1/2 cups coconut sugar (taste during cooking before adding the 1/2 extra cup)
1Tbsp. finely grated peeled ginger
1Tbsp. Finely grated fresh orange zest
2 Tbsp fresh orange of lemon juice
1 Tbsp. unsalted butter
Pinch of kosher salt
DOUGH AND ASSEMBLY
1½ cups toasted walnuts
1 cup of coconut sugar
2 tsp. finely grated orange zest
1/2 tsp. ground allspice
½ tsp. Himalayan salt
¼ tsp. ground cloves
¼ tsp. freshly grated nutmeg
¼ tsp. baking powder
1/3 cup Cassava Flour (I used Otto's Natural Cassava Flour)
1/3 cup ground hazelnut flour
1/3 cup ground almond flour
2/3 cup chilled unsalted butter, cut into pieces
2 large eggs (1 for brushing the top before baking)
1 Tbsp birch tree sugar or coconut sugar (dusting the top)
Powdered sugar (for serving: optional)
Directions
Step 1

FILLING

Step 2

Place all the ingredients for the torte filling (except 1/2 cup of the sugar) in a medium saucepan. Bring it to a simmer, often stirring with a wooden spoon so it doesn't scorch. Continue simmering on low heat. Taste, and add the additional 1/2 cup of sugar if you like. Continue cookie for 20 minutes. Remove from the heat and let it cool completely. I set mine on the cold porch with a lid!

Step 3

DOUGH AND ASSEMBLY

Step 4

While the filling is cooking and cooling, butter a flutter tart pan—Preheat the oven to 350°. Toast walnuts on a cookie sheet and toss them around until golden brown, about 10 minutes. Let cool completely. Check your filling!

Step 5

Please the walnuts, coconut sugar, orange or lemon zest, allspice, salt, cloves, nutmeg, baking powder, cassava flour, hazelnut flour, and almond flour in your food processor or blender and pulse until finely ground. If using a blender, you'll need to place the mixture in a bowl and do the next step by hand.

Step 6

Add diced butter a couple of pieces at a time and pulse until the largest pieces are pea-size. Or mash with a fork if doing this step in a bowl. Add 1 egg and process in long pulses until dough forms a ball around the blade or comes together in your bowl.

Step 7

Divide the dough in half. Place half of the dough between 2 pieces of baking paper and press or roll into a 1/4 inch disc. Remove the top piece of baking paper and slice 10-11 one-inch strips to use for the top crust. Put this in the fridge while making the remaining half of the bottom crust. Be careful. This dough is delicate. I put mine in the freezer.

Step 8

Press the remaining half of the dough into the tart pan. Use cassava-floured hands to spread the dough, place a piece of plastic wrap over it, and press it into the tart pan evenly and partially up the sides. Remove the plastic wrap and place in the fridge or freezer for 5 minutes.

Step 9

Stir the cooled filling. Remove the chilled tart crust. Pour the cooled filling evenly into the chilled crust.

Step 10

Lay a vertical, evenly spaced row of 5 to 6 strips across the top of the filling. Place the remaining strips horizontally. Careful, they will break. Pinch them back together…no worries.

Step 11

Beat the remaining egg and brush it over the top of the strips. Sprinkle with coconut sugar or birch tree sugar.

Step 12

Bake in the oven for 45-50 minutes and until the top crust is golden brown.

Step 13

Cool and sprinkle with powdered sugar before serving (this is optional).