As I have shared in other posts, I rarely eat cheese, but on rare occasions, I'll eat those made with goat, sheep, or buffalo cheese ….this is one of them! It's a bit higher in good fats and minerals such as selenium and has less lactose. Plus, it has higher vitamin D and riboflavin than cow milk.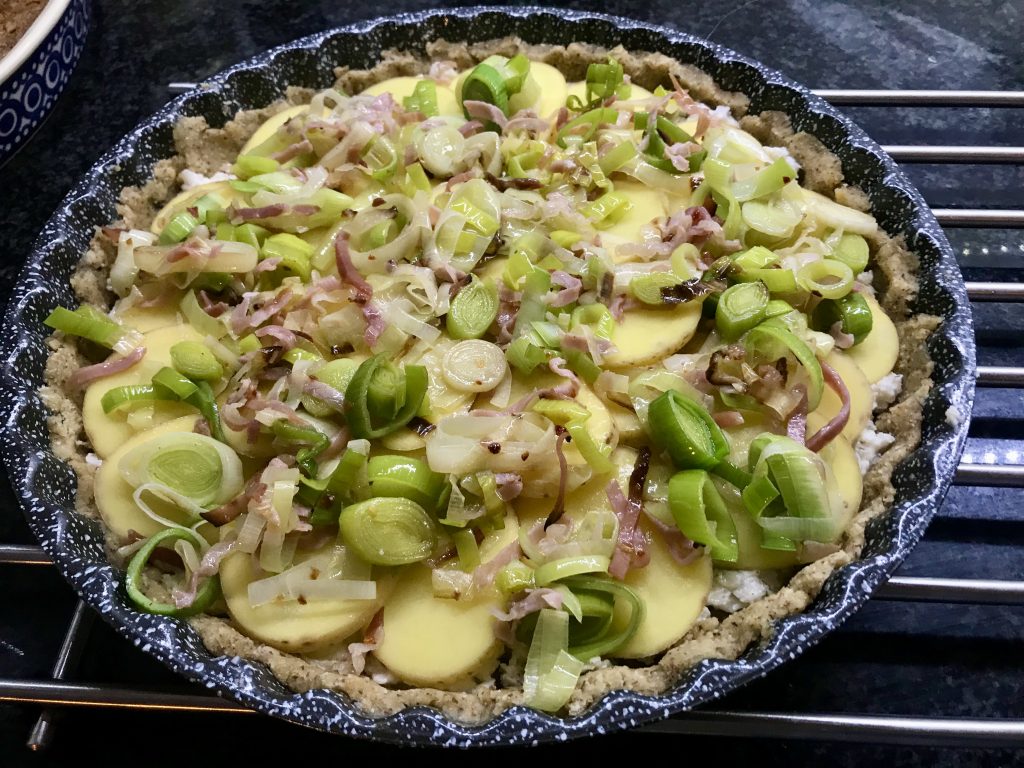 I also use a small amount of hard parmesan goat cheese and coconut yogurt in this recipe. You can use dairy-free cheese and yogurt of choice, although I have never tried it and can't guarantee the results. I've used my Basic Versatile Pie Crust recipe and beefed it up by adding some Italian seasoning to the dry ingredients. The crust recipe makes enough for two pies, so you can double the filling for this recipe and create two pies, eat them both, or freeze one. If you choose to freeze one, wrap the unbaked pie in foil and freeze. When ready to use, thaw completely at room temperature. Remove foil and cook at 375 degrees for 35-40 minutes. You can also freeze half the dough for another time.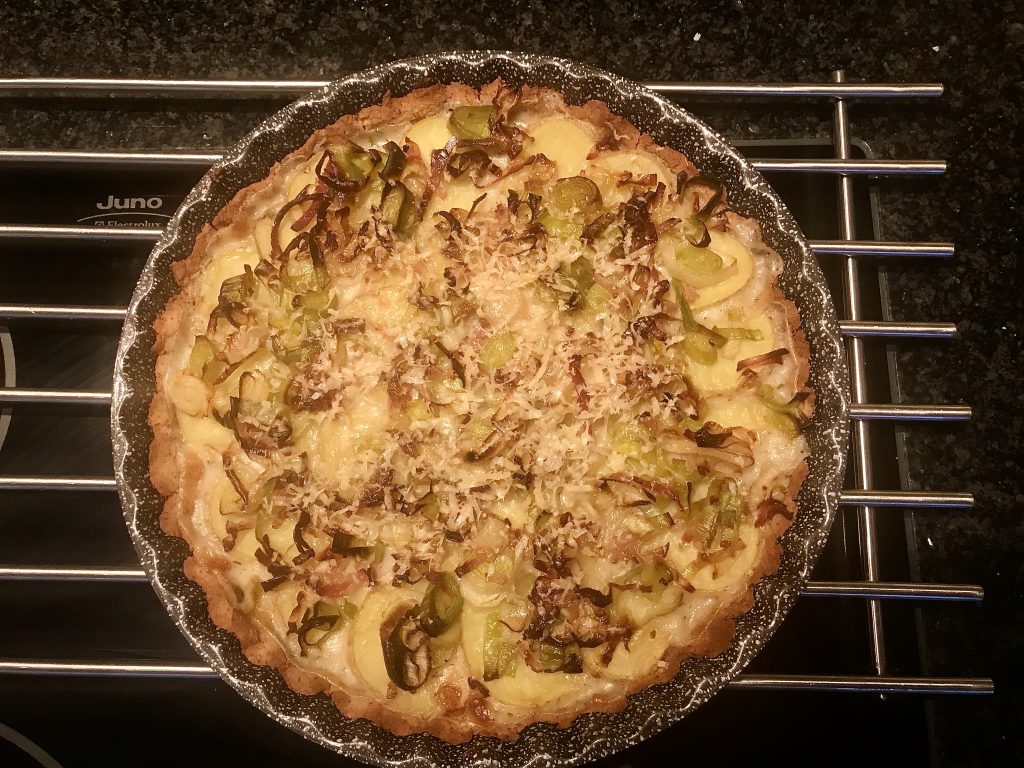 Before serving, add crushed Red Berries (sometimes referred to as Red Pepper Berries) sprinkled over the top. This made it pop. Using fresh herbs in the cheese mixture adds a mellow blend of savory spice that infiltrates the layer of thin-sliced potatoes. Adding bacon can bring it up a notch, which I did. I used a smoky organic brand from our local farm. It's the perfect holiday meal or side dish, and leftovers make a great breakfast treat with a fried egg on top.
Give this one a try for turning those potatoes into a spectacular side dish!
Potato Leek Pie
December 20, 2020
: 8
: 20 min
: Easy
Ingredients
1 Basic Versatile Crust recipe (or your own)
1 leek sliced in rings using white and light green portions
2 tbsp ghee
1/2 cup diced bacon (optional)
1/4 cup coconut or almond yogurt
1/2 cup grated goat cheese
1/2 cup parmesan cheese
1/2 tsp fresh diced dill
1/2 tsp fresh diced thyme
1/2 tsp fresh diced rosemary
1/2 tsp fresh diced oregano
1/2 tsp crushed red pepper (optional)
2 diced garlic cloves
1 tsp Himalayan salt
1 tsp of fresh ground pepper
1 large potato sliced into thin disks
Red Pepper Berries for garnish
Directions
Step 1

Set your oven at 375 F. Use a large 10-inch pie pan, 10-inch springform pan, or 10×10 ovenproof baking dish. Butter the pan well and set aside.

Step 2

Prepare the Basic Versatile Crust (or your own crust). Be sure to add a teaspoon of Italian seasoning to the dry mixture. Cut the dough in half and freeze one half for later. Or you can double the filling recipe and make 2 pies!

Step 3

Press the pie crust into the buttered pie pan, springform pan, or baking dish. Be sure to press it up the sides of the pan as well. Set the crust in the fridge while you prepare the filling.

Step 4

Peel and slice the potatoes into disks and place the disks in salted cold water. Set aside.

Step 5

In a medium saucepan cook, the bacon and leek slices on medium just until tender, and the leeks still have a bit of bold green. This should be about 5 minutes. If using organic bacon (which doesn't have a lot of fat) or using only leeks, you'll need to add the ghee.

Step 6

In a medium bowl, mix the yogurt, goat cheese, parmesan, fresh herbs, garlic, salt, and pepper until well blended.

Step 7

Drain potatoes and pat dry.

Step 8

Remove the prepared crust from the fridge and spread the cheese mixture over the bottom. Add a thin layer of the sliced potatoes ( you may not need the whole potato…save it for your breakfast eggs!). Spread the leeks and bacon mixture over the top of the potatoes, oil, and all.

Step 9

Bake in the hot oven for 35-40 minutes until the top starts to bubble and the crust edges are brown. Use a fork to make sure the potatoes are done.

Step 10

Serve with crushed red pepper berries sprinkled over the top.