This was so easy and made my day! The weather is changing, and the grill will soon be wrapped up for winter. I am searching for some comfy winter food ideas, and this one will definitely be on the menu.
The nice thing is it makes a lot; you can heat it for leftovers or freeze this yummy dish. I bought two chicken breasts, and it made four servings. The trick is slicing the breast lengthwise into thin steaks. The sauce is made with the juice of a whole lemon, giving this dish a savory and tangy warmth. I'm sure you won't get any complaints, and it goes well over gluten-free pasta, zucchini noodles, or rice. Let's get going!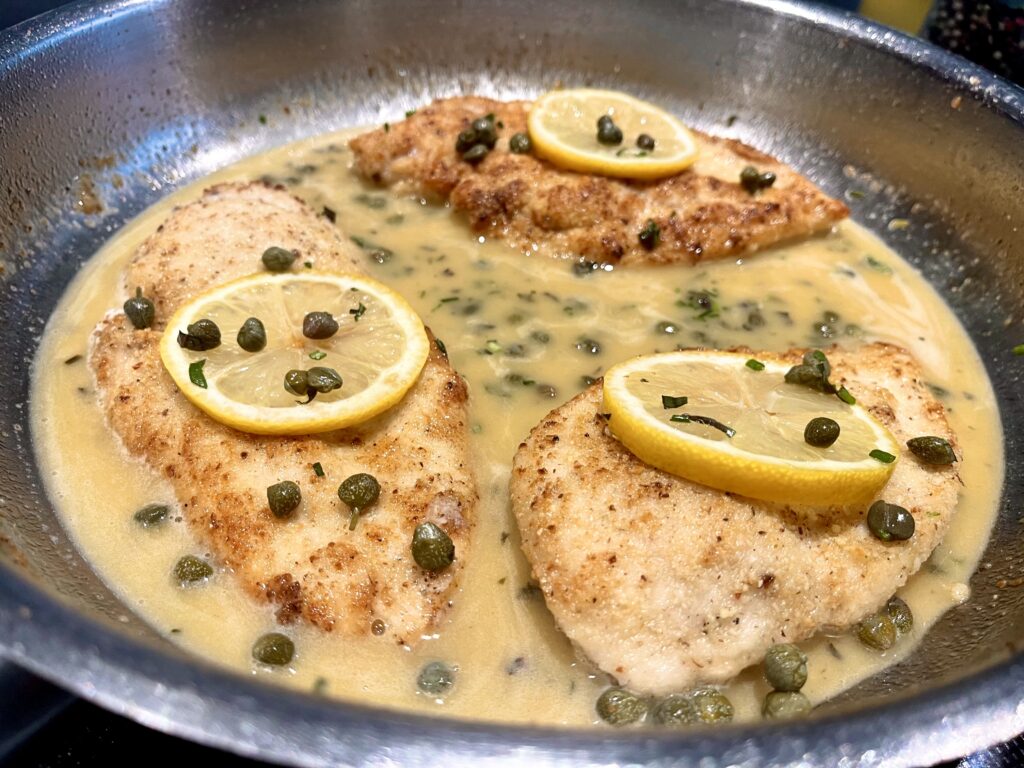 Chicken Steaks with Lemon Cream Sauce
October 23, 2023
: 4
: 20 min
: 30 min
: 50 min
: Easy
Ingredients
Chicken Steaks:
2 large chicken breast
1/2 cup gluten-free flour
1 tsp of salt
1/4 tsp ground pepper
Lemon Sauce:
2 tablespoons ghee
1/4 cup butter
3 garlic cloves diced
1/2 teaspoon red peppers
1 tablespoon of minced fresh Italian herbs (rosemary, basil, oregano, thyme, chives, parsley). You can use 1 teaspoon of ground or dried Italian seasoning.
1 lemon juiced
3/4 cup veggie or chicken broth or water
1/3 cup dry white wine
Salt and pepper to taste
2 tablespoons of washed Kapers
1 lemon sliced in rings
Gluten-free pasta, rice, or fresh zucchini noodles
Directions
Step 1

Slice the breast horizontally to make three thin chicken steaks. Wash and pat dry each steak using a paper towel.

Step 2

Blend the flour, salt, and pepper on a large plate. Press each chicken steak into the flour mixture on both sides of each steak.

Step 3

Heat a large frying pan on medium-high with two tablespoons of ghee and fry each streak for 2 minutes on each side and set aside on a plate. You might have to do the steaks in batches.

Step 4

Turn the heat under the pan to medium/low and add the butter, stirring and scraping the bottom of the pan to loosen the bits from frying the chicken steaks. Lower the heat if the butter begins to brown.

Step 5

Add the diced garlic, red peppers, and chopped fresh herbs-continue stirring. It should start to thicken. Add a bit of ghee or olive oil if it needs more moisture.

Step 6

Add the broth or water and continue to stir.

Step 7

Add the juice from one lemon. Stir to combine.

Step 8

Stir in the white wine and turn the heat on low.

Step 9

Place the fried chicken steaks in the sauce and sprinkle each steak with Kapers.

Step 10

Add a slice of lemon (seeds removed) to each steak.

Step 11

Cover and cook on the lowest heat for 15-20 minutes while you make the pasta.

Step 12

Before serving, make sure you give the sauce a little stir. If it has become too thick, add a tsp of water until you get the right consistency. Add more salt or pepper if desired. Plate the chicken over pasta or zucchini noodles. Add a serving of the lemon sauce and a bit of grated pecorino!