It's that time of year in Germany when the trees are overloaded with small Zwetschgen or what I call small prune plums in the USA. The cooking begins with jars of jam, plum sauce, schnapps, and, best of all, the Zwetschgenkucken plume cake. I'm having a hard time competing with Lutz's mom's recipe. Emmy was a pro, and now I am trying to pick up the baton and make it just as good BUT gluten-free. 
I have to say; I think I win! This was so delicious and filled with warm fall flavors. Best warm with a dollop of coconut whipped cream or dairy-free vanilla ice cream. But it is still delicious all by itself. 
I've got a couple of suggestions for substitutes. Take a peek before you start this delicious, yummy cake.
-monk fruit sugar. Feel free to use regular sugar. 
-cassava and almond flour. Feel free to use regular flour or a gluten-free rice blend.
-tart pan. You can use a spring pan as well.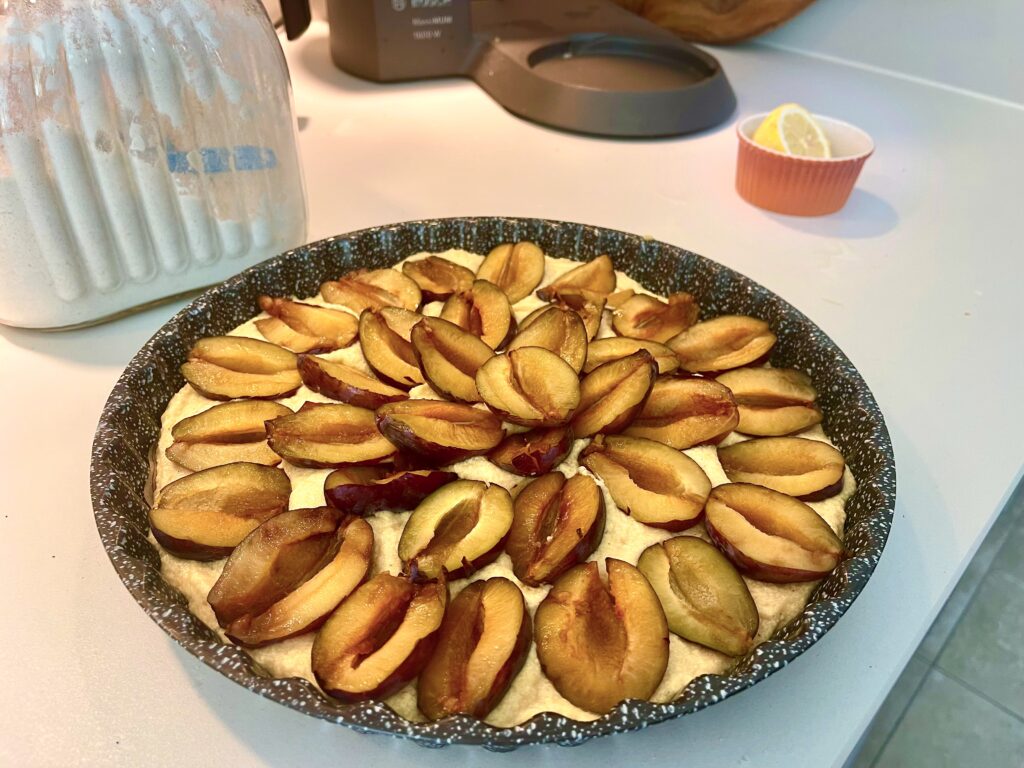 Before you begin!
Turn oven to 350 d/180c
Grease and line the bottom of the 11″/28c tart pan with baking paper
Set up your mixer or blender
You will need a medium bowl for the topping that fits in your fridge
Set out eggs and 1/2 cup of butter so they will be at room temperature for the cake
Place all the measured ingredients you will be using in your workspace. This makes it speed along.
Let's get going.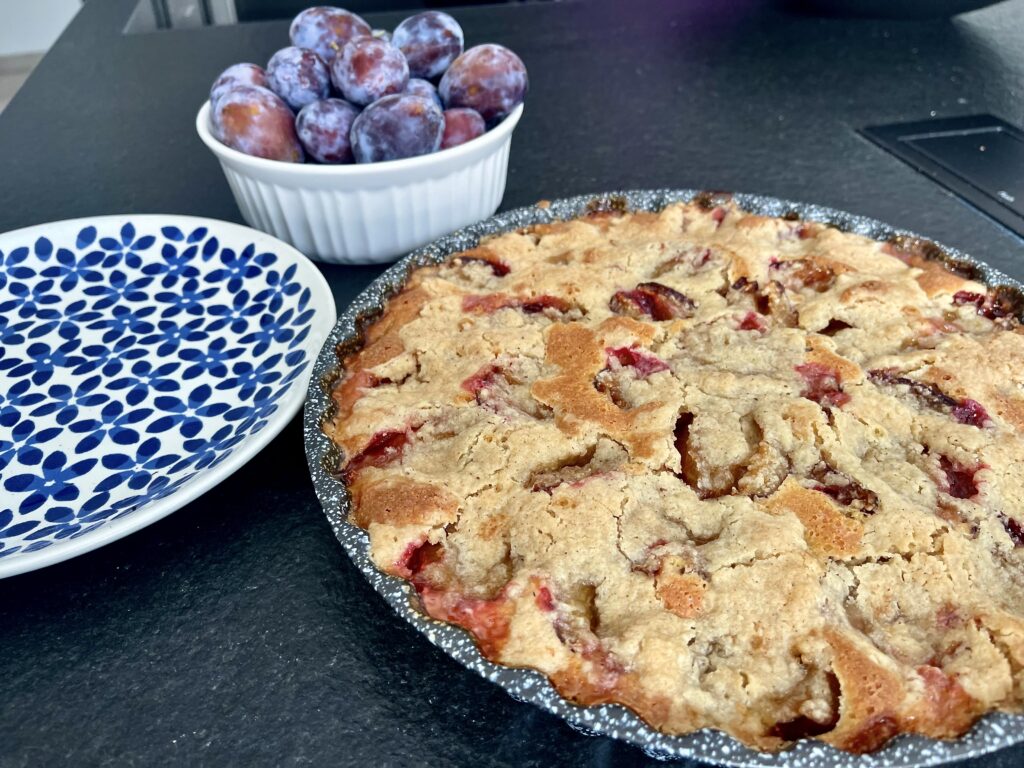 Plum Cake or Zwetschgenkucken
September 26, 2023
: 8
: 15 min
: 55 min
: 1 hr 10 min
: Easy
Ingredients
Strudel Topping:
2/3 cup cassava flour
2/3 cup almond flour
2/3 cup monk fruit sugar or birch tree
dash of nutmeg
1/2 Tsp salt
1/2 cup butter cold and diced into small cubes
Cake:
14-15 Plums, washed, seeds removed, cut in half, and set aside
2/3 cup monk fruit sugar
1 tsp of fresh grated ginger
Zest of half a lemon
1 tsp of fresh lemon juice
2/3 cup cassava flour
2/3 cup almond flour
1 tsp of baking powder
1/2 tsp salt
1/2 tsp cinnamon
1 tsp vanilla
1/2 cup room temperature butter
Directions
Step 1

Strudel Topping

Step 2

Place the cassava and almond flour, monk fruit sugar, nutmeg, salt, and small diced cold butter in your standing mixer. Blend until you have a crumble with 1/4 inch to 1/2 inch pieces. Place in a medium bowl and set it in the refrigerator.

Step 3

Cake:

Step 4

Place the sugar, grated ginger, lemon zest, and lemon juice in the same bowl you used for the topping. Turn your mixer on low and blend until the ginger, zest, and lemon juice are incorporated with the sugar—about 3 minutes.

Step 5

Add the cassava and almond flour, keeping your mixer on low. Mix for 3 minutes.

Step 6

Add the baking powder, salt, cinnamon, and vanilla. Mix on low for 3 minutes.

Step 7

Add the soft butter and turn mixer to medium for 3 minutes.

Step 8

Spread the cake dough into your prepared pan.

Step 9

Place the halved plums cut side up and lightly tap them into the dough as you form a creative design.

Step 10

Remove the strudel from the fridge. Pinch together little clumps and sprinkle over the top of the plums.

Step 11

Bake for 45 to 50 minutes in a preheated oven.

Step 12

Serve warm with your choice of topping. Place in the refrigerator covered for five days…if it lasts that long. You can reheat it in the oven covered with foil or in the microwave.