Yes, fall is leaving as fast as it came in. The rain and dark skies have been endless these past ten days. I believe it's time for some comfort recipes for afternoon coffee or tea. I created the perfect recipe for filling that need. Just a hint of sugar, warm spices, and fresh ginger with a crumb center and topping makes the perfect palate for topping these warm muffins with a sliver of butter.
These are just a few lessons I learned while creating these beauties!
Notes:
You can use your favorite yogurt. I use goat yogurt.
Regarding the sugar, I use monk fruit brown or Swerve brown (zero calories). If you use regular sugar, add a tablespoon more to all sugar ingredients.
If you do not have whey protein powder, use 1/3 cup of plain flavored protein powder of your choice.
I use fresh grated ginger. You can replace this with two teaspoons of ground ginger. You can also use three teaspoons of pumpkin spice to replace all spices instead of ground ginger, cinnamon, and cloves.
This makes six large muffins. To make twelve smaller muffins, fill twelve muffin tins 3/4 full. Add two tablespoons of the crumble to the tops of each muffin and press it 1/2 inch into the batter with a spoon. There will be no crumble in the middle. I like the crumble in the middle and on top!
I recommend using cupcake baking paper liners. These rise above the top and can be a challenge getting out if you do not grease the tin well.
Store cooled muffins in a sealed container for two days, then refrigerate and reheat in the microwave before serving for one minute. They can also be frozen in a closed container, defrosted at room temperature, and warmed up in a toaster oven or the microwave for 30 seconds.
Let's begin, shall we?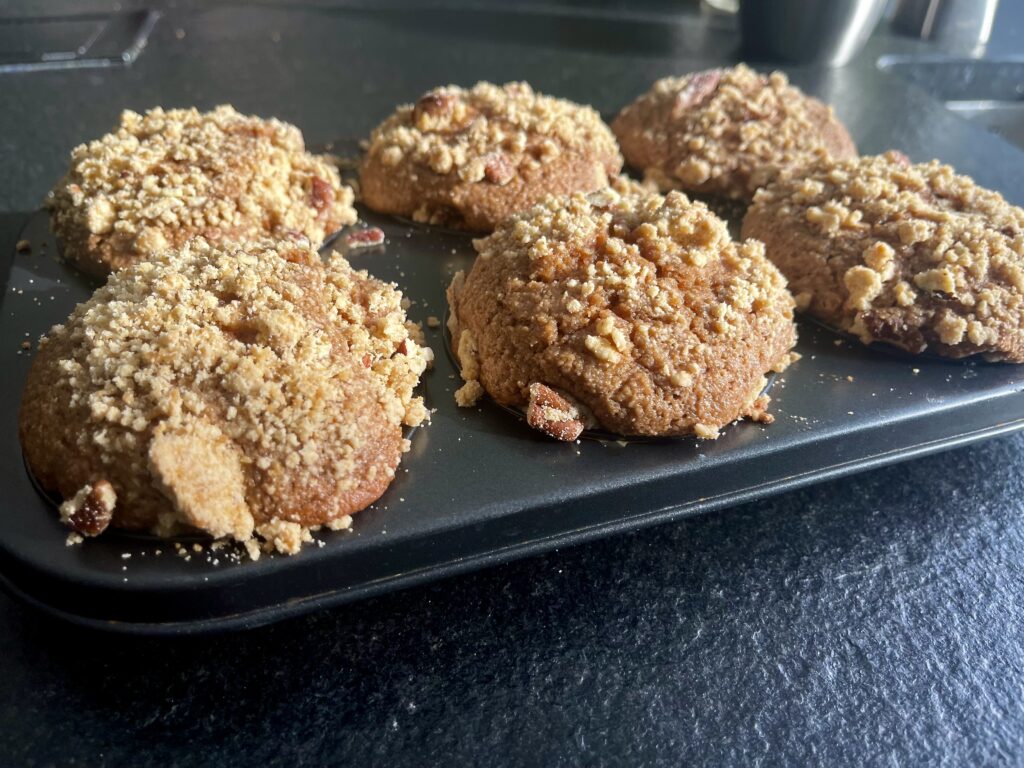 Fresh Ginger Pecan Muffins
November 10, 2023
: 6
: 15 min
: Easy
Ingredients
Muffins:
1/2 cup yogurt
3 eggs
1 tsp vanilla
1 tsp apple cider vinegar
1/3 cup of brown monk fruit sugar (Add a tablespoon more if you want a little more sweetness)
1 cup almond flour
1 cup cassava flour
1/3 cup unflavored whey protein powder or egg white protein powder
1 tablespoon cocoa powder
2 teaspoons baking powder
1 Tbsp freshly grated ginger (or 2 tsp of ground ginger)
1/2 tsp ground cinnamon
1/8 tsp ground cloves
1/4 tsp ground nutmeg
1/4 tsp salt
Crumble Filling and Topping:
1 cup cassava, almond flour, or gluten-free flour
1/2 cup white monk fruit sugar
1/2 tsp of cinnamon
1 tsp fresh grated ginger or 1/2 tsp of ground ginger.
1/2 c cold ghee or cold butter
1/3 cup chopped pecans
Directions
Step 1

Muffins:

Step 2

Heat the oven to 350 degrees (180c). Oil the bottom of your muffin tins or use baking paper cups (I strongly recommend the paper liners. These come out large, and the top does spread.

Step 3

Mix the yogurt, eggs, vanilla, vinegar, and sugar in a medium bowl. (I used a whisk)

Step 4

Slowly add the almond flour, cassava flour, and whey protein as you stir to combine.

Step 5

Add the freshly grated ginger and combine well.

Step 6

Sprinkle the cocoa powder, baking powder, and ground spices over the top. Set aside while you make the crumb filling and topping.

Step 7

Crumble Filling and Topping:

Step 8

Place the cassava, almond flour, or gluten-free flour of choice, sugar, cinnamon, and ginger in a medium bowl and stir with a fork to combine.

Step 9

Shave the firm cold ghee or butter into the bowl with a cheese grater or dice into small pieces. Mesh together with a fork until you have small pieces the size of lima beans. I usually do this with my hands

Step 10

Add the chopped pecans and press into the crumbled pieces with the fork or your hands.

Step 11

Baking:

Step 12

Place 1/3 cup of batter in six muffin tins or paper cupcake liners.

Step 13

Add a large tablespoon of the crumble mix to the center of each muffin and tap into the batter lightly.

Step 14

Add 1/8 cup of the remaining batter to the top of the crumble of each muffin and spread with the back of the spoon.

Step 15

Add 1 Tbsp of remaining crumble to the top of each muffin and tap it into the batter so it holds.

Step 16

Bake for 18-20 minutes.

Step 17

Let cool! If not using cupcake baking muffin liners, carefully go around the edge of each muffin with a small rubber spatula, then sliding the spatula underneath, lift the muffins out. They can be stored in a container on the counter for three days. Reheat in the microwave or toaster oven with butter!