This amazing loaf of goodness was a gift from the Fall God. So warm, mildly sweet, bold spices and stayed soft and moist for four days on the counter (could have lasted longer but was eaten rather quickly). Low in sugar, and the applesauce keeps it moist. I try to avoid pre-mixed flours since they contain grains, so when I bake, I like using my favorite flour, Otto's Cassava Flour!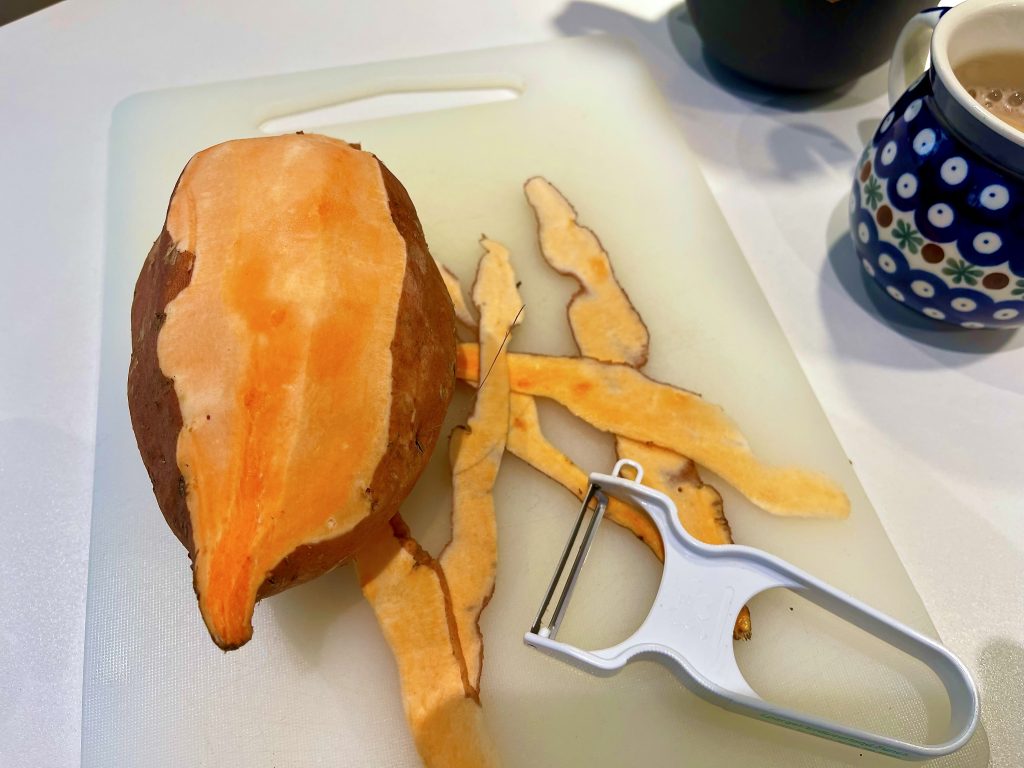 I'm avoiding squash, so I've used sweet potato instead of pumpkin to make the normal fall dishes. I'm sure pumpkin will work in this recipe if you prefer.  I peel a large sweet potato, put it in my steamer in 2-3 inch pieces, then let it cool and mash it. I stored the leftovers in the fridge in 1/3 cup servings because I've been making this repeatedly.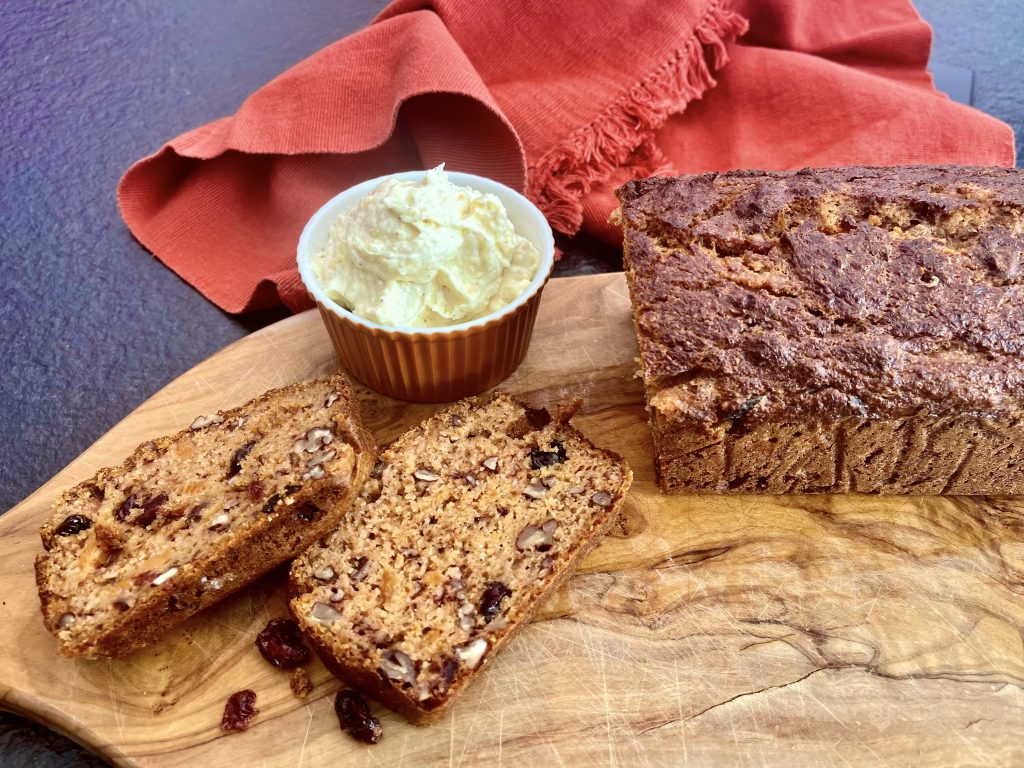 The Goat Cheese spread is versatile, and I've also made it with cashew cheese. The trick with the spread is to make sure you powder your sugar; otherwise, it's a bit crunchy with Monk Fruit or coconut sugar. I left directions below, and you can use this simple technique to make your own powdered sugar with coconut and Monk Fruit sugar. Honey is also an option.
So heat up that cup of tea and get cook'n! I'm just saying you might want to double this recipe and freeze one for the upcoming holiday! The first one will be gone in a blink of an eye (especially if you have children)!
Cassava Flour Sweet Potato Bread & Goat Cheese Spread
October 25, 2022
: 1 loaf
: 15 min
: 45 min
: 1 hr
: Easy
Ingredients
Sweet Potato Bread:
1 cup cooked and mashed sweet potatoes
1/3 cup organic unsweetened applesauce
3 eggs
1/4 cup melted ghee or coconut oil
1/4 cup Monk Fruit, honey, or coconut sugar
1 teaspoon vanilla
1 Tbsp fresh grated ginger
1/2 cup cassava flour
1/2 cup almond flour
1/2 cup arrowroot flour
1 tsp gluten-free baking soda
1 tsp baking powder
1 tsp cinnamon
1/2 tsp nutmeg
1/2 tsp cardamom
1/2 tsp allspice
1/2 tsp salt
Optional: 1/2 cup chopped pecans or walnuts
Optional: 1/3 cup dried cranberries
Goat Cheese Spread:
1/2 cup soft goat cheese
1 Tbsp Monk Fruit or coconut powdered sugar (see note below), coconut sugar, or honey
2 Tbsp soft organic butter
Pinch of salt
Pinch of cinnamon
1/2 tsp vanilla
Directions
Step 1

Sweet Potato Bread:

Step 2

Turn oven to F 350 of C 185. Grease and line a 4X8 bread pan with baking paper or grease 12 muffin tins.

Step 3

Using a whisk, blend the sweet potato, applesauce, eggs, melted ghee, monk fruit sugar, vanilla, and grated ginger in a large bowl.  Mix for two minutes until smooth and creamy. You can also put this in your food processor or use a hand or standing mixer.

Step 4

Whisk together the cassava flour, almond flour, arrowroot flour, baking soda, baking powder, cinnamon, nutmeg, cardamom, allspice, and salt in a medium bowl.

Step 5

Add half of the dry mixture to the sweet potato mixture. Scrape the bowl's sides often to ensure it combines and has no lumps. Add the last of the dry mixture to the sweet potato mixture and combine well.

Step 6

Add nuts and cranberries if using, and mix by hand to incorporate into the dough.

Step 7

Pour into the prepared cooking pan of choice. The bread will take anywhere from 45 to 50 minutes to bake the muffins anywhere from 25 to 30 minutes

Step 8

check with a toothpick or thin knife. If it comes out clean, they are done. If the dough remains on the toothpick or knife, continue baking and check every 3-5 minutes.

Step 9

Goat Cheese Spread:

Step 10

To make the Monk Fruit, coconut, or even normal sugar into powdered sugar, place it in a coffee grinder and blend on high until it is powdered. You can always use honey.

Step 11

Place all the ingredients in a bowl and beat by hand until smooth. Store in the fridge until ready to serve.

Step 12

To serve, you can ice the top of the cooled bread or muffins if you plan to eat them the same day. If not, place the Goat Cheese Spread in a serving dish and use it to top individual slices of bread or muffins.

Step 13

The bread/muffins can be stored on the counter in an airtight container for up to four days. The spread can be stored in the fridge for up to seven days. The bread and muffins can be frozen and set out to thaw for two hours at room temperature and heated in a microwave or toaster oven.